Introduction
[00:00:00] Detective Ev: Hey, what is going on my friends? Welcome back to another episode of the Health Detective Podcast by Functional Diagnostic Nutrition. My name is Evan Transue, AKA Detective Ev. I will be your host for today's show about craniosacral therapy.
We're switching it up a little bit today, at least in terms of the profession of the person that we're about to interview. We're talking to someone who does more physical manipulations with their clients and patients. But the stories that this person has both for themselves and their clients, like in terms of the health challenges and then overcoming things, are right on par with our normal show. I think you guys are going to love this one. It's a fresh way of switching things up a little bit.
His name is Jeremy Quinby. He has a podcast himself actually. He's been improving the health and wellbeing of individuals, families, and communities for the past 25 years.
At an intersection of manual therapies, mental health support, orthopedics, pain management, and newborn pediatric care, he has become known as a bridge builder between many fields of care. As a graduate of St. John's University in Minnesota, he considers building community to be one of the things that has been a part of every project he's been involved with.
Having had practices in New York and Minneapolis, his ability to develop health networks to support the populations he has served has become his trademark. And now as the host of the Highway to Health podcast, he is furthering this outreach across the United States and beyond promoting a more fully realized approach to integrated care.
A Podcast Host Himself
This guy has such a cool story that will be shared at the end of the podcast, and I mean, just the client testimonials. I kind of give a teaser already in the intro, but there's another one that I think you guys are really going to find interesting. Without further ado, let's get to today's episode.
Well, hello Jeremy. Thanks so much for being here with us today. This might be the first person, between the mic and just how good it sounds, the headphones, then the fact that you have a proper backdrop, this might be the first person that hopped on here that truly has a better podcast set up than me. This is nice.
We're glad to have you on today. I appreciate you accommodating me. We had some time stuff and Jeremy was great with that. It's going to be fun today because the reason he has all this podcast equipment is because he is a podcast host himself amongst many other things.
One of the first questions I always like to ask here, and I actually don't know this about you. I always do this with everyone, just so you know. I like to go in with just enough ignorance cause I want the questions to be genuine. I'm not for the scripted stuff personally. I get why people do it, but I like it to be genuine.
At the same time when I was reading your bio, you might be a little different than some of the people that we have on this podcast. Historically, 90% of the people on here have had some severe health challenges and that's how they got into this space. Is that the case for you? How did those start? What did they look like?
A Congenital Foot Issue
[00:02:51] Jeremy Quinby: Well, I was originally an English major. I wasn't even planning on going into a health field at all. I went to writing school for a while after college and also, I'm a musician. So, during that time period between the writing and the music and just probably the life challenges of being in your early twenties, I started having a lot of back problems.
I was an athlete in high school and started to have some back stuff pop up. Basically, it was just over and over again was having what we would call, your back go out. I later found out it was muscle spasms due to a kind of congenital foot issue, a very flat foot on one side.
My pelvis, kind of uneven for my whole youth and adult life. I now have lifts and I've kind of figured out ways to keep me balanced. But when I was in my mid-twenties, I was really struggling and just wasn't getting any answers. So, part of it for me, I tried a lot of different kinds of therapies.
Massage Therapy is a Very Real Therapy
I started doing Pilates in the nineties. Was a little ahead of the trend on that one. It wasn't being taught quite as well at that point either. Then I actually decided to go to massage school just to learn. I didn't even plan on doing it as a career. I just thought it was interesting.
A friend of mine had given me some books and showed me some stuff to do to alleviate back pain. But that was as far as I thought I was going with it. Turned out, I really liked doing the work. I liked doing manual therapy. I got good hands for it, apparently, like very giant mitts. And I've been doing it for 25 years.
That shifted into a lot of different kinds of work. I knew it wasn't all about body work to kind of heal my back problem.
[00:04:14] Detective Ev: I don't get massages nearly enough. I kind of wish I did more.
I remember this one time though. People that get them know what I'm talking about, but people that don't, they think I'm like completely overselling this. They actually got me involved in a membership at Massage Envy because of this. The one woman did such a good job. I don't know how else to describe it except almost euphoric at the end. I felt light, it was just amazing.
Now, I wasn't getting that every single time, and it's different people every time when you go there. That was when I realized, whoa, this is more than just a cool little thing that my mom does. This is a very real therapy that has probably many applications I was completely unaware of at the time. You know what I mean? There's a lot more to it.
Craniosacral Therapy: Osteopathic Work
[00:04:54] Jeremy Quinby: Oh yeah. I got interested almost right away. I had a teacher who led me into craniosacral therapy, which is a kind of osteopathic work, much more gentle, actually.
I do a mix of some very deep tissue work and trigger point work. But I also do this very gentle osteopathic work, which I can use for a lot of things, especially when someone comes into my office with what I had when I was first struggling and my back kind of kept going into spasms. But I work with all sorts of conditions now. I don't just work with neuromuscular stuff. I actually work with a lot of nervous system related things too.
[00:05:22] Detective Ev: I want to explore more about this back problem. This is great. Your credentials and bio is already perfect for the show. Now adding on the health story too, that was a surprise to me.
It's interesting because as far as I know that's unique. I can't think of anyone in all these episodes that has had their main thing be a back type of thing. And you already suggested that it was more than just the massage thing.
This isn't just a physical thing, it seems. I mean, of course you know what I mean by physical. Anatomical thing, I guess I am trying to say here. It seems like there was a little more there. So, can you expand on that? Like, how did you come to the conclusion that it was more and not just, this is something I have to live with?
Craniosacral Therapy Plus Dietary Changes and Supplements
[00:05:59] Jeremy Quinby: Sometimes there was no rhyme or reason as to why I was experiencing the back stuff. It seemed to flare at certain times. I started realizing some stress and anxiety aspects of what was going on as well.
So, once I kind of got in and started having some relief and started learning how to take care of my back and my body in general a little bit better, I also started getting into mental, emotional, and spiritual work of like, what is going on? Why am I having this struggle at this point in my life? This is not just about my back.
Some of it was working. I had immediately started working with people out of school and almost started a private practice right away. I started seeing some of the same things. You know, it's easier to see other people's things than it is to your own. So I started kind of identifying with certain things. That just kind of kept me going down that path.
But I started also getting work, different kinds of work too. Sometimes really gentle work for me would be kind of amazing and I sometimes felt like I really needed deep tissue work. So that was kind of an interesting part for me.
I was also starting to dig deep into the dietary part of healing my body that way. Starting to study supplements. But at one point I was taking way too many supplements. Then I just decided, I don't think that's the biggest part here for me. I felt like it was about how I was taking care of myself, my relationships, my relationship to my body, and myself. Those were all the big parts that I felt like I needed to get into.
A Women Dominated Space
[00:07:17] Detective Ev: One of the things on this show that I'm obsessed with, and any regular listener knows this, is the mental transition that is needed to open up one's mind to this completely alternative world. This is especially true for us as men.
We are in a women dominated space still to this day, at the time of recording this, like by a significant margin. Our podcast gets a fair amount of downloads, and when I look at the numbers, it is 80 something percent women still, despite the number. In the beginning, I thought, maybe it's just because we're brand new, two years ago. You know, you'll only get like a hundred downloads an episode at that time. You're like, no big deal.
Then as we've grown and grown and grown, I'm like, these numbers have stayed the same in terms of the demographic that it affects. If not, it's even more overrepresented amongst women now. So, I think for men especially, there's a real big shift mentally, paradigm wise that needs to occur for us to be open to this stuff.
You talked about, I mean, even the idea of like being open to the emotional and spiritual side. Did you have some type of influence in the family or a spouse, or did you just happen to come across the information? I mean, how does Jeremy go from the 20 something year old guy with back pain to this person that's completely open to these subjects of dietary stuff, spiritual, emotional aspects of health?
Craniosacral Therapy and Movement
[00:08:25] Jeremy Quinby: Yeah. I think I had some of it in my family. It wasn't a big component for me, and a family component wasn't huge. I think my mom has had some influence in the way that she tends to be a person who volunteers a fair amount of time to help other people. I think that is part of having this interconnected life with people and going a little bit deeper spiritually that way.
But I also am just like a huge reader. You know, being an English major, as soon as I finished massage school, that was just the tip. I knew there was so much more for me to learn. So, I was just constantly pouring through books and getting into stuff. And I also wanted to solve this problem. I mean, this was really affecting my life.
[00:09:00] Detective Ev: What was, let's say, one of the first things, not massage related, that you saw helping make a true impact in your back, whether it's some type of other therapy, a supplement (probably not going to be that considering you said you realized you were taking too many), a dietary approach? Like, what was one of the first things that showed you objectively that it was working to take this alternative approach?
[00:09:18] Jeremy Quinby: Well, I kind of knew movement was going to be a big part of it for me. I was testing and trying lots of different kinds of things. When you're in chronic pain for some period of time too, I don't know if you've had anything like this before, any health challenge. It starts to play on your mind a little bit.
Craniosacral Therapy and Music
You start thinking, I'm not going to be able to get out of this, and this is what the rest of my life looks like. When you're 25 and you feel like you're 75, it's pretty scary. So, I just started realizing that movement for me was probably the number one thing.
I started meditating pretty regularly at that point. Really just from reading stuff and some tapes and stuff at the time that I was picking up. But I found it was really just working on getting into that head space. It's a similar head space that I feel like I get into playing music.
Music for me has been another one of those things. I can sit down for an hour, and I feel like it helps to move a lot of the emotional content that's going on. Even if I'm learning a new song or I play a few different instruments, so sometimes if I just get on the drums and really work it out that way.
It's very much like I was when I played basketball and getting into the flow of the game. Afterwards I just felt great. So, I knew there was something to that. I also felt like I knew there was something like a social anxiety that I was struggling with at the time, and the way that I was managing certain relationships and even relationships with parents and stuff like that.
I just kind of started to focus on what I needed to do. Sometimes it was about using my voice for certain kinds of things. Oddly enough, now, I'm on the microphone all the time. But I felt like that was something I needed to be able to get better at, to express myself.
Craniosacral Therapy and Mobility-Based Work
Even if I was wrong, sometimes that's just the start of the conversation that helps to create some resolve. So, I knew that there was a mind-body connection to the way that my body was sort of responding to these things. Over time I could start to feel the difference in my body.
I did start learning some very specific things, if you want to get into the physical part of what I started to figure out. I had a physical therapist who (I was living in New York City at the time), who worked with dancers. I got connected with her. She had sent some clients/patients to me.
She figured out that I had a ligament laxity issue, my ligaments were overly loose and flexible. With my spinal ligaments, that was causing some muscle spasming to happen. It also creates instability.
Then certain muscles in your pelvis, your hip flexor muscles, I was having the same problems with my shoulders and my neck. They were all basically overworking. I had to really learn a whole new approach. Cause a lot of my exercise at training up to that point was sports based.
I don't know if you had the experience in high school of playing sports and going to the high school gym or the college gym and learning to train that way, but it's like, squats and squat racks, bench pressing, and all that stuff. That was the absolute wrong way for me to work out.
I had to shift into more stability and mobility-based work that helped to free up my back, my hips, and get my shoulders in a little bit better place and get my core to stabilize. That was really what made the biggest difference for me.
Bleak Outlook of the Future When Sick
[00:12:03] Detective Ev: For some context, the whole reason I got into this space as well is from health challenges.
Not really the stuff that you're talking about, but mental health issues and other physical health issues from the age of about five till 20 years old. I definitely relate to what you're talking about with the 25 feeling 75 thing. There was a lot of reasons that I got into this space, but one of the things that ended up happening at 18, I was diagnosed with what I was told at the time was a quote/unquote "incurable disease."
I say quote/unquote, and I can say this because I don't have the symptoms of this anymore, so you're not going to tell me it's not incurable. It's a heck of a coincidence that I started changing my lifestyle around and within three months I've been in remission now. Because they'll call it remission, right? That's what they'll say. It's like, well, this is the longest remission ever. I must be just that lucky, I suppose. And I'm sure it's total coincidence.
But the point is, it's kind of dramatic. I remember having this time that I thought I was doing a little better, and I was with the mental health side, then I get this diagnosis. I just remembered thinking similar to what you were saying, I can't do this for the rest of my life.
And if someone's listening for the first time, that's why I'm being hesitant. I'm trying to make sure it's said correctly, cause other people might get this. But I had depression before and there were suicidal ideations that came with depression.
Move the Needle Slightly to Reinstall Hope
I had some suicidal ideations that came with this, but I do not know how to say it. It was different than the depression ones. It was almost just a giving up. I was saying, why on Earth? I hate to call suicide practical. I never, ever, as someone who's in the mental health space, want to imply that.
But it was one of those things where, if I'm going to feel like this for the rest of my life and now, I'm going to lose my hearing and all this stuff based on what that disease was, why would I want to stick around for this? This sucks, you know? The good news about a practical suicidal ideation is it's not as illogical as one caused by depression. Depression, everything's doom and gloom.
This was almost, well, if I'm going to do that, I might as well try everything before I actually commit to something like that. Thankfully it was only like two more attempts of trying different methods, not suicide attempts to be clear, and I found this dietary stuff. And I'm realizing, oh, I'm moving the needle now with these symptoms.
You don't need to do much to get that hope reinstalled in you. Similar to your story, it's like, just seeing that move in the right direction and the pain be relieved a little. Or having the awareness to notice, you know, some days I'm in a lot more pain than not, but I didn't change that much. So, there must be another component here.
Chronic Health PTSD
I think if we can reinstall that hope for people that shuts off those suicidal thoughts almost immediately. I just needed to know that there was hope for something. And when a doctor, an authority figure tells you at 18 that this is incurable, you're going to lose hearing in one ear, you're going to need surgery eventually, that is something that can get you pretty messed up pretty quick mentally.
I'm just very thankful that I thought outside that box and that you did as well. Now we're able to help other people. I don't want to put the words in your mouth, but I'm guessing that's where the passion comes from. Is it from the pain that you felt, literally and figuratively, you almost feel obligated to help other people? Would that be fair to say?
[00:14:57] Jeremy Quinby: I mean, I don't even know if it's an obligation. I think it's just an innate part of who I am that I want to do this. Also, it's a belief now. Like, I've talked about this a lot on my podcast. I got into a health tech project about seven or eight years ago where we started kind of studying intake forms.
One of the interesting things that we came up with was asking a question about how do you believe you're going to get better. That really hit something with me that really led to the podcast. That's kind of what went on with me. Because once you've been through a chronic health period, there's a little bit of a PTSD that kind of lingers for a while. You get a little flare up of something and you think, I might be going back to that place again.
Do Everything Thing You Know to Do First
There's a confidence that you have to kind of build over a period of time and sometimes it includes scans. You know, I had these scans done when I was like 27 years old that showed arthritis in my lower back. They immediately wanted to start doing injections and lots of supplements, MSM chondroitin, and all these different things, which I did a little bit of. I didn't go with the injections.
But I have these scans that I still bring to appointments. I have a checkup once in a while and have them look at it. My spine really hasn't changed much, and I'm 52. So, those kinds of things give me this belief as you have, we can actually improve our health.
That's one of the things that I want to instill in people. I get a lot of people, they could be 35, they could be 60. I've seen people at 80 make huge health changes. I know that it's not about age and I know that whatever the condition is, there's some way to figure out how to improve this person's lifestyle. And sometimes it does include surgery.
You know, if you're 80 years old and your hip is really degenerated, there might be a point. I still think, do all the PT and exercises and try to strengthen your body as much first, if it still doesn't cooperate, then maybe surgery is the answer. But when I'm working with somebody who's 30, it's a totally different game most of the time, even at 50.
It's the Quality of Life While You're Here
[00:16:35] Detective Ev: We're careful about how we present these things. I mean, clearly Western medicine can go too far with their philosophies and never being open to us. We know that. But then I find a very similar theme sometimes in the functional practitioners.
They had such a bad experience in the Western world, then now, it's only the functional side, or natural side, or whatever you want to call it. No, it's a mix of both. I appreciate you just being realistic. It's like, all right, at 80, maybe, right? It could be any older age, maybe you have to consider other options.
I make a joke. I don't know how serious I actually am about it, but I had severe cystic acne too in my health story. You know, I shouldn't be eating Hershey's kisses because of that, it doesn't typically help my skin. It usually affects it very negatively. But I love Hershey's kisses.
So, it's kind of like, at 85, 90 years old, if I started breaking out again all of a sudden, would I maybe just take some cream so that I could keep eating the Hershey's kisses? I think I'm going to live a lot longer than 90, that's my personal goal. But there does come this certain point where it's like, maybe just use some Western medicine interventions and enjoy these last little bits here.
Because no matter how functional you are, we are going to pass away. No one's making it out of here alive. It's the quality of life though, while you're here. A 30-year-old, no, we probably want to avoid those things.
Is Surgery Necessary?
I'd love for us to actually touch on maybe what your opinion is on surgeries kind of being overdone sometimes. Because I remember what happened to me. The first real injury I ever had.
I did not play many sports. Well, I didn't really play anything in high school. I played like intramural basketball. But I was using substances. I didn't even finish high school. It was very bad at that time because of the mental health issues. Then I got very active after that.
I started getting my stuff back together and I biked a lot and I played basketball a lot. One of the first things I did was, I snapped some ligament they said when I fell off my bike. I remember going to the orthopedic doctor. He was saying that we need to do surgery. He just acted like this was the assumption.
Now, this was five, six years ago, maybe even more at this point, Jeremy. So, I'm going in there and he's speaking very commonly. He's very nice and it's a person I trust. I trust the practice. But to me, I was so scared of going under and I've ironically had to do that now anyway for different reasons.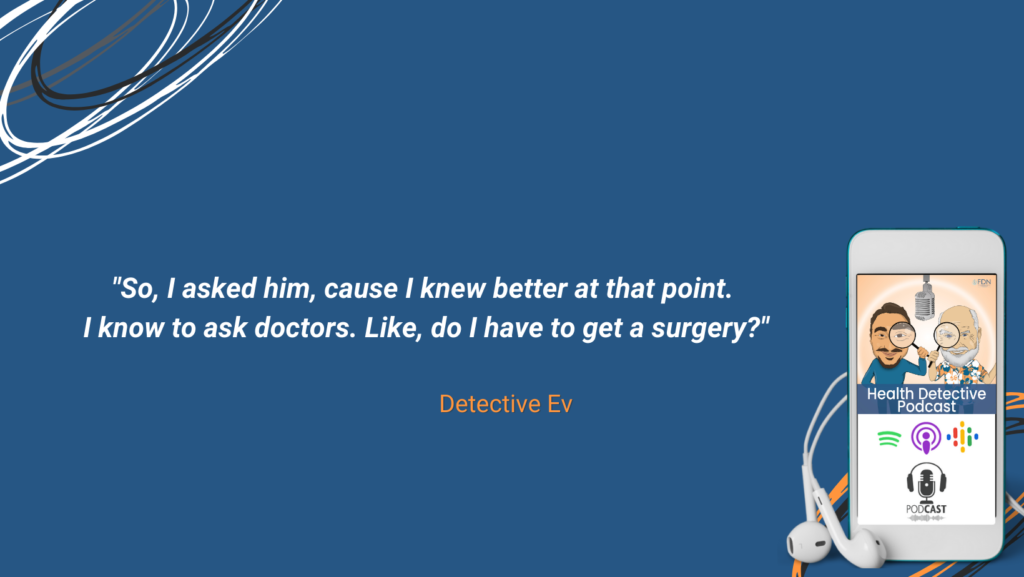 But at that time, I couldn't even comprehend going under any anesthesia. There was no way in heck someone's going to cut open my wrist without me being under. So, I had a dilemma here. He just said it as if it was such a certainty. So, I asked him, cause I knew better at that point. I know to ask doctors. Like, do I have to get a surgery?
Oversold Knee, Hip, and Back Surgeries
He said, well, just so you know, I mean it could heal up and there could be scar tissue and it could be fine. I'm like, is there any consequence if I don't get the surgery? He said, well no. If there's scar tissue, I mean, we could break that up and then we could still do it.
I said, so you're telling me that there's no consequence if I take time to not do the surgery and it doesn't end up working? He said, yes. I said, that would've been nice if you led with that. By the way, I'm not saying this will happen for everyone, but just for the record, I have zero pain in my wrist. I haven't for years. I have good mobility.
The only thing I can't do is a straight barbell curl. I have to use an easy bar. That's what eventually caused some pain. Seems like a minor price to pay for not having to go through a surgery at that time. Sorry, long-winded story. But my point is though, do you think there are a lot of surgeries being thrown around to younger-ish people that really probably don't need these things?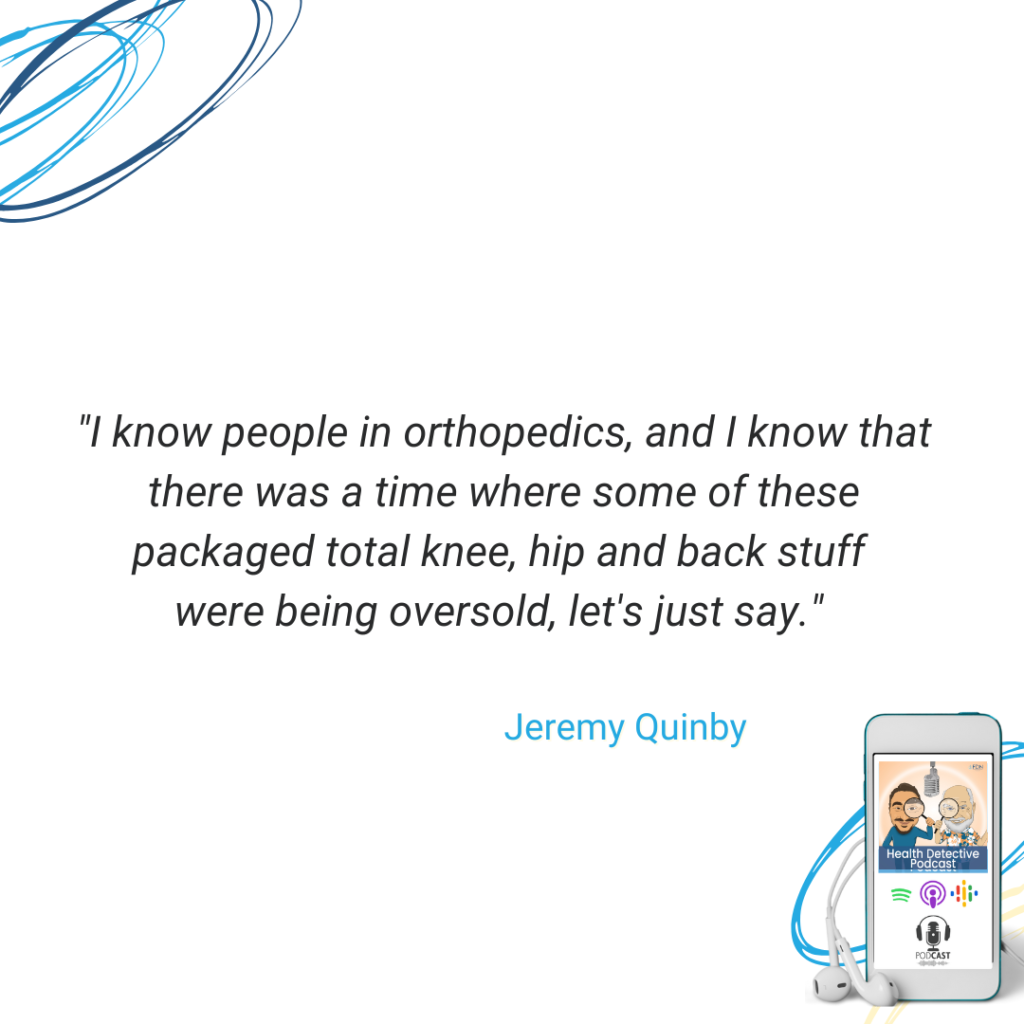 [00:19:41] Jeremy Quinby: I've been treating for long enough that I think there has been a change in orthopedics. When I first started doing work, I saw a lot of back surgeries that weren't helping people. I know people in orthopedics, and I know that there was a time where some of these packaged total knee, hip and back stuff were being oversold, let's just say.
Some People Just Want a Quick Fix
But at the same time, I think there's a choice that a doctor has to make when somebody comes in if they don't think they're going to do the work of recovery, then surgery is the option. I mean, that's the sad thing too.
In my practice, I get people who come in and they're ready to work. And I kind of don't take people who aren't cause I feel like that's the kind of thing you're going to have to do. If you work with me, I'm going to give you stuff to do movement wise, we're going to work on stress management strategies. If I feel like there's a major health challenge that's related to diet, I'm going to get you working with somebody there.
I'm going to try to help somebody really improve their health and their lifestyle at the same time. But some people aren't really looking for that. They just want you to make that wrist work right now as best as it can. A lot of times they're not even going to do the PT.
I think there are still people who are making poor decisions as orthopedists. But I'm meeting more and more orthopedists, especially younger ones who are really trying to avoid surgery as much as possible with people.
I tore my Achilles playing basketball when I was 43. It was a partial tear, but the orthopedist said it's basically a 50/50. You can get surgery, or you can let it heal on its own. The heal time is about the same because it's going to take a little bit longer after surgery, but you're going to have to be a little bit more careful if you don't do the surgery.
Regaining Physical Fitness is Tough
But the stats on this are, it's basically about six of one, half a dozen of another. You're going to have the same results, the same chances of reinjuring it, all that stuff. So anyway, I had to stop playing basketball at least completely.
[00:21:27] Detective Ev: Basketball's a heck of a sport, especially when it's done recreationally, cause it's not really worth it in any sense.
There's a million other things I could do to get the same health benefits of it. Still to this day, Jeremy, I am just starting to actually be able to run properly again because of a foot injury five years ago in, you guessed it, a pickup basketball game. I mean, the foot became supinated, it led to IT band stuff.
Listen, in the beginning, I didn't take it seriously enough so there was issues there. But that wasn't even a case of like a surgery or no surgery thing. It was just the recovery was a nightmare. Many things got messed up. I learned very quickly.
I was humbled because I remember, like 19, being cocky and thinking, how did my uncles and stuff ever put on all this weight or get lazy, whatever. Why don't you just continue with physical activity? Then I realized, wow, you know what, how much it's taking me right now to get back into this, and it sucks.
The cardio's tough. I used to be able to run miles and miles, no problem. Now I go do a simple basketball game one on one. I've been playing with my friend very lightly and that's taken it out of me. I'm like, Dude, you gotta really work to keep this up. And the minute you lose it, it's extremely hard to get back.
Craniosacral Therapy with Newborns
So, I have a little more sympathy now. It's not an excuse for those listening. But I have a little more sympathy for how people do lose this cause it can take one stupid thing before you do.
It's cool to know that you're doing the work that you're doing, probably keeping people much more active. That's what I'm kind of curious about. Just so we can say it directly, what type of client does Jeremy take on? Who are the main types of people that come to you? I'm sure you get a variety, but what's some common things that you work with?
[00:22:52] Jeremy Quinby: Well, I have a very strange career because I do a lot of whole family work.
I do craniosacral work with newborns. That brings me into a whole new realm. For about 10 years, I just did almost more orthopedic sports related work. But I was starting to kind of see things that I thought were almost on this stress kind of fight or flight response type of thing.
You know, things that can flare when you have a stress response, anything that's related to your endocrine system, your hormonal responses to things that can lead to inflammation, that can lead to histamine. They can lead to stuff with your gut.
When I start seeing those kinds of things on top of an orthopedic challenge, which is a lot of times, what people get led to me or they just feel crummy, or they're fatigued all the time. That's kind of the adult that comes to me. But now, I work with newborns.
Seeing the Young Person in the Adult
With newborns, the ideal newborn that comes to see me usually has had either a difficult delivery, is having some feeding challenges, sometimes they have tongue tie or torticollis or a lot of digestive issues. To me, having worked with adults for so long too, they're also sympathetic kind of fight or flight type of responses that are happening at their level. Right?
The thing that I've come to explain to a lot of people is being born is probably one of the most stressful, challenging things we go through. But we don't think about it. And as parents, cause I have two myself, you don't think about what the baby is going through exactly, cause you're overly tired and can't figure out why they won't stop crying and all these things.
But I think you can see them in the moment of their lives that they are. And one of my colleagues actually, that I interviewed on my podcast who's older, asked me, what's changed in my practice since I started working with babies. I told them that now any adult that I work with, I almost kind of see them as their younger selves. And I try to get that information from them too.
Like for you, was there a moment in your teenage years that was really challenging? Was there a moment in childhood? Sometimes they were children of alcoholic parents or there was some sexual abuse or there was some physical abuse or a bullying by a sibling. I hear these kinds of things all the time too. There can be a lot of different things that are going on with the person and I'm only seeing what's presented symptomatically.
Chronic Illness and Trauma Connection
This is where I think our more holistic approach to care can make some improvement with somebody because we are really looking at them as a whole person, the whole experience.
[00:25:04] Detective Ev: That's one thing that we obviously do as FDNs as well, is kind of go back in time and figure out was there something, right? You can't always pinpoint it and you don't always even need to, but it's worth the effort to try.
I'm not someone who like works with cancer patients, but I've come across many people with this. It is unbelievable how obvious the trauma is with those people, like the significant thing or things that happened to them. I mean, 95% of the time I could figure it out, if they might even know, within 10 minutes.
The body doesn't get sick like that unless there's quite a few things going on. Somehow, even with the terrible diets and all these things that we have in today's world, I find that almost always there was another traumatic component. I also find it very commonly in autoimmune patients as well, just not as commonly as the cancer side.
The one thing I don't think I fully understood is how did you transition to working with the babies? What made you want to do that? Cause that's really cool and very particular.
[00:25:56] Jeremy Quinby: I didn't plan on that part at all.
I had a midwife that I was treating for quite a while because delivering babies is actually quite hard on your body. She kind of kept saying, oh, you know, I keep seeing this with babies, or I think your work could be really helpful with this.
Craniosacral Therapy Opens a 6-week-old's Eye
I had just started a business in Brooklyn, New York. I was doing movement work with people, I was doing body work with them, running a business, you know, training body workers and trainers. I just had way too many things going on.
But she kind of forced my hand with a baby who had really asymmetrical cranial bones where one of the eyes wasn't opening yet at six weeks. Which is a long time I now know, for no movement to happen there. So, they wanted to put the baby in one of these little cranial caps, these little helmets to try to form the cranial.
The cranial bones when you're that age, are really pretty mobile, so they're not even really bones. And those sutures, there's a lot of little fluid spots like the fontanelle that we see on the top that allow for a fair amount of fluid pressure to kind of come up to the system and move those bones into place.
She wanted me to do an evaluation for the doctors she was working with, and she wanted to try to avoid the helmet if possible. So, I just kind of felt around and I told her what I noticed. But you're kind of treating a little bit. Cause the way craniosacral work, in terms of evaluation is concerned.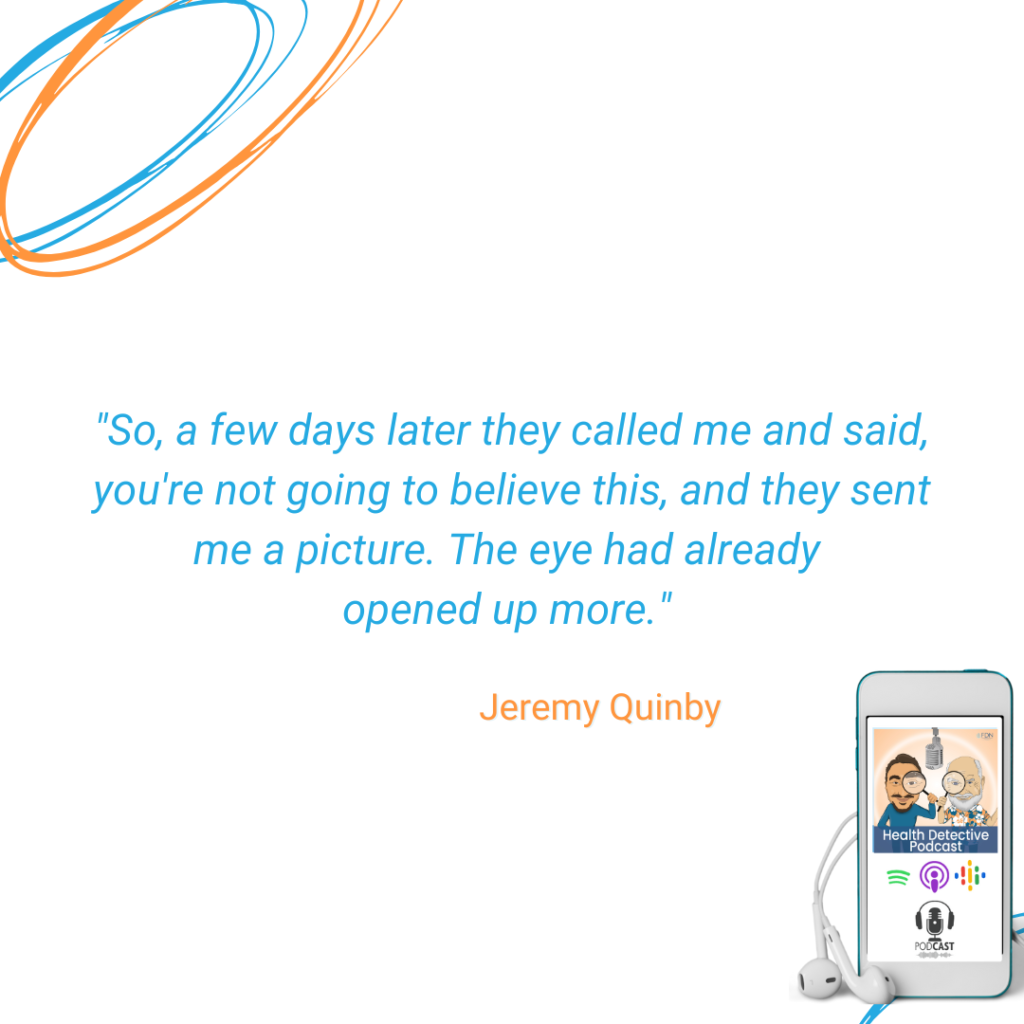 You kind of have to do this very gentle traction and you're kind of feeling for the way fluid pressure moves around up through the system and around these cranial bones. So, a few days later they called me and said, you're not going to believe this, and they sent me a picture. The eye had already opened up more.
Craniosacral Therapy for the Whole Family
You know, I've been working with adults with chronic back pain, so that can be a six-month project. Just to have something happen in a few days, to me, just blew my mind. Then I kind of got hooked. I did some volunteer work for a while, and I met a PT who was a lactation consultant as well. She was really interested in using me in some way too.
She started bringing people to see me. I did that volunteer wise for a while and then I went back and studied pediatric work. Cause I was like, all right, I'm going to add this. The great thing about it is that I now get to work with multi-generations of families.
A lot of times, I'll start working with a baby, that's how I get introduced to a family. Then the parents, and sometimes the caregivers or the grandparents are involved. They all kind of see what I'm doing and say, oh, I could really use some of this work. I have had neck problems for a long time or whatever. So, there's quite a few multi-generation families that I now get to work with.
I'm actually in between two cities. I work out in New York, still, eight times a year. Then I'm in Minneapolis. I grew up here.
[00:28:13] Detective Ev: Hopefully we have some listeners in either of those areas. It sounds like you're in Minneapolis a lot more. It's kind of rare, honestly, nowadays that someone comes on here and is working with an in-person business. We have it maybe one out of 15 has an in-person thing. A lot of these are like functional coaches do online stuff at this point.
Online Postural Correction Work
But your work, I mean, is inherently necessary to be in person with the individual. I don't think you should, at least, coach people to be doing the work that you're doing without the proper training.
[00:28:43] Jeremy Quinby: Well, my manual therapy practice, yeah, I'm doing in person. But I'm actually doing some functional movement work now and kind of postural correction work online. That just started during the pandemic.
I just started realizing I could work with somebody and record those exercises. They can see themselves doing the movements and then they can practice them. I just share a Dropbox folder and then they work on those exercises for a while. Then we meet again.
We go through things that they're struggling with, and we add new things. Sometimes I just get someone started on these kind of foundational pieces that they need to do to like work on helping heal their back. Or if they're an athlete, they keep having the same recurring injury cycles, I can kind of figure that stuff out pretty quickly and give them something to start working on.
Sometimes it's like eight or nine exercises, some foam rolling or some mobility work and some cord work or something, and they're good to go. They end up doing a lot better. It can be done that way too.
[00:29:32] Detective Ev: That's awesome. I love that you mix both together. I haven't mentioned this yet in this podcast and I typically don't mention it here cause it's usually not relevant to the conversation. But I do still deal with some lower left back pain because I have scoliosis and then I have an extra vertebra that we've seen on the x-rays and stuff.
Squats or No Squats
What is also fascinating about what you said, cause I made the connection myself. Like I do fast and stuff, so I'll do water fast or fasting mimicking diets, and I also practice ketosis. When I am in a ketogenic state or a fasted state, which for the sake of today's podcast is virtually identical for what I'm talking about, I will find that the same things that would normally aggravate the back don't seem to aggravate the back.
It's not that I don't have this anatomical issue. I mean, I have an extra vertebra. That's clearly wrong, it's not supposed to be that way. My spine curves out, it doesn't look pretty on an x-ray, and yet here I am without the pain a lot of times.
Then similarly, I have found very well-meaning people, some chiropractors I worked with. Two separate chiropractors said like, you should never squat, a barbell squat that is. Yet nowadays, I mean, I don't do anything crazy. It's not like I'm some huge power lifter. But I mean, I'm squatting, 250, 260 for reps, and it's a low bar squat. That should put more stress on the lower back, if anything.
I feel totally fine. If anything, that's helped my back a ton. I think there's, again, many well-meaning people that get this narrative pushed by the Western thing. Oh, you should just never squat again. It's like, no, I could probably squat.
I think there's probably other things involved with that and not that anyone needs to barbell squat. I love it. I think it's a great exercise. It's just fun too. So, yeah, for someone like me, like would I be someone who would benefit from this online stuff? Is that the type of person that would benefit?
The Functional Movement Model
[00:31:05] Jeremy Quinby: One of the first things I'll ask somebody when I first start working with them and they're struggling with something like this, or they've had some history of a problem like this, I'll ask if there's anything that that's limiting them from doing, something that you'd like to be doing more of.
A lot of times it is, like if you really love squatting, I want to get you to a point where your body can manage to squat better. Or if you love tennis and right now you feel like you can't play tennis because of your shoulder, let's figure out what we need to do for that shoulder. Because I feel like they're the most motivating forces that we have.
Sometimes I'm working with grandparents, and they say, I'd just like to be able to get up and down off the floor with my grandkids. You need to figure out what that motivating factor is for them, and then it's easier to train for it. That's kind of the functional movement model. What is it that you need to do functionally for the thing that you love and want to do more of?
[00:31:52] Detective Ev: These are customized things. I guess this is where I'd like to break this stuff down cause you do offer quite a bit. So, if I come to you in person, I can get work done whether I'm an adult, a baby, or whatever. I can work with you in person in that sense?
[00:32:03] Jeremy Quinby: Yeah. Because I work with nervous system related challenges. Like, I might try to either just myself or even find somebody else that might be related to what's going on.
Do the Tests, Get the Data
So, let's say depression has been an issue, right?
Then sometimes, as you know, body work can actually, with some regularity, especially during a time where you've been struggling or if you know that in the fall going into winter, these things start to flare up for you, right? Then we just start to kind of come up with a game plan.
And I'm always into the idea of like, let's try some little mini tests. Let's see how this goes this year, right? Let's try six weeks leading up to the holidays cause that's the other factor, right? It may be about winter, it may be kind of a seasonal effective thing, or it may just be about the holidays in your family. But again, we're trying to manage a challenge here.
So, let's try to figure out what might work for that? Maybe it's acupuncture, you know. For some people they do really well with depression and some Chinese medicine and acupuncture. Sometimes it's different kind of nutritional supplements and a functional medicine person might be the right person to talk to and just have some tests done.
You know, Reed Davis and I had a conversation a couple weeks ago about all of this. Not everyone needs a lot of supplementation. But I think to have the tests done in the first place gives us a lot of information about what might be going on. Like there could be some inflammation, there could be some low testosterone issues or some other kind of hormonal challenge.
There could be stuff going on with the thyroid. Let's gather all this information and then at the end of the day, we can get together and figure out.
Inflammation-Based Depression, Pain-Based Stress Response
[00:33:25] Detective Ev: Yeah. Especially with the depression thing. That is cool by the way. Most people listening would know Reed Davis is the founder of FDN. You can actually go hear him get interviewed on Jeremy's podcast. I will make a note to put that in the show notes here so people can go click on that afterwards. That'd be very fun.
Reed does a lot of interviews, and I don't think I advertise that nearly enough. This would be probably the first one many of them would listen to honestly.
But the depression thing, clearly close to my heart with the stuff that I was mentioning to you in the beginning. We see this too, this idea that it seems to be very inflammation based, right? Because we used to think it's like just a serotonin thing. That's getting more and more outdated as we get more and more science, but the inflammation aspect seems to be there. That's why all of these components could affect people differently.
That's why some get benefit from the acupuncture. A lot of people could get benefit from the body work and stuff. That's the one thing I know about my lower back, anytime I'm in pain, and correct me if I'm wrong here. It's probably oversimplified, it's not so much of a correction rather it'd be an elaboration. But that is triggering a stress response in my body anytime I have that pain. Right? Like, isn't my body reacting to this accordingly? That's not helping me.
[00:34:27] Jeremy Quinby: Yeah. You know, I think there's another part. As we age, our body has a harder time with recovery in process, right?
Craniosacral Therapy Works the Fascial System
There are things that build up in the tissues. I'm a big fan of body work, not just doing it. I get regular body work too. Massage work is really good for moving everything through your lymphatic system.
Anything that's built up, sometimes we get metabolic waste that's in there, lactic acid and that kind of stuff. I mean, our body can use a certain amount of that. In fact, we use lactic acid as a kind of energy system for the body. It's like the ethanol of the body. We use it for anaerobic work. But too much of it can cause muscle spasms.
So, we have to be smart about helping the body at a certain point, pretty much past 25. That is where the tipping point seems to be if you watch pro sports and that kind of stuff. That's where everything usually starts to become more complicated. And something like craniosacral therapy is actually really good.
I don't know how much you know about craniosacral therapy, but it's really working with the fascial system, the connective tissue system, and especially that dura membrane system. So, we have this fluid tide that moves back and forth within that dura membrane. It bathes the cerebral spinal fluid that bathes the brain and spinal cord.
It goes from your sacrum to your head and back about every five to seven seconds. Kind of different for everybody. It's this kind of internal pump. It's oddly a saline tide that's just moving back and forth within the system. When we sleep, that system opens up a little bit more and it kind of forces more through the system. It moves it out through these little villi into your lymphatic system as well. That's why it's semi hydraulic.
Craniosacral Therapy Frees Up Mission Control
Part of what my role is, is to free up as much restriction around that system. That's a big innate part of our immune function is that that system does this work on its own all the time. And if that system is cleaned up and we don't have all these different kinds of amyloid stuff like that, that builds up in the system, it just helps our nervous system function better.
That nervous system is basically mission control. That's why I got drawn to it, especially having the back problem. It's like I wanted to have as much effect on that. If it's a mental health challenge, if it's a physiological challenge, I want that nervous system to function as highly as possible on its own.
Cause you know, there's a lot that's going to go on between me meeting with people in sessions and to me, that felt like one of the biggest things I could do in terms of impact was to kind of help balance that system. That system helps balancing us from staying in fight or flight for too long a period of time. Getting patterned into that kind of response also patterns us into the inflammatory responses and the histamine responses and all these things.
The more we can move ourselves into that parasympathetic response, the better we digest, the better we are able to be at rest. We sleep better. All the sexual function side of things is also that parasympathetic side. So, if people are having ED issues, getting that system back in balance is another big one.
That's why the more I get into this work, the more I'm helping a lot of that stuff. A lot of kind of COVID long haul stuff right now too.
Craniosacral Therapy Mobilizes Fascia Around Organs
[00:37:09] Detective Ev: I honestly don't know much about that. When it comes to stuff that can be worked on in this way, I have a lot of ignorance around it. Sometimes people will think I'm super knowledgeable, but really what it's come from is figuring out my own issues. As I figured them out more and more, it's like, okay, I've learned a lot. But it's very specific to what worked for me. And it just so happens to overlap. I have a lot of ignorance here and plenty to learn.
You mentioned this fluid going back and forth, that sleep can help this. Is it fair to say then that the quality of one's sleep could have a pretty dramatic impact on this system that you're working on?
[00:37:50] Jeremy Quinby: Huge. And the better the quality of sleep, you know. That's the thing that we're really trying to get to. Part of the craniosacral approach is also, it's basically an osteopathic work. You know, it's not osteopathy. It's a different focus and perspective, but it's the same system that technically chiropractors are working on.
Getting work on myself, I like craniosacral work better because it's very low force. We only use about five grams of pressure, which is mostly like traction type of work. But we can also kind of work with mobilizing fascia around organs and around the breathing system. And if that breathing system is moving really well, that informs the nervous system that everything's ok.
If we have a shortened breathing system, that fight or flight response goes up. We don't sleep as well, we don't digest as well. All the factors that could flare that have been challenges for you are much more likely to flare when that's happening too.
Craniosacral Therapy Loosened a Baby's Arm
[00:38:36] Detective Ev: Well, since we only have several minutes left, the one thing I especially gotta ask someone like you that's been doing work like this for so long, I'm always really curious about just maybe one or two client testimonials that stick out to you. Maybe they were particularly heartwarming or whatever comes to your mind. Are there like one or two stories that you'll just never forget and maybe made a really huge difference and impact in the person's life?
[00:38:57] Jeremy Quinby: Well, early on when I first started working with babies, I had a baby who had been born with the arm kind of up above its head and kind of had a shoulder tear, muscle tear. But they couldn't, since babies are so small and MRIs aren't always used in these situations, they weren't sure what was going on. They called it Erb's palsy, which meant that one side was not functioning. They thought that, that arm might never come back to have function.
They had been to Shriners in Philadelphia and all sorts of neurological tests and done all these different things. After the first session that I worked with the baby, the baby started using her arm. It just kind of goes to show too how sometimes things are really locked up. I look a lot at how things neurally pattern, because that neural patterning a lot of times will kind of take over when there's a perceived trauma.
That's the interesting thing with babies is, you know, parents might go through trying to do everything perfectly natural, have a water birth and home birth and have a doula at home and everything. But the baby might have a totally different experience.
Client Testimonial: 10-year-old with Panic Attacks
That might be great for the parent, having the baby at home and everything. But babies can have different kinds of perceived trauma from the event, and we're all individual in that way. So, I always take everything case to case. I never look at anything as a condition. And I think sometimes that is the mistake. We want a diagnosis, we want to call this Erb's palsy, but I'm just looking at it as something very generalized.
Another one, just talking about this case. I worked with a 10-year-old boy at one point who was having panic attacks. The same thing, been through all sorts of neurological testing, really didn't seem to be changing anything at all. They tried some medication, didn't seem to be working for the panic attacks. So, the mom brought him to me. I tend to really kind of work from a perspective of continuously asking questions as I'm treating.
Not everybody does that. Some people are like really quiet while they treat. I always feel like I'm going to get a certain amount in intake and people always miss things in intake, even if I have the question on there. I dunno why. I think it's a protective mechanism of some sort.
But anyway, as I'm working on him, he tells me that he hears a little fluid in his ear. So, for some reason, I was thinking is there anything that ever happens right before you've had these panic attacks or right before the last panic attack, was there anything that you remember? And he said, A really loud truck. I was like, that's interesting. Made note of that.
Craniosacral Therapy Around the Temporal Bone
Then kind of putting that together with the fact that there was something draining in his ear. The other thing is that the panic attacks never happened again. After I was doing some kind of mobilization work around his temporal bone, something drained.
So, my guess is there was some kind of echo chamber that set off his alarm system and his nervous system because it was so loud and so sharp that even though he knew it was a truck, his nervous system just went into shock. So, there must have been something going on with hearing and he never had a problem again.
[00:41:42] Detective Ev: It's amazing. I feel like you could probably write a whole book on just these cool stories to testify. Well, I'm working on it. Man, I wish I had you when I was younger. I mean, I know it's different for everyone, but panic attacks were the first symptom that I really remember, maybe with the exception of like stomach pain.
I was diagnosed with panic disorder at 15. I mean, it became an everyday thing. It became the thing where like, I'm hiding at home because you start to associate certain things with the panic attacks even though they really happen whenever. There isn't actually a rhyme or reason for them.
It's one of the toughest things for me to describe to someone mental health-wise. Now I'm assuming if I had schizophrenia, that'd probably be even harder to describe. But in terms of my life, Yeah, panic attacks, it's like, you feel like you're going to die. It's like, did you really feel that way? Are you being dramatic?
A Faulty Panic Response
It's like, No. A hundred percent scariest thing I've ever felt in my life. And it happened all the time. So, to take that away from someone, that's pretty amazing work.
And I love the arm story. I mean, it's not necessarily inherently bad to have that label on it, but the labels become self-limiting. We'll put that Erb's Palsy label on, and it's like, Okay, well that's it. There's nothing we can do. Sorry, your arm's stuck like this. And one session, I mean, that's ridiculous.
[00:42:46] Jeremy Quinby: To follow up with that, that wasn't the end. Because the arm started to have function, they put her in PT and in PT they realized she had a torn tendon. So, then she had a minor shoulder surgery at two years old or something.
But that was such a huge moment to realize that arm can work again. You know, and then sometimes we do need the surgical aspect of this too.
But like with panic attacks, a lot of this I know from my back issues that it's a patterned response a lot of times that starts to happen. The nervous system really loves to build these patterns in it. It's an efficiency mechanism that the body has, like learning how to play piano. Our hands learn the shape. We don't have to re-learn that every single time we sit down at the piano.
But the same thing tends to happen with something like this that's faulty, where all of a sudden, your body goes into this protective response, this panic response. It learns how to do that, and it starts to look for opportunities even to like, kick that in.
Where to find Jeremy Quinby
[00:43:36] Detective Ev: I love describing it that way cause it's so straightforward. It is an efficiency mechanism because the body doesn't want to waste all this energy.
It's why guys, when we're driving a car to a place that we go to routinely, like you almost are not there presently while you're driving. Like, how did I just get there? Because if we actually had to focus on every little thing we do all day, it's exhausting.
Think about when you start a new job, how different you feel going home at the end of the day versus if you've been doing it for five years and it's kind of routine.
So, Jeremy, of course everything will be in the show notes, but I always like to hear verbally, where can people find you and where can they find your podcast?
[00:44:08] Jeremy Quinby: Sure. If anyone's looking for me for my practice or wants to learn more about what I do or this kind of work, it's jeremyquinbycst.com, like craniosacral therapy.
That'll probably be in show notes. And Highway to. Health is the name of the podcast.
[00:44:22] Detective Ev: Awesome. Our signature question on the podcast is what we will finish up with today. I normally am actually really bad at predicting what people will say, and with you, I got no idea. Because you have a lot of experience and you've read a lot. You can't predict it, I found.
The Health Detective Podcast Signature Question
But the signature question, Jeremy, is if I could give you, in this case, a magic wand and you could wave it and get every single person in this world to do one thing for their health, and you could choose to get them to do one thing, or you could choose to get them to stop doing one thing, what is the one thing that Jeremy Quinby would get them to do?
[00:44:51] Jeremy Quinby: I'd get them to sleep eight hours a night. I mean there's so much restorative work that happens in sleep. It's amazing to see how kids can sleep and not every kid can sleep well. I mean, I work with some of those kids too. But as we age, I think just the amount of things that we're processing make it harder and harder for us to fall asleep, to stay asleep.
Then if we have any physical challenges going on, I mean, when I had back problems, I slept horribly. And just what that ends up doing for our mental-emotional states too. I think if I could get everyone that I'm working with to, and it's one of the first things that I do when I first start working with people is I make them commit to for the next four weeks, to adding a half hour a night of sleep.
Basically, either you gotta do it on the front end or on the back end. But I think for most people they gotta go to bed earlier. I'll usually suggest getting off of devices, setting some boundaries around when you're taking emails and texts and work-related stuff too, because that all eats into that stuff.
But that's the magic wand that I'd like to use.
Conclusion
[00:45:51] Detective Ev: All right guys. That'll do it for today's episode with Jeremy Quinby. I hope you guys like this one. This is a little bit of a switch up.
The stuff that he knows is just things that I am not really aware of at all. I mean, there's so many different things that you can learn in the health space. So, to hear what people are able to do from a physical standpoint, like actually physically manipulating something and getting results, I just think that's amazing. It's yet one more therapy out there that could help someone in a really serious way. So, we need to spread this message, right?
Now if you guys like what we're sharing, please consider leaving us a five-star review on Apple and or Spotify.
If you'd be so kind as to do that, guess what? We'd love you even more than we already do. I'm looking forward to talking to you guys again soon. But until then, please take care.
You can always visit us at functionaldiagnosticnutrition.com.
To hire a coach, go to fdnthrive.com.
For a FREE Health Review, go to fdnthrive.com/match/.