Introduction
[00:00:00] Detective Ev: Well, hello, my friends. Welcome back to another episode of the Health Detective Podcast by Functional Diagnostic Nutrition. My name is Evan Transue, AKA Detective Ev. I will be your host for today's show about a health story wrecked by mold exposure.
We're talking to my friend and fellow FDN practitioner Shalin Zapletal. It was kind of funny. Based on our conversation, I don't think English was her first language. She was asking how to pronounce Evan. I'm asking how to pronounce Shalin. I think we both nailed it in the beginning of the podcast. We did what we got to do. The last name is a whole different territory.
But what's cool about Shalin is she is the first person that I know of that was a journalist before being an FDN. There are thousands of FDNs running around, so I might have missed one, of course. But in terms of those that we've interviewed, I've never heard of someone coming from a journalism background and then going to FDN.
More importantly, because it's probably motivating for the people out there listening that are considering pursuing the course, or maybe you're already a trainee or a graduate and you're now focusing on the business side, trying to work that all out, Shalin had no business experience whatsoever. She worked for someone else.
Shalin is a Root Cause Practitioner
Within six months after graduating the FDN course, she was full time FDN. How did she do that? Well, she used our system, which is a very good one for starting your own business and working in your own practice.
Then she used a business coach, and the business coach of course is also an FDN. It was someone named Kristin Thomas. She was on this podcast back at Episode 140. So go check her out. We talk about some of her business stuff there.
Please know, FDN also has a lot of business support now. That was nonexistent when people like Shalin, myself, and Kristen had gone through the course. I don't want to say that they didn't try. I just mean that we did not have legitimate systems and courses in place at that moment to help out with the business side, and those things exist now. So, FDN just keeps getting better.
In terms of Shalin's overall background and her bio and what she does, she considers herself a root cause practitioner, someone who helps women who experience mystery weight gain and other symptoms, even if their lifestyle and diet are already pretty much in check. This is also something, of course, that conventional doctors are unable to resolve.
The reason that this is the thing that Shalin works with is because this is what Shalin dealt with. We'll actually be talking about mold today, probably more so than any other episode that we've ever talked about mold. I think it's something that's becoming, I don't want to say more popular as if it's like a fun hobby that people choose to engage in mold exposure. Certainly not that.
Mold Exposure Was One of Shalin's Primary Health Issues
What I do mean is that there's a growing awareness for mold exposure and its implications with those of us who deal with chronic health issues. I don't want to say universally, but at least 99% of the time, the people that I know of that have dealt with the mold illness, they were sick before, they had symptoms before, like pretty severe ones. Then maybe mold was the icing on the cake.
Whereas with Shalin, what's crazy about her story is, she gained like 40 pounds in a matter of several weeks, it was no time at all. All of a sudden, this weight started coming on to her when she was a very fit person before. She couldn't figure it out.
She's changing the lifestyle; she's changing the diet stuff. It turns out that mold was one of her primary things. She explains all about how that happened, what it does to the body that led to that extreme weight gain, and what you can do if you suspect that you have mold in your house, what symptoms to look out for, and what you could literally do in the house itself. We will be covering all that and more in this episode.
Without further ado, let's get to it. All right. Hello there Shalin. How are you?
[00:03:41] Shalin Zapletal: Hi, Evan. Thanks much for having me. I'm grateful to be on the podcast and super excited to chat with you.
[00:03:47] Detective Ev: Grateful to have you. I think we both just nailed it pretty well because we were both trying to figure out how to pronounce each other's first names before we went on the video. I think we did well.
Mystery Symptoms of Mold Exposure
I'm excited to talk to you today. Of course, you guys heard in the bio, we do have yet another Functional Diagnostic Nutrition practitioner on. And I love the diversity of our group. I mean, at this point with all these episodes that we've had, we just have people from all different backgrounds, nationalities, whatever. I think it really shows that FDN is a great system that works if we come in and want to utilize it. But I'm getting ahead of myself with the FDN stuff.
Before we even talk about that, what I would like to know is when did your health journey start and what did the symptoms look like? I know you probably have a health journey of your own.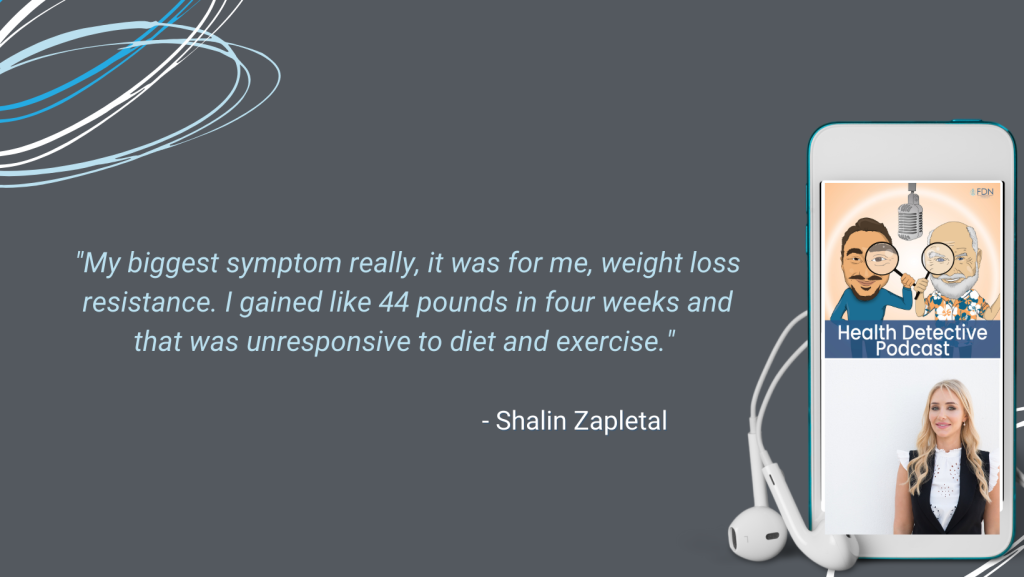 [00:04:30] Shalin Zapletal: Yes. My health journey started about five years ago. My biggest symptom really, it was for me, weight loss resistance. I gained like 44 pounds in four weeks and that was unresponsive to diet and exercise.
I've always been a kind of a fit person. I love to work out. I love to eat healthy. With these strategies, I pretty much could direct my body to where it should be. But then I used to live in mold and didn't know anything about mold illness back then, because I wasn't into the functional health space. Also, the conventional doctors had no clue about it.
So, I gained a bunch of weight in a very short time. Also, a lot of other mystery symptoms came on board. I was like, I had no energy at all, GI symptoms, bloating stomach, diarrhea out of the blue. I couldn't tolerate any foods anymore. Insomnia, from under in the beginning, sleeping 10 hours per night.
No Immediate Connection to the Mold Exposure
Then I woke up being hit by a truck. All of a sudden, I could only sleep three to four hours. Depression, anxiety, a lot of shame, guilt around my body, these were the main symptoms I was dealing with.
[00:05:29] Detective Ev: That story is actually something that kind of is pretty common here. But what's not common is how fast this happened.
You said 44 pounds in four weeks, right?
Shalin Zapletal: Yes, that's correct.
Detective Ev: Whoa. Alright. I know that you brought up the mold thing already, and perhaps I'm going too far ahead in the story, but I'm curious. I mean, I know these things can make people sick, but did you ever figure out why did this seem to happen all of a sudden like that? I mean, that's a crazy gain of weight in such a short period of time.
[00:05:54] Shalin Zapletal: Yes. We had a water leak in our apartment, so the mold was kind of there overnight. Water broke from the upper apartment. We had the mold on a drywall. We cleaned it with bleach, which I now, today, know it is the worst thing that I could have done.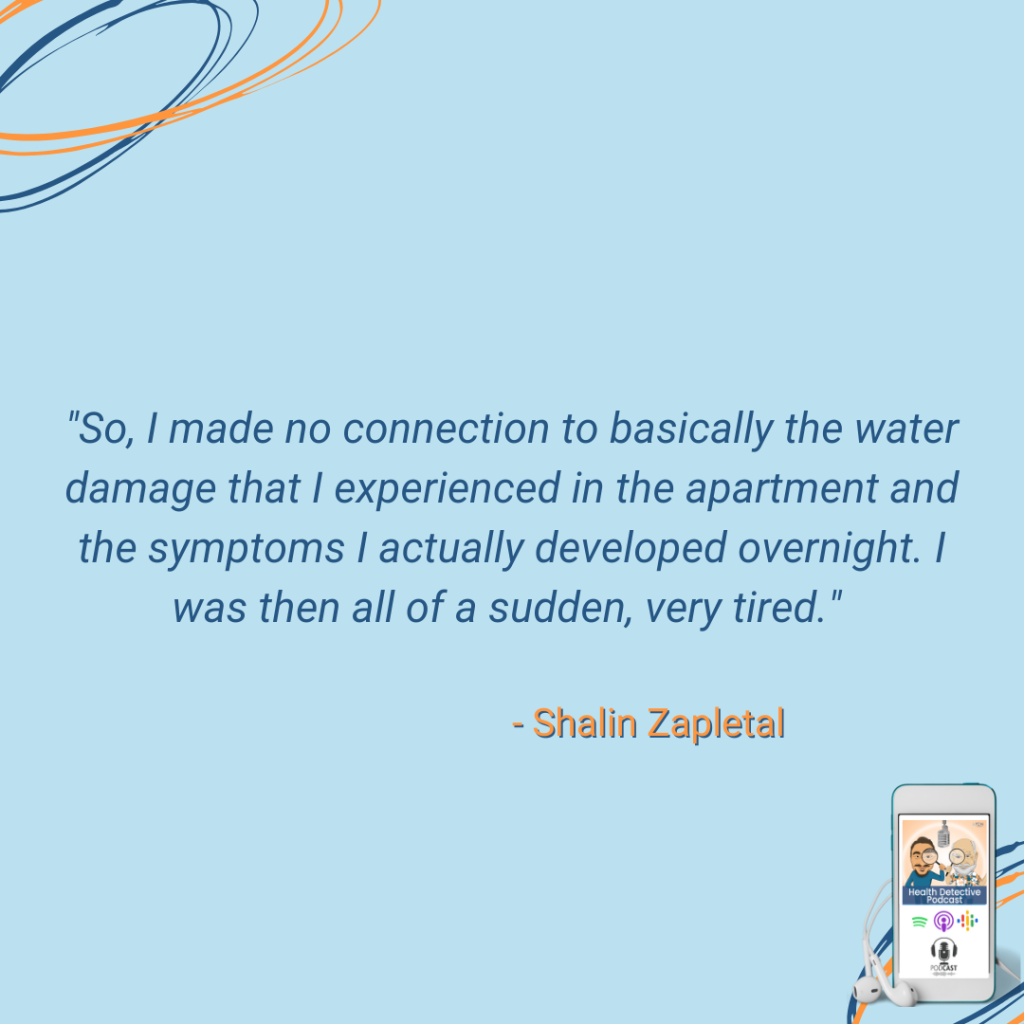 The mold has these high phase structures that are behind the wall and by using the bleach, it makes the mold just much more aggressive. So, I made no connection to basically the water damage that I experienced in the apartment and the symptoms I actually developed overnight. I was then all of a sudden, very tired.
Mold Exposure – Accumulates in Fat Cells
Also, cleaning with the bleach makes the mold much more aggressive and it replicates much faster. That's also important to mention here. You think you are safe because you don't see the mold anymore, it looks clean. But the health really declined very fast. The mold goes after the liver and after the mitochondria.
They are super important, mitochondria, for energy production. To no surprise, I was all the time tired. I really had to push through every day just to make it. Everything seemed to be like a huge burden. Then, of course, the liver is also our body's master detox organ. When in the body, the toxins are able to accumulate more and more and cannot leave anymore, it's just like kind of a downward spiral.
Really no more energy. I slept 10 hours in the morning. I felt like being hit by a truck. It went on like that; and then I kind of was bedridden at the end of my journey, so to speak. The 44 pounds in four weeks, I looked very inflamed. My whole body was not only fat gain, but it also was water weight.
What we have also to keep in mind with mold is that they are lipophilic. They love to accumulate in our fat cells. They accumulate in the fat cells and if the body is not able to detox it, it just puts it in the fat cells and says, if you just stay there that's much safer than if you would cause any damage to organ and tissues.
Then other symptoms that are very typical for mold illness, like depression, anxiety, mood swings, because the mold is able to cross the blood brain barrier, random aches and pains. That's what really, what I was experiencing.
Mold Exposure – Tired, Gaining Weight, and Feeling Like a Failure
[00:07:46] Detective Ev: Okay. I actually really appreciate that explanation for the 44 pounds, because anyone that knows anything about this, you would have to be eating like 10,000 calories a day to actually gain that weight, literally.
It makes a lot more sense that your body, I mean, people react to mold, no doubt. But your body hated this thing and was like, all right, what do we do with this, because we're pissed off right now.
I'm assuming, even though you connected this later, you said yourself, you weren't in the functional space. You're not thinking about mold. What was going through your head initially when you're dealing with these symptoms? Did the doctors have any type of answer for you? I'm guessing you went to the doctor's office pretty quickly after this.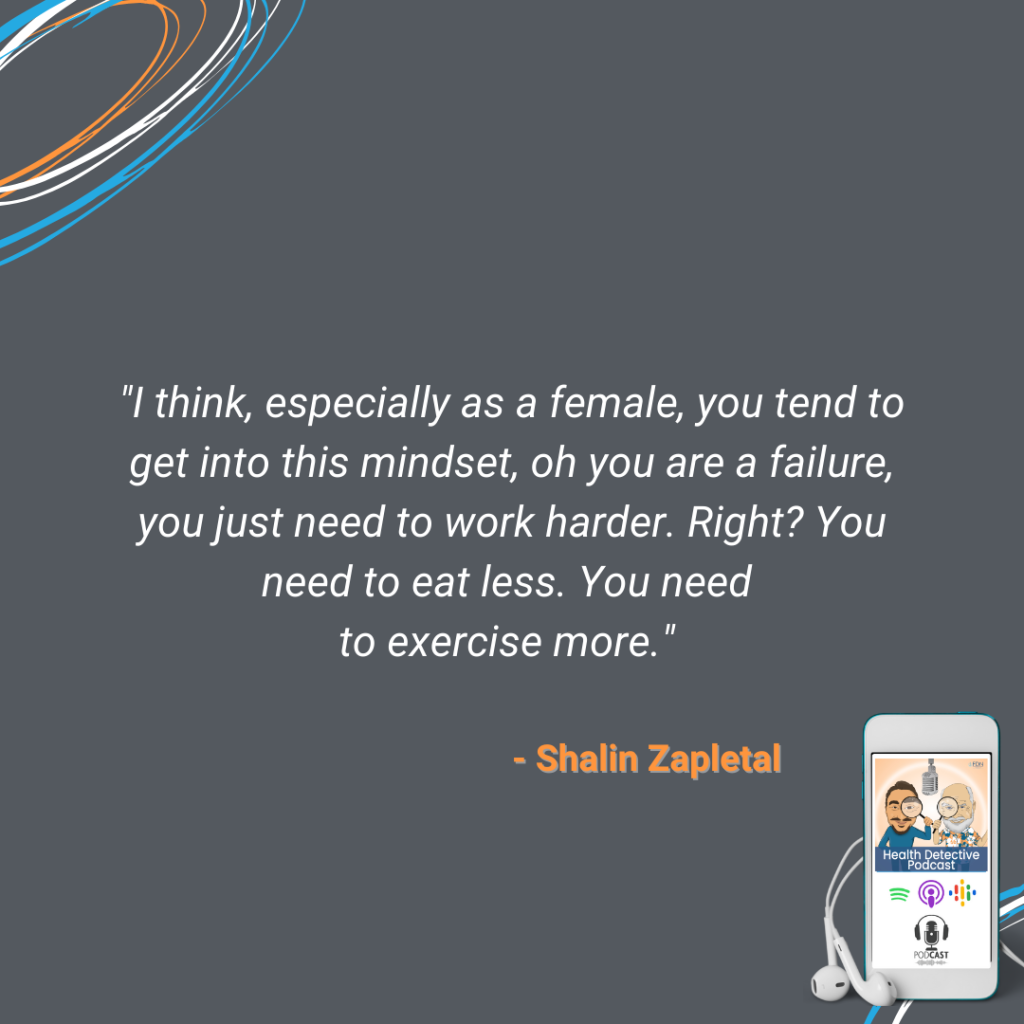 [00:08:22] Shalin Zapletal: Yeah. So that's a great question. I think, especially as a female, you tend to get into this mindset, oh you are a failure, you just need to work harder. Right? You need to eat less. You need to exercise more. I initially tried all the diets, like keto vegan, no carb, low carb, one meal a day. I just tried to be very harsh on me and it just didn't work. I was on 800 calories daily and I still gained weight. That was really the point where I knew something is not right.
I was initially doing all the mistakes that basically the people who come also to work with me, they are just trusting a doctor's opinion. I was with a lot of doctors; they told me your lab work looks normal. I was crying in front of doctors. They basically told me I should stop eating candy and stop drinking alcohol.
In the Cycle of Trial and Error with Mold Exposure
I told them, I have a diary. I track everything I eat. I'm becoming so obsessed about my food. They didn't believe me. Then I went to the internet, relied on Dr. Google, tried to get better. Randomly purchased any supplements on the internet. They had, of course, no effect because I didn't know what they were addressing.
I tried to self-heal myself without any roadmap and I just stayed, in the end, confused why the weight didn't come off. I continued to do this over and over. Of course, I kept having the same results. I was with 10 plus doctors. Really no doctor was saying, Shalin, I don't know what's going on, but I'm willing to go down this rabbit hole with you. Something is not right, I believe you. I didn't have that experience.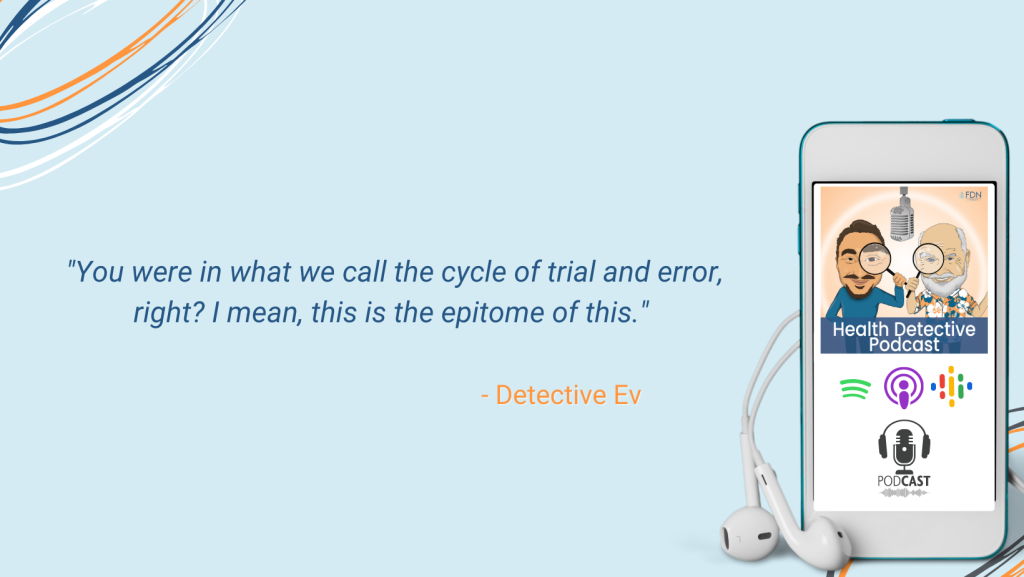 [00:09:41] Detective Ev: I think it's worth mentioning because you and I both know this concept very well, but for those that might not be regular listeners, this is a new thing. You were in what we call the cycle of trial and error, right? I mean, this is the epitome of this.
It's someone that gets sick and is very hardworking. It's not like you're not willing to do what was necessary. But you go to the doctor, they don't have an answer sometimes, and it's through no fault of their own. The doctors are great people, they're trying to do what they can, But Western medicine is not always equipped for things like this.
Hitting the Bottom with Mold Exposure
I'm in the functional space and I would not even consider myself a 10% expert in the mold stuff, let alone someone in the Western space that might not be thinking about this as much. So, all right, that doesn't work, then what do we do? Like you just said, Dr. Google, I'm trying different supplements, I'm trying this diet, that diet, and the next thing. That's what we call the cycle of trial and error because as it sounds, you're just trying things. This worked, or it didn't work.
Unfortunately, for some people, depending on what the condition might be, or the cause might be, you might be trying seemingly everything. You might be working harder than 90% of people, or even 99% probably. Yet you still have the crappiest health results out of everyone.
It seems like you were at least more open to this idea of something natural. I mean, especially if you were going on low carb or doing one meal a day, you're thinking outside the box. At what point, though, do you transition fully from a more Western medicine diet only approach to, I need to go somewhere else? Because, I'm guessing, if you didn't have any background in mold, I'm assuming some type of practitioner eventually told you about mold. Right? I could be wrong here, but how did you get to that point?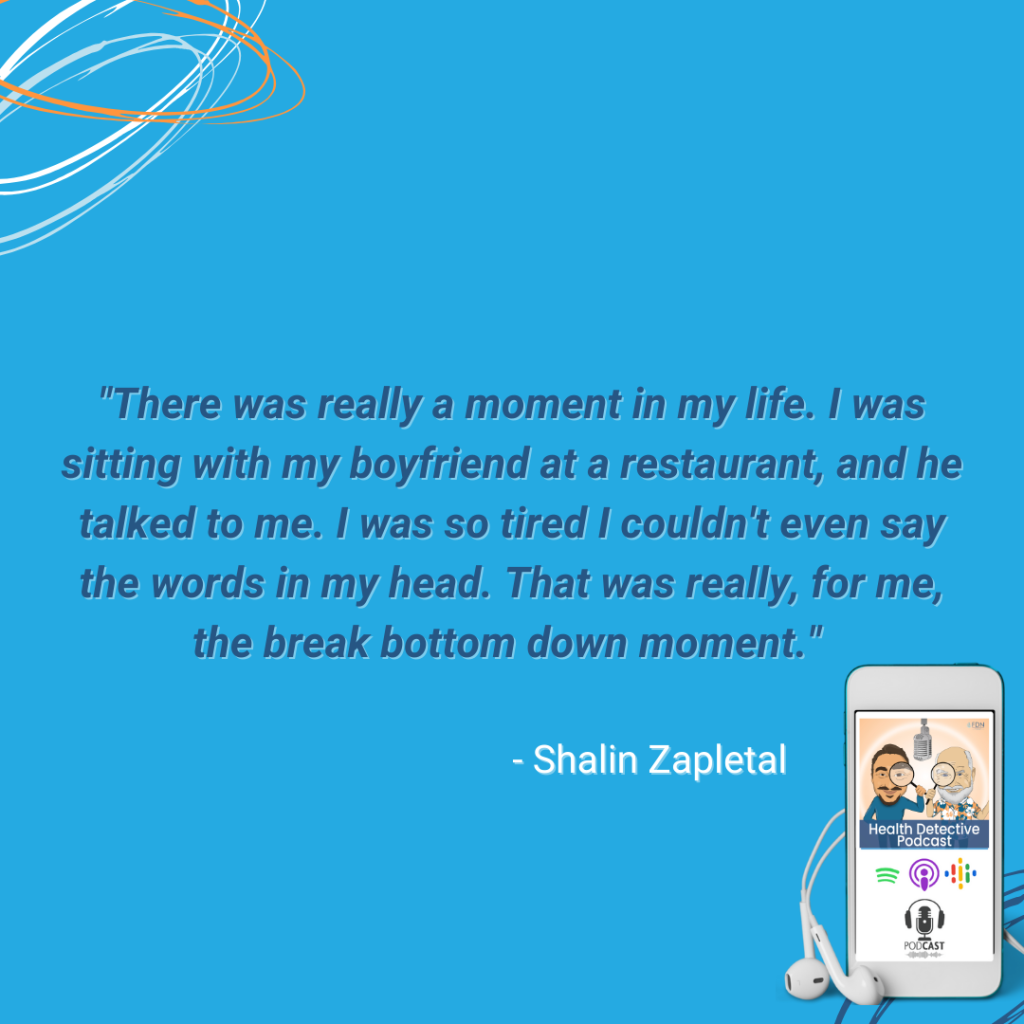 [00:11:08] Shalin Zapletal: Yeah. I really had a kind of a breakdown moment. There was really a moment in my life. I was sitting with my boyfriend at a restaurant, and he talked to me. I was so tired I couldn't even say the words in my head. That was really, for me, the break bottom down moment.
Becoming My Own Best Advocate with Mold Exposure
The next morning, I woke up and said, Shalin, this is not the life you want to live anymore. You have to do something. All the energy I had, I continued to Google on chronic illness, onto symptoms. Then I stumbled cross function medicine. Then I started to work with a functional medicine doctor in Canada at that time.
I paid a lot of money for lab testing, but unfortunately, he also was not equipped to see what's going on because I had a huge parasitic infection as well. Check 90% of the science and symptoms, and he performed the stool test. You probably know that very well, a stool test is not very reliable to test for parasites. He also dismissed the mold despite knowing all the symptoms.
So, I really researched, did a lot of summits. I came then across a health coaching class that I took. Then finally, also, I stumbled across FDN lab certifications for blood chemistry. I basically took all the knowledge, all the testing that I could for myself, and just pieced together to put the pieces of the puzzle, established protocols, and had to be my own best advocate.
[00:12:18] Detective Ev: You become your own health detective literally, right? That's kind of why we name it this way on the podcast.
See, this is always tough for me, cause I hear these stories and, I didn't have the mold thing, but it's similar to me in the sense that we have no idea what's going on. We don't have a background in this stuff. We're doing our own research. When I hear these stories, it's very admirable, I'm inspired by listening to it. But I feel so bad for all the people that come on this podcast.
Passionate and Ever Learning About Holistic Health
Even though it's impressive, what you did, you should have never had to do this. It shouldn't be this hard to get this information. You shouldn't have to be paying people thousands of dollars for lab tests, and then they don't even necessarily know what's going on. I mean, it's one thing to pay someone if they know what's going on, that's great. That's what we try to do as FDNs.
At the very least, if we can't figure out what's going on with the person, which is pretty rare, we are still humble enough to admit we know something's going on with you, we just haven't figured it out yet. Whereas a lot of Western medicine doctors, if they can't figure it out, typically what's said is, oh, well it must be in your head. It's stress or anxiety, or stop drinking alcohol and eating sugar, stuff like that. That's pretty insulting to the person.
I got to ask then too, what were you, like career wise? Because you not only went through FDN, but obviously you wanted to make it a career, which is amazing. Were you even in the health space before, or was it a completely different career before doing all this stuff?
[00:13:32] Shalin Zapletal: I was a completely different career. I was into journalism, so I was an editor back then. I just was doing it alongside so to speak, but I really became very passionate about it. I'm very passionate still about the holistic health space. The more you know, the more you know how much you don't know actually. So, I'm constantly learning, developing, and going to summits. I became super, super passionate about that.
Having an Advocate Assists the Healing Process
That's basically how I turned my business around. Now I'm helping women overcoming weight loss resistance, mystery symptoms, and for me, it's really the most rewarding thing. Because that's really what I wish that I had. It can be scary to go through a detox because you're just not only getting better. There can be bumps in the road, there can be trial and error as well. To just have someone on your side who says, look, I believe your symptoms and we are going to make it.
[00:14:17] Detective Ev: Yeah, I don't want to put a percentage on it, but I mean, sometimes 10% to 20%, depending on the person, might be even 50% of the healing, is simply having another human being that actually believes what they're saying. I agree with you, you are sick. Something's going on here and they're willing to do something about it or at least work with you until they figure it out. I think that's just very cool.
I'm trying to get the story right here. You went to this Canada person, they did the labs and stuff, but they might not have known about the parasites and those other things. It was, more or less, eventually, you kind of figured this out completely by yourself. So, the cycle of trial and error did work for you eventually to some degree.
[00:14:50] Shalin Zapletal: Yes, after some time. Then I think I at least struggled one and a half years with it. So, I continued to push through.
Dumping on Random Supplements Can Backfire
Just touching on the function doctor again, he made things worse because he diagnosed me with adrenal fatigue. He gave me 50 supplements. So, 50 different ones that I had to take daily. I think my liver just couldn't handle that anymore. It was already so toxic and then it should still break down the pills.
He gave me some adrenal injections. Now I had to inject myself. I was really getting worse during that time. That's also important because if you just dump on a person, random supplements, I see that a lot of people are doing that in the approach to try to self-heal, that can also backfire.
[00:15:27] Detective Ev: I just did a video on this. This was just yesterday where I actually commented how adrenal fatigue is not even, you know. It's kind of weird that he diagnosed you with that because we know adrenal fatigue doesn't even really exist.
It's not fatigued adrenals. It's the HPA axis dysfunction if anything. You know, I'm sure that doctor's a great person, but it kind of stinks that even in our world of the functional side, we still have people messing these things up all the time. I think that's where FDN practitioners really get separated.
We have a time tested system. Then we also, all of us, have this willingness to accept that if somehow we couldn't find out what was wrong with you on these initial labs, we know that we have to just dig deeper or try something else. We've all been in this position in our own stories where we had people not listening to us or people didn't believe us, whatever conditions we might have had. I commend you for just pushing through.
Wanting to Test and not Guess with FDN
Of all the careers I've heard people switch from, I have never had a former journalist on the show, so that's kind of cool. It just goes to show, you can be doing anything and then switch to FDN. We have people in science backgrounds, and then we have people like myself, that had no background in science and are able to do this. So, you're going to have to work hard, but the course is made for just about anyone.
When you were going through the course, were you still at a point in your health where like, were you learning a lot and discovering things on the labs? For those that don't know, we actually include lab tests in the cost of tuition when you go through FDN.
So I'm curious what insight you might have gotten from the labs when you ran them eventually.
[00:16:48] Shalin Zapletal: When I was like starting FDN, that was really when I decided to make this my career. I was initially starting with the Kresser health coaching course, but I very fast discovered that I wanted to rely on data and that's what all is FDN about. We test, we don't guess. That was so exciting for me.
I wasn't even finished yet with the health coaching course, I decided, no, I want to take on FDN and then finished it within six months. The testing was, for me, also like very interesting. I had discovered a lot of food sensitivities, but, of course, we know it's not food intolerance at that time. It can be caused by a leaky gut. But the other health issues I did have, basically I overcame.
FDN is Great at Teaching the Business Side
[00:17:21] Detective Ev: Was your primary drive then for FDN at that time the career switch rather than the health stuff?
Shalin Zapletal: Yeah, exactly.
Detective Ev: I appreciate this coming up because we weren't planning on this. But when I'm talking on this show, primarily it is health stories. Then, almost as a secondary thought, people then say, well, maybe I could go do this as a business. I love the fact that you were already going in with the mindset of, I'm going to switch careers and do this. You still chose FDN.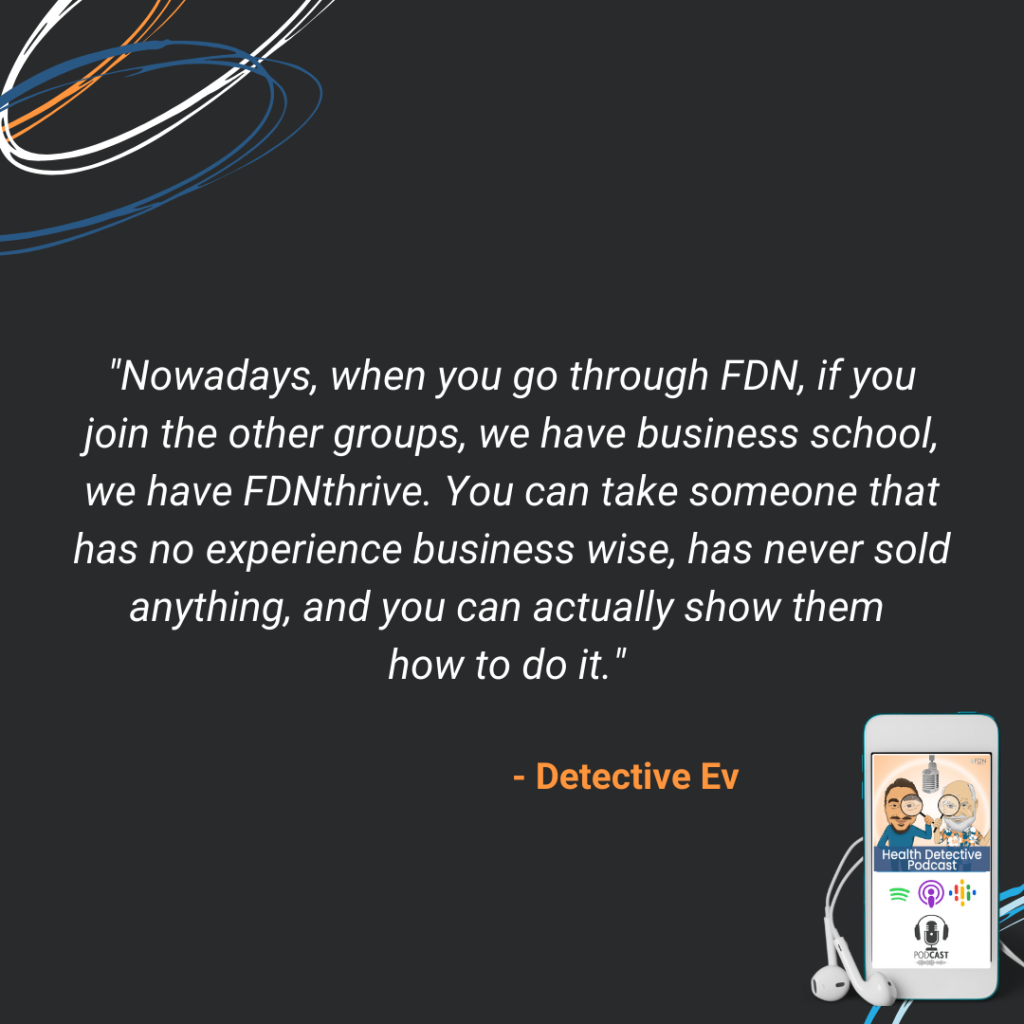 I keep telling people, I mean, I graduated a little over five years ago and FDN was a fantastic health program then. It really was not a business program. Like, they weren't that good at teaching that. Nowadays, when you go through FDN, if you join the other groups, we have business school, we have FDNthrive. You can take someone that has no experience business wise, has never sold anything, and you can actually show them how to do it.
Now you come across to me as a pretty outgoing, confident person and you're very driven, obviously. So, I'm sure that was advantageous. But I mean, as a journalist, I'm assuming you were working for another place, right? Had you owned your own business before FDN?
[00:18:20] Shalin Zapletal: I hadn't owned my own business. I was employed at a retail company in Stuttgart. I worked for those five years. Then it was really a separate switch that I used to the holistic health area to transition my career.
An FDN-P Business Rewards with Health Transformations
I also want to say that it's not so uncommon when people experience their health issues. A lot of clients that come to me, they are unhappy in their careers. Some of those already have now taken the FDN course to make a switch in their career because they are impressed that you can do it.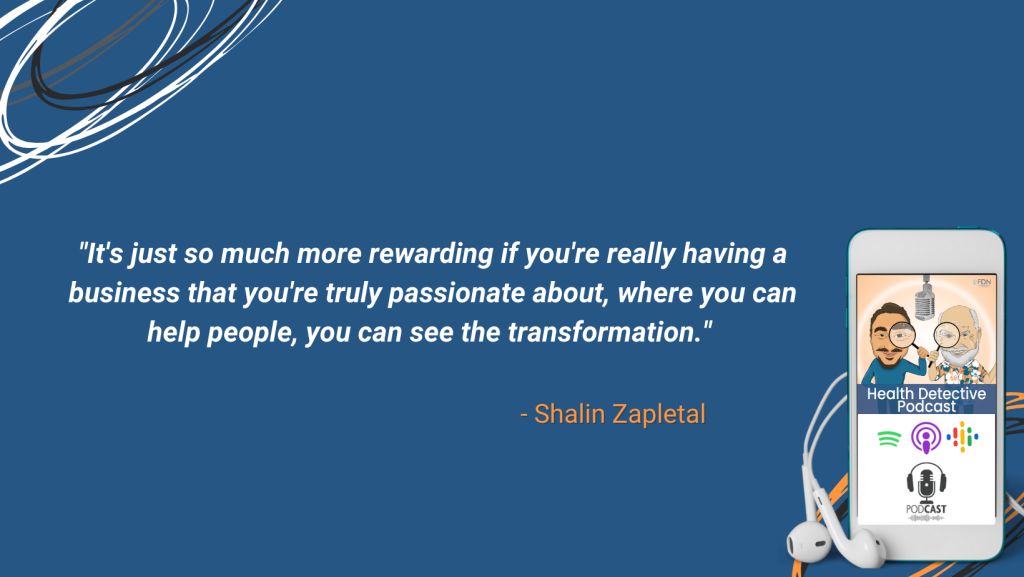 It's just so much more rewarding if you're really having a business that you're truly passionate about, where you can help people, you can see the transformation. When I work one-on-one with clients, they're just so thankful for the transformation that someone is listening. It's the most rewarding thing that I never got out of anything else before.
[00:19:01] Detective Ev: It's not work. It's crazy that we get to call it work.
When did you officially graduate the course?
[00:19:07] Shalin Zapletal: I think it was four years ago.
[00:19:08] Detective Ev: I did not even realize that. We've graduated at a similar time. This makes a lot more sense now because I didn't know if you were a recent graduate. I'm like, wow, it sounds like you have a lot of clients and you're doing some good things. It makes more sense that you have an established business after that long. You were going through the course at a similar time to me in the sense that it actually wasn't the most extreme business training back then. So, I'm even more curious to hear from you.
As someone who had never owned a business, you didn't do this, but you wanted to do it, how did you take the FDN course and go out and start actually taking on clients? What was your approach?
Building a Business Takes Time
[00:19:37] Shalin Zapletal: My approach was very simple. I just shared my story on Instagram. At the same time, I also took like a former FDN person, her name is Kristen Thomas.
Detective Ev: Yeah, we've had her on.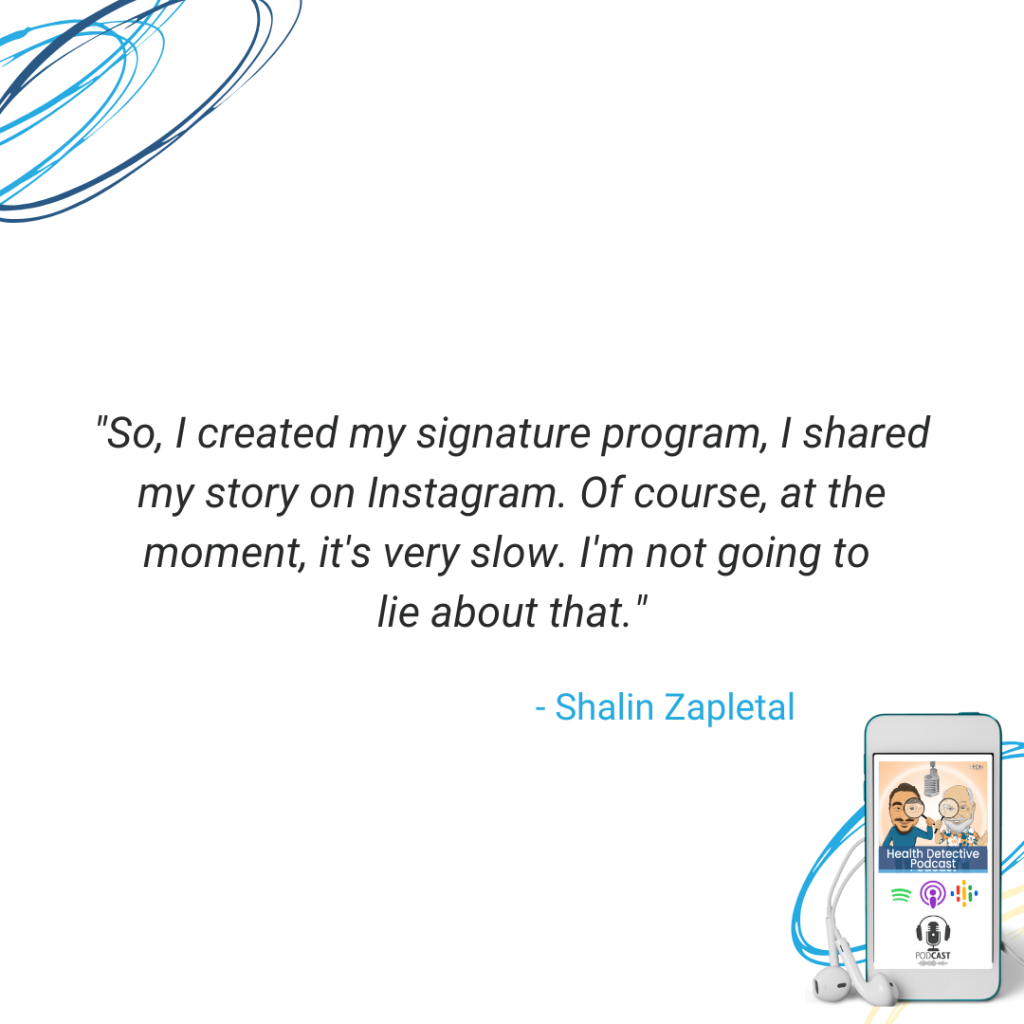 Shalin Zapletal: She is teaching about how to create your business. So, I created my signature program, I shared my story on Instagram. Of course, at the moment, it's very slow. I'm not going to lie about that.
There have been times where I just was putting out my content and there has been no client. But, at one time, it just picks up people here. Then it's particular, when you can share client testimonials, when they see it works. That's really when the business starts to thrive.
[00:20:10] Detective Ev: Thank you for this, cause this is very encouraging for people to just hear it was a little slow in the beginning and stuff. That happens and there's ups and downs. That's just business, man.
Business is a part of life for people and life has ups and downs. It's going to be the exact same thing with that.
But what's important for people to realize in my opinion, is that FDN, it's a great system. It works, people get better. That's fine. The hardest thing that you will ever do, most likely, in the business itself, is obtaining those initial clients. Because you don't have any testimonials yet, you don't have any proof of concept.
Word of Mouth Marketing Strategy
Once you get the first 10 to 15 real clients, you work with them, you take them through a program. It's not like you don't have to put in any work after that. I mean, you're always going to have to create content and do stuff. But my point is, it ends up becoming, a lot of things are word of mouth.
I mean, you look like a very fit person. If you gained 44 pounds. Let's say I'm your friend, right? I watch you gain 44 pounds in a matter of four weeks, and then I watch you lose it. I'm going to ask, what have you been doing? I want to know what's going on. There's actually like a very natural word of mouth thing.
Part of my story is I had severe cystic acne. When that all of a sudden was getting better and better, people started asking me, how are you doing that? Of course, I was the FDN, so it was very good for me. But had I been working with someone that was an FDN, I would've just said, I'm working with that person and they're really helping me. They're doing these labs. Like, you should go work with them.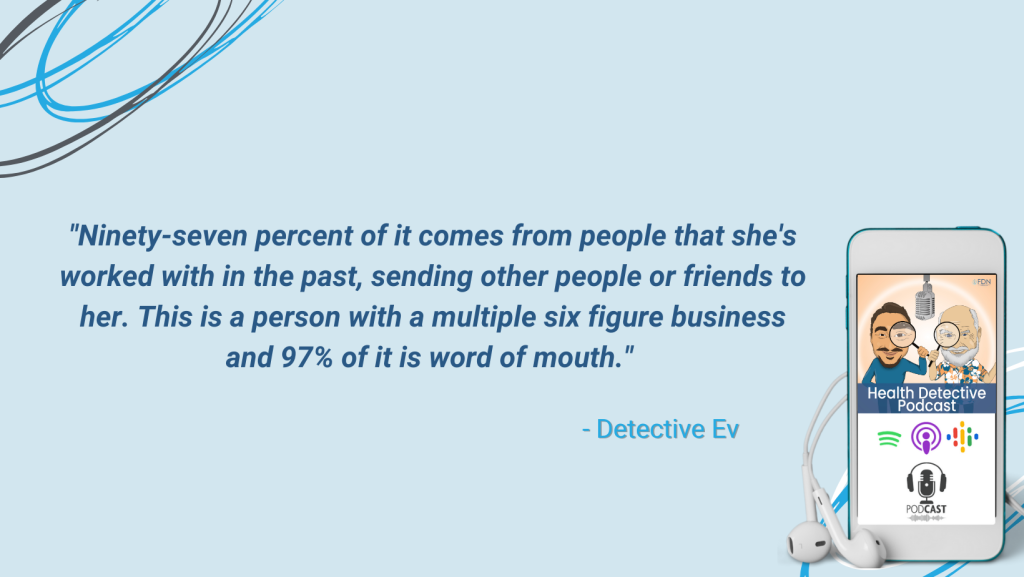 I know a long term FDN, she's been around for about nine, 10 years. At this point she says, and this is the actual number, she tracks everything. It's like 97% of her business now is completely referral based. It does not come from new posts. It doesn't come from talks in person. Ninety-seven percent of it comes from people that she's worked with in the past, sending other people or friends to her. This is a person with a multiple six figure business and 97% of it is word of mouth.
Start Out with Free Consultations
That's the power of what can happen here.
You don't have to say the exact time. I'm just kind of curious, because you said it started slow in the beginning and I know a lot of people do listen to our podcast for the business side. They want to know how this will help them career wise.
How long would you say it took for you to get this to a place where it was full-time? Because the way that you've already described this, I'm assuming that this is a full-time thing for you at this point. It has been for a while.
[00:22:24] Shalin Zapletal: That's correct. It took me about half a year. How I was starting it out was with the free consultations.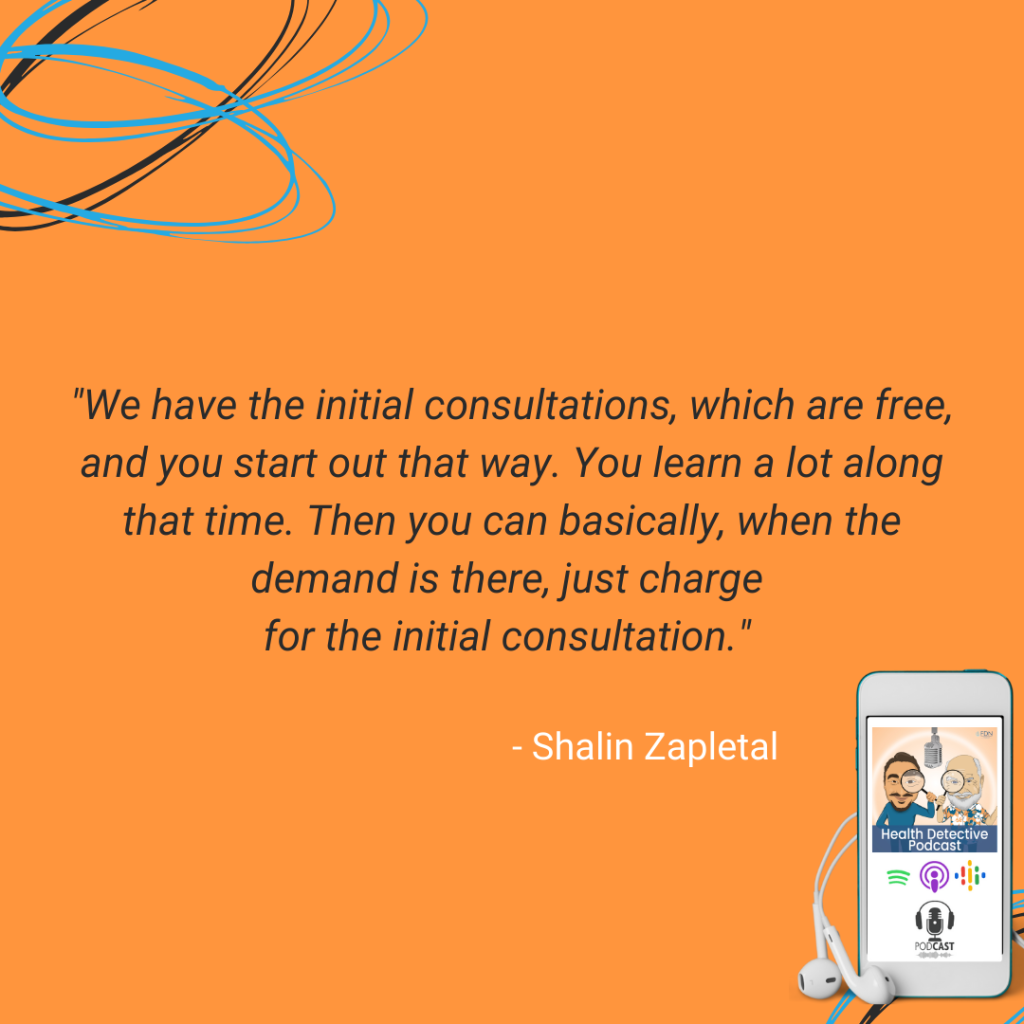 We have the initial consultations, which are free, and you start out that way. You learn a lot along that time. Then you can basically, when the demand is there, just charge for the initial consultation. You're just also blocking out the weeds for the people that don't have any intent to move forward, will just want to get some free advice, that happens as well.
So after half a year, it really picked up very fast.
Commercial Break – Try the FDN Course for Free
[00:22:48] Detective Ev: Hey, there friends. It is Detective Ev popping in here really quick. If you're listening to this episode and maybe you're thinking about becoming an FDN practitioner yourself, then what you want to do is go to fdntraining.com/tryfdn that's fdntraining.com/tryfdn. This will let you try the course completely for free, no credit card is required.
For some people this can be a life changing thing. I mean, think about Shalin's story. She was a journalist, no experience in business, no experience in functional health. She does the FDN course. She had, you know, maybe a couple of years of research under her belt, just loose research she did on her own, which I guarantee, you probably have already yourself. Then the course kind of helps you funnel that and sort it out – what's good, what's bad, what's relevant, what's not.
She graduated in under a year. She starts her business right away. Within six months after starting it, she is a full-time FDN. That is pretty impressive, and I think it shows what's possible with this system.
Are you going to have to work? Yes. Is it going to take some time? Absolutely. But this isn't something that you have to wait 4, 5, 6, 7, 8 years to go help people with.
So, if you're considering the course, fdntraining.com/tryfdn is the place to go.
All right. Now, back to today's episode.
Business Advice: Get Some Mentorship
I would hope people hear something like that and are totally encouraged. Guys, half a year, that's really good.
Listen, I think you're probably missing something. I don't think it should necessarily take that long. But at the same time, that's still great for a business. Most businesses, like when my parents opened up a very small diner when I was younger. It sat about 54 people, that was it. You do not profit off that in the first year. You know, you're lucky to profit off that in like the first few years.
So, the fact that we have a system here, we can start with almost no overhead. It's not like you had to build a storefront to start your FDN business. Then in six months you took that from someone who has no experience running a business to doing that full time. Then here you are four years later. I mean, that's amazing!
What advice do you have for people that are maybe trainees right now? We have a lot of people that are trainees that listen to this. What would be your advice to them for starting their business and kind of getting going? Like, what would you tell them?
[00:24:51] Shalin Zapletal: Definitely getting some mentorship. You should always look for someone who can teach you the things much faster to accomplish something. I took classes on Instagram. I took classes on how to establish a webinar funnel, et cetera, et cetera. That's definitely important.
In Business You Have to Give Before You Take
Then also, just always provide knowledge to educate. Some people, they have the conflicting thought, oh, if I put everything out on Instagram, or my website, then people don't want to work with me, but it's the opposite. Like even people, when they take all the knowledge that you have, they are still not able to establish protocols.
They are trying and trying and they're failing. In the end, when they see you have all that knowledge and you are sharing it for free, then they trust you and actually come to work with you.
[00:25:26] Detective Ev: I need to highlight that and post it in every business thing. Because people don't get this. It's such a limiting belief. They think that if they post everything on social media, people are not going to work with them, and you just nailed it.
I mean, I have friends that are not even in the health space, and this is still true for them. They're entrepreneurs and they post their knowledge. In today's world, guys, we're playing with a different set of rules for business. This isn't 50 years ago.
Now people are skeptical, as they should be. People used very cheap sales tactics on people in the past. They're done with that, they're on high alert. The good news is for people like us, is the people that are going to win in business are the people who are ethical, honest, and actually give something first before they try to take. You have to give before you take.
Thankfully we're all honest people doing honest work and we have so much knowledge to share with the world. You guys have to remember, people are paying, still, for the lab tests. They need someone to analyze the labs.
You Give the Proven Roadmap and the Results
You could post someone's other labs online all day. Let's say you weren't an FDN, and you were following me and I'm posting stuff. That doesn't mean you know how to do the labs, or you know where to get them, or which labs to run on your specific thing. There's so much more to this than that. Don't ever get stuck in a box, follow her advice.
You want to give as much information as possible because then people look at you as this credible good person that you are, and they want to work with you. I know it's counterintuitive, I get that. But it's some of the best things that you could ever do to grow the business.
[00:26:47] Shalin Zapletal: Exactly. Because I also think people, even if you give all the information and they try it, it's for them, again, a trial and error. But they come to you because they want a proven roadmap, and they want fast results.
I had people that message me like two years before they started work with me, they tried it again and again and again on their own. But at one time, they are tired and want just to have the results. Then they're ready and they'd say, hey Shalin, now I would like to sign up. Then we take them through the process and then they get the results.
[00:27:11] Detective Ev: Yeah. That's the other thing too. It's actually giving it time. That's why business, in my opinion, it's kind of like a snowball that's rolling downhill. Because in the beginning, oh my gosh, that snowball's not doing anything. And if any tree got in front of it, the snowball just disintegrates.
Get Out of That Employee Mindset
But once that snowball starts building up and like actually becomes more firm, the fruits of your labor, the things that you're doing today in business, are going to pay off six months to a year from now. Like you said, something you posted, the person that is viewing your post might not even be sick right now, but a year later, I've had this happen so many times.
Someone that I know, they're not the sick person. But they have a family member, and the family member ends up calling me because this other person saw my post eight months ago and knows that I help people with stuff like that.
People get trapped in the employee mindset. I mean, I'm an employee for FDN, there's nothing wrong with being an employee. I'm saying they get stuck in that mindset of, I show up and I instantly get paid. I get my hourly wage; I make my paycheck at the end of the two weeks. Business is not like that.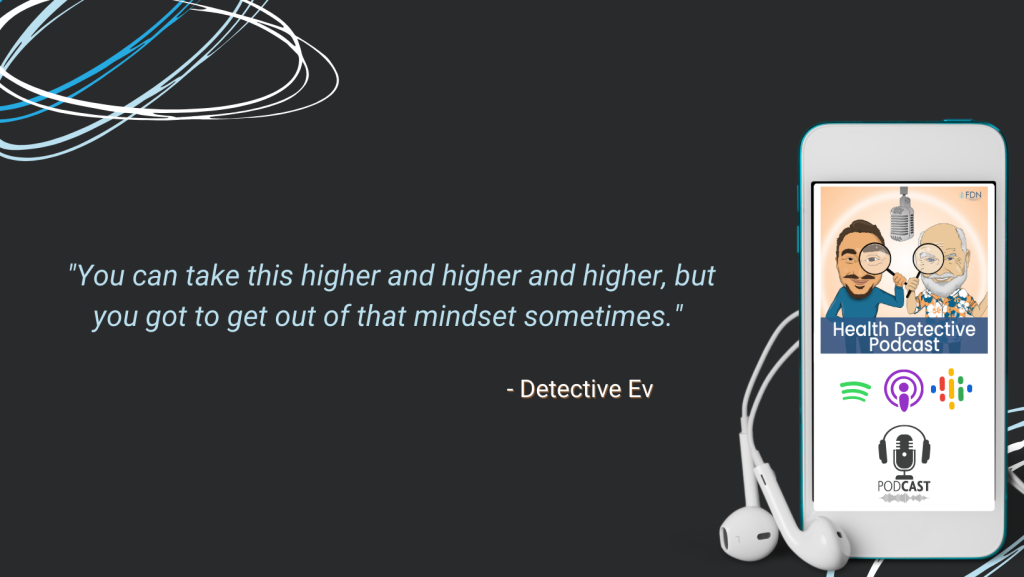 The other side of that, though, the good news is, business also has unlimited potential. You can take this higher and higher and higher, but you got to get out of that mindset sometimes. It's not going to be, all right, I showed up for this hour, so I get my $15, $20, $30, $40, whatever it is. You got to put in the work now and that stuff comes in later.
[00:28:25] Shalin Zapletal: Yeah. And I think you also have to be open to different approaches. I started out with only one-on-one coaching and with high ticket offers and lab testing packages. But now I'm offering also some group coaching.
Provide Something for Everyone
Just have, for everyone, something available or like, publishing some eBooks for very small fee. If people just want to maybe do one broader call or something like that, maybe just like thinking outside the box, what you can give the people to give them some help.
[00:28:48] Detective Ev: So, just to be clear, you do all of that now? Like you have those three or four different services?
Shalin Zapletal: Yeah, of course.
Detective Ev: Okay. Very cool.
Now I usually ask this question with newer graduates, but I'm still going to ask it with you, even though it's four years. I want to know, what were some of the things, especially as someone who they really had nailed down the health stuff prior to FDN, which is on the rarer side. What were some of the things that you liked most about the course?
And one little disclaimer, I'll put on this for those listening, is, guys, we actually had a lot of changes happen in the last two to three years. I don't even think there was the Facebook trainee group four years ago. Like you didn't have a group that you could join?
Shalin Zapletal: No.
Detective Ev: Okay. So, keep in mind that we're missing some features here that are really great. But I'm still curious to know, like, at the time, what were some of the favorite things about the FDN course as you were going through it?
[00:29:34] Shalin Zapletal: So, first of all, I love learning. So FDN still, although I had learned a lot already, it still gave me some new insight in things.
FDN Course Exams and Mockup Calls
What I also really loved was the exams in the end. I thought they were super thorough. Not only the written exam, but you had the three oral exams at this time just to learn how to talk to clients and see, how do we approach a case? I mean, if you would just graduate with all the knowledge but don't have these mockup calls, I think you might feel very lost to that. I found that extremely helpful.
[00:29:59] Detective Ev: I did another certification, and I won't mention it, it's not important. But they did not provide any of that one-on-one mentorship or those types of exams.
You know, I'm in the trainee group now, even as a staff member. I comment stuff for the trainees sometimes and just give some words of encouragement. Some of them are very intimidated by these exams. It's kind of funny because once they realize this is actually a real test, they're like, oh my God, I can't do this.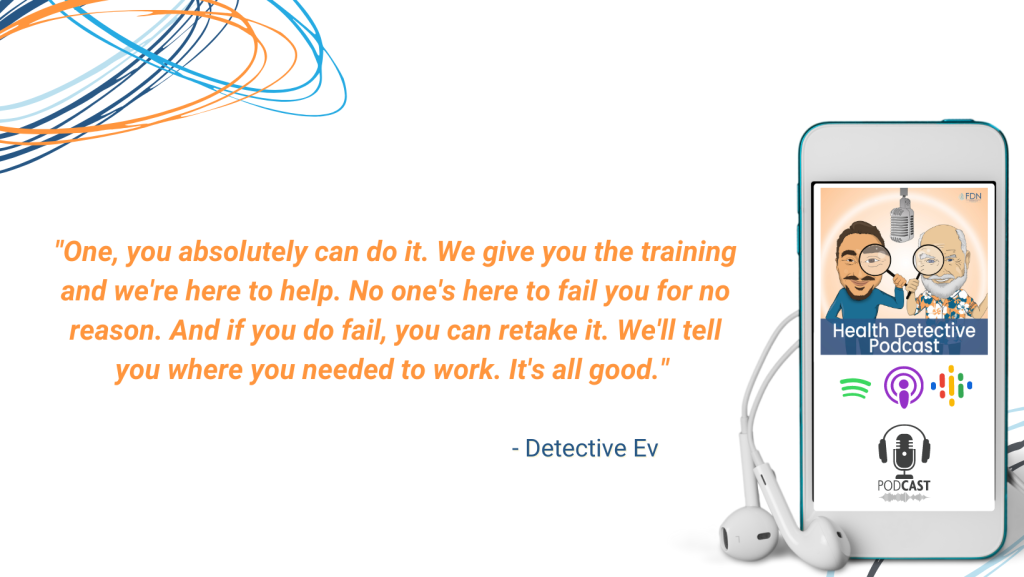 One, you absolutely can do it. We give you the training and we're here to help. No one's here to fail you for no reason. And if you do fail, you can retake it. We'll tell you where you needed to work. It's all good.
But you don't want to look at that as an intimidating or a bad thing. It's a great thing! Because one, a good portion of people, they do not have the confidence that someone like you or some of the other guests on here display. Maybe they don't want to talk to people. Forcing them to have to do those consults with the mentors already gives them some real-world experience which they can translate once they actually have their first client.
Get Help from Those Who Have Successfully Gone Before You
Because like you said, you can be walking around with all the knowledge in the world. I've actually found, and this isn't totally true, but it's generally true. Some of the people that are FDNs that have the biggest, most successful businesses, are the people that usually only have the FDN certification and maybe one or two other things. Don't get me wrong, I know people with 15 certifications that are helping tons of people and making ungodly amounts of money, that does happen.
But I've seen so many people that they got like 10 credentials after their name, they've taken all the advanced courses, and they're still not even able to do FDN full time. At some point we have to realize it's us. We got to be able to put ourselves out there and take some risks. Because the FDN system, in and of itself, is enough to have someone make a business. You know what I mean?
[00:31:40] Shalin Zapletal: Yes. A hundred percent. I think that's really something that you also came across. It has to do something with self-confidence. In the beginning, when I started out my business, I also had credentials that I wanted to have. But then after a few, I just thought, oh no, I know enough. I don't need more.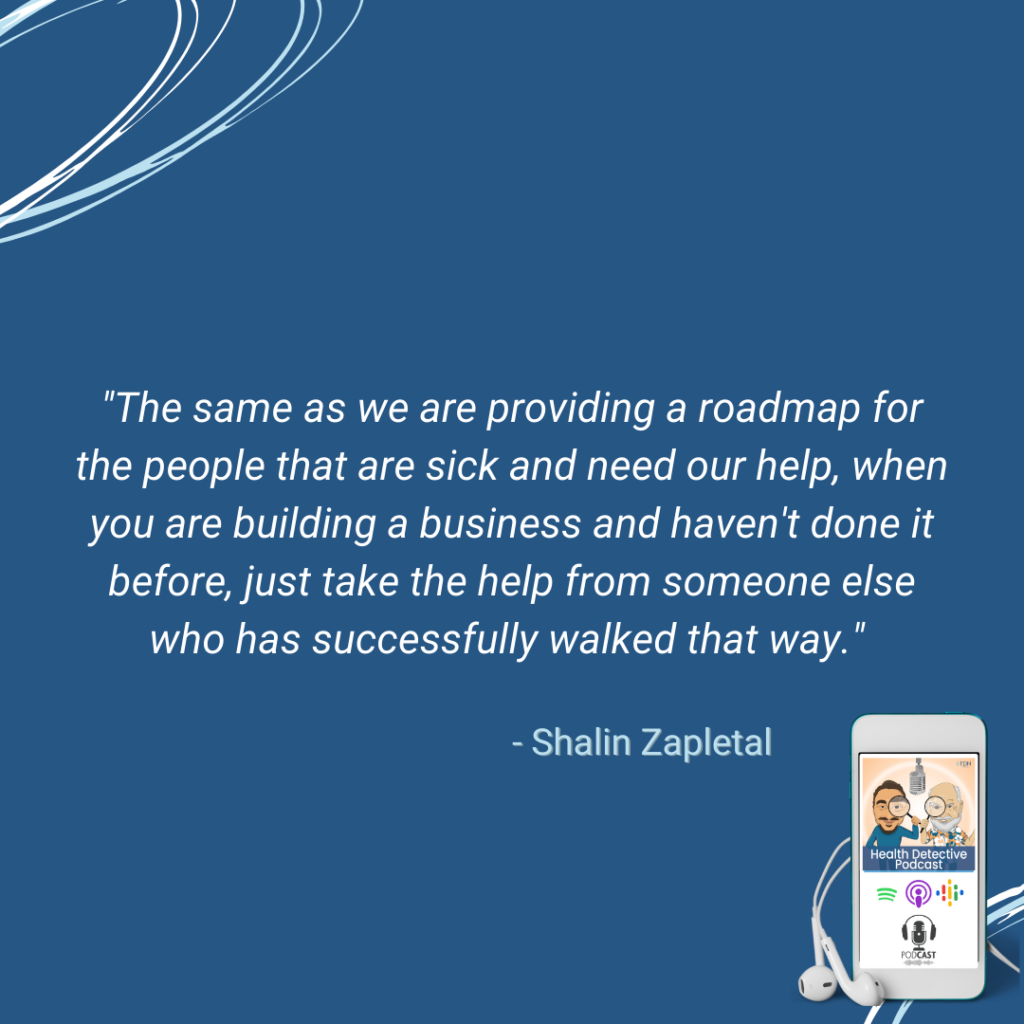 I also got just a one-on-one mentorship at that time, and I think it's also very helpful. If you want to go out in the first month to establish a business, have someone take your hand. The same as we are providing a roadmap for the people that are sick and need our help, when you are building a business and haven't done it before, just take the help from someone else who has successfully walked that way.
People Skills Can Be Built Up
[00:32:12] Detective Ev: You absorb their energy too. You will never find a successful business owner that does not display confidence or belief in themselves. You're not going to find a millionaire business owner that is walking around all shy and stuff.
I've been very shy in my life, so not making fun of anyone, that's not my point. I'm just saying business and self-confidence have to be together. That's how it works. For some people, they have these amazingly attractive personalities, and they were already very ambitious and extroverted. That translates over to their business immediately, even not having any prior skills.
But like for me, I had to learn people skills. I had to get into sales. Some of the trainees don't believe me cause I'm on the podcast. They think, well, you are always doing this. Dude, I dropped out of my public speaking course in college two weeks in because I had to give a 30 second presentation, basically, because I was so scared.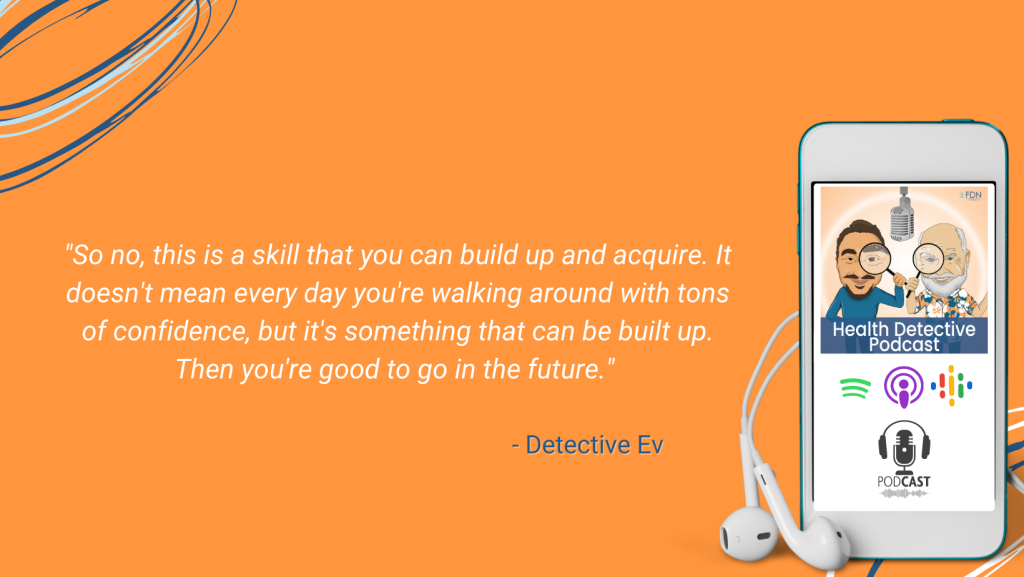 So no, this is a skill that you can build up and acquire. It doesn't mean every day you're walking around with tons of confidence, but it's something that can be built up. Then you're good to go in the future.
I wanted to ask this because you're someone that has worked with quite a few people at this point in your career. I'm curious if there are any amazing client testimonials that you're able to share cause I know that there's some privacy things. So, to the degree that you're able to share it, I'd love to know about a client testimonial or two. I feel like you are helping people very similar to you who just have no idea what's going on and now you're like their shining light.
Successful Mold Exposure Client Testimonial
[00:33:36] Shalin Zapletal: Yeah, I just take the ones that I'm also sharing on my Instagram, because, obviously, I have asked these clients before if it's okay to share it. For example, there is this one client, Paola. She came to me, and she had also weight loss resistance.
The main reason she came to me, she tried all these doctors, all these approaches. She said I just want to keep up with my daughter. I just want to have the energy to keep up with my daughter. She had her thyroid removed and was on medication. You know, thyroid and hormones are metabolized in the gut and in the liver. She had parasites, mold, Lyme disease.
When we detoxed her from that, step by step, within five months, all of her markers that had been out of range were back into the optimum range. She has the energy, and she actually did something that I really find very interesting or very funny. She also, with all the energy she had, she's also a very driven person. She took some certification classes to also make a bigger step in her business. So that's a great testimonial.
Successful Lyme Disease Client Testimonial
Then I also would like to share my client, Shayne, because she has a very heavy health story. She doesn't deal with weight loss resistance; she had severe Lyme disease. She was bed ridden for several years. She says in one of her testimonials that she wrote to me, she said she had full body muscle spasms, endometriosis, everything. She thought she was going to die.
She was going to doctors, in and out of the hospital. She couldn't walk anymore. Really bad situation. Then she just decided one day, she stopped all the medicines doctors were tossing at her because she was feeling worse. She had a lot of neurological symptoms because Lyme was the great mimic. No one was able to detect that.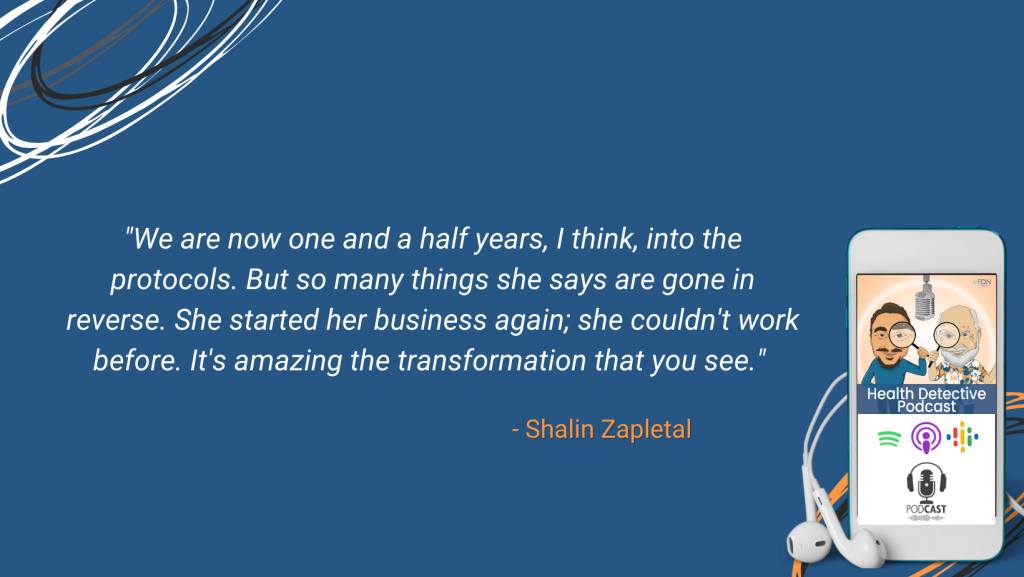 She came to me and she's still working with me. We are now one and a half years, I think, into the protocols. But so many things she says are gone in reverse. She started her business again; she couldn't work before. It's amazing the transformation that you see. I just wanted to share that one because so many people, I think, they sometimes lose hope.
Shayne was always a fighter. She didn't give up. All the things that she experienced, I mean, that's heavy stuff. She just continued to not trust doctors. She said there's something wrong. I don't believe Western medicine, the medications that you're giving me are making me worse and she continued to do her own research. That's how she found function medicine.
You May Need to Start Investigation for Yourself
[00:35:36] Detective Ev: All right. I love both of those. The second one, yeah, that's powerful stuff because we do pretty amazing work. So, for someone to be working with you still a year and a half later, that just shows how sick they were when they first came to you. You know what I mean? And it's tough.
I always walk such a fine line on this podcast, cause I always want to make sure. I have to think, Shalin, if someone is just listening for the first time, what is their impression? Because I want them to know that we are not against doctors in any way, which is true. We have doctors that work for FDN right. We combine the best of both worlds.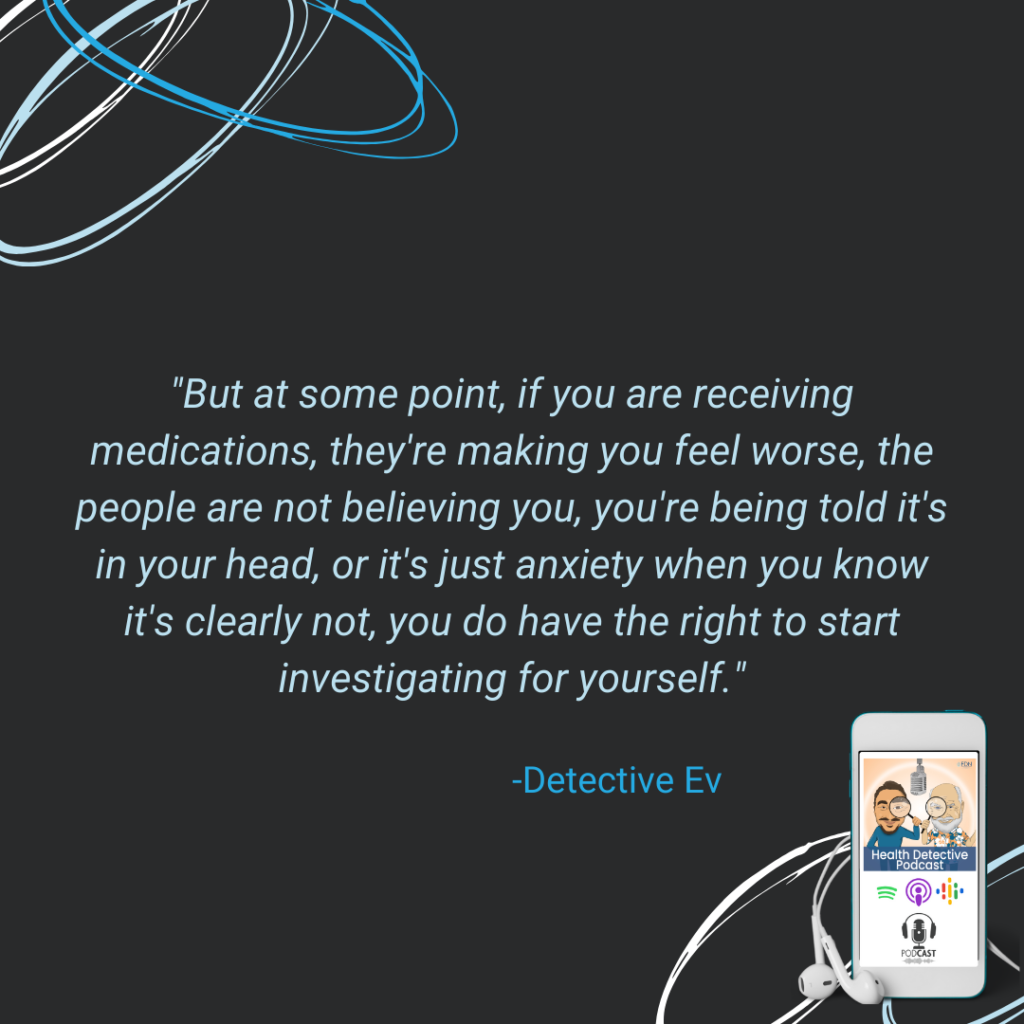 But what you just shared with that second client, it's notable. We got to mention this. Guys, you want to go to Western medicine when you're sick. You want to listen to them; you want to give it an honest try. But at some point, if you are receiving medications, they're making you feel worse, the people are not believing you, you're being told it's in your head, or it's just anxiety when you know it's clearly not, you do have the right to start investigating for yourself.
Now I am not suggesting if you're on five medications, you stop taking those all of a sudden. I mean, that was her choice. And it turns out it was a good one, that's fine. But for some people that might not be a good choice.
My point is though, doctors are imperfect people. They're great people. They're imperfect. They're very smart. They're not perfect in that way though either. Intellectually, they're going to make mistakes.
Always Listen to Your Body – Doctor Body
If something feels wrong in our gut and I don't mean like a gut pain, IBS. I mean, like a gut feeling. You know, we have to have the courage to say, hey, I'm not a doctor. Maybe I don't understand this, but I know enough about myself to know something's wrong, and I got to go out there. I applaud you for doing that. I applaud this client.
Because if you've never listened to the podcast before, one of the reasons I always ask that question, because any regular listener has heard this, it's the same thing, Shalin, all the time. Literally every single person ends up saying one of the two things. Like, oh, I just knew it didn't make sense. I had a gut feeling.
Every single person on this show that has these incredible stories that you rarely get to hear about in your day-to-day life if you're just walking down the street, all started with this idea that something was wrong, and they need to keep trying different things. And that's what led to this amazing stuff here.
[00:37:43] Shalin Zapletal: I think really what people shouldn't pay attention to. I mean, I'm completely on the same side as you are, like not all Western medicine doctors are bad. But I think some people just have to listen to, if there's a red flag. If a doctor, like what you said, if yours says, your symptoms aren't real, they can't be real, no doctor should say that.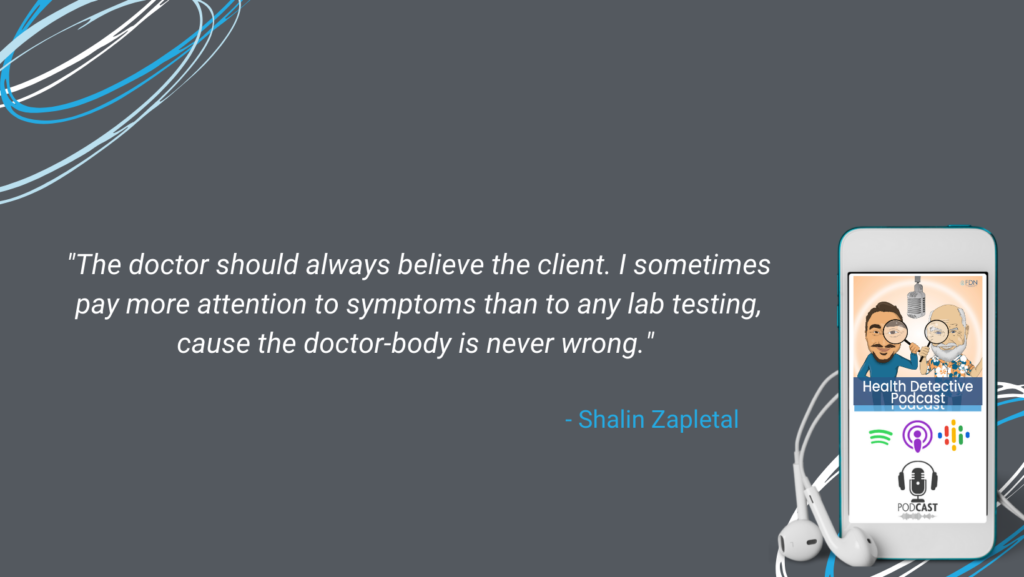 Because the body, the symptoms are just a way of pointing out something is not in balance. The doctor should always believe the client. I sometimes pay more attention to symptoms than to any lab testing, cause the doctor-body is never wrong.
One or More Malfunctions Leads to a State of Disease
[00:38:13] Detective Ev: I do agree with that. You know what, that's a great point because it comes from the Western medicine system. They believe if they can't diagnose something or they can't come up with some lab test of theirs, like maybe the blood test that shows something, then the symptoms, automatically, are invalid.
We view health through a completely different lens. When an FDN sees their symptoms, we automatically think by definition, that brain/body diagram. We know there has to be one or more malfunctions in the brain or body leading to a state of disease. So, we get that automatically.
But yeah, Western medicine says, okay, cool. You have symptoms, let's find the diagnosis. The minute they can't diagnose, you are correct. Eighty to ninety percent of them will just say, oh, well then, there's nothing wrong. It's like, okay.
Well, we don't believe that at FDN. I don't think that's true at all. I was in that same boat. I got blood tests at like 18, 17 years old. I felt awful at 17 years old. And what did they say? They said you have slightly high cholesterol and my TSH was like a four. So, it was a little high, but certainly nothing record breaking. Then I was on my way. There was no answer to that. There was no solution.
It was just, all right, good luck. I may have been 18 actually, but it's not important. The thing was, I felt like crap. But because their blood tests couldn't find anything, apparently, I'm fine though. That's not acceptable. We need to push harder.
Don't Be Afraid to Get Different Opinions
[00:39:30] Shalin Zapletal: Yeah. Then there was really, sometimes, the doctors, where clients of mine, they're actually going to Western medicine. Some doctors, they're really appreciative and they want to learn what they get taught. For example, this client Paola, she had two different approaches.
The thyroid doctor that she was working with, after she showed that the numbers changed after she worked with me, he kind of dismissed her. He was very rude to her. Then she changed to another endocrinologist and these people were very open minded. They said, oh, can you show me the website of Shalin?
They were like looking at everything and wanting to know the approach that I was taking. That's also a red flag if a person is just ignoring and dismissing the good changes that have happened, or if they're open minded and want to learn about that too.
[00:40:09] Detective Ev: That's a good point. I feel like we should, maybe, especially if we don't get the diagnosis we were expecting, or we don't get any diagnosis at all, and they're just saying, it's in your head, I think we should always be encouraging people to go to two or three different professionals, get some different opinions.
I have an indirect mentor who helps with like business stuff and he's like old school. He tells me this. He said, whenever you get a price quote, call three people. If the auto store tells you the tires are going to be $500, he said, call two other places and see what their price is. Maybe we have to do the same thing with medicine where, all right, we didn't like the answer from the one doctor, let's go to another couple.
MDs Doing Their Research and Recommending Red-Light Therapy
And you're right. Some doctors are incredible. They are lifelong learners, and they are fascinated by what's going on.
I'm very blessed in my local area here in Bucks County, PA. I have a light therapy studio, basically. It's like red light therapy and stuff like that. One of the people that came in recently said, oh, I got recommended to you by a doctor. I'm like, what doctor recommended you to here? They said, Bucks County Integrative Medicine. It's this team of MDs that are so open minded. They actually didn't know us. They just knew of red-light therapy and said, go find a red-light therapy place close by. We happen to be the closest one to offering it.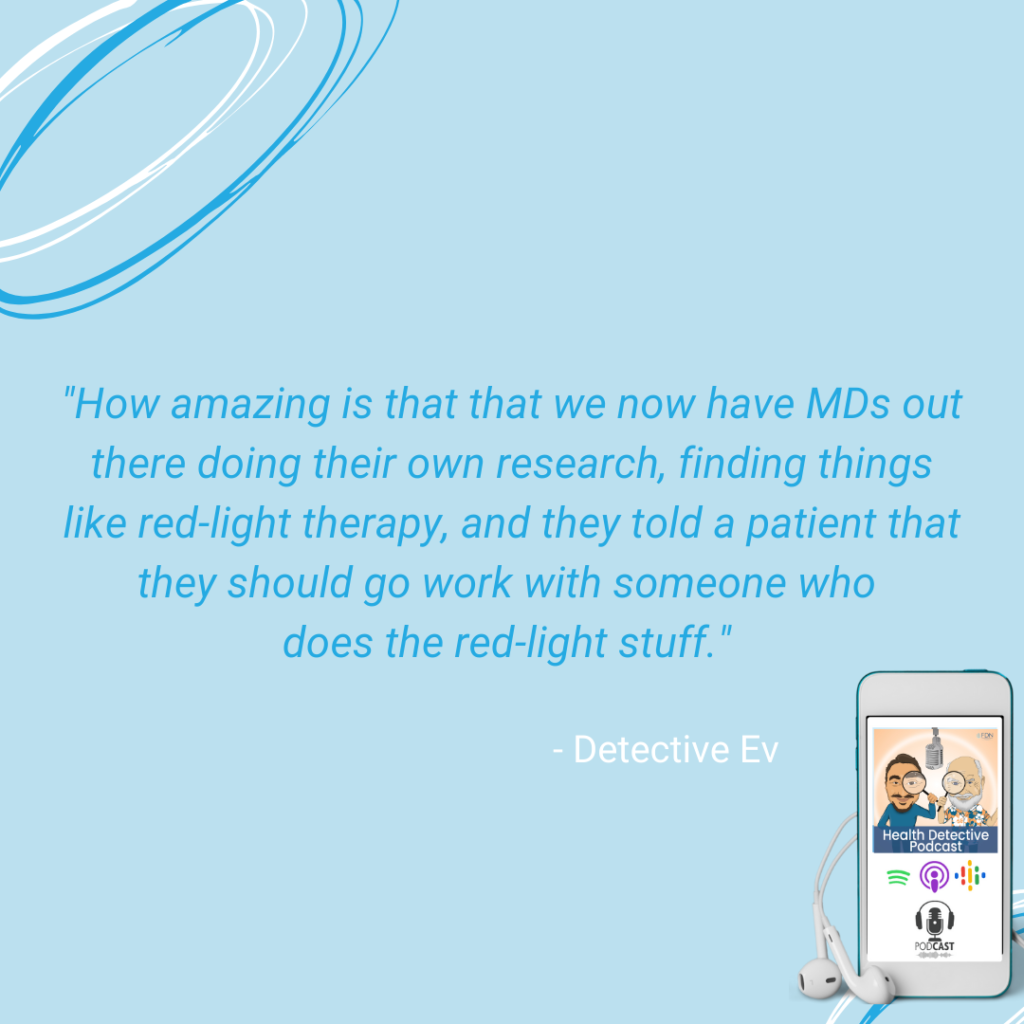 How amazing is that that we now have MDs out there doing their own research, finding things like red-light therapy, and they told a patient that they should go work with someone who does the red-light stuff. I mean, the future's coming, we're getting there kind of slowly, but it is coming.
[00:41:29] Shalin Zapletal: That's amazing! Definitely.
Where to Find Shalin Zapletal
[00:41:30] Detective Ev: All right. So, Shalin, you already said it before, but it's good to get it at the end too. Where can people find you and who precisely do you like to help? Who is your dream client?
[00:41:39] Shalin Zapletal: Yes, so I have a website shalinvitez.com.
I have an Instagram page where I show a lot of free information. It's also @shalinvitez. I host weekly live webinars where I teach about all the stuff, underlying triggers, about root weight loss resistance.
Then of course, the people who I love to work with are women who are like dealing with weight loss resistance, their health conscious, they're committed to their health.
It's not the people that go to McDonald's and eat crappy. They are people that are really in tune with their body, that have a healthy lifestyle. They feel there is something off in their body. They have been to probably five to 10 doctors already. No one could help them. They are looking for a new approach and a new solution.
[00:42:16] Detective Ev: I will make sure all your links are in the show notes.
Mold Exposure Advice
We actually have a few more minutes here. I'm glad cause I wanted to get to one. You and I both get very hyped up and we talk very fast. So, I feel like we just did two podcasts in one, this is great. But I have one question that I think is very useful to the audience. Mold comes up here every now and then, but it's not always like the centerpiece of someone's story on the podcast. It usually was something else before and then mold came in.
Whereas for you, it was almost like mold was kind of the primary driver of a lot of these things. Then you had to deal with the repercussions. What advice would you give now, like knowing what you know, would you advise everyone to get their houses tested for mold? Would you advise people to get air filters?
Again, I'm kind of ignorant with the mold stuff. I know just enough to help people, but not enough to really be an expert in it. What should people be doing if they're listening to this and kind of worried?
[00:43:04] Shalin Zapletal: There are a lot of great symptoms for mold. For example, if you have clogged up sinuses. If you wake up in the morning with nasal congestion. Weight gain is very typical. If you're checking 50% to 80% of the science and symptoms of mold to see mold illness, then you should be very suspicious that there is mold going on. The problem with mold is also like when you are moving, because it is lipophilic. It just stores into the fat cells.
Mold Exposure Can Happen Anywhere
A big misconception with mold is that it's just fine to move and then the mold will be out of my body. That's not the right way because also like a certain amount of people who have the MTHFR gene, which is a gene where people are not good at dumping toxins. So, the mold just stays in the body's system. That's very important to mention here.
Then with the mold at home, if you're suspicious, definitely need to get tested with the EMMA test and the Ermi test. And, air filters, I, a hundred percent, think that every household should have an air filter. Yes.
[00:43:53] Detective Ev: I think there's a lot of misconceptions about mold. Again, as someone who's kind of ignorant to it, the one thing I know for sure is people get this misconception that someone's house must be like dirty or unclean, or they must live in a poor area for them to have mold. That is like the stupidest thing ever and it is not true at all.
My aunt and uncle, they live in a beautiful home, and they got an addition. It couldn't even be 10 or 15 years old. It's not that old. What happened is, I think they weren't even trying to find this thing. God, they were all healthy. But something happened where, I think, the walls were getting redone or whatever. Shalin, the contractors pulled off the wall. There is black mold all on the inside, almost all the way up.
And they live in this beautiful, clean house in a great neighborhood. So don't ever get it confused, guys, that this is somehow like, something that dirty people get. That could not be farther from the truth.
Mold Exposure Requires Complete Remediation
I think it's like 80% of the houses in Florida have mold or something. So, there is no way you're going to tell me that 80% of the houses are just bad in Florida. That's stupid. It happens for a variety of reasons and it's not as simple as people make it think. It could be happening just about anywhere.
[00:44:59] Shalin Zapletal: Yeah, I think it's much more common than we think it is because I think 45% of houses in the states have current water damage and 80% to 90% have past water damage. The problem is also the remediation has to be proper to really get out of the mold.
Then the same, like this, that you are saying, mold, sometimes, we cannot see it and we cannot smell it, but it's still there. It's a very dangerous situation to be in.
[00:45:19] Detective Ev: When I was a bit younger, I was doing that thing where you live with your friend or whatever, while you're figuring out your life. I'm living with my buddy at a questionable apartment, I'll put it that way. I wish I knew what I know now. Because I didn't know it was mold, Shalin, but I could smell something musky in my room. I lived there for like almost a year.
Guys, it can exist without smelling it or without seeing it. If you can see it or smell it, you need to act today. Like, you know what I mean? There's no waiting around. You got to do something.
Shalin's Preferred Test for Mold Exposure
I don't know what happened with that, but I'm going to guess the poor next tenant is still probably living in the same stuff. So, if you smell it or see it, you act today. Even if you can't smell it or see it, you got to use those symptoms maybe that you brought up. Like, there could be something going on here. Let's at least rule it out with a test.
And speaking of testing, I know that we have the standard labs that we use at FDN. Of course, I'm sure you use those. But mold can get a little more nuanced and you might want to use an additional test. What is your favorite lab test for identifying mold in the body?
[00:46:20] Shalin Zapletal: I love blood work just to also see if we have acidity in the body. But then, of course, the mycotoxin urine test that's just a straightforward test. Try to trigger that with glutathione before, just do some sauna sessions before, because what happens with the mold? Sometimes it is in the fat cells and the body keeps it there.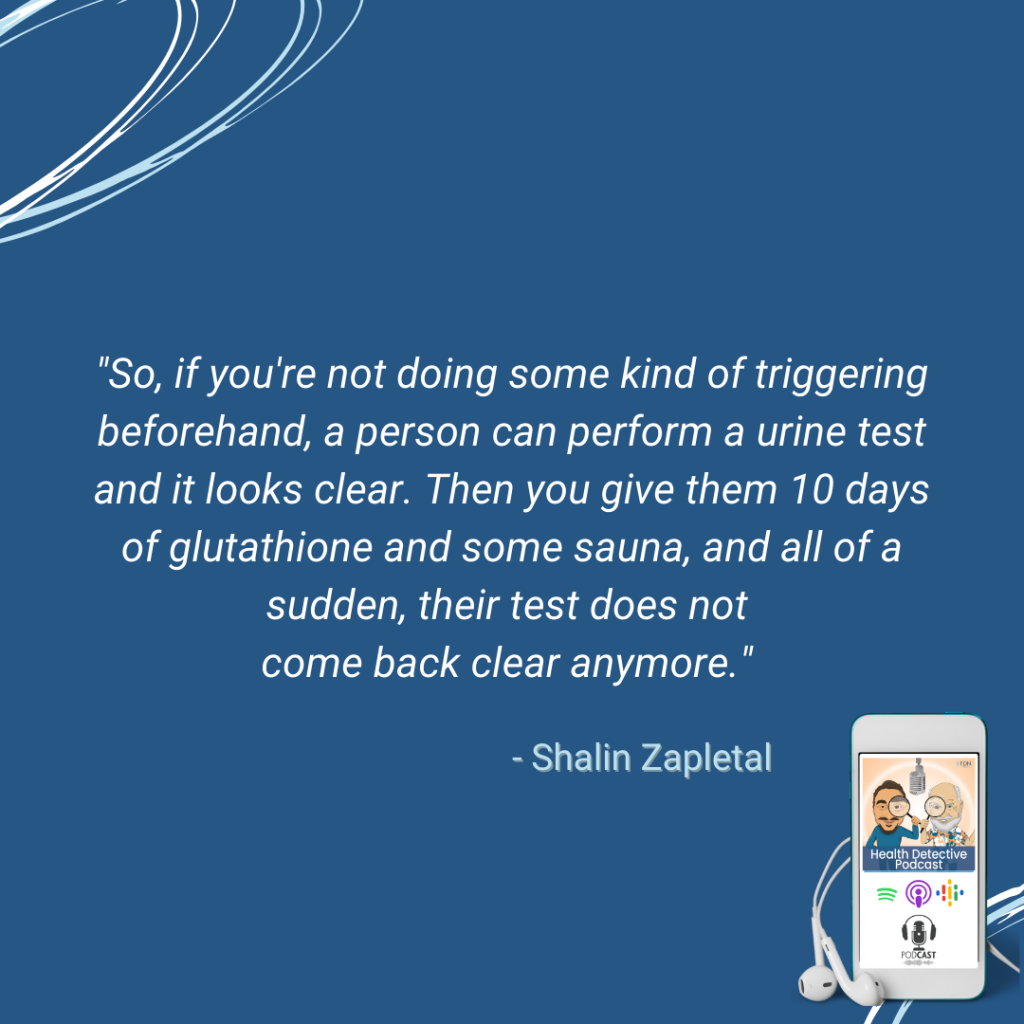 So, if you're not doing some kind of triggering beforehand, a person can perform a urine test and it looks clear. Then you give them 10 days of glutathione and some sauna, and all of a sudden, their test does not come back clear anymore.
But the urine test for mycotoxins is my preferred one.
Mold Exposure Can Stay in the Body for Years
[00:46:49] Detective Ev: I got to be honest. I never knew this about the fat thing. I didn't realize it was stored in fat. I had run an organic acid test, which is not like perfect, but it works for mold stuff. I ran it shortly after I had left that apartment thinking that I would find something mold and I didn't.
Now, you kind of have me thinking, I'm like, I wonder. Cause I never did any of that. Like if I didn't push this out properly, maybe my test looked a little better than it actually was. That might be true. Can this linger indefinitely? Can it linger for years then if someone doesn't actually do stuff to get this out?
[00:47:19] Shalin Zapletal: A hundred percent. I was one year out of the moldy apartment, and still had mold in my body system in the red level. Not moderate. It was really, really high levels. This is the same for my clients.
I just onboarded another client and she says she has been testing her house. She has been out of the mold for at least three to four years. We did the same, we triggered it with glutathione and also, she's like, super high in the different strains in the mold.
It can definitely stay in the body for several years.
[00:47:46] Detective Ev: Okay. Geez. All right. I want to keep this going, but this might be my last mold question overall.
Mold Exposure Attracts Other Stressors of Metabolic Chaos
I know everyone would get a different recommendation with this, but I'm kind of thinking. Okay, stored in the fat cells, and a lot of toxins are stored in the fat cells, anyway. Do you utilize any type of fasting or ketosis with clients? I mean, that would obviously be a very good way to detox the fat. Like, is that too much for these clients or is that actually very good for this?
[00:48:13] Shalin Zapletal: The people that suffer with weight loss resistance, then typically don't only have mold. Take my example as an example here, my case. Mold weakened my immunity; I had mold in my body. Then all of a sudden, the parasites took over. Everyone has parasites, they can't just allow them to overgrow.
Then you have gut dysbiosis. Then Lyme bacterium got active, so to speak. Heavy metal toxicity chunked on board. I went chronically ill overnight. Things are developing overnight because a diseased body, where, for example, if you are exposed to mold, it attracts pathogens and other toxicity.
So, it's like the mosquitoes, they are not attracted to the pond, they are attracted to the pond scum. The same is with diseased toxic tissue. We know that, for example, we have positive pathogens in the body. When there's diseased tissue, they flee or morph. So, all of a sudden it becomes harmful. There must just be one trigger basically, and then the cascade goes on.
Now I forgot your question. If you can please remind me what the question was.
Is Fasting or Ketosis Good for Mold Exposure Clients?
[00:49:06] Detective Ev: Well, the question, you did kind of answer it, indirectly. I was saying since it's stored in the fat, like what would something like fasting or, I mean, true ketosis? I'm not talking about the keto diet. I mean, like, measured in the blood, I'm in ketosis. Cause that would use your fat cells. I'm curious if there is a benefit there or if that would be too much for clients. I mean, when you do ketosis or fasting and you're detoxing, that's great. But sometimes you actually feel sick, depending on how banged up the person is before they do that stuff.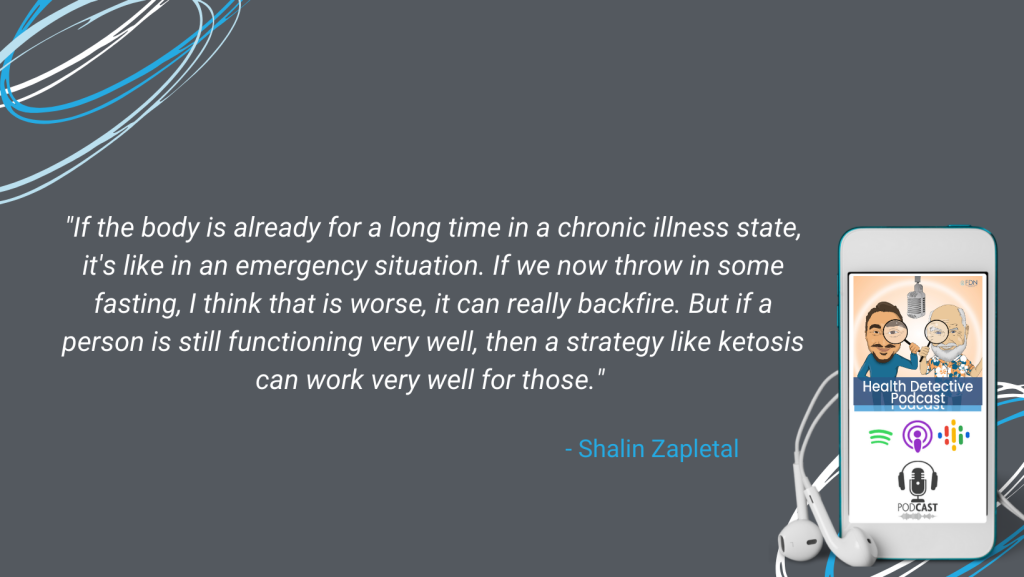 [00:49:30] Shalin Zapletal: Exactly. Now I got my train of thought again. It's depending on how much toxicity or pathogen a person has in the body. If the body is already for a long time in a chronic illness state, it's like in an emergency situation. If we now throw in some fasting, I think that is worse, it can really backfire. But if a person is still functioning very well, then a strategy like ketosis can work very well for those.
[00:49:50] Detective Ev: Got it. Fair enough.
Well, I think we made the most out of every minute here today. That is amazing.
Health Detective Podcast Signature Question
I have one final question for you and it's actually the signature question that we finish with on this podcast. I know I asked you about like number one tips for mold and stuff, so this question can be more general if you'd like.
But the question is this, if I could give you a magic wand and you could wave it and get every single person in this world to do one thing for their health, whether they're actually doing one thing or maybe they stop doing one thing, what's the one thing Shalin would get them to do?
[00:50:23] Shalin Zapletal: Definitely stop drinking tap water in the United States.
Conclusion
[00:50:25] Detective Ev: All right, guys, that'll do it for today's episode with Shalin. I hope you learned a thing or two about mold. I know I definitely did.
And if you have any questions about mold, things that you'd like to hear about in the future, you can always comment to us on any episode, at any time, or about any episode. Go to Podbean and search for the Health Detective Podcast. Podbean is a podcast platform if you don't know. Even though it's not our main place that people listen, it's not even in the top five, it's actually where we distribute because it's kind of convenient for that.
So, search for the Health Detective Podcast on Podbean. Leave us a comment there, and I promise you I will get back to it. You might even get it answered live on the show by one of our practitioners.
I'm looking forward to seeing you guys again soon or talking to you rather. But until then, please take care.
You can always visit us at functionaldiagnosticnutrition.com.
To hire a coach, go to fdnthrive.com.
For a free Health Review, go to fdnthrive.com/match/.