Introduction
[00:00:00] Detective Ev: Hey, what is going on my friends? Welcome back to another episode of the Health Detective Podcast by Functional Diagnostic Nutrition. My name is Evan Transue, AKA Detective Ev. I will be your host for today's show. We're talking to my friend Xiaoyun Pan, who began her career as an engineer, had a health exam, got a thyroid cancer diagnosis, and eventually found FDN.
What I loved about this was this was actually Xiaoyun's first podcast. Now, the reason I'm telling you that is because that would not be obvious at all when you're hearing her story. I was just so impressed with the confidence that she had and her ability to story tell and just, I mean, her journey is incredible.
This is one of those times on this podcast where the person has been through some serious stuff. We are going to talk about cancer on the show. Of course, FDN the philosophy itself, it is not intended to treat anything specifically, that's not what we do. In fact, we do the opposite. We address everything in the body in a very non-specific way with the faith that the human body is supposed to be healthy. So, when you take care of the other things, almost by definition, the person cannot have symptoms or a diagnosis.
I thought it was amazing that in her journey, one of the biggest pieces of this was FDN. She was like an engineer before, really just a credible, intelligent individual. I think you guys are gonna like this a lot.
About Xiaoyun Pan, FDNP, FNTP, CTNC
Here is a brief background on her.
Xiaoyun Pan is board certified in holistic nutrition. She's an FDNP, FNTP, and CTNC. Using customized diet and nutrition strategies coupled with transformational coaching, she helps overwhelmed professionals find the missing link in their health struggle, nourish the body, reverse chronic conditions, enhance performance, and stay at the top of their game.
What's so cool about her already having all these credentials, because what you'll find is relatively speaking, it's not like she's been in this space that long. This is also someone that has two different master's degrees in engineering. Once she's obsessed with something, she is going to learn every possible thing about it.
So, I think this is going to bring not only a lot of inspiration, just hearing someone overcome the things that she did, but it's going to bring a lot of education. This is a very well-versed person. She knows her stuff, and she still chose to kind of use FDN as her main philosophy, which I think is a wonderful testament to what we're doing here. Without further ado, let's get to the interview.
All right. Hey there Xiaoyun, how are you?
[00:02:15] Xiaoyun Pan: Good. How are you, Evan? Thank you for having me here.
[00:02:19] Detective Ev: Absolutely! I'm glad to have you here.
She was impressed because I got her name right. I'd been studying it beforehand. I was so nervous because it's different saying it beforehand. I have many exotic names, at least where I'm from, that come on the podcast. It tests you a little bit.
Before Thyroid Cancer – Going Full Speed Ahead
It's hilarious because I could ask someone beforehand, I'm like, all right, how do I pronounce this? They're like, yeah, you got it. Then the podcast starts, and I say it a completely different way because I'm nervous. So, we got it. So far, so good.
But with that said, I am really looking forward to this interview because her and I don't know each other. Obviously, we're both in the Functional Diagnostic Nutrition world. This is one of my favorite types of conversations. When it's someone I haven't met before, they're in FDN though, they've been through the health stuff. Then I kind of just get to explore their mind in the same way that I'd explore with them if we were hopping on a phone call for the first time. So, we will begin this way.
My first question is straightforward and it's, when did your health issues start and what did they look like? Then we'll kind of touch on the other background stuff after that.
[00:03:18] Xiaoyun Pan: My health issues started in my last job. It was my last job, and it was actually also my first job, you know? I was working as an engineer for many years, and then I had some health issues. But when I look back, I realized a lot of things actually happened far before that. I found myself, I had always been roaming at a full stretch on almost everything I was doing ever since the school time.
Before Thyroid Cancer – No Time for Self-care
After I graduated from the high school, I spent five years in a university to get a bachelor's degree, another two years in the graduate school to get my first master's. Then I moved to the second master program and again, another three years. After the graduation, I got a job right away. So, it's like, there's non-stop, there's no time to take a breath.
In my years as an engineer, it actually was a job that I truly loved and it's a fulfilling career. I got promoted as a manager just after three years I joined the company. I have like a few dozen of engineers under me in my team to manage. We complete a lot of projects, one after another. It gave me a sense of achievement. But still, I have to admit, it's a stressful job.
We work a lot. We have to do a lot of overtime, a lot of traveling, and we have to catch on the deadline of each project, one after another. It was like a little bit crazy time. What I see in the past is, it's not just the workload, but I basically have no time to really take care of myself.
And first, I do not have much knowledge about that. I don't have a lot of strategies for self-care. So, it's just like the outside world. My job is almost everything of my world. I don't have the time to really listen to the body to feel how I was feeling at that time.
Thyroid Cancer – Thyroid Nodule Found
I knew I need to eat healthy, live healthy. But the only thing I know about healthy eating is to go with this low fat, low salt, and cut animal food as much as possible. Stay away from cholesterol because it's bad for you. And for healthy living, it's all about exercising. Go to a gym every day, no matter how late it was. Doesn't matter how tired I was, I have to drag my body to the gym, even at 8:30 or 9:00 in evening after I got off from the office. This is like burning the candle from both ends.
But I didn't realize that until this physical exam. I haven't done the physical exam for many years. I skipped that. I just don't think it's necessary. I feel good. I rarely got sick. So, I skipped most of the physical exams for those career years.
Until I remember it was 2007. My mom pushed me, and she told me you haven't checked her for many years, so let's do it. You need to have your body checked at least a once a year. So, just to let her to be at ease, I go had a scheduled physical exam.
On that day when I went to do the physical exam, one of the items in the program is to do the physical palpation on the neck, around the neck. That doctor did that check. She told me, well, there is a nodule on your thyroid, and you probably want to have it checked.
But even after that physical exam, I still didn't take it seriously. I delayed it for three months. I didn't go to schedule the ultrasound because I don't want to take days off from my work.
Thyroid Cancer – A Full Thyroidectomy
Again, still my mom, she had a friend at that time. That friend was an endocrinologist. Once she learned that I had a nodule on the thyroid, she just reminds my mom saying, it's common for women especially the mid-age woman, to have multiple nodules on the thyroid. But once there is only a single one – when there is a solitary nodule on the thyroid – there is a higher chance of it being malignant.
Then my mom really was urging me, go to schedule the ultrasonic. So again, for her, I scheduled that ultrasonic. I still remember on the day I was walking to the clinic; the doctor was very friendly. She was very kind, and we had some relaxing chatting around things. I think none of us really foreseen this was going to be, how this day was gonna be.
As soon as she started the procedure, started to check the ultrasonic, her facial expression, her voice became serious all of a sudden. She told me, well, I think you should go to see the specialist tomorrow and discuss the treatment.
So, I got this cancer diagnosis. It just seemingly came out of nowhere. It's like a slap in the face or head on blow. Then everything was quickly arranged afterward. Just a week after, I did a surgery. They performed a full thyroidectomy on me. That means that they removed the whole thyroid gland.
I think they only left one side of the parathyroid gland that's there, I believe it's the left side. The surgery itself actually was successful and that definitely saved my life. That surgeon was a very skillful doctor, and she did a beautiful surgery. She left almost no scar on my neck.
After Thyroid Cancer – Years of Chronic Conditions
Afterwards when people met me, they even couldn't tell I had a surgery, I had a cut on my neck. So, the surgery itself was good. That entire process was still overwhelming. Even after that, still holding on to the whole with that, I would be able to make a nice comeback, but unfortunately that didn't happen.
It actually was just the beginning of a long journey of struggling with a multitude of chronic conditions in the years to follow. After surgery, I experienced low energy and lasting fatigue, weakness. I think months after the surgery, I caught a cold. But that cold seemed never to end. I was coughing every day and I had a fever almost every afternoon.
Then I went to see the doctor and they found I had tuberculosis. So, I was put on a full course of triple therapy antibiotics treatment. In the meantime, my whole digestive system was also totally thrown out of whack. I experienced cramping, this abdominal pain, bloating, diarrhea. Almost every meal I suffered.
What is particularly frustrating is, I did so many types of testing, I was hoping that this gastroscopy could probably tell me something. Just tell me what was wrong inside my stomach. But that wasn't the case. The result actually showed no significant pathological evidence. That means a doctor could not explain why I was feeling the way I was.
But that persistent stomach churning, pain always bothered me, almost keep me up night after night. I also had a lot of infections, which has had frequent UTIs. Within two months I was sent to the emergency room for UTI.
After Thyroid Cancer – Resigning from Work
One time I remember I was still at work. It was afternoon time, and I had a severe lower abdomen pain and also a high fever. Just within two months, I went to the urgent room two to three times because of this infection. All of those are the alarming signs of a severely compromised immune system. And those signs just alerted me to the possibility of a cancer recurrence. I knew I can't let it happen again. I knew if it happened again, I won't survive. I won't make it the next time.
Finally, here comes the last straw, my son. My son was two and half years old at that time. He was diagnosed with autism. So, I know my body, myself, and my family, they need my full attention. I have to make that decision to resign from the work. I think that must be the toughest call in my whole life. I never had a moment of doubt that I would be a career woman for the lifetime because that was what all my other female family members were doing.
My mom was an engineer and I remember at age 65, she still served at a board exam. My sister now, she is already over 60, and now she's still working as a civil engineer. So, I thought that I was supposed to spend my life as an engineer for the lifetime as a career woman.
So that's basically my struggle over those years.
The Desire to Work & Achieve
[00:13:58] Detective Ev: I appreciate you actually just sharing that. Normally, I might jump in, but that was just so chronological. You gave us so much; I could have listened to you forever. Thank you for sharing that. That is a lot of stuff.
I don't even know where to start, but I'm going to try my best to go back from the beginning here. With the engineering thing, you said that you were good at that, but then you also just mentioned at the end, maybe this was something that, because my mom did this or I thought I was going to be a career woman.
Do you think, did you want to do that?
[00:14:24] Xiaoyun Pan: Yes, I do. I love my job. As I said, that just gave me a sense of achievement. I love that fulfilling sense.
[00:14:35] Detective Ev: Amazing! At least there's a great aspect there because that's a tough career path, especially the two masters. I mean, as if one's not tough enough, let's go get another one. That's pretty extreme.
The other thing I wanted to say is, do you think it's fair then to say, if your mom had not had this push for you to go get checked, would you have gotten checked yourself? Or would it have been something like really severe before you went in and checked?
Thyroid Cancer Warning Signs – Your Body is Always Talking
[00:14:57] Xiaoyun Pan: Yeah, I think my mom literally saved my life. If not, because of her, I wouldn't even think about having a physical exam. It never came across my mind. At that time, when I look back, I know there were actually already many alarming signs, but I just didn't tune into the body at that time. I totally ignored it.
Just like people are saying, your body is talking all the time. It's just a matter of if you listen or not. If you choose to ignore, your body will make you to listen. You will scream louder. Eventually someday when you hear that it's probably already at the too late state.
[00:15:37] Detective Ev: This is fascinating to me because I don't specialize in anything, but I'm very interested in autoimmunity because my mom actually had a full thyroidectomy from Grave's disease. It wasn't from cancer, but it was from Grave's disease.
[00:15:48] Xiaoyun Pan: Yeah, I heard from that episode.
[00:15:51] Detective Ev: Oh, cool. I'm glad that you've listened back that far.
But with cancer, I don't really work with as many people with that. That's just something I kind of let others do. It's not my space. I don't have the same emotional attachment to it.
However, my aunt, a few years back, was diagnosed with a brain tumor. What I noticed because I started doing some more research and seeing this stuff, it's kind of anecdotal, but I have seen this like across the board almost. It seems like these people who get cancer, almost it's like you said, a slap in the face. It's like, where did this come from?
Take Warning Signs Seriously
I always wonder as a functional practitioner, I'm like, how are there not warning signs leading up to this? I know that you can only speak for yourself, but it sounds like in your case, you were just, you're career oriented. You clearly are a hard worker. You're going gung-ho, you're not going to stop. Maybe there were warning signs for these people, and they just didn't see them.
God forbid, I mean, who knows, you could save a life today? What were some of the warning signs that maybe you ignored all your life and then you did finally see? What were they?
[00:16:47] Xiaoyun Pan: Exactly.
Actually, for myself at that time before the diagnosis, actually had lost a lot of weight. I am actually already naturally a thin person, but still I lost more weight. So that worried my mom at that time. And she seen, I got thinner and thinner without any diet. I didn't try to lose weight, but that just happened.
Also, I remember I had fatigue. Fatigue and also got cold easily. Those are all the signs of a compromised, immune system. So, there actually were signs, I just choose not to listen to them.
[00:17:29] Detective Ev: I appreciate you sharing that with people. For those that are listening, I would assume many listeners already know this, but maybe not. Guys, if the body's telling us something, we got to make sure that we're listening to that, even if we're really busy, even if there's a lot going on. It's a warning sign of what's to come in the future.
Western Medicine's Not Good at Warning Ahead
Thank God, your mom had that mom's intuition and knowing to say, hey, Xiaoyun, you need to go get this checked out. Because we might not be doing this interview right now. I mean, cancer is not a joke. I'm so glad that she did that. I'm glad that you're here to help people.
Now, obviously, like you said, that's not where the story stopped though. You get this thyroid removed. Unfortunately, I don't want anyone to be a perfect example of this, but it is a perfect example of why we do what we do.
You could remove the thyroid. You could remove the cancer. But there was something that led to that happening that Western medicine, although it saves lives, I mean, it literally saved yours probably, it's not so good at identifying the things that might've led to that to begin with.
You're going to the urgent care again, you get diagnosed. You said you had tuberculosis, right? That's what you said?
[00:18:25] Xiaoyun Pan: Yes. Just a month after the surgery, I got tuberculosis.
[00:18:29] Detective Ev: At what point do you start taking the shift?
If you listen, you know, I ask this question all the time, I'm fascinated by this. How does Xiaoyun end up from this hardcore crazy work person, engineer? Not saying you're not that now, but you had to shift at some point and realize, okay, wait, I need to go try something else because conventional medicine's not serving all of my needs. When did you start looking into like more natural stuff?
The Search for A Safer & Natural Alternative
[00:18:50] Xiaoyun Pan: Yeah. It actually started from working with my son. You know, my son is in this autism spectrum.
When you have a kid in that spectrum, you are facing multiple problems, not just the delayed language development, not just attention deficiency and sensory overloading. But he also had a lot of physical problems like digestive issues, like sleeping issues.
Also, in the school he was so hyper the teacher just sometimes was really bothered by his behavior issues. I think that was in one of the IEP meetings, the teachers suggested, why not try some medicine to make him a little bit more calm in the classroom. I talked with our pediatric and he recommended two drugs, two medicines. We tried both of them, but I seen some scary side effects on my son.
One of the medicines just made him sleepy all the day. He just even couldn't get off the couch. He wanted to sleep all the time. Both of them kind of turned him into someone, totally stranger. I just feel scared. At that time, I made up my mind that I want to search for a safer and natural alternative.
By coincidence, I watched a documentary on TV and that documentary movie was talking about a doctor, how he used this nutritional therapy, nutritional intervention to help with those kids with special needs. Shortly after that, I met a friend, and she was self-learning nutrition at that time.
So, with her, we created a very simple protocol for my son and a simple nutritional therapy. I'd say it's simple, because we only made like one change in his diet. We cut off all the dairy and we also cut off all the sugar.
After Thyroid Cancer – Incorporating a Supplement Protocol
Then we put him in a supplement protocol. We use this high-quality vitamin, use high-quality mineral, and high dose omega 3. I believe also some digestive support for digestive enzyme, probiotics, and also some nootropic ingredients. Shortly after that protocol, I think it was just like three months after, I started to notice very positive changes in him.
He can sleep the night through, and his bowl movement became more regular and easier. I intuitively knew we were moving to the right direction. That's how I started digging to this nutrition stuff. Also, put myself on a supplement protocol and started to learn this nutrition stuff.
[00:22:00] Detective Ev: I've heard this so many times that it's the mom trying to help out their kids. And then, you know, they get this stuff kind of figured out. I actually just interviewed Dr. Piper Gibson. She started with her son and that led to her doing her own stuff. Now, thankfully for her, her health was not really where yours was at.
When did you start applying this to you? When did you start realizing, oh, wait a second, I could maybe do some of this stuff for all this stuff that I deal with?
[00:22:24] Xiaoyun Pan: Just after I saw those changes on my son, like three months after he was on the protocol, I see the good things. Then start putting myself on the supplement as well. It's like my son's experience kind of ignited my passion in the nutrition. So, I started to learn more. I start to try more things.
After Thyroid Cancer – Systematic Approach to Nutrition Science
But also at the same time, I also feel nutrition science is very messy. I will say, it's very confusing because you hear all those contradictory information every day.
That's why I made up my mind, I want to nail it. I want to learn the things. I want to do a more systematic approach to this nutrition study, a more systematic approach. So that's why I search online. I got into quite a few nutrition programs.
Commercial Break – Health Space Unmasked
Detective Ev: Hey folks, it is Detective Ev popping in really quick. Maybe you are kind of that person thinking that you'd like a more systematic approach, figure out how can I actually predictably get results for my clients or even myself with my own health issues.
If you want to learn more about FDN and some of the tests that we're using, if you don't already know, the first Saturday of each month, we do an awesome free event. It's usually two hours long. We bring in another specialist that is associated with FDN in one way or another. Then of course you also get to hear from the founder Reed Davis. This is called our Health Space Unmasked event.
This month we are doing mast cells, histamine, and food sensitivities using the GI MAP, which is something that is really big in our industry. I absolutely believe we have the best training on this. It's a little scary sometimes how some people use this test because it catches everything. If you don't know what you're doing, you end up using it kind of incorrectly and not realizing what this person actually needs. So, I want to show you this rather than just tell you this.
What you can do is go to fdntraining.com/unmasked, that's fdntraining.com/unmasked. You put your first name in and your email, and you will actually register for our live event. You'll be able to hop on with us. It is Saturday, June 4th, 2022, from 8:30 AM to 10:30 AM. PST.
That is Saturday, June 4th, 2022, from 8:30 AM to 10:30 AM. PST.
We hope to see you there.
Confusion Around Nutrition Plans
Detective Ev: Cool. I love how you took your same engineering mind to this. You're like, I wanted a system. I wanted something more systematic.
[00:24:51] Xiaoyun Pan: Yeah, exactly. I mean this nutrition science is not like any subject I learned in the school. Like when I learned math, I learn physics or chemistry or computer science, there is usually always one right answer to any given question or any given problem. But in nutrition, there's no right and wrong.
I have been puzzled by the fact that there are seemingly totally opposite diet plans. But they all could make certain people do great. Some people they're saying, when they do a plant base diet, that just helped them reverse their chronic conditions. But there are also other people saying when they cut off all the carbohydrates, when they turn into a hundred percent of carnivore diet, they feel a lot better, they achieve the optimal health.
You see, it's just so confusing for me at that time.
[00:25:44] Detective Ev: I truly understand this because myself, when I was in college, one of my paths that I was originally going to take was engineering. Now I never got to anywhere where you are at. But that was one of the things I thought I'd be good at because I'm more left-brained, I think very logically, very systems oriented. And I found the same confusion when I got into this work.
Because I went to a different school at one point. I was learning about a hundred different dietary theories there. I left really confused, like, so which one do I use here? What actually works?
After Thyroid Cancer – Finding FDN
There's almost a fascination that comes with that because I feel like it leads me to wanting to know more and more. I'm sure you kind of get that same thirst for that knowledge. However, it's also annoying at a certain point because you're like, all right, well, I need to know what's actually going to work for me, what's going to work for my son in this case, or what's going to work for a client that I'm taking on. So, you ended up trying a couple different programs, certifications, you said.
Then eventually you found FDN. That's amazing. Was that just a Google search, online search? Or did you hear about it in another way?
[00:26:39] Xiaoyun Pan: No, actually I followed FDN for quite a few years. I remember the first time I heard about Reed Davis; I watched a video YouTube. Reed was teaching how functional medicine use this for our principals to address that digestive health. That's the first time I knew Reed.
Then I attended the FDN workshop – FDN's webinar – a couple of times. From there, I learned this concept of metabolic chaos. I feel that's just fascinating; you know? Then I did, of course, I did my due diligence and compared different programs out there. I found FDN is the most comprehensive program about functional lab testing.
Because before FDN, I took three nutrition programs. I'm just like this keep learning person. So, I got some certificates, but I feel I still wanted better tools to assess people.
After Thyroid Cancer – FDNs Support System
In my previous nutrition program, we were taught to use this kind of a self-assessment, a lot of questionnaires, a lot of intake forms to collect data. Those are important, but sometimes I found the results could go really off, especially for those people who are so disconnected with their body for many years. They don't tune into the body. They don't listen to it. Then the results come up really off.
So, I wanted to have a more objective way to collect those data. Functional lab testing seems to be the one. And FDN, according to my homework – my research – it was the most comprehensive program.
Also, the support system is great. I was surprised to see we were offered three or four one-to-one sessions with the mentor. The mentor can go through our labs results and give us customized recommendations. I think by itself, this is just worth a lot.
[00:28:53] Detective Ev: I appreciate that because I'm always in the same boat.
I started off coming into FDN completely as a practitioner myself. I wanted to learn more about health stuff. This was five years ago. Then when I went through, I always say this to them, I feel like there's so much value for the cost of tuition. I mean, just getting into the professionals' group after I graduated, alone, was worth the price. I mean, that's invaluable knowledge. I hope people take that kind of stuff to heart.
Now to be clear, just so we're on the same timeline. You have already done a bunch of stuff and probably tried a million things for yourself before you got to FDN. So, what was your health looking like before you started the FDN course?
After Thyroid Cancer – Trying a Few Things
[00:29:27] Xiaoyun Pan: Yeah, before FDN, I tried a few things. I tried some detox programs. I did some changes in my diet. I did some digestive support, and I took a lot of supplements. Of course, I feel better. Some of my digestive symptoms alleviated, and my energy level improved. But then I reached a plateau and I no longer see any more improvement. Again, some of the old symptoms came back.
Then, as I was aging, entering into that perimenopause phase, that also brought me new issues. That's one of the reasons why I was looking for more in-depth program. Then I came to FDN.
[00:30:15] Detective Ev: Cool. Then my next question is probably going to be a decent one because I feel like it would have helped you a lot.
When you went through the course and you were running those labs on yourself (Because for those that don't know, we do include multiple labs in the cost of tuition. And as Xiaoyun was talking about, you're actually going to talk with your mentor about many things in the course, but one of the things is they're going to go over your lab results with you.), what did you learn about your own body when you were going through the course. Because I'm sure you found quite a few healing opportunities.
After Thyroid Cancer – Getting Clarity From FDN
[00:30:42] Xiaoyun Pan: Yeah. I think FDN is definitely a game changer for me, both in my personal health journey and also in my business. Of course, the functional lab results helped me discover a lot of hidden stressors. But on top of that, first of all, FDN gave me the clarity about what have been going on inside me. It's like for the very first time, I can finally put all the pieces of puzzle together to understand what I have been going through, how I got down to this path, and why am I feeling the way I feel now.
I still remember, at the time when I studied module two and this module about stress and hormone. In one of the videos, Reed explained, that five phases of metabolic chaos cascade. That just makes so much sense to me. I feel that whole five phases perfectly matched what I have been going through during my entire career years.
I can see clearly, how I moved from that acute phase and down to the compensatory, and then eventually in the exhaustion phase. So, at the initial few years, I probably was like in the early half of the acute phase. I was busy, but I felt great. I have a lot of energy. Just go, go, go. I rarely got sick.
But then I kind of sliding down the curve. I started to feel off with less energy, got sick often and take forever to recover. Then finally hit the rock bottom and collapse. That clarity probably doesn't sound like a big deal, but it actually means a lot to me.
After Thyroid Cancer – FDN Lab Tests Connecting the Dots
Because ever since my cancer diagnosis, I was bothered by that burning question all the time. You know, I think every cancer survivor that probably happened to all of them. The question is why this happened to me? And why me? What went wrong? Is it because I have that bad gene, or because I just have this sub-optimum heritage? Or I just had bad luck? So, through the FDN course, I know I finally found the answer I was searching for.
Of course, those functional lab testing kind of discover more hidden stressors. So, first I definitely am in the exhaustion phase. My cortisol level was tanked. But for the sex hormone, I actually am surprised as to see my estrogen level actually was higher. And I saw when I'm entering into the perimenopause, that's supposed to be low. But it's actually higher.
Then what I found in the GI MAP, a lot of things going on inside my gut. At first, I had this H. pylori infection and with several virulence factors. Had crypto. Had some of the opportunistic bacteria was also high, the overall gut dysbiosis, and also had really low, surprisingly low, SigA level.
The secretory IgA was very low. That explained why I have this compromising immune. Because the SigA is a marker for the mucosal immunity. So, that's the first time I discovered those, and I was able to connect all the dots.
Test and Don't Guess
[00:34:24] Detective Ev: I think people that are not in this space, I don't blame them, they don't really get this. But I know exactly what you meant when you said it might not sound like a big deal. No, that's a huge deal to people like us that have been sick for a while.
We're getting these diagnoses and no one's able to tell us this. It's not like you're not willing to put in the work. I'm willing to put in the work. Someone's got to give me some answers and an actual path to go down. Tell me why the heck I need to do they're saying I need to do.
It's almost funny listening to someone rattle off these labs. You would think, that's a ton of stuff. Well, yes. But when you were already sick, you want to know what can I do? Then the labs help you find this stuff. I think it's interesting that you talked about the estrogen actually being high when you would have expected the opposite. This is why we always say, test and do not guess.
We got to test because your biochemistry might react differently to long-term stress than mine. There's many other variables that can come into play that could lead to unique lab results. Like for myself, I was one of those people. I think Reed talks about this in the course as being only about 10% of the people he ever tested, how they normally have tanked DHEA and cortisol.
I'm one of those people with the inverted ratio. I had low cortisol, but I had very high DHEA at the same time. It was like five times above the reference range or something. Everyone's a little different.
Test & Customize Protocols for Each Person
If someone was just giving me supplements or a protocol without having ever tested that, they could make me feel really sick. They could get me unwell. They could do the same thing for you. That's why we're trained in this stuff. We figure this out, and we learn how to customize it for the person.
I'm so glad that you were able to discover these things through the course. And if I'm not mistaken, you're a relatively new graduate, right?
[00:35:58] Xiaoyun Pan: Oh yeah. I graduated like a year ago. April 2021.
[00:36:04] Detective Ev: That's perfect because that makes my question even more relevant then. So, I'm not expecting perfection. Obviously, you've been through a heck of a lot of stuff, and we got to reverse years of what's going on. But like even talking to you today, I mean, you seem like you got great energy. The brain's all there.
Now, you were probably pretty smart before this, I'm guessing. But there's certain things being in this space, you just notice about people, right? Like when the sicker they are, they're slower. They're not able to get their thoughts. I feel like I would not get that impression from you today.
So how are you feeling today and how are things going?
After Thyroid Cancer – FDNthrive & Creating a Business
[00:36:31] Xiaoyun Pan: I feel great.
Of course, I'm not perfect. Still, some things could go wrong. I still got sick once in a while. But what I feel the best is, FDN gives me the knowledge, the strategy, the skills. When there's some things go off the track, I know what I can do. I know how to pivot. I know how to tweak my diet or tweak my exercise regimen, tweak my selfcare, or take my supplements. I was able to always come back to this most time, balanced mode. So that's the best part of FDN.
[00:37:12] Detective Ev: Cool. Now, you're in our one program where we teach people kind of how to do this as like more of a business and stuff. So, have you just completely decided, hey, you're going to pursue this path? I mean, what did that look like for you?
[00:37:25] Xiaoyun Pan: That's my plan, yes. Ever since I graduated from FDN last year, I was kind of preparing myself to start my personal business. Right now, I am enrolled in this FDNthrive program. That's what they call the,,,
Detective Ev: The preceptorship.
Xiaoyun Pan: The preceptorship, yeah.
[00:37:43] Detective Ev: We don't use that on a daily basis. No one uses that word on a daily basis.
[00:37:47] Xiaoyun Pan: That word is a little bit mouthful.
So yeah, I am in that program. I am learning some basic things, how to create a program, because this is totally new to me.
I am good at learning things in the school and in engineer work. But I never done anything related to business, to the marketing, to the customer talking, with meeting people, introducing myself, what I'm doing. So, this is totally new to me.
Where to Find Xiaoyun Pan
[00:38:15] Detective Ev: Well, the good news is, if anyone can do it, I know you're going to figure it out.
I would love for you to be looking at my lab test. Because if I heard this whole story, I just know that you are going to go through that with a fine-tooth comb. You're going to find anything that's possibly on there. That's amazing.
Are you taking clients yet? If people wanted to reach out to you, are they able to? Can they get on a wait list? What's the deal with that?
[00:38:33] Xiaoyun Pan: Yeah. I have helped a few of my family members and also a couple of friends.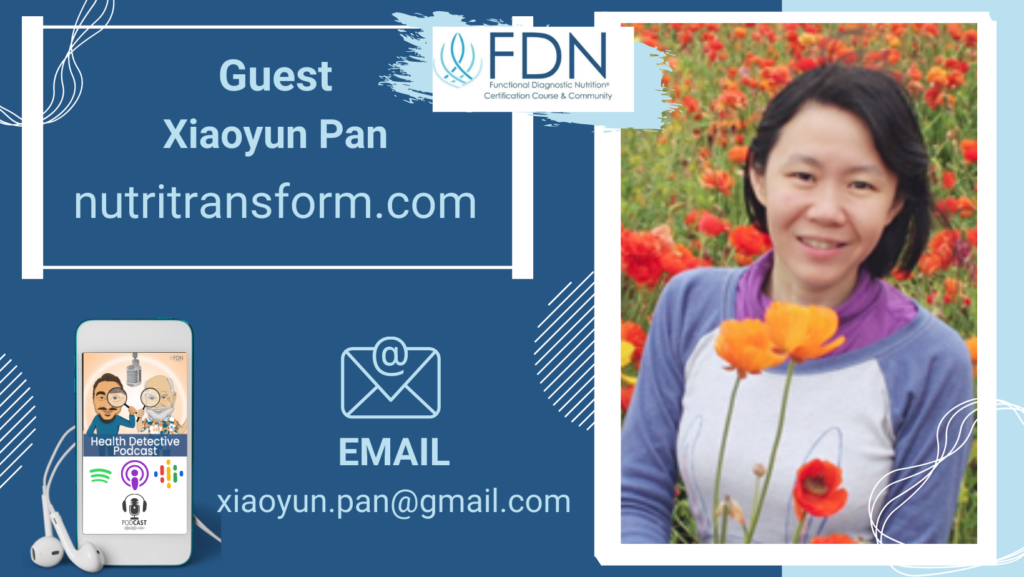 Yeah, if people want to reach me, I can give you my website. Or you can reach me at my email address ([email protected]).
[00:38:58] Detective Ev: Okay. If you want to share those things verbally, I will also put them in the show notes. But many people won't go to the show notes. So, can you just say it verbally where people can find you? Because you know, we're all lazy.
[00:39:17] Xiaoyun Pan: Sure. My website is nutritransform.com. It basically comes from the idea behind my business. I believe functional nutrition can help people transform their body, transform their health, and transform their life. So that's why I call it nutritransform.
Amazing Mindset & Routine
[00:39:37] Detective Ev: I love the passion. I love this career shift. I know that you love the engineering stuff, but I feel like you were totally pulled to do this. I think you're going to help a lot of people. I have no doubts about that.
How has it been working with the family members? Was this tough? Were they reluctant, or did they think it was awesome cause of your story?
[00:39:52] Xiaoyun Pan: Of course, I actually first started with my son. That was like six years ago. You know, start with that simple, easy protocol. Then start to see the good improvement.
Afterwards, I continue to help him eat healthy overall. Right now, he almost never gets sick. He is very, a strong boy. Also, he has that mindset of healthy eating. He almost never drinks soft drinks, no soda. For kids, sometimes they kind of get attracted to what the peers was eating.
But he knows, he reminds himself, oh, I can't eat too much sugar. That's going to be bad to my brain. So, I think for that mindset, it's already a good thing. Because I see very few teenagers have that mindset.
[00:40:41] Detective Ev: I was going to say, because I've studied the autism thing, I find it interesting. I know sometimes this can go either way. Sometimes they can be the most resistant people in the world cause they like their habits. They like their routine.
But I feel like this might be the opposite thing, which is good. He's so aware, that it's like, I'm going to do this. I'm going to do it routine and you're not going to tell me anything, but it's to his benefit. This is actually amazing that's the mindset that he took with it.
Who is Xiaoyun's Ideal Client?
[00:41:05] Xiaoyun Pan: Yeah.
[00:41:08] Detective Ev: All right. With that said, I got two more things for you. One is, since people will be able to work with you outside of friends and family, do you have like an ideal type of person that you're interested in working with?
Like, is there a description of someone where you're like, I really want to help this type of person?
[00:41:23] Xiaoyun Pan: Oh yeah. I actually I want to help those busy professionals just like myself many years ago. You know, I think with this group of people, they're highly educated, but they actually have very little information or very little knowledge in nutrition and health and how to self-care. They are often misinformed. They are, you know, struggling with their health issues. They are frustrated with those contradictory nutrition and health advice.
So, I want to help those people. Help them to gather more information, get a little bit more education, empower them to take back the control of the health so they can transform their body from being exhausted to rejuvenated. Stop any suffering, stop any just merely surviving and start to thrive so they can make more achievements in their career.
Health Detective Signature Question
[00:42:26] Detective Ev: Perfect. You already listened to this podcast before, obviously. So, you know what I'm going to finish with today.
I'm going to ask you the signature question that we have on the Health Detective Podcast. And it is this. In this case, if I could give Xiaoyun a magic wand and you could get any single person or everyone in this world, I should say, to do one thing for their health or get them to stop doing one thing. What's the one thing you'd get them to do?
[00:42:48] Xiaoyun Pan: I would like people just to have a simple routine for their day. They don't have to start with anything complicated. They don't have to study to decide, oh, should I go to Keto, or should I do the intermittent fasting? Just start with those simple routine, doing some very basic things like drinking enough water, like move your body, get some sunlight.
And also laugh. Just do something cheerful and entertaining at least once a day and laugh out loud. I think that will help a lot of a stressful professionals.
Conclusion
[00:43:30] Detective Ev: All right guys. Well, that'll do it for today's interview with Xiaoyun. I absolutely loved talking to her. I hope you guys got as much from this as I did.
I always say this is like the best job ever, because I get to do things I'd really generally speaking, want to do anyway. I'd love to talk to this woman and hear her story. It kind of inspired me. It's interesting how we don't really need to be dealing with the health issues actively to still be incredibly inspired by these stories. At least in my opinion, that's the case.
There's still something cool about hearing another human being going through all of this, overcoming it, and then finding like a new passion in life, changing their whole life around based on the things that happened to them to go help others. I think someone as diligent and intelligent as Xiaoyun, she's going to do such amazing work for this community. I'm excited.
I hope that if someone out there is listening and you're looking more for someone to work with, as opposed to training yourself, I would definitely recommend reaching out to her, go to her website. This is someone that definitely takes this work incredibly seriously. I'd probably put my own health in her hands and that's saying something.
With that said, if you guys liked the content that we're sharing, please consider leaving us a five-star review on Apple and or Spotify. If you would be so kind as to do that, we would love ya even more than we already do.
I'm looking forward to talking to you guys again soon. But until then take care.