Introduction
[00:00:00] Detective Ev: My name is Evan Transue, AKA Detective Ev. I will be your host for today's show. We are talking to none other than Sandy Eggers. She got into this work in a way that so many people get into this work. I'm not just talking about her dealing with her own health complications, like her diagnosis of celiac.
She actually went through the ringer with this stuff. She is from a more conventional medicine background. She works in what would be considered conventional medicine and it didn't work for what she was dealing with. Because of this, she had to seek out alternative means. Eventually Sandy found herself working with a Functional Diagnostic Nutrition Practitioner.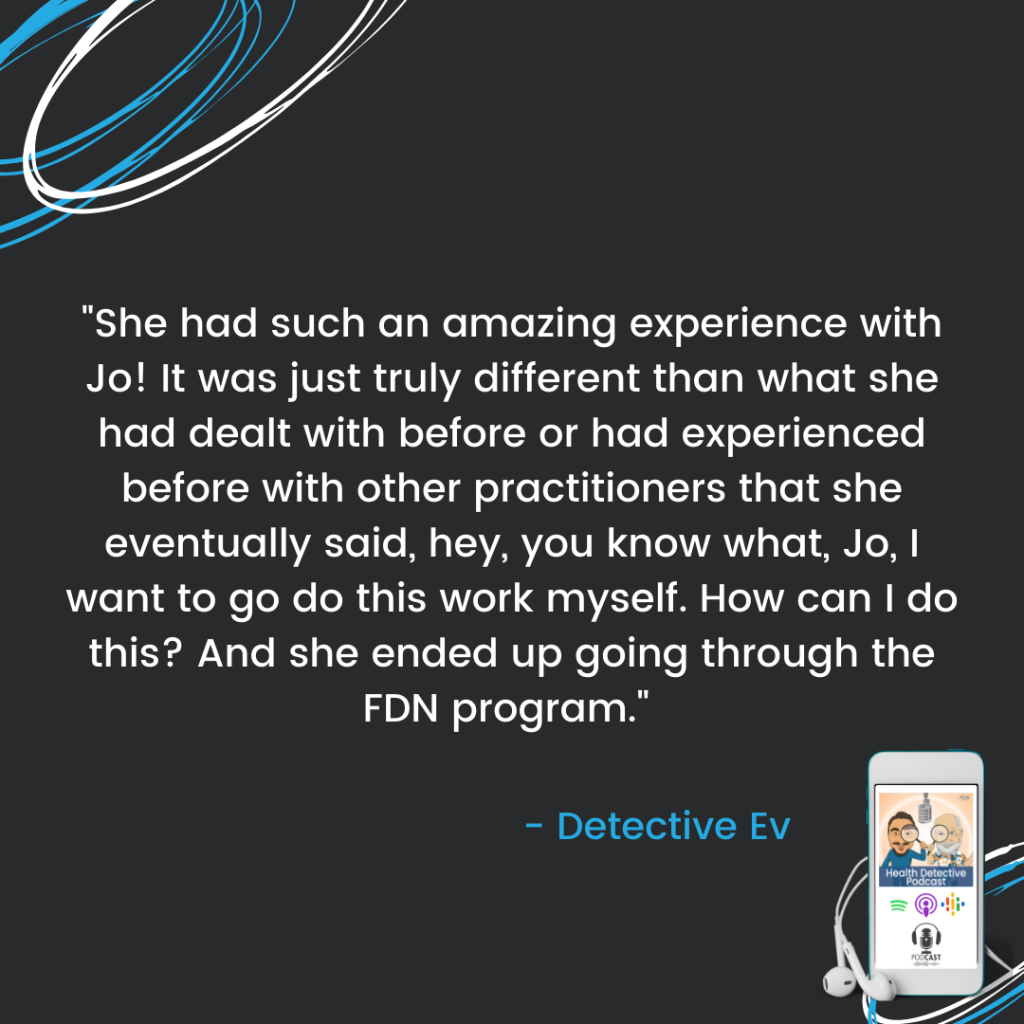 It's actually one of the people who does a lot of things behind the scenes for FDN as well. Her name's Jo Pate. She had such an amazing experience with Jo! It was just truly different than what she had dealt with before or had experienced before with other practitioners that she eventually said, hey, you know what, Jo, I want to go do this work myself. How can I do this? And she ended up going through the FDN program.
Believe it or not, that story is quite typical. It's just amazing to know that people go through this having a completely separate career thinking that they're doing something else. Then it's such a profound experience when they heal their own bodies that they go and wonder, wow, maybe I could go do something like that.
About Sandy Eggers
Sandy is going to talk about things today that, I think, will appeal to a lot of our audience. She is someone that classifies herself as a busy mom. I'm sure if she classifies herself that way, it means she's actually 10 times busier than she lets on. I feel like moms underplay what they're doing already.
She is a busy mom who wants to help other moms conquer their biggest health challenges and setbacks so they can get beyond the daily struggle and start being able to live again. She wants to move past the brain fog, exhaustion, pain, and irritability so they can better connect with their kids and be in the moment enjoying our short lives with godly purpose and mission.
Just in case you're listening for the first time, this is not a specifically religious or spiritual podcast. At the same time, we honor every single person that comes on here. We have people from all walks of life, all backgrounds, all different belief systems. We're happy to honor those things when people come on, that's how we want to represent ourselves by being objective and allowing people to share their thoughts on things.
It's a crazy world out there right now where you're not allowed to have any difference in opinion. We are the exact opposite of that. So Sandy, for her, her faith is a very important part of what she does and how she felt called to do this work. I love the fact that she shares that. We thank people like Sandy for coming on and being their authentic selves, sharing their truth.
I'm excited to bring you guys this episode. Without further ado, let's get to it.
All right. Hey there, Sandy. Thanks so much for being here with us today.
Start of Sandy's Symptom Story
[00:02:36] Sandy Eggers: Hey, I'm excited. Glad to be here.
[00:02:36] Detective Ev: I like the laugh. Guys, we get this countdown and I have to put on this really cheesy smile as the camera counts us down before we go live on the video.
So, we always start this podcast off with the same question, which I believe you're familiar with since you have listened before, and it's pretty straightforward. It's just when did your health symptoms start and what did they look like? Because typically people don't get into this space without having some type of story, whether it's for themselves or even a family member. So, what was yours like?
[00:03:05] Sandy Eggers: Initially when I look back, I really think I had digestive issues starting as a teenager. Then late on, like my early adulthood, as I was trying to start my career as a physical therapist, I was having hormonal PMS, monthly issues that I had to go home.
I was like, I'm not going to skip work cause I'm having these issues. There was no digging as to why I was having the issues, just started a certain pill. Which come to find out, was one contributor toward my disease of celiac. So, when I had my kids, fast forward now about 10 years at my early thirties, I had my second kid and was just not in a good place but didn't go to the doctor because it was a stomachache.
Sandy's Diagnosis of Celiac
I'm like, they're not going to do anything. They're just going to tell me I had a kid and get over it. So, I didn't seek help for like two years, even though I was really nauseous. I was not eating well. I looked pregnant all the time. I was so tired and irritable. I just remember crying in my closet, like, God, I'm not good enough. I can't do this, you know.
I was just really at my wit's end in so many ways. Then I was diagnosed with celiac and there is not a pill for that. So, I had to seek out help. Thank the Lord, Ms. Jo Pate was my FDN right here where I live, and I'm so blessed to have her. She taught me how to help myself through diet and lifestyle. Also, how to help my kids. It wasn't just me that was affected. So that's my symptom story.
[00:04:23] Detective Ev: It's so crazy to me how we end up living with these things and we don't even necessarily get it properly treated for a couple of years.
Celiac, that's a tricky one for a lot of people. Has that made you someone like, do you just not eat at certain restaurants? Do you have certain rules in the house? Like how does that look in your day-to-day life?
Day-to-Day with the Diagnosis of Celiac
[00:04:40] Sandy Eggers: It's definitely quite a bit different. I look back and I see God using it to definitely bless me, but I don't eat out. I'm still, almost four years later still can't handle eating out even at gluten-free places. Then in my home, it's mostly gluten-free. My husband sneaks some stuff in, but he's really careful to wash his hands and he uses paper plates, that sort of thing. Yeah, definitely a different day-to-day life.
But I also think God has used it to bless me. I've had friendships that I otherwise wouldn't have had because of celiac and gluten sensitivity.
[00:05:10] Detective Ev: It's really interesting that you say that because I'm a spiritual person, myself, whatever that might mean to someone. It's a little areligious, but I'm someone who continuously explores and learns more about things.
I love talking about these topics. And it's funny because we go through these crazy experiences that most people from the outside would look at as like, I would never want to go through that. And yet, ironically, these have led to some of the best things that have ever happened in my life. So, it's pretty hard to argue that I would change any of this stuff.
I mean, the fact that I get to talk to people like you and do a job like this. Or I'm in a studio right now that my friend and I opened up for functional medicine. None of that would've happened without this and I'm passionate about it. I think that's one of the best gifts that it gives us.
Counting the Blessings Health Issues Can Bring
It's almost incomprehensible to me, especially since this happened at such a young age, to go out and be working and not like the work that I'm doing. Yet that's the majority of people, right? The biggest blessing is being able to wake up and say, wow, I actually am excited to go do that thing I do for 40, 50, sometimes 60 hours a week for most people. That's kind of important guys.
I going to definitely explore the celiac thing a little bit. It's been a while since we brought it up and it's always important to touch on. For those that might have never really heard of that before, I do have a whole episode defining the differences. Go back to like the December era. It's like a little late in December 20, 21. You guys can hear more there.
But for someone like you that says I can't eat out after four years and do all this stuff. So many people with celiac, they might have a friend or whatever, that's like, my friend with celiac goes out all the time. Can you kind of like maybe break down why that might not be the best thing for most with celiac to be doing? Just because they do do that doesn't mean they should be doing that from a functional perspective.
Diagnosis of Celiac Means No Gluten
[00:06:47] Sandy Eggers: Right, right. Because the thing is, and this is the first thing Jo told me, gluten can stay in our system for six months.
So, I'll go out to eat and it just takes a trace amount of gluten, and your body is starting already to break itself down. It begins in your stomach, but then it just has far reaching effects into our brain and our liver, which really just means function. Our function is going to go downhill and it's going to go downhill for a while.
That's kind of what I tell friends. I can't do gluten. I can't be around it. I can't really eat in a kitchen where it's being cooked cause my body is so sensitive. And really most celiacs are that way. So, you eat it and then you're still being affected by it six months.
It's your whole body. And it ends up being your whole life. Even my relationships. I joke that at this point, like my husband doesn't want me to try gluten. Even though for a long time, he didn't want me to have gluten, but he was like, you gotta eat a little, but eat. And I'm like, well, you're the one that pays the price when I'm beyond grumpy.
[00:07:36] Detective Ev: This is an investment, my friend, you know, you don't want me to eat that.
Using Diagnosis of Celiac to Warn Others
[00:07:40] Sandy Eggers: I mean, it just stays in my system for a long time. It's not just that belly ache. It could be underlying things that we don't even know. I mean, it could not even be obvious and it's still causing huge problems, which will just lead to more breakdown and junk later on.
So much of my mission is if I can keep someone from getting this, if I can talk to them in their twenties or in their teenage years where their body's giving them these warning signs, if I can help them to tune into that and take a different path than I did, that would be awesome.
[00:08:09] Detective Ev: Yeah. And the six months thing is really important. I remember reading about that for the first time in Dr. Tom O'Brien's book, The Autoimmune Fix. When you understand, and people actually get to hear this, because so many people will say stuff like that, "Live a little." Or especially when you were younger, oh you know, "stop being so paranoid, man. Come on. You can't have gluten one time?"
Well, if you understood that this is causing an immune response in my body for six months, is it really just a piece of cake or is it really just a slice of toast? That's not worth it. That short little burst of dopamine that I get from the taste, it's so stupid when I consider the fact that I might be having problems three months from now, that, like you said, you're not even correlating. You might have a really bad day mood wise or anxiety or depression, and you don't even understand this is because of an immune response that's still ongoing from something that happened three months ago.
Using Diagnosis of Celiac to Encourage Others
I think this is where a line gets drawn in our community that really separates it from the average person. The lay person might look at that and say like, this is so crazy. Why would you even want to live like this? Isn't this paranoid? Well, the truth is it's actually very freeing to people like us who have already felt like crap for a while. This is the actual ticket out of something like this.
What's a suggestion to someone out there or a tip maybe to someone that's newly diagnosed with the celiac thing? I know every time I post about celiac, someone in here is going to listen for the first time. Do you have any words of advice for someone out there maybe, or encouragement?
[00:09:26] Sandy Eggers: Oh man. I could go on for the next 30 minutes. It's one step, one day at a time. And also, don't stress. Just work on meal planning, take food with you, and also understand that people will understand. The thoughtfulness is the hardest thing the first year.
You have to get used to taking your own food. You just feel weird. You feel different. But it's okay and it will get easier. It will absolutely get easier. Surround yourself with people who will help and support you. Don't do it alone. And definitely get any sort of alternative health that you can get just to support you in the process. It's not something you want to do alone, for sure.
Diagnosis of Celiac – Creating Awareness
[00:10:06] Detective Ev: I feel like that's a great message. I say the same thing in the world of mental health when I do that outside of this, and it's so true. Any kind of health issue we shouldn't be doing alone. There's reasons that there's tons of professionals that do this. It's important to make sure we have some people on our team.
I think the one "good news" about this is that there is so much more awareness around this in today's world. So many more people dealing with these diagnoses that I think we're on the up and up. There's more groups out there than ever before.
I do have a few places near me that I'm lucky enough that the owners of the place have celiac or gluten allergy or whatever. I know their deli's not messing with this stuff. They know all the rules, they know all the things that we do that gluten doesn't touch those restaurants or the stores that they're in.
I think we're seeing more and more of that. We got to hang in there a little longer. But before we know it, I think things are going to change and it's going to be wonderful. We'll get to go do all those other things like restaurants or whatever without extreme paranoia, because that's not fun. It's supposed to be a fun thing.
[00:11:02] Sandy Eggers: The one other piece of advice I'd give is don't stress necessarily over what you're eating too much but think about eating those whole foods as you can. Try not to just switch to gluten free bread, but think about the meats, the fruits, the vegetables, and eating a good variety of stuff will really help your body to heal.
Diagnosis of Celiac – Need for More Help
[00:11:19] Detective Ev: The one thing I want to rewind with a little bit, because a really important part to me is figuring out how people even get into the world of functional. I know that you'd kind of alluded to it, but I'm wondering what in your head led you to even working with someone like Jo? Because Jo is not someone you're necessarily just going to hear about randomly or find on the street. You kind of have to go through some stuff to find that.
I'm curious, what does that moment or those moments where you're starting to think I need to go away from conventional to go away and use someone like Jo Pate, who is a Functional Diagnostic Nutrition Practitioner?
[00:11:49] Sandy Eggers: I work in conventional medicine, and I see a lot of folks struggling health wise. It was kind of a God thing. I was kind of slowly getting to this point where I don't want a pill to fix this, I know that this is deeper. I know that the birth control I took didn't really help me. In fact, it may have made things worse. I just was having all of these symptoms and feeling so horrible, and gluten-free. I felt like I just need more help.
Somebody I worked with; it was her friend. Jo was her friend. And she said, hey, my friend just graduated from FDN. She might offer you some help. I was like, okay, I'll give her a call. It turned out to be life changing in so many ways.
Diagnosis of Celiac Led Sandy to Become an FDN-P
[00:12:28] Detective Ev: When did you decide that maybe this is something I want to go do myself?
[00:12:33] Sandy Eggers: So, that was just in the last like year-ish. I was like, man, I have learned so much and I want to help people understand how the choices we make with food and lifestyle can really make you feel better. I just felt like all of my friends, we were all in the same boat.
We're exhausted. We can't think. We're either losing weight too quick, or we're holding onto it like crazy. We just need, there's so much more. Then there's my patients in the physical therapy world. I've gotta be able to do more for you than just give you some exercises.
But I needed more knowledge. That's why I went down the FDN route is to get better understanding.
[00:13:11] Detective Ev: I think it's cool when someone combines, and really credible when someone combines, the more conventional and functional sides. Now I know physical therapy while it requires a lot of information, most people would consider them more, in my opinion, naturally oriented, right? Cause you're not necessarily going to surgery for the first route or a pill. But still you have that kind of background training and still found that this is something that you needed additional help for.
What did you find to be maybe one of the most incomplete aspects of the conventional form of care for celiac? What did they tell you? I don't know, because I've never had celiac, just a gluten sensitivity. So, what do they tell someone with celiac?
Treatment for Diagnosis of Celiac
[00:13:46] Sandy Eggers: I think it's different. To be honest, from what I've read, I was lucky that my doctor found it when he did, that I didn't end up getting a lot sicker beforehand. I'm definitely grateful for that.
But it was, you have celiac, stop eating gluten immediately, and meet with this dietitian. Even, I think, the dietician was an extra step than some doctors give. She was helpful, but one 30-minute appointment with the dietician just isn't enough to get you going on that new lifestyle. You really need that support and that coaching.
And there was a lot of crying, right? Giving up gluten is not easy. It's a whole mourning period for anyone. So, to have that help to go along was very, very helpful.
[00:14:28] Detective Ev: You actually mean that quite literally. Because for those that don't know, certain parts of gluten actually release in many people these opiate-like responses. You can be truly addicted to these things. I know that was the case for me. People do have feelings of withdrawal.
Now to be clear, is this something that you're going to die from? Obviously not. We don't want to be extreme. But you would be surprised just how much comfort you're getting from a food. It's kind of weird, cause you take away this stuff and then you have to deal with other problems that you realize you've been masking with the food, just like other people mask with alcohol or drugs. It actually can be the same exact conceptual thing, and it's kind of scary.
I think it's really cool that you transitioned into wanting to do this work for yourself.
FDN Program – Helpful for Diagnosis of Celiac
What were you finding when you went through the FDN program? Because for those that may be listening for the first time, we do have people run labs on themselves, even going through the FDN course. That's part of the training and it's included in the tuition. Were you finding like any new healing opportunities when you were going through?
[00:15:25] Sandy Eggers: Yeah. It was amazing. Honestly, I just felt, I don't think vindicated is the right word. But I felt it really explained what I was feeling and made me not feel crazy. Like I'm not just an angry, irritable mom. There are real reasons that I am that irritable. And I'm hurting all the time, and I'm tired all the time, and I have brain fog. For me, it was very liberating to see those results and those healing opportunities and have a direction to go. It was very very, very helpful.
[00:15:57] Detective Ev: I'm always curious. Is there any specifics that come up offhand? Because a lot of people like to nerd out on the podcast. So was there anything like on the GI MAP or the hormone tests or anything?
FDN Labs Reveal Healing Opportunities for Diagnosis of Celiac
[00:16:05] Sandy Eggers: It was kind of a little bit of everything. To me, I've always been fascinated by hormones and I'm still learning so much about them. I had estrogen dominance, but yet all of my hormones were literally, the mentor said, in the tank. They were low. It was just eye-opening as to all the symptoms that explained.
Your pattern – your rhythmic pattern – mine was spiking in the morning and at night, which really made sense. Cause I was really anxious, and my mind just wouldn't stop racing in the morning. Then at night, I couldn't go to sleep. Then in the afternoon it was almost nothing, which is why I was so tired and could not make it to bedtime.
[00:16:40] Detective Ev: Gotcha. I keep going back and forth if I want to ask this and I do want to ask this because I think we have a mature enough audience that they can be objective regardless of what their beliefs are. You've mentioned multiple times now kind of feeling this godly calling to kind of get into this and even find this stuff.
You know what's really interesting Sandy? Out of five years of being here, without exaggeration, I've seen one negative review of FDN ever. And you know what it's by? It's by a religious group. It's one that believes that God would not ever want to use functional lab testing or something like that. For goodness' sake, like how do you respond to that?
God Can Use Functional Lab Testing
I'm curious, as someone who's clearly a person of faith and obviously believes in this, what would you say to those individuals? And I know that we're not coming from a place of condemnation, but to me that's confusing. So, I'm curious to what you would say to someone out there that maybe thinks God never intended for us to use functional lab tests or something similar.
[00:17:29] Sandy Eggers: Yeah. I mean, I'm not a hundred percent sure where they would be coming from, so I can't necessarily speak to that. But I know that personally, I feel that me becoming an FDN was a calling from God. This is for me personally; I can't speak for others.
I have a mission behind what I'm doing and that when I'm tired, and exhausted, angry, hurting, I can't very well serve out my mission that God has for me. Now, that doesn't mean that God can't absolutely work through that, and He does. I do not want to take away from that. But if we can get to a place where we're not hurting all the time and we have a little bit more energy, then we're able to better kind of focus on God and what He has for us in that day, rather than just simply trying to survive.
You know, FDN talks all the time about we are working to get our body's innate ability to heal. Like that's the whole thing. So really, I think this isn't about me or even FDN. It's using the principles within FDN to get our body, to heal the way God created it to be.
FDN Lab Testing – Using a Tool to Reveal Healing Direction
That's how I look at it and how I see it and how I explore it. But yeah, the whole thing for me, I felt like, was a calling. And God got me through school, even though I had all that mental brain fog. And He's definitely helping me now with my new business.
[00:18:51] Detective Ev: Okay. And that's about as deep as we'll go. But I appreciate that answer because I'm an amateur on all of it.
I find it very fascinating, and I felt called to do many things in my life. That's why I started studying this stuff and looking into it and trying to understand what that even meant. But yet my logical brain (and perhaps that's not the right "brain" to use for this, I don't know), has always just told me, I'm like, I don't understand how this is in contradiction. I just don't get it. That's why I wanted to ask. And I appreciate that answer.
Yeah. Shouldn't we be as healthy as possible. FDN is always promoting living a natural lifestyle. We're just using a tool that we happen to have now to figure out what is the best natural lifestyle for you so that you could feel your best and serve the most. To me, that just makes sense, but I digress. I'll get off that.
Your passion now and your mission seems to be really this kind of mom-centered thing where you're helping these people. We've alluded to this a few times already, but I'd love to hear it. What does that mean to you?
Diagnosis of Celiac to Helping Busy Moms
It seems like to me there's something powerful there where you really want to help these other moms out there. It seems like you felt really irritable at one point or had this kind of stuff. Then maybe there was some guilt associated with that, I don't know, because it wasn't validated.
Tell us about that and why that's your passion now.
[00:19:57] Sandy Eggers: You know, it's definitely important to me and that's kinda my niche, if you will, that we always say to focus on. It's just that mom that is so tired she can't think. She's got kind of these underlying health complaints, but not really realizing it or paying attention to it because we're so focused on trying to give to our families and help our families.
Also, that mom feels guilty for spending time and money on herself. That's something that, to this day, I still can struggle with. But if we can't take care of ourselves, then at some point, like it did with me, I was becoming so irritable and it was so hard, you know, physically. I want to come alongside that mom, and I want to help to explain to her, this is why you're so tired, and this is what you can do about it.
This is why you feel so irritable. It could be a blood sugar thing. It could be a hormone thing. It could be so many things – physical reasons – that this is happening or why we're so depressed. Right? So I just want to come alongside that mom and give her hope, give her help, and in turn, impact her family as well.
Diagnosis of Celiac – a Constant Journey
It can have huge ripple effects, whether it's to their parents or to those kids in the house that might start eating different because mom's eating different and dad's eating different. There's a lot of room for growth and just helping families as a whole making them stronger. So that's definitely part of my goal.
[00:21:16] Detective Ev: I know that you admit, hey, I still have my stuff that I work on. I love that transparency. I love when people come on and just, I got stuff I work on every day. You know, that's just what it is. It's a constant journey. I think it makes it a little more fun when we're always having something to move forward. It makes life a little more exciting.
But regardless, when you were in the worst of it, which is not fun (I don't think we need to go there), and you don't know about the functional side yet, and yet you're feeling all this crappy stuff, what did you think was happening? Did you think this is just how people feel? This is because I'm so stressed out from being a mom. What do you think the perception is of these moms before they know about this stuff?
Mindset of Busy Moms Suffering Symptoms
[00:21:51] Sandy Eggers: You just think, well, I've had kids. You just have mom brain. I just have a stomachache. I just get bloated every once in a while. I should be tired cause I'm not sleeping very well. It is hard having young kids. It is very hard having young kids and you just kind of roll it off onto that. Well, I just had kids, my hormones are probably a mess, you know?
I never sleep well because my kids are awake at night. It's just a crazy lifestyle. I think you just kind of throw everything up to that and think, well, there's probably really nothing wrong. I'm just going to keep drinking the coffee. I'm going to keep taking the immune support help or whatever I need cause I'm feeling sick all the time or what have you. Yeah, that was definitely huge.
[00:22:29] Detective Ev: This is exactly where I was trying to go with this. So, if I'm a listener and I am that mom, how do you differentiate this?
Kind of an example here, like there's teenagers, right? And I talk about teenagers to parents all the time with mental health stuff. There is real irritability that is completely normal in a teenage kid. You know, that's just normal, but we have to differentiate between that and legitimate anxiety and depression.
So, what point do you think a mom can draw the line and say, hey, this isn't just being a stressed-out mom anymore with two, three kids. This is actually something that we need to get checked out and maybe work with someone like Sandy for. How would you maybe identify that?
Where Busy Moms Should Draw the Line
[00:23:03] Sandy Eggers: If we're getting to that point where we feel like things are pretty consistent and we can see a pattern. Like, okay, my stomach hurts fairly often, or I am so tired and dragging and I really want to be able to get through the evening without feeling like I'm going to pass out, or I just have to go to bed.
It's that day-to-day function. If you are seeing that function slowly decline, then it's time to do something about it, you know? I would say do it earlier rather than later. Don't wait for it to be so bad that you're really seeing a loss of function. I think so many of us are walking around with health complaints that could be improved and ideally earlier, rather than later, so that you can prevent some of that damage. You can rectify that course before you have the autoimmune disease, like I did.
So, I would say any warning signs that you're getting, whether it be your cycles are off, you're not going to the bathroom regularly, or you're going too much. Like that's not okay. That's a warning sign. You're having joint pain in your twenties, that isn't explained. Any of that. Just listen to your body and get some help, you know? Cause the earlier the better.
It's Easy to Keep Pushing that Line
[00:24:14] Detective Ev: I think that's totally true. It almost seems, especially in the world of autoimmunity, once you pass that threshold and get the actual diagnosis, and I've seen this so much because autoimmune is something I'm very passionate about. My mom dealt with conceptually similar with the autoimmune thing. She's just going, she's a great mom, right? Pushing, pushing harder and harder and not realizing that those things that you're talking about were indeed warning signs. Just thinking, oh, well this is life, it's stressful. Of course, I feel this way.
A lot of the times, although we're getting much better, conventional medicine goes and validates that for these people. They tell them they're too stretched. You just need a Xanax; you just need the SSRI. Maybe they take it and maybe it works at best, at worst it doesn't. Then they still believe it's just this stress thing.
I liked that you gave those tangible examples of we shouldn't be having these spotty cycles or all these bathroom issues or whatever. Stress should be a transient experience that does not happen all day every day, then I can still function while I'm doing this. If you're declining over time, I love what you said with that. If the function's getting worse, that's when we got to use our heads and think, wait a second, this actually is not normal.
It's not just me getting older. We have people on this podcast that are 60, 70 years old that are vibrant as much as you can imagine. Don't tell me that at 40 years old we're supposed to be just capping out. Now they're telling people in their twenties that they're just getting old, that's why you can't get pregnant cause you're 27. I'm like, what?
Not Normal but Surviving Response with Diagnosis of Celiac
[00:25:35] Sandy Eggers: Yes, you should not be entering perimenopause in your thirties. Like I have been told that. And your labs are normal, everything's okay. No, that is not normal. Everything's not okay. Let's do something about it.
I remember Reed saying, no symptom is normal. There isn't a normal, you know, no headache is normal. Let's do something about it.
[00:26:00] Detective Ev: Yeah. I think that's a real big paradigm shift for people because so many of us have grown accustomed to these symptoms. Something like a headache, it can be downright insulting to tell someone that that's not normal if they misunderstand the context of where it's coming from.
It's saying yes, a headache is something that happens as a function of the body when something happens. But that first something happening is not supposed to go on. You know, the headache is the result of this problem. The autoimmune disease, even often enough (I don't know if I believe this for all of them, but I think for many of them), is actually a very intelligent response from your body, trying to do the best that it can, based on the information and environment that it's getting into right now.
So, it's trying to keep you surviving, that's the number one priority. We always gotta remember that. The body is trying to keep you surviving. It didn't say that it's going to have you happy and surviving or feeling good and surviving. It will do whatever it can to just keep you survived. I'm actually more amazed sometimes just how long human beings can go, because it's decades, out of suboptimal function, while still surviving the whole time. We are survival machines in that sense.
Mental Resistance with New Information
It's a shame because, this is like optimal life over here, this small little chunk where we feel great all the time. It's very easy to go from that to this very long phase, which could be here for years, where we don't feel good. Then of course, a short phase at the end as well. But we kind of live in that middle part and it doesn't need to happen.
Are you finding that when you're working with these moms, are they having resistance to this information at first? Does it take a little coaching to kind of get them there? Or by the time that they come to you they're just like, hey, I know I need something different. Like where do you find that they're at mentally?
[00:27:31] Sandy Eggers: Mentally, there's maybe a little bit of resistance, but a lot of it's just like, I don't have time. I don't have time. I don't have money. You know, because we feel like we're taking money away from our family when really, we could be greatly impacting our health, but also our family's health.
When I went through my first FDN protocol last summer and early last fall, before I got the big C, I was like, man, I can relate to my husband so much better now and my kids. It just had huge, far reaching positive impacts that we don't realize and huge value beyond maybe some less headaches and losing some weight. But being able to enjoy your kids again because you're not exhausted at night. Being able to have that time with your spouse because you still have a little bit of energy left, some nights.
It's huge and it can be so powerful.
It is An Investment
[00:28:21] Detective Ev: I liked that you brought that up about the money thing especially. Maybe it was more obvious to me because I was a young guy, 19, 20. I'm supposed to be getting into the working world and I found pretty quickly I can't hold down a normal job. I don't feel good. I can't manage even the 40 hours a week consistently.
I'd have days where I did really well, but then this person needs me to be there this amount of time, every single day. I can't keep up with that every day. It was a slap in the face, in a sense, back to reality where I realized I don't really feel as good as I think I do, even now. I thought I was getting on the right track.
I'm like, Ev, you can't even hold down a normal job and you're living a lot better than most of your friends who are at college right now, also working, also doing college, and then drinking until two or three in the morning. You're not doing any of that stuff and you can't even maintain one of those activities. Maybe something's off here.
So, when we say it's an investment, I mean that quite literally. I can do 12 hours a day right now. I'm not advocating that for everyone. I love what I do, and I figured out to the best of my ability, how to balance this in a way that it works for me. But I could have never even comprehended doing something like that seven, eight years ago, it just wouldn't have worked.
What's Money Without Health?
So, a few thousand dollars or even $10,000 (most FDNs are not doing something like that), if you have the right person, whoever it might be that you know can help you, your health is the ultimate tool to better relationships, to better finances, to all this stuff.
How many examples can we think of, of someone at the top of life financially that is completely bedridden because they're severely overweight or they got the cancer diagnosis or whatever? Do you think that money matters then?
[00:29:52] Sandy Eggers: Exactly.
Jo is so good at reminding us of that. If you have all the money, but you don't have the energy to enjoy the stuff and the people more importantly, what's it worth?
[00:30:02] Detective Ev: I can take all these trips, but yeah, once you get to the trip, you spending the 14 hours in the hotel sleeping because you can't go out and do it.
It's not just a cheesy cliche and I think we need to get away from that. This is actually true. If you push your health too far, you'll spend all the money in the world to try to fix that. Cause you realize just how little it matters when you are sick.
We talked about the mental patterns maybe, and you said, they might make ideas up that, hey, I don't have time, or I don't have the money, although they would do anything for their kids. We need to get them thinking about their own health like they would of their kids. I mean, God bless them because it's amazing that they do that. But they have the time the money's there somewhere. It's just allocating it to themselves instead of everyone else in their life that they take care of.
Common Patterns Showing Up on the Lab Tests
What are some common patterns maybe that you're seeing on the lab tests? Are there certain things that you're really seeing often in the hormone markers or anything that comes to mind?
[00:30:50] Sandy Eggers: I have to go more from a personal. I have a couple of lab tests. I don't have as many from the moms that I want, to be honest, yet, because I've only been out for a few months.
But for me personally and patterns that I'm hearing from very close friends, I think a lot of us are walking around with probably some estrogen dominance. Definitely leaky gut where the stomach is just not absorbing like it should be. And the stuff from the outside is getting to the inside, making us hold on to that weight. Or down the road, we're losing weight too fast cause we can't absorb stuff correctly, which was my case when I was first diagnosed with celiac.
But I think that there's definitely some patterns there with the gut and the estrogen. Then obviously there's going to be some liver bile acids a little elevated because of the higher estrogen. And thyroid, like hyperthyroid symptoms, seem to be everywhere. Which we would want to treat initially just through our good diet, rest, exercise, stress reduction, kind of protocol and see what can resolve there. I feel like those are pretty typical themes of what I've seen. Especially with all the stress, our adrenals need help.
Positive Impact on More Than Just Mom
[00:32:01] Detective Ev: I think that's probably pretty true for all of us, for sure.
I'm curious from a mom perspective, I feel like this has probably impacted your family very positively. I feel like maybe the first few months is tough. We got to make all these changes. The kids are like, what are we talking about? Have you found over the long run though, this has had more of a positive impact?
[00:32:17] Sandy Eggers: Than just the family, you mean?
[00:32:19] Detective Ev: Than just you. Like, has this led to benefits in your kids? Because I'm sure they're eating somewhat differently now too.
[00:32:25] Sandy Eggers: Oh, absolutely. Yeah. Very much so. Because they went gluten free when I got diagnosed, in the house. But they were still having gluten outside of the house until last fall. I finally got the courage to get my youngest, who he's not old enough to be diagnosed with anything.
But I saw tendencies in him where he couldn't sit still. He was aggressive. I had to take him out of preschool because he was fighting. He had rashes. And I swear he was put in the hospital from some dairy, when he was a little baby, just because it was enough that it made his mucus to where he was having a hard time breathing. I don't know that for sure.
I think the doctors thought I was crazy. But I'm like, I know milk is playing a role here. This last year we did a food sensitivity test for him, and he's followed it. Now he's going consistently because at the age of five, he was still having bowel accidents. I was like, this is not okay. Like you should be able to go to the bathroom.
All the Benefits for the Family
It's helped him to be more regular, helped the aggression, and helped him to sit still. Now, my boys are still active. I call them crazy boys cause they're just active and they're boys. But they're definitely getting better at sitting still and complaining of stomach aches. I would definitely say less aggressive. And there's been some huge progress there.
Obviously, like I talked about with the relationships, still working on my husband. He's very supportive of helping the boys too with their new diets, if you will. I say diet, but they gave me the courage to, when we went somewhere, to say my son has a food sensitivity to gluten, please don't give him gluten. Because it would take so long for him to feel better. We'd be having accidents again. He would not be sleeping. He would be more aggressive.
To be honest, I noticed more than anyone else, but still some folks at church were like, you know what? He's sitting through this five-minute video now. Yes, it's awesome! And it was just from following a different diet where his body wasn't reacting to it. So yes, definitely very helpful in my family.
Then my parents as well, to be honest. My mom has shown some improvement with her lung disease by going gluten free. Her breathing is a little bit better. It's not perfect. She's got a very bad chronic lung disease. She's shown some improvement with even just decreasing the gluten, which our FDN ears have a hard time hearing, it's life. But you know, it comes in steps, and it comes in strides.
This Mindset is Catching On
So, I'm supporting her and her going on a specific supplement that I found out through FDN is actually helped to replace a prescription drug for her. That was like, thank you, God. So yeah, definitely some huge, huge effects there in my family. And of course, my friends, cause I could never stop talking FDN. I'm sure they get tired of it, but it's like all I ever talk about to them. You can do this and let's do this and let me help you with this.
[00:35:03] Detective Ev: It is cool, Sandy, because you get these friends or even family members that maybe aren't into it in the beginning, then they call you like two years later and they're like, hey, wait a second. You're the person I call when nothing else has worked. I'm like, that's a good compliment. I appreciate that. It's funny how I'll get these random texts still or questions about people that you'd never think would be interested in this stuff. But then they have a reason to care, and they get it.
I appreciate your humility and humbleness throughout all of this, but especially with the kid thing. Because I find that so many people (and I know this just from working with people), they're very resistant to talking about maybe some "bad" behaviors or whatever from their kids, as if it's like a personal fault or responsibility. I mean, sorry. Responsibility. Yes. But a personal fault. There is so much more to this stuff, guys, that it's not always your fault.
Bad Behavior Can Be Health Related
That's pretty ridiculous. It's pretty clear, I don't have to talk to you long to know that you're a good person and probably a great parent. There are other things that happen versus just parenting that lead to this stuff. This is what society does to very overly simplistic explanation. When you see the kid acting out in school or having bad behavior, you know, the parents at home must be ridiculous. Then you go home, and you actually realize these are some of the best parents you could ask for. They're just as confused as you.
When an adult has a constant immune response from crappy food or parasites, or whatever's going on, they can misbehave. They can act crazy and ridiculous. When a kid has that, they'll do it, and we call it bad behavior. We have no idea what's going on with them. So, I think that just shines such an important light that's needed on this stuff.
I know even for myself, my parents raised me completely fine. And there's been times in my life when I was doing some pretty insane stuff. Now I felt terrible all the time. I didn't know why I was so angry. I didn't know why I did the things I did. People would ask me, why did you do that? And I'd make up an answer. The truth is, in my head, I don't know either. I have no idea why I just did that. It was impulsive. I felt like I couldn't even control it.
Sandy, I don't know if you've ever heard of this study. They're able to predict violent inmates that will commit repeat offenses with over an 80% accuracy based solely on their blood sugar levels on average, while they're incarcerated. Give me a break.
Blood Sugar Regulation is Huge
[00:37:09] Sandy Eggers: That makes so much sense. Blood sugar regulation is something I meant to mention earlier. I was like, yes, blood sugar is huge. And it doesn't mean you're diabetic. But it is dropping faster than it should be, or it's hanging out lower than it should be. It can be contributing to so much. And that's what I tell my friends. I'm like, this could just be blood sugar not stabilizing. You know, you're not just an angry person.
[00:37:35] Detective Ev: It's a big one. It can't be underestimated. I'm very transparent about this. So, if anyone's listened regularly, this won't be new. But if it's first time, I mean, I love that FDN respects me enough to allow me to share this stuff. My health issues led to a lot of not-so-great things, and it wasn't just the health consequences.
Does High Blood Sugar Explain Some Misbehaviors?
I got in a lot of trouble at around 17 years old. I was arrested and put into juvie. I didn't graduate high school. Things got bad. But the reason I'm bringing that up, and this was so ridiculous to me. I got into the juvie, they do all these tests on you, and they give you a TB shot and stuff, but they also test your blood sugar apparently.
And the woman asked me, she did not ask if I was diabetic. What she asked is, do I need my insulin? I said, I don't take insulin. I knew what that was because my grandmother is a type two diabetic of like 40 years at this point. I said, I don't take insulin. She's like, well your blood sugar's super high. When did you last you like a couple hours ago? She's like that doesn't make sense.
Now that was the only thing that ever came of that conversation. But about a year and a half later, I read that book and it just triggered that memory for me of the blood sugar thing with the inmates. I'm like, wow! Because that day I did some things that I don't really know why I did. I'm like, I wonder what my blood sugar was at the time of doing those things.
This is not an excuse, my friends, for bad behavior. We have to take personal responsibility for our life. But it could be an explanation. Justification is not the same as an explanation in my opinion.
Starting with Moms Influences the Kids
[00:38:50] Sandy Eggers: It's not an easy fix, but it's a very great healing opportunity to go after. Yeah, I agree.
I love the Reed story that he shares over and over again about the kiddo that was getting ready to get kicked out of school. He did a food sensitivity test and a couple of weeks later, the principal's coming and asking, what'd you put this kid on? I'm like, yeah, that's awesome.
I've had a couple moms call me in the last couple of weeks. Their school wants to put their kid on something, and they want other options. I would be thrilled to help in that area as well. I encourage to go gluten free and think about food sensitivities and that sort of thing. It's hard though.
[00:39:26] Detective Ev: Yeah, it is. I think starting with mom's actually a great thing because they have so much influence in the family that if you can get that on board, you're usually just guaranteed the kids being forced on board. Maybe dad or the husband might be a little longer to hop on with us, but I think it's great to kind of start with mom.
Just to be clear as we kind of wrap up here, because I was going to ask any way, we know clearly who you work with is the mom's side. But if someone wanted to come to you with their kids as well is that clients that you take on? Do you work with the kids too?
Working with Kids
[00:39:54] Sandy Eggers: Absolutely. I would be more than happy to.
Yep. I have a program right now I'm working on specifically for adolescents. Then definitely kids as well because my kids had food sensitivities, so I have experience with that as well.
[00:40:06] Detective Ev: Amazing. And it's nice because not every FDN out there does it. Admittedly, I've always been hesitant.
It's troublesome. You gotta have someone who is patient and just has a good soul to go out and do that stuff. Because it can be a lot trickier with the kids' stuff. You're never just working with the kid. You're also working with the mom and or dad. They gotta be on board.
The good news is, with kids, as Reed says in the course, they typically have a little bit more of that vital reserve. So, if you can find those one or two things, those hidden stressors that are really bothering that kid, whether it's a food sensitivity or something else, the good news is that kid can typically bounce back pretty fast.
Certainly, can bounce back a lot faster than us as adults. It's incredible sometimes the results that these kids will get. So, where can people find you if they're wanting to work with you? And I'll make sure that this is in our show notes.
Where to Find Sandy – Diagnosis of Celiac
[00:40:53] Sandy Eggers: Yeah. There is a Facebook group there in the notes. Called Body Blessed; Natural Health and Wellness, I believe. It'll definitely be in the notes. That's the group where I try to post regularly at least once or twice a week. I'm hoping for more. But that's where I'm kind of posting information on upcoming groups. Of course, you can always message me through Facebook there.
There's also my website, mtchealthandwellness.com. There's a little "start here" link. If you want with some general questions we go over, and you don't have to fill all those out. We can always talk about that in person. That's really my preference is to go over that on the phone. That way you can get to my email really easily, but it's just [email protected].
[00:41:29] Detective Ev: I saw your website. It looks great by the way. Especially, I mean, you're just relatively new to it. It's not like you've been doing it for 10 years. So that looks awesome.
Before we finish with our signature question, since we have transitioned a little bit more over to the course side of things with this podcast now, a lot of people keep asking questions about the course. We're getting more listens because they are wanting to learn about this stuff.
So, it can be anything you want. I'm just curious, how has the FDN program, like, did it exceed your expectations? Has it helped a lot? Do you feel confident going out into business? I know I just asked like three different things. I apologize. You know what I'm getting at.
FDN Course Exceeding Expectations
[00:42:01] Sandy Eggers: Oh, absolutely. It met and exceeded my expectations.
The support as a student was unimaginable. Having access to really good mentors. Then getting to talk with Reed, still just blows my mind that Reed is there every Friday talking to trainees. It just blows my mind. He is open to anything and everything. Nothing truly is a dumb question for him, which I thought was just humbling.
They put together this Thrive course, and I love it. I am getting so much out of it. I just have to give props to Vicky and Jo, because they're making a huge impact in my business. Meeting with them every week is really helping me to stay focused, to stay encouraged, to stay motivated and give me a direction on my program, which I desperately needed. It's worth every penny.
But even beyond Thrive, my first couple of clinical advisor sessions over lab tests have been very, very helpful and they take the time to explain a little bit more. They don't treat me like someone that's been in the field for 10 years. They treat me very, very well and they overexplain because they understand that I'm still learning. This isn't old news to me like it is maybe to some other people.
Dawn was amazing at responding and getting help. I mean, Elizabeth, I want to mention all of them. They've all taken the time, both as a trainee and then in Thrive to invest in us. It is not just a, here's your certificate, goodbye. It's ongoing support from the very beginning.
FDN Course – Making Sure People Fit
[00:43:24] Detective Ev: That last part you just mentioned, might be one of the most important. Because when I did the course enrollment side of things, most people that get on the phone with you are so friendly and nice because it's a specific type of person that's normally doing this work. But every now and then, you know, you get someone that doesn't really believe you when I'm like, hey, well, we don't take everyone into the course. So, you know, what are you here looking for?
They think it's like a sales. I'm like you're going to be with us for many, many years if you go through this. Like you said, it's not just done once you get the certificate. You're going to be more involved with the community most likely afterwards.
So, no, we're not just bringing everyone in. We want to make sure that you're going to be good for this and happy with this five, ten years from now. I'm coming up on, this is over year five for me now. It's like five years, one month or something. I'm still here. You know, I better be a not so annoying person. I do annoy the heck out of some of them. But you know, most of the time I'm considered a good asset to the community as well. So, we're glad to have you.
And Sandy, just for time's sake, I want to finish up with our final question today on the podcast, it's a simple one, but not easy, necessarily. My question is if you could get every single person in this world to do one thing for their health, whether that's literally do one thing or not do one thing, what's the one thing you'd get them to do.
Signature Question & Conclusion
[00:44:37] Sandy Eggers: Listen to your body and act on it. If it's given you warning signals, do something now, not two years down the road. When you flared into autoimmune disease, like my body did, listen to your body. You should have good energy. You should be able to have a decent stable mood, and if you're a woman, regular cycles.
[00:44:59] Detective Ev: Well, that is all for our episode today with Sandy Eggers. This is a perfect example, guys, real people out there doing the work. Yes. You can do it too if you really want to get it done. People like you, people like myself, people like Sandy. Not famous. We're not having a hundred thousand subscribers on YouTube or something like that. We're just out there with stories, passion, and wanting to help other people.
If this is something that you're considering doing as work, then you want to check us out at www.functionaldiagnosticnutrition.com. There are a bunch of resources on the website where you can learn more about what we're doing here, but you can also just book a call with one of our course advisors.
The book a call button is at the very top of the website. Easy to find. And you'll notice that we have several course advisors there. I encourage you to read through their stories because their bios actually include that. You can kind of figure out who you resonate with the most. Then you can book a call with whoever you like the most and whoever you feel best relates to your own personal health story.
So, with that said, I am looking forward to bringing you guys yet another interview later this week, but until then, take care. And we'll talk to you guys again soon.