Introduction
[00:00:00] Detective Ev: Hello, my friends. Welcome back to another episode of the Health Detective Podcast by Functional Diagnostic Nutrition. My name is Evan Transue, aka Detective Ev. I will be your host for today's show about a functional medicine course for pets.
If it's your first time tuning in, welcome. I am your host for most of these shows. I am no one special in particular. I am someone who is a graduate of the FDN program, and like many of our guests on this show, I am lucky enough to have a profound story of healing.
I started my health symptoms at the age of five, and by the age of 18 had over seven different diagnosed conditions, all of which I was told were separate and not really connected. Now that was through any one's fault of their own. I genuinely believe that the people who said this to me believed what they were saying, but as many of you who are probably listening to a show like this know, that's not really how health works. You don't have seven different diagnosed conditions that were just random chance things.
It's most likely that something's going on in the body, multiple things are going on in the body, that's leading to the manifestation of these diseases. Anyway, I got into natural health and healing, eventually went through the FDN program, and the FDN program is what got me to where I needed to go. And I'm very thankful to be able to say I don't meet the diagnostic criteria for any of those conditions anymore. And I love talking to people, so that's why I get to do the podcast.
For Pets: Congruent to FDN for Humans
With that said, our guest today is Dr. Ruth Roberts. She has been on the podcast before. Click here if you'd like to hear her original podcast.
Dr. Roberts is a veterinarian by trade. She had her own health issues, shocker for this podcast. That helped her start thinking outside of the box. She had fibromyalgia going on, some other things, and she wasn't getting the results that she wanted using the things that she was taught, the system that she was taught in.
I shouldn't say the exact thing she was taught, right? I'm sure she wasn't doing veterinarian stuff on herself, but you get what I mean. It's that Western medicine system, that Western medicine methodology and way of thinking that she was applying and it wasn't working.
It helped her think outside the box. Then some various things that occurred with pets helped her think outside the box. That's why she's able to do this now.
She ended up creating a course and has an immense amount of free content on her YouTube. Her email list is great, by the way. Usually, people I feel have an annoying newsletter. Her's is not that at all. I would definitely get subscribed for her just to hear what she has to say and what she's working on.
But again, the most important thing today is that she has a program that is basically the FDN of pet stuff. She teaches you guys labs, she teaches you how to do some of the business side, she teaches us how to actually work with pets in a way that can help them get well and stay well naturally. Very congruent to what we're teaching at FDN just for pets.
For Pets: Possibly A New Niche for FDNs
This could be something that you want to do exclusively. Maybe it's your passion and you don't really want to work with us humans, you want to work with just pets. This could be a great thing to pursue.
Maybe you are an FDN already, and you'd either like to use this as a new niche for yourself or maybe you want to work with the whole family and you're not just talking mom, dad, and the kids. You're talking mom, dad, the kids and the dogs, and the cats, and the birds, and the bees, maybe, if they have those too.
If you want to do this, then this is definitely the episode to listen to. And of course, it's not just one giant pitch of her course. It is actually a bunch of cool information, random tidbits as we go along here. But we invited her on directly to talk about her course. We want people to know about that, so that's no secret. And if you guys are interested, we hope you end up pursuing it or reaching out to her to ask more.
Without further ado, let's get to today's episode.
All right, Dr. Ruth Roberts. Welcome back to the Health Detective Podcast. How are you?
[00:03:46] Dr. Ruth Roberts: Hey, Evan. I am fantastic and really excited to be back here. We had so much fun the last time.
[00:03:51] Detective Ev: Yeah.
Dr. Roberts was very popular, not only on the podcast, but for something called our Health Space Unmasked events. And if you guys don't know what that is, it's just something we do the first Saturday of every month at FDN.
For Pets: The Right Thing for Our Animals
It's really special because people are taking time out of their morning. I think it's 8:30 am PST. People hop on, man. There's hundreds of people there sometimes that are just engaging with each other, learning from the speaker. And what I always love is we encourage our speakers that come to offer whatever they offer to our audience. But it's such a dense presentation first, right? It's like such a give before you take.
Really, this one was particularly interesting because I think all of us have pets to some degree, statistically speaking, but the majority of people at least have one or two pets. And we know we should be doing the right thing for them if we're in this holistic and functional space. But we're scared. We don't know how, necessarily, and we're nervous.
There's a lot of misinformation out there for the pets, just like there is for us as humans. We have sorted through that because we can experiment with ourselves. But the dog can't really tell you when it has a stomachache, necessarily, unless you've gotten really good and close with your pet. We'll be talking about the course that you offer today and how we've actually had FDNs go through it. So, it's really cool.
One is, we're setting records apparently for timeframe. We'll get into that. But the major question I have to ask first, as funny as this sounds. If you guys can't tell if you're watching on video by chance, I got my blue light blocking glasses on. That is because we have set the record for the earliest Health Detective Podcast today. Dr. Ruth and I got on at 6 AM EST because you are in, where is this again?
For Pets: Western Medicine in Some Cases
[00:05:29] Dr. Ruth Roberts: Montenegro. So, it's noontime for me.
[00:05:32] Detective Ev: Awesome. Running off 4G in the mountains. It's so cool.
[00:05:36] Dr. Ruth Roberts: You should check out some pictures. Is it incredibly beautiful here, for sure.
[00:05:41] Detective Ev: All right. So, definitely a unique podcast in multiple ways then just with the location of our guest and the timeframe of myself. But I'm high energy, happy to be here.
The whole reason I was telling you guys about the timeframe is not just so you feel sorry for us. It is so that I could justify what happened at 5:30 today. When I woke my fiancé up, she was not particularly happy, but she did ask me one thing. She said, you're talking to the pet woman, right? I'm like, yes, the one that you loved last time. Ask her about the ticks. So, I promised her if I woke her up, we have to at least start with this random question.
So, we have a tick infestation where we live. We're in Southeast Pennsylvania. It is awful. This poor thing, we give him the shots at this point because when he runs through the grass, he'll come back with 10. It is crazy. And maybe that's the answer.
I thought your answers last time we did the show were very realistic, right? You're like us. You weren't anti-western medicine at all. You're like, sometimes you got to use it for certain things, and others, there's things that you can do more holistically.
For Pets: A Tick Infestation Question
Without dog-medical advice, with that disclaimer put on, if you had a dog and lived in a situation where there's a bunch of ticks around, perhaps you do, I don't even know if it's a vaccine or what she does or a spray, but she's using something pretty powerful, would you do that or are there other options?
[00:07:04] Dr. Ruth Roberts: It depends. If you're in a situation where it's, holy smokes, there's so many ticks, I would rather deal with pesticide exposure for a couple of months and then do cleanup than deal with lyme or ehrlichiosis or one of those other fun things. And in Europe, it's Leishmaniasis, which I got to tell you, Lyme is bad, Leishmaniasis is horrid.
What I used to recommend for my clients and use for my own pets is Seresto collars. If you read about them, you're going to see there's a class action suit and all of that. But I think that, frankly, it's the least amount of chemical that we saw go into the dogs. And the cool thing is that once the ticks die back, you just take that sucker off and pop it in a can.
Now, can you use other things with it? Absolutely. You could look at things like Baltic amber collars, 0 Bug! Zone tags, which both of those use an electromagnetic frequency to help repel fleas and ticks. Essential oil sprays, Wonderside, all of that stuff. I would do a combination of things. When you see that the ticks are starting to ease back, then you take the collar off, or whatever pesticides you're using, and then continue with the things that are going to be not so toxic to the dog and actually just do repellency.
For Pets: A World of Stressors
[00:08:32] Detective Ev: That's already perfect. Thank you. I'm going to go back and listen because there's several things there. We can go through them together and figure out what would be best for us or just add things on. But what you just said was that realistic approach that you had last time too, which is great. And we encourage FDNs to do this.
Sometimes when they come into the course, we're in this dogma of natural medicine and you don't want to be a purist, right? We all have to understand that we are getting hit with stressors every single day. And it's not to fear monger; it's just, that's the world that we live in, right? There's nothing that you can do.
My gosh, you could go live in the middle of nowhere now and you got the dang Starlink satellites shooting down on you. And I'm sure that's not the worst thing in the world, but my point is it's everywhere, guys. So, it's all about playing this game of weighing things out accordingly, right? How far can my body push?
Because to be fair, I think my dad's body can get away with more than I can. My dad, love him to death. I hope he doesn't listen to this ever because he's going to be like, you need to stop telling people I smoke. But he smokes two packs a day. He isn't the best with diet. He lives outside basically. He's a landscaper. So, I think that helps a ton. The guy is so tan it's not even funny. He's been doing this for decades and I think that matters. But the point is, if I did the exact same life that he did, I would feel like crap.
For Pets: Toxic Burdens
We need to figure out our unique things and what stressors can we take, and I imagine it's very similar to our pets. Many pets are going to take these medications and respond fine and they're better off. We're not getting these crazy diseases you listed off.
[00:09:56] Dr. Ruth Roberts: Exactly. And that's the thing. As my mom used to say, we have done pissed in the grits.
All of these things we talk about, glyphosate, all of DDT. For God's sake, there's DDT in cord blood of children born today. And it was banned in the U.S. in 1968. What that means to me is it's in the water cycle. It's everywhere in the world and that's what it is.
But to your point, you're exactly right. Your level of toxic burden is far greater than mine and your dad's because you are born 15 to 20 years further into this massive load of toxins. And my granddaughter is 11. Her load of toxins is astronomical. She, as a child, played with all these plastic toys from China. She started her period at nine because of all of the endocrine disruptors she's been exposed to as a young child.
But I think that's the issue is that I gotta be careful because my margin for error is thinner as I get older, but your load and people younger than you, your toxic load is astronomical. For these guys, here's this little three-kilogram marble, she's low to the ground. She's sucking up everything that's in the dust, that's in the house, that's outside, so their level of exposure and their toxic burden is astronomically higher.
For Pets: Toxin-Carriers
We talked about that. I think the average dog has something like a 30-some-odd percent higher level of toxic burden than a human and a cat has 96 percent higher. They're sucking up more stuff. It's one of those deals.
[00:11:48] Detective Ev: I didn't remember the numbers offhand, although I knew the cat's was higher. It stuck with me last time.
I never forgot that because we have, at least in my family's house, we have a dog named Macy. Macy's a shichon and she's about as small as the dog that you just brought up. Her legs have to be this long. So, her cute little head is probably 10 inches off the ground, max and her paws touch the ground, obviously. Then she chews on her paw or whatever she's doing.
I had asked my dad, again, traditional landscaper, and he was very open to this, thankfully, to stop using glyphosate years ago around the house. And that was the only time I connected it. I never even connected like the cleaners that mom uses on the floor, the hardwood floor. And I was always connected to, oh my gosh, she's running through the grass. Dude, her head's basically touching the grass and he had just sprayed there. I'm like, this poor puppy's getting it.
And then, my gosh, if you can't get motivated for that, I think everyone that's listening to this is probably a pretty good person. But if you can't get motivated for your dang animal, get a little selfish. Because if that dog's going to walk in and have all these cleaners on it, that dog probably sleeps in your bed or it's like in your face. So, everyone loses here. We gotta be smart about lowering that burden.
For Pets: Generational Accumulation
I know it's not the main point of the conversation, but I do appreciate what you said about the generational thing. Because that was something that almost makes me sound smarter than I am.
It's not a prediction, but I saw it at 18 because I was so dang sick. I looked at all my friends and I was like, why is that? I almost had a victim mindset. Like, why is this happening to me? And then as I began to understand the reasons for why I was sick, my prediction, so to speak, was, oh, it's not just me. I'm just one of the first to feel this. I literally said to myself, I guarantee by 40 everyone else going to have this.
Now, careful what you wish for. Because what really actually happened is once they went to college and stressed their bodies out for another four years (I didn't go, I physically could not have went to college), when they did that for another four years, everyone's coming back, Hashimoto's, cystic acne, migraines. It was the final straw.
And then you look at our youth today. I think I told you last time I do the mental health speaking in schools occasionally for kids. It's not a judgmental thing; it's just, you can see when someone is not well. When I go into those schools today and I see the kids, I'm like, holy cow. What are we doing? Like the 12-year-olds look terrible. Their skin's messed up. It's oh my gosh. And it's just a perfect storm.
Again, this is never to fear monger; it's actually the exact opposite. It's an acceptance that there's a lot going on, so we do the best that we can.
For Pets: Gifted to Work with Pets
We look for the best wins. And one of the ways that you could do that is by helping people have less stress because they have healthier pets. So, we need to talk about Dr. Roberts' program today.
I'm really interested in what you're doing. You've had FDNs go through the program now, or course, however we want to call it. But a lot of FDNs graduate and they know they want to help people, but they don't know what their niche is going to be. And yes, we can help them on the business side.
But there's some people, and you're one of these individuals, obviously. There are some human beings that you can just tell when they talk about it, they are made to work with animals. That is what they're here to do on earth. There's such a cool relationship there.
My fiancé is one of them, man, she loves it. She grew up on farms. Her connection to these things is so deep. It's very cool. I have a respect for it, but I don't have that same feeling. I care about them deeply, but it's just they are her friends. They are her friends as much as a human being could possibly be.
So, you have a program that allows people basically to become the pet equivalent of an FDN, right? You're becoming an investigator and someone that can actually help. And I don't want to put the words in it. Why don't you define it for us. What does your course actually allow people to get certified in?
For Pets: People Wanting to Help
[00:15:30] Dr. Ruth Roberts: That's exactly the goal was to follow the human health coach model. So, whether that's FDN, NTP, whatever the other initials are, it doesn't matter. But the goal is that you get attracted to a way to help people based on how you can go about solving problems.
I did get 40 CE hours from the board. So, for veterinarians and veterinary technicians, they get basically the equivalent of two years of CE credits for doing the course. This is not an easy fluff course, right?
What ended up happening is the people that really were devoted to getting into it are really passionate pet parents. They've been working with rescue groups. They are involved in other sort of pet paraprofessionals like groomers, dog walkers, pet sitters. Because these are the folks that see other people's pets on a daily or on a weekly basis and they see the changes.
They felt they did not have the credentials to say, dude, your dog looks terrible. These people, and mostly women, have seen these dogs at two years of age, all sleek and fat and happy. And at four years, they're looking like the kids you were talking about. They look dry, their energy is low, they just feel like crap.
And they are literally having bad poop issues. We know the whole drill, right? They've got leaky gut, then they have skin disease. Then they have this, and then they have that. The list of things starts escalating.
So, the goal with this program was to teach people how to use a home-cooked diet, real food. That's the problem is that our food is sick. So, how can we expect to get well if we're eating sick food?
For Pets: Another Approach
Then use various tests to help determine what food sensitivities might be present. We've got a wonderful test available now that helps us look at leaky gut function, digestive function, all those things that you would normally use – Zonulin, calprotectin, all that good stuff, IgA.
Combine these things together to help the pets heal using food, using supplements, and understanding that this is not going to be a once and done thing. This is going to take some time and effort. You try things and see how it works, then you take what's working. The parts that aren't, you pivot and adjust. So, it's a very similar process.
But it's been really fun with the FDN students and the other NTP students. They love what they're doing. And their frustration level is that when you tell a person, stop eating Doritos, and they're like, I can't give up my Doritos or my bread or whatever the thing is that's creating the inflammation, it's really frustrating after a while.
What they're finding is that same person is happy to do whatever it takes to help the dog feel better. And then they're like, what was that you were telling me about not eating Doritos or whatever the suggestion was. They start to incorporate that into their own lives. So, it's another approach to One Medicine, so to speak.
[00:18:50] Detective Ev: Yeah. It's interesting. I don't want to equate this directly, but others may. People almost interact with their pets like they would a baby. They are willing to do whatever it takes to keep these things as healthy as possible.
For Pets: Domesticated Care
It is an interesting niche to have because the dog can only fight back so much, right? The pet can only fight back so much. If you change the diet, you might get some whining initially, but our pets get over things a little faster than we might as humans. We're big babies. We've been given the gift of free will.
[00:19:20] Dr. Ruth Roberts: By and large, 98 percent of them are like, thank God. This is really good stuff and it's delicious. And so, they sit there in front of the slow cooker for seven hours drooling.
[00:19:33] Detective Ev: They're very much like us in a certain way. They need similar things. But we're doing so much differently than what they were intended to experience if they were in the wild or just even in slightly more natural environment, maybe a farm, for gosh sake.
Right now, they're domesticated, living indoors full time. To me, listen, there's many things, unfortunately, that we probably could have done better. But with little Macy, the Shichon, she is phenomenally healthy. She is 12 years old, no health issues whatsoever.
Really, all I did, Dr. Ruth, was just try to do the best I could with the diet stuff. Because I was like 16 at the time when we got her. Well, I just learned about like GMOs, for example. I said, alright, I'm going to get the dogs some better food. So, I convinced the parents, they were totally down for it. And you know what, the other thing is though too, I feel like when human beings, common sense, are more active, they also do well.
For Pets: Forced Healthy Habits
And the biggest thing with Macy that I think has helped her even as much as the food is, yes, she's inside a lot, but we have a two-story house there. She's very small and loves chasing the deer because there's deer all over my parents' backyard. So, 12 years old, you'll hear her tearing butt up the stairs to go run to my parents' back deck so she can bark at them from the back deck and then she runs back down. Her legs are so strong still to this day.
My sister has a bed there that I don't want to overestimate, it cannot be any less than three feet high. The bed is legitimately three feet off the ground. And she has a little more hesitation now that she's older but if I'm like, Mace, come on, you gotta get it, you gotta get it. She can, little Shichon, can jump three feet.
I think a lot of those things, her being forced, although she loves it, forced to run up the stairs constantly, forced to jump on these things to chase the deer, eating half decent food, my gosh, we're already seeing what that can do for her. So, I'm getting to a question here.
And the question is, how wrong do you think we are in terms of estimating the life expectancy for our pets? Because I know with humans, I think we're way off the mark in terms of what we've estimated is possible for a human being with the knowledge of functional medicine, but also the gifts of Western nowadays.
So, are we just like completely off the mark with how long these dogs, cats, and other animals should be alive?
For Pets: Estimated Life Expectancy
[00:21:43] Dr. Ruth Roberts: That's a super interesting question. I'm going to give you a little frame of reference.
In 1990, when I started practice, so that's 33 years ago now, the average lifespan of a dog was eight, period. And I would say now it's 12 across all breeds. But the difficulty is that the quality of life is not so great in those last couple of years because all of the chronic inflammation catches up and all of that.
So, if we think about, for instance, Bobby, the oldest dog that lived in the world, that's like 33, I believe. As long as I've been in practice, Bobby has been on this planet. But he lives with a Portuguese family, and they don't have the big local store where you go down and buy the bag of food. The tradition is you just feed them what you're eating.
And in Portugal, they do eat a fair amount of meat. But it's really interesting to me that all the raw advocates are like, oh, it just ate what the family ate. What the family was eating is, yeah, they're eating starches, they're eating potatoes, they're eating pasta, they're eating rice, but they're also eating fresh vegetables that are probably no further grown than 20 kilometers away, and they're eating in season. The food is cooked, generally, it's very stewy sorts of stuff.
Plus, Bobby lives outdoors, so he walks all over the town with his dad. He's slowing down at 33, but still, my goodness, he's what, 167 in human years or something crazy. But this is the point, he's lived that life of mobility. And I think that we see that in the U.S.
For Pets: Benefits of Movement
For instance, my father-in-law was an MD. He had diabetes and was very inactive. Still, he was a Sicilian, so he lived to be 94, regardless. But his last few years were not so fantastic. His brother played golf, walked all the time, and Tommy is still going at 96. He went to Europe two years ago with his daughters. That's the difference in what happens if you remain active versus you don't.
Same thing with our pets. If all they're doing is sitting on the sofa and going outside to pee and then getting a treat when they come back in, their level of inflammation is astronomically higher than even Hi-O's, who, she has a broken leg. She can't, or some years ago, so she doesn't walk very far, but she walks. We take three short walks every day and one long one. That mobility is going to keep her healthier and happier just like it does for us. So, it's critical to exercise to improve our lifespan.
[00:24:42] Detective Ev: Yup. Again, it's weird there's so many things that, like with Macy, it's just unintentional, right? We never knew that she was going to haul up the stairs five, six times a day, minimum. When she was younger it was almost annoying. It's just all day, every time she sees a deer.
I'm like, Macy, here's the problem. The deer are always there. So, all day, it's just barking and running at these things, protecting our family. We're very thankful for that cause the white-tailed deer can be very dangerous and very hostile. Thank God she was there to protect us from that. But yeah, the basic needs are very much similar to humans and we're not doing well at meeting our own needs.
For Pets: Commitment to Our Pets
Unfortunately, the animals are reflected in that. It's sad to me when I see a dog that should be 10 pounds and it's 20 pounds waddling around. It's almost on Instagram as if it's cute.
Everyone as a human being is entitled to do what they'd like to do, that's definitely not a judgment towards humans. But the dog doesn't have a choice. The dog probably did not have a preference for that, to be carrying around double the weight on their little legs. At the very least, we gotta take care of them.
I think that's this odd phenomenon that happens when we're talking about how willing people are to help their pets, even if not themselves. We love them so much, we are willing to force them into the changes because of that love, but we haven't worked through all the stuff that we need to psychologically to change our own things.
Breaking down this course curriculum then, talking about some of the changes, whatever, I didn't even know that lab testing was a part of this. I don't know if I just forgot that from last time or I didn't catch it. But let's say I'm going through the program. I think if I'm a listener now, I would like to know what's the high-level overview breakdown of the curriculum. How long does it take? I'd love to dive into that.
[00:26:22] Dr. Ruth Roberts: Sure. The course itself is designed to be completed in about 16 weeks. There are 14 modules, so there's a couple of weeks for breathing and catching up a little. And then students will have an additional month to submit all of the homework. And then the final exam is two actual consultations with clients that are video recorded.
For Pets: Course Lay-Out
Now, the deal with the course is that the first two weeks is related to developing a business. And I do that first because part of it is understanding who you are, what your message is, how you want to present that to people, who your ideal customer is. That's going to take some thought and you're going to develop those concepts over the course of the next three to four months.
And then what I do is jump into explaining basic concepts of functional medicine, basic concepts of traditional Chinese veterinary medicine, and then we focus on how do we use food as medicine. One of the main tests we use is Glacier Peak's Pet Intolerance Test, which looks at both food sensitivities of over 200 foods and then environmental chemicals and all of that good stuff. It's a great overview and a great roadmap and it's something the pet parent can do at home.
And then what I teach students is to develop a rotation and elimination diet if the pet we're dealing with has a gut issue.
So, in those first few weeks, the student has met with their mentor. Everybody gets assigned a mentor and can have weekly calls with this person. The first two calls, the first one's onboarding, the second one is actually walking through a consultation process with one of your own pets. If we can see how to apply this for what's going on in our own houses, then it helps us to understand how to apply that for other people's pets.
Then from there, we walk through organ systems.
For Pets: Course Perspectives
The gut is first because if the gut's not working, nothing else gets happy. Whether we think about that in functional medicine or traditional Chinese veterinary medicine, the spleen is the main digestive organ. And if the spleen ain't happy, nobody's happy. That's the first thing to bring into balance is the GI system.
Then we'll start working on the other organ systems walking through both functional medicine concepts, traditional Western conventional medicine, understanding of what's going on in those organ systems, and then traditional Chinese veterinary medicine concepts to help address the same series of issues. The idea was to give people at least three perspectives from which to see a potential health challenge and options with all three categories to make sense of how to best support this pet. Does that make sense?
[00:29:22] Detective Ev: Absolutely. I was thinking it really is like an FDN thing for pets.
I love that you talk about the business side, that's super important. It's lacking in many health coaching programs out there. You get people with their heart in the right place and that's an amazing thing. But then you realize there's a business side of this. I got to learn another skill now on top of this health thing to actually make sure I can show people what I know and deliver this message effectively, then take them on as a client and charge accordingly.
You don't want to burn yourself out by undercharging. We can only help the world so much by doing a bunch of free stuff. You got to charge for something and then you can give a lot away if you want. You have to have a balance of both.
[00:29:59] Dr. Ruth Roberts: Choose your charities, don't let others choose them for you.
For Pets: Testing
[00:30:06] Dr. Ruth Roberts: My goal is to get you the basics of getting started with all of this.
So, we have the weekly mentor calls and then there are weekly coaching calls with me. And that's where we can really dive into concepts that are puzzling to people. And TCBM is tough because it is foreign. There are similar words like spleen, liver, all of that but the concepts around those organs are very different from physiologic medicine.
[00:30:36] Detective Ev: Okay. I think this will light up everyone's brain that's an FDN, so I have to ask. That food intolerance test for dogs, how is that administered? Are you getting blood, or what are you doing with that?
[00:30:47] Dr. Ruth Roberts: This is the beautiful thing. What I've done is partnered with companies that we can send a test kit to any pet mom, any pet dad, and they can do this. The food intolerance test is a bio resonance test. You can say what you want about it, but anyway, I found it to be as effective as the blood tests, and a third of the cost. It's hair and saliva. Anybody can get those samples.
And there's another company we work with that will do some of the testing that you're familiar with in FDN for zonulin, calprotectin, IgA, all of that. That's a stool sample you send into the lab. So, this is the beautiful thing. Whether you want to work with people in person, or you want to work remotely with clients, you can order the tests, have them sent to your client, they put the samples in the container and ship them back to the lab, and you get results. That's part of freeing us from the medical system.
For Pets: Thyroid Testing Woes
Because for instance on the human side, you have Any Lab Tests Now. So, you as an FDN practitioner could say I can work with this company, they'll give you a lab slip, you can go to Any Lab Test Now and get these various tests drawn. That doesn't exist in veterinary medicine, and it probably should. Whoever's got a bunch of money and energy to put into it, this is the next thing. It's Any Lab Test Now for pets.
But otherwise, you've got to fight with your vet. For instance, with thyroid disease, for example, most vets will do total T4 and call it a day. That's not the whole picture, right? So then pet parents are having to fight with a vet to get a thyroid panel done. And we don't do reverse T3 in pets. But they need T3, T4, Free T3, Free T4, TSH, thyroid autoantibodies.
So, clients are having a fight with their veterinarians to get this done.
[00:32:45] Detective Ev: It's crazy to me that this is happening with the vets too, with the same thyroid issue.
It was by complete coincidence, literally a week ago, maybe to the day, I went into primary care office for probably the first time in five years. I think they said it was like 2017, so six, the last time I was there.
I just want a relationship with them because I actually, technically, if I need anything, it's always going to be like physical therapy stuff. I'm always doing something stupid. And so, I like having the relationship for proper referrals because they weren't really willing to do that anymore after six years of not being there. So, I'm like, all right, I'll do the physical, whatever.
For Pets: A Medical Professional's Assumption
This woman that I was working with was nice as can be, as genuine as possible. She wasn't saying this condescendingly, she actually meant it. So, she was talking about, do you not get blood work at all? I'm like, I do a lot of stuff on my own.
And I even said this out loud, which I cringed a little bit. Listen, I had diagnosed conditions, I don't have them anymore and I didn't use western medicine for that. So, I said to her, I never pretend I know more than Western medicine, but yeah, I run some stuff. My mom has a history of thyroid issues, and she had Graves' disease. So, I run like a full thyroid panel and stuff like that.
And she's, oh yeah, we'll have TSH and stuff on this. I'm like, oh, but nothing else, no like antibodies or whatever? She's, oh no, TSH is the only one that we can manage. That was her answer. She meant that.
But then on the flip side, and I've gotten older now, so I don't argue anymore with them at least. I definitely argue. My fiancé would have a different opinion on that. But the doctors, I've learned better. That's not going to work. But I'm just thinking in my head, I'm like, you can't manage that. We know for a fact you can. I've done it, I've done that myself with my mom's own antibodies.
[00:34:23] Dr. Ruth Roberts: We're now in the generation, we're pretty good, that's good enough is the modus operandi. And by no means am I trying to throw my colleagues or MDs under the bus.
For Pets: Test Results Paper Focused
Since COVID, their practice lives are absolutely untenable. The ones that are still left standing are exhausted and they're just trying to get through the day doing the very best they can. How good of a job can you do in six minutes with somebody that's got chronic issues?
The deal is that they'll do these survey tests and then when something's not right, they send you to the endocrinologist, who will actually run all of the tests we just talked. But the difficulty is then how do they interpret that?
So, for instance, similar issue in veterinary medicine. For instance, I am hypothyroid, I don't have Hashimoto's, I've done all those tests, I cannot tolerate T4. So, with a T3 only supplementation, how does my TSH and my T4 look? It looks like zero because the mechanism is suppressed. And so, what that does is freak out most conventional doctors without thinking through the fact that I'm taking only T3. Which means that there's no need for T4 to convert to T3 so there's no need for T4 production.
There's no need for T4 production, there's no need for TSH, right? But the problem is finding somebody that can think through that thought process. And most of the time this happens on the veterinary side too.
If you put a dog on natural desiccated thyroid the numbers don't come back the way they are expecting them to because the dog is getting both T4 and T3. So, they freak out and take the dog off the NDT. And then the dog goes back to feeling cruddy.
So, it's difficult. But it's just so hard. They're just working through flow charts and not thinking through what they're seeing in that patient. They're treating the piece of paper.
For Pets: The Real Victim
[00:36:37] Detective Ev: Yeah.
And I appreciate what you said because I'm not in Western medicine, I never have been. When I say this, I hope people get this. It's not a disclaimer; I really believe that woman was doing the best that she could that day. She did not look like she was sitting on the fountain of youth in her back office and screwing me over at the front end.
You want to talk about people getting screwed by the system. Who's really in it? Me that goes in for six minutes and yeah, maybe I didn't get the best advice. Or is it the person that is constantly stressed, getting criticized all day, living under the artificial light, getting the takeout food. That's your life, right? Yes, you get paid well, but that was also after probably $100,000, $200,000 worth of debt that you're paying off now. So, it's not great for anyone.
That's why I don't argue with him anymore. Am I proving the point here? Is this going to be received? And is this person actually doing something bad? Is this a person that deserves to be argued with? No. She was doing the best that she could with that information.
It's just interesting to find, wow, you can have the same issue with dogs, with thyroid stuff, a similar issue where we're not looking at all the parts.
[00:37:34] Dr. Ruth Roberts: Yeah, and that's the thing. What makes a doctor better? Sadly, it's when they get sick frequently because then they're like, oh, this is what my patients have been dealing with. This stinks. I mean, it really is hard. When you go in the system and start experiencing that, it makes you change how you see things.
For Pets: A Tragic Cycle
To be fair, that's how I ended up developing a lot of the techniques that I teach. I got sick, got fibromyalgia, got inflammatory bowel disease, got C diff. Then I had to figure out how to treat those things without becoming a junkie. Because this is in 2006, and this is what I saw my clients with fibromyalgia going through.
They'd start on NSAIDs for pain relief, and then they'd add in something more potent. And this is before Oxycontin, so they were ending up on narcotics like hydrocodone, turning into junkies. They're trying to get me to write scripts for their dogs because they need more for themselves. That's tragic. What a waste of life, what a waste of somebody's vitality.
The same thing with dogs is that we stay on, this is the way we treat it. This is our standard of care. But what we are not seeing is that the standard of care ends up creating other problems.
So, the dog has inflammatory bowel disease. What does it get? It gets metronidazole, which is an antibiotic that can create neurologic problems; it gets steroids, it gets budesonide, which is another immunosuppressive drug. And then we watch its liver enzymes go dramatically crazy because it's been on steroids.
Then we're treating this problem that's a side effect of this medication and so on, and so forth. In the meantime, the quality of the life of this dog or cat, or this person has deteriorated to the point where there's no joy in life. And that's horrible.
[00:39:41] Detective Ev: I gotta bring you on like once a week, just because you have such an amazing ability to take my tangents and bring it back to the actual topic, which I really appreciate.
For Pets: Testimonial A
With that said, as we come into our final minutes here, it's nice getting you back on because at this point, we have graduates of the program. We have people that are actually out doing this now probably as work or at least starting that process.
So, I'm curious if you have any cool testimonials. The testimonials could even just be things that have happened to their own pets. That's fine. But I'm curious of anyone having success applying this actually as a business. I'm curious for testimonials in any way. I'd love to know what's happening that's good.
[00:40:18] Dr. Ruth Roberts: Yeah. This is totally new, and part of the issue is that pet parents don't know that this exists. So, we're simultaneously creating the profession as well as the awareness as we go.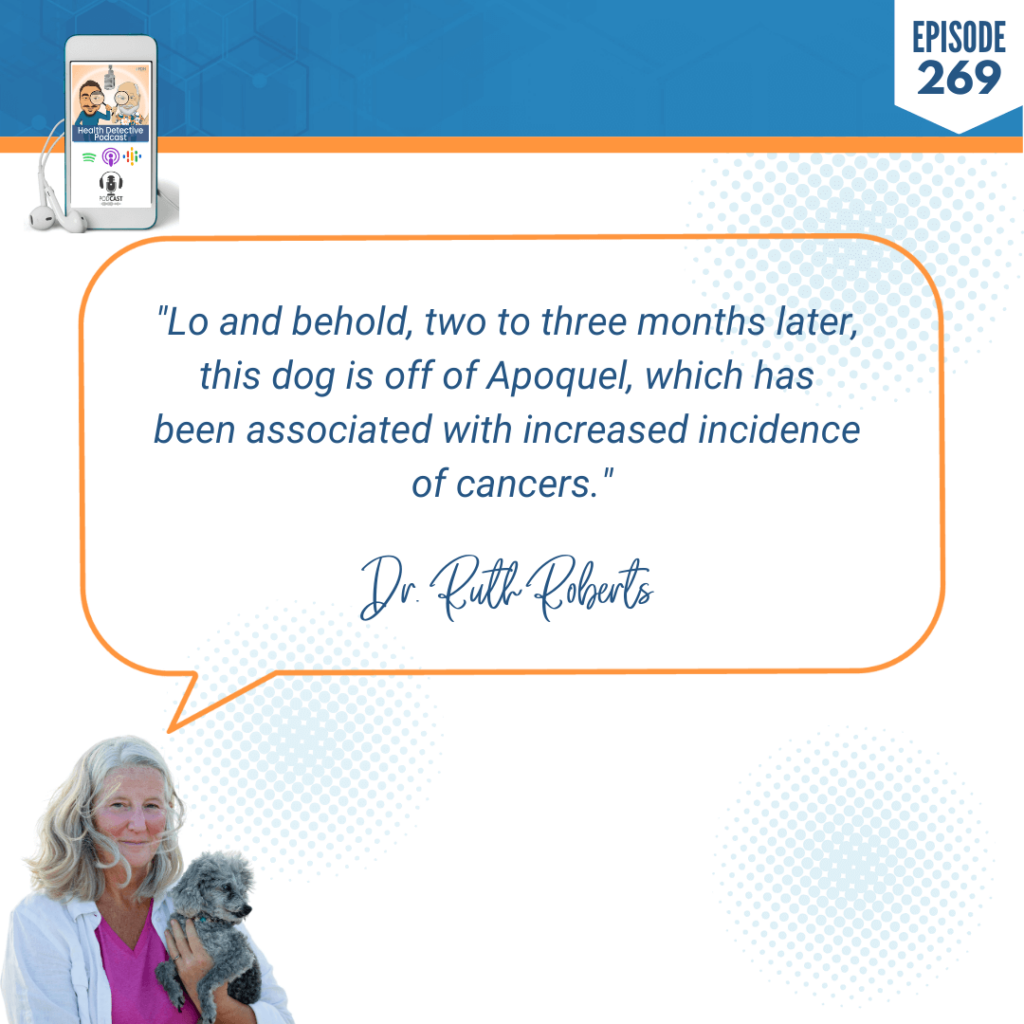 But from almost all of my students, they've had this experience. The dog is itchy. It's been on Apoquel, which is an immune modulating drug for years, and it's still itchy. They do the test to see what the food sensitivities are, they do a rotation elimination diet, they use a little Quercetin, a product we have called Hista-Paws. And lo and behold, two to three months later, this dog is off of Apoquel, which has been associated with increased incidence of cancers. That is like almost every student has that experience.
For other people, for instance, they've had to work through, here's the structure I can teach you but is this working for your pet? For instance, Paris Reed, who is an FDN graduate, went through the entire course, all the materials, in six weeks. I don't know what she was doing, if she was not sleeping or what. But her mastery of it became really quite amazing.
For Pets: Testimonial B
She had one of these situations where what we normally suggest didn't work for her dogs. So, she had to really experiment. Okay, what is it in this batch of food that's not working?
What she finally figured out was that even though pork is a protein that most dogs don't react to, because it has a lot of fat that contain mycotoxins and other gross stuff because of the way we feed pigs, that was the problem in the diet. She had to be the detective for her own two pets to figure this out.
[00:42:08] Detective Ev: Very cool. We were joking with the no sleep thing especially since you said the mastery part afterwards or developing this mastery.
I went through the FDN course super-fast and it's not that I'm so smart. It's not that I was not sleeping. You get to a point with some of this stuff where all of us have passion, if you're in the right stage, it's an obsession, right? And Paris might've been working on something specific.
For me, I'm like, I got to figure this out. And it was my own health issues. That's really what I wanted to know. It was selfish at first and that's okay. It's not a bad form of selfishness, but I had to figure this out. Normally I could study for maybe 30 minutes and the retention rate is okay, after that it's, I got to take a break or something.
I was doing FDN, and it sounds like Paris was doing this, eight hours a day. I'm like, I have just as good as retention as I did at 30 minutes. This is crazy. It's because the interest was so high, the passion was there, the obsession.
For Pets: Iatrogenic Illness
That's amazing that you're attracting people like that already. And I think you're going to see that in the pet space. Cause like we said in the beginning of this podcast, there are just people that they are made to be here with animals. They just love them, and they interact so well. The animals love them too. It's the funniest part, right?
They're the people that go to the new house and the dogs barking at one person and then it goes and sits in their lap. They just get that it's a safe person. It's a beautiful thing, actually. So that's an awesome story.
I love that you're indirectly getting these dogs off this stuff. I don't know if this was the medication, but I had to watch my aunt's dog the last couple of years. Unfortunately, it ended up passing away. But when I watched it, I had to give it this pill every single morning. It was actually a few pills, but she always said it was because of the itchiness. And this poor dog, scratching constantly. Is that the typical medication that's given? It was probably that.
[00:43:51] Dr. Ruth Roberts: It used to be steroids and then I think Apoquil came out in like '15 or '16. Anyway, that's a whole other story. But at any rate, it disrupts the immune system in a different way. That's going to happen.
[00:44:07] Detective Ev: The dog had Cushing's Syndrome, and it was still itchy. I'm like, what's going on?
[00:44:11] Dr. Ruth Roberts: That was on prednisone. The fancy word for that is iatrogenic, meaning self-caused, meaning, actually, the veterinarian caused it. But it's just, what else do you do? That's the difficulty.
For Pets: The Goal
The reason we see people like Paris come into the program is because they are ravenous for the knowledge. I think that many of my colleagues are very dogmatic about the way they approach things. And they haven't gotten to the point where they're really giving you the whole picture of how to go about solving problems for pets.
That's the whole goal with this. How can we take this dog, like your aunt's dog, who now has Cushing's disease, and its steroid levels are astronomically high, liver enzymes astronomically high, still itching, what can we do to help that dog? That's the million-dollar question.
[00:45:08] Detective Ev: Yeah, it can be done. And I think they really deserve it.
Again, there's something different philosophically on the human side, because we all have free will for the most part, it seems, and can make our own decisions. As I just think about this more, and like I said, I don't argue with the doctors. And as I get older, I just learned to let people do their thing, right? They can do whatever they want as long as they're not hurting someone else. That's fine.
But when I see a dog like this (My aunt's a wonderful person. She was doing the best that she could with that dog.), I look at this and just think this is not fair, man. This animal did not ask for this and it's going through all this stuff. We really owe it to the pets that we're taking responsibility for to give them the best that we possibly can with stuff like what you're offering.
Where to Find Dr. Ruth Roberts
[00:45:46] Dr. Ruth Roberts: To your point, your aunt was doing the very best she could with the information she had. She knew it was not a good solution, but she didn't know what else to do.
So, that's the deal with the program. By training people to be holistic pet health coaches, there is "what else to do". There are other options out there. And I think it is just critical to get this out there for folks. Because the way veterinary medicine is, it is not going to get better. I think they're going to have 19 percent more veterinarians graduated by 2030. That is not going to alleviate the care shortage that we already have.
[00:46:30] Detective Ev: I heard your alarm go off; I know we're about to go a little over. This has been great. You and I end up talking effortlessly anyway. When we first started, we're like, oh, we go for 30 minutes. And then here we are, normal podcast.
So, Dr. Ruth, where can people find you? Where can they get signed up for the course? Again, I know every time we do this, we're going to have FDNs interested. So, where can they get your stuff?
[00:46:49] Dr. Ruth Roberts: Evan, you've got some links you're going to drop in there to the Holistic Pet Health Coaching Program. And my website is drruthroberts.com, just so you can start getting some information.
We've got probably, I don't know, 150 videos on YouTube and easily that number of blogs on the site as well. So, you can start doing some research and understand a little bit more about my approach. It's different for many of my colleagues, but I think it's a lot easier to understand, I think, and implement.
Conclusion
[00:47:25] Detective Ev: All right. And then if you guys go through the program ever, please, especially, I maybe have to contact Paris. I'd love to have one of those people on and see how they're integrating this with FDN and all this kind of stuff. That'd be a really interesting interview.
[00:47:37] Dr. Ruth Roberts: Yeah. You know what? I'll reach out to the FDN students and get them to connect with you. That would be an awesome podcast.
[00:47:44] Detective Ev: Yeah, that'd be cool to have that side of it.
Thank you so much for coming on. And thank you for setting the record for the earliest recorded Health Detective Podcast. I'm feeling good. I'm ready. It's a good way to start the day.
Dr. Ruth Roberts: Cool.
You can always visit us at functionaldiagnosticnutrition.com, on YouTube @FDNtraining, or on Instagram @fdntraining.
For more informational and functional health-oriented podcasts like this one, go to functionaldiagnosticnutrition.com/health-detective-podcast/.
To learn more about us, go to functionaldiagnosticnutrition.com/about-fdn-functional-testing/.