Introduction
[00:00:00] Detective Ev: Hello everyone, and welcome back to another episode of the Health Detective Podcast by Functional Diagnostic Nutrition. My name is Evan Transue, aka, Detective Ev. I will be your host for today's show about a perfect FDN story.
To start, I kind of realized lately, if I'm a first-time listener of this show, I have no idea who this guy is or why he's qualified to have a podcast. So, what I will start doing in the beginning is giving a very brief intro, under 30 seconds, just for the new listeners to understand why they're listening, why I do this, why I'm a part of FDN. Then, if you listen to it regularly, you can just skip the 30 seconds, super easy. We're like 250 something episodes in and I figured, yeah, maybe that would be a good idea.
So again, my name's Evan Transue, aka Detective Ev. I called myself that because we are health detectives here at FDN. I dealt with seven different diagnosed conditions at the age of 18. This got progressively worse from the age of 5 to 18, and then eventually got into natural medicine. Not only did the FDN system resolve all seven of my diagnosed conditions, but it also helped my mom get her life back.
Now I am dedicated to them completely and spreading their message however we can. So, I do the podcast here. I'm also Director of Sales as of recently. So, if you ever need anything, you're more than welcome to reach out to me and I can get you hooked up with a member of our team.
A Perfect FDN Story: Successful Business
Well, today, this is a fan favorite guest. It's Ryan Monahan, one of the probably coolest and best clinical advisors we have ever had at Functional Diagnostic Nutrition. He was also the first guests, other than Reed, if you count Reed as a guest. Cause Reed Davis and I did kind of an episode zero when we first began all this. Then Ryan was the next guest right after that. He was the first long format interview. He came on again, talked about mold. He's done so much for the podcast, so much for our community.
He has a great story, which we're going to talk about in a summarized version today. And then we're going to be speaking with him about something that we've never brought up on the show. And I don't mean that in a general sense, I mean that specific to him. We've never brought up how he has such a successful FDN business.
And what's really cool is, I didn't even realize this part, he kind of challenges a lot of mainstream marketing narratives that he doesn't really have any particular niche and he does things unconventionally. Now, I'm not saying I would necessarily recommend that myself for someone in business, but the point is you don't have to do things cookie cutter to have success.
If the niche thing and all that overwhelms you and doesn't resonate with you at all, I think this is going to be an episode that you really enjoy. You get to hear from someone that is highly intelligent, very knowledgeable, unconventional in a business sense, and yet still is able to do this as full-time work. Without further ado, let's get to today's episode.
A Perfect FDN Story: Focusing on Thyroid Dysfunction
All right, well, the hour has begun. So, we're about to get started folks. Welcome to the Summer Open House event. And by event, I mean series of events, 22 long events in the month of June. We're having fun here and we have finally made it to our halfway mark.
We still got 50% of the events left. There are tons of stuff happening for the rest of the month. You can always check the schedule at fdntraining.com/summer. And if you've missed any of these talks, remember we do have the replays available.
The replays are available for a fee. It's fdntraining.com/summer. When you get registered, you'll have the option to do VIP. And when you do VIP, you'll get access to the recordings as well as get access to our private Facebook group where you can ask questions to our staff, including myself. We want you guys to use that as much as you can if you are in VIP.
Now we're like at 250 episodes, which is absolutely crazy. So, we're bringing Ryan on today to talk about something a little different. But here is his bio, in case you don't know who this is. He is the founder of Mindful Nutrivore. And he is a health detective residing outside of Boulder, Colorado, with a passion for uncovering the hidden stressors that contribute to thyroid malfunction.
Ryan spent over 10 years visiting more than 40 health professionals, true story, to find answers to his chronic health complaints until being diagnosed with Hashimoto's in 2012. His mission is to change the dialogue about chronic disease towards a holistic, functional approach. So, we'll touch on his story in the beginning today, but we've done that in depth on the podcast, so you'll want to check that out as well.
A Perfect FDN Story: An FDN Household Name
And then we're going to move into the business side for you guys, something that Ryan and I never get to talk about enough. We're going to talk about how to get a referral-based business going. So, Ryan, we'll start with the health stuff. How are you, my friend? It's good to see you.
[00:06:28] Ryan Monahan: Good to see you, Evan. Full circle.
[00:06:31] Detective Ev: Yeah, for real. It's kind of crazy now because whenever you start a podcast, I think it's such a trendy thing, let's be honest, still to this day. You kind of expect, all right, like episode 10. Then we give it up or something happens, you know, water spills on your microphone and that's the excuse to never do it again. And yet here we are all this time later doing this stuff.
So, I should have mentioned you've actually been on twice cause you came on and did a mold special with us where you touched on a bunch of cool things. It did encourage me to get an air purifier. I admit I did not spend the crazy amount of money on some of the ones that are probably a lot better, but it's undoubtable that it definitely helps. So, I thank you for that.
But Ryan, we got a bunch of new people, in terms of new to FDN, that are watching these Lives. So, we're on Zoom. This is the VIP group that's allowed on here, but there's tons watching on YouTube right now, in our Facebook group. It's being streamed a bunch of different places, so they might not know you. They might not know that you're pretty much a household name in the world of FDN. So, let's touch on your journey, man.
A Perfect FDN Story: Long-Lasting Mystery Health Symptoms
How did this start for you as a young guy? Like what symptoms did you start dealing with?
[00:07:31] Ryan Monahan: Well, I love talking about this and I'm so glad that I have the opportunity to do it to a full house. That's really cool for some of the new people in the FDN community who may not be familiar with my story.
Evan, we've gone over this on prior podcasts, so I'll keep it a little shorter for the sake of today's discussion. But I'd love for anyone listening to go back and check that original podcast episode where we go into it in more depth.
The short version of the story is that starting in my teenage years, I had been dealing with a number of seemingly unexplained chronic symptoms ranging from chronic fatigue to depression, to debilitating allergies and asthma and digestive issues, and kind of everything in between. This was a mystery for me for many, many years, well over a decade, as you mentioned in my bio. I had seen over 40 health specialists in the northeast area where I lived at the time in Connecticut.
And it was kind of the typical experience with, take this for that. Been given various treatments or pharmaceuticals, but never really feeling like I was getting to the root of anything. Just kind of masking the symptoms and treating the symptoms on the surface.
So, it wasn't until I was 28 years old that I visited a health professional that was also licensed in traditional Chinese medicine. So, took some of a little bit of a different lens at looking at things, a little bit of a different experience. And he ran a whole bunch of blood work on me, including a thyroid panel.
A Perfect FDN Story: Debilitating Chronic Fatigue
He called me up maybe two or three days later after the blood work came in and said that I had Hashimoto's disease. And I said Hashi, what? I had no idea what he was talking about. I had very little understanding even of what the thyroid does in the body in terms of its role in physiology except maybe what I learned in a high school physiology class.
And so, immediately started doing some research to kind of put together the clues with what he was saying, with what I was going through with my health. And you know, love to tell this story because it's so crazy and it's also a testament to FDN in the process of where I've come. When we reviewed that blood work together, my thyroid stimulating hormone or TSH level was 150. It was actually technically above 150.
For those of you that don't know, the higher that number, the slower your thyroid function. Okay? Ideally, from a functional/optimal perspective, we want to see that number between about a 0.5 and a 2. That's kind of the sweet spot, 0.5 to 2. So, I was above 150, which essentially meant that I was, metabolically speaking, almost like in a coma. And I was really purely running on willpower.
The doctor even literally commented that day, like, I have no idea how you've been able to get up in the morning. And that's how it felt. The chronic fatigue was debilitating. It wasn't just your kind of everyday fatigue. It was to the point where some days I'd be lying in bed the entire day, just kind of staring at the ceiling. At certain points I thought I might be dying cause I just had no idea what was going on. Right?
A Perfect FDN Story: Disenchantment with Conventional Medicine
But this is something that I was wrestling with on my own because I felt that no one really from the outside would be able to understand what I was going through or just think that it was in my head. Because on the surface I looked more or less somewhat normal. Like just my physical appearance, I was kind of puffy and swollen. But these were kind of silent symptoms you can't necessarily see from the outside.
So, that being said, it was tremendously validating to know that there was something physiologically wrong, that the chronic fatigue, the brain fog, the depression, the constipation, all these things I was going through, it wasn't just in my head. There were real physiological problems going on.
And long story short, that was kind of the beginning of my disenchantment with the conventional medical approach and then eventually kind of transitioning into learning more about holistic and natural approaches.
[00:11:42] Detective Ev: The whole story is remarkable. And I'm also realizing as we're talking, I'm so full of it. You've been on three times cause we've talked about mold, but we also did that thyroid thing together.
Ryan Monahan: We did the thyroid lab review.
Detective Ev: Yeah. If we're counting this one, you hold the record then. That's awesome.
But my point is, just thinking about all this thyroid stuff and connecting it together, I get that it was a different time; I get that it was 11 years ago. And we've really, really made some progress in Western and functional medicine over these last 11 years. But the idea that no one even thought to run something as seemingly simple as a thyroid panel until after you had seen all these people, I mean, I would hope that this would be unheard of now.
A Perfect FDN Story: Importance of a Thyroid Panel
And we know it's not necessarily unheard of in Western medicine, but I feel like there's a lot of stigma that also plays a role in this. I mean, thyroid conditions are a little more common in women than men, generally speaking. Well, I had some thyroid stuff going on and they ran it with me. But they didn't even identify that it was out of the reference ranges because it was only for functional medicine that my TSH was out of reference ranges not for Western medicine.
And not to mention, in an odd sense, you're kinda lucky, I suppose, that TSH was high because there's whole thyroid panels out there that your TSH could look normal, and the rest of the stuff looks like crap. But they don't even run that sometimes in natural and functional medicine.
[00:12:56] Ryan Monahan: Both super important points there.
So, first of all, I should have mentioned this when I was walking through the story, but there was no thyroid panel run until that one doctor in 2012. No doctor ever before that had ever mentioned it, considered it. I mean, I could have saved a lot of time and pain and heartache and finances if I had learned about this sooner.
That being said, I feel like that should be the standard of care that anyone coming through a doctor's door with routine blood work should be given a thyroid panel. And that's a big reason of why I do what I do. And then secondly, you're making a great point too about the TSH.
A Perfect FDN Story: TSH Alone is an Incomplete Picture
For those that don't know, again, TSH is thyroid stimulating hormone, but it's just one marker amongst a greater picture of thyroid health. And a lot of times doctors will only run this one TSH marker, which by itself, I can't emphasize enough, doesn't really tell you anything. That marker by itself does not give you the full context. It's just garbage.
I hope it's okay to just be blunt about it. That marker by itself just doesn't tell you anything. It's possible to have your TSH be in the normal range, even from a conventional perspective, but your actual thyroid hormones, like your T4 and T3 might be really, really low. So, if you're only running TSH, you're going to miss that picture. You might also miss the fact that you have antibodies to the thyroid, so there's a lot more going on.
[00:14:25] Detective Ev: Yeah. They've had me hosting every day, so don't worry about the blunt thing. Especially my talk with Jennifer Woodward in business school, I kind of went into Ev-mode. So, I think you calling these tests garbage or the lack thereof garbage, I think that's totally fine, my friend. One of the more tame things today or this month.
But I want to kind of transition a bit into the healing. And I know we're doing a super summarized version of your journey today so that we can talk about the business stuff as well. But for those that are already hearing this, I would hope that someone recognizes that's a pretty powerful and crazy story. I mean, it's one thing now because you see this guy, looks completely healthy, is healthy actually. And so we can almost become a little detached from what this person was going through.
A Perfect FDN Story: Symptoms Reappear
But, Ryan, man, this was every day of your life for a long time. It's scary as crap when you're going to all these doctors and no one's telling you what's wrong. I mean, I'm sure you start to get in your own head wondering like, is this something that can be fixed?
If you guys want to hear stories like this, we got almost 200 of them. And I say 200 because some of the Health Detective Podcast interviews are not always just about health stuff. But all you gotta do is search for the Health Detective Podcast on Apple and Spotify, and you can hear Ryan's original episode or any of the wonderful people we've brought on.
Then we also talk about the resolutions, which is what we'll transition into. Because the tough stuff matters to talk about, but the beautiful part is when these people get better. So, I know that you went to this doctor and that was kind of the first aha moment for you where it's like, okay, at least I know what's wrong. But that doesn't mean that you just started taking a natural approach overnight. So, what were the next steps after that diagnosis?
[00:15:55] Ryan Monahan: You're right. I did not take a natural approach right away. That came a little later.
Initially, actually, I was put on Synthroid, which is the synthetic version of thyroid hormone. And to be honest, I felt amazing like overnight. It wasn't even gradual. The next day, I felt like a totally different person. I had never felt that way since I was a kid. It was kind of a miracle. Unfortunately, over the next roughly six months, all my symptoms started coming back. That's when I really started to question things.
A Perfect FDN Story: Searching for Answers
Up to that point, I had never really thought much about, well, what is causing the thyroid to become dysfunctional in the first place? Because certainly this doesn't just happen randomly, right? This is not random. It doesn't just happen in a vacuum. But no doctor I had seen for my thyroid health up to that point had ever really talked about that or looked at things from that angle.
So, that's when I started to become curious about how the thyroid works. Cause I figured in my mind, something intuitively told me, if I can understand how it works, maybe I can bio hack it, maybe I can tweak things, maybe I can fix it. This is a true story. I literally went on Google, and I searched something like, book about Hashimoto's, or like, book about thyroid health. I had not known if there was anything out there like that.
Sure enough, I stumbled on Isabella Wentz's book on Hashimoto's. And in my mind, I was like, this is a long shot that someone's already written a book about this, but someone had written a book about it. I was like, wow. So, within seconds I bought it on Amazon, and I read it from cover to cover.
When I read that book, like just my mind and my interest was lit on fire. I just had that passion, where you just have these few moments in your life where you know like exactly what to do next. I read this book and I was like, I don't know how she got to where she is, in terms of like what she does for a living, but I want to do that.
A Perfect FDN Story: A Plethora of Problems
I wanted to become a version of Isabella Wentz and help people with thyroid issues. She was talking about all these labs too, that she runs with her patients in her practice, you know, gut testing, adrenal testing, food sensitivities. I was just like, that's where it's at. I need to figure out how the system is broken so I could bring it back into balance, right?
Soon after that, I started searching for health programs, you know, related to holistic health and came across FDN, again, through like a Google search. And then had gone to PALEO f(x), I want to say it was like 2013 maybe, it was a long time ago and ran into Reed and Jen Malecha and Brandon Mollé.
Detective Ev: Good crew to run into.
Ryan Monahan: Good crew, really solid A-Team crew, and got to pick their brain about the FDN program. I was just pretty much immediately sold on just on the tagline alone, test, don't guess. Because, you know, I had extrapolated from my experience with the thyroid, that just knowing that information, changed my life. And I thought, well, what other information, what else is there that I don't know yet in terms of my underlying health and physiology?
And sure enough, as I started to go through the course and run all of these labs on myself, you know, uncovered all kinds of things, parasites, H. pylori, C. diff., eventually worked through the whole nightmare of mold overgrowth and mold exposure, which is a whole nother story, maybe for another day. You and I have talked about that on a podcast episode. Anything you can imagine, hormone imbalances, nutrient deficiencies, you name it, I've had it.
A Perfect FDN Story: Challenging Western Medicine
I've had all the hidden stressors that you can count. And you know, it took time. I worked on it; I was persistent. In my mind, there was no other way because I never wanted to go back to how I felt before. So, this was just, full tilt, fully committed to this kind of new approach.
[00:20:03] Detective Ev: Well, there's a lot of major things here, but for the sake of today, there's two things I really want to emphasize, Ryan. Because if I had a dollar for every time someone brought up this, intuitively knowing this didn't make sense, I mean, I'd have around $200 cause we've done 200 episodes. So, I would not be a rich man, but I'd have some extra change. You know, I could buy a lab test or two.
But that's such a key thing that I hope people take away from today. It is not to blindly challenge medical professionals for no reason because you watch a YouTube video. That's not what I'm suggesting. But if you're one of those people, cause this is a really common theme on the podcast, it's one of the only common themes I've seen over time. People are getting told different things from different places. None of it's really working. And then, gosh forbid, we can get a diagnosis. They take a medication or get a surgery and then the symptoms kind of come back or new symptoms come back.
If you are in that boat, it is not just blindly challenging Western medicine to say, hmm, maybe this doesn't make sense. I think that's a very fair and logical thought process at that point.
A Perfect FDN Story: Health is a Moving Goalpost
And I love how you brought up intuition. Cause a lot of people especially the women, when I asked them, I just knew, it was in my gut. I just felt this, that this wasn't right. This didn't make sense. You'll find they had no background in holistic health whatsoever. They just weren't buying the narrative.
And the truth of the matter is, that's my story. At 18 when I got the one diagnosis of Meniere's disease and I'm looking this crap up on Google, I'm seeing suicide support forms for this and all this stuff. I'm like, no. How can I be this sick and have seven different conditions that are apparently unrelated, and my friends don't even have one? Something doesn't add up there.
Just so we give people maybe something to take away from today, health-wise, what were some of the biggest things that you would say that got you to where you're at now? And I guess even though it should be clear from just hearing you and seeing you, where are you at now? How do you feel? What is the health like today?
[00:21:54] Ryan Monahan: Yeah. Well, starting backwards then, I mean, I feel amazing. I don't really have all that much to complain of, and I don't really believe in perfection. I don't think anyone's health is perfect, even amongst the A-Crew of the FDN community, for the simple reason that health is a moving goalpost, right?
It's not that we've reached a certain destination and then we're like, I graduated. I got my diploma in healing and now there's nothing else I have to do. We're constantly working on this. It is a process and an art form even that takes dedication.
A Perfect FDN Story: Food is Medicine
That being said, on an average given day, I'm 10000% better than I felt 5, 6, 7 years ago. Just in a completely different place in terms of energy, mood, sleep, digestion. Again, very little to complain of except for rare, occasional things that pop up like they would for anyone.
So, yeah. Kind of dialing it back, you had asked what I had done kind of initially in some of those initial stages to start to heal and repair. One of the first things I did kind of around that same time when I started reading that book on thyroid health and kind of digging a little deeper, was that I had also discovered the autoimmune protocol or the auto autoimmune paleo diet, sometimes it's called. That was really the first time that I had really embraced the idea of food as medicine.
You know, that alone already noticed a 20% or 30% major shift in my health, my energy, my focus, cognitive function, libido, all those kinds of amazing things you might expect when taking an approach. I think that was the first time I had encountered the term nutrient density, cause certainly up to that point my diet was anything but nutrient dense.
So, this is when I started to explore things that were a little foreign to me at the time like bone broth and organ meats and eating a lot of fermented foods that are still, all to this day, staples in my diet. That was really transformative to me and that was something that really clicked with me in terms of waking up from the matrix, so to speak.
A Perfect FDN Story: The Definition of Insanity
Again, going back to what I said earlier, there were these kind of little steps on the way there. And each time, all of those approaches proved themselves to me by doing it. Because you can explain these things all day long to your clients, but you know, you can't intellectualize it.
At a certain point, you have to be willing to say, I'm going to try a different approach because I've been doing this conventional approach for, you know, a decade or longer, and it hasn't worked for me. And the definition of insanity is doing the same thing over and over again and expecting different results. That's really very much what I was experiencing with the conventional medical approach. It just wasn't working. So, at that point, I was willing to do yoga and change my diet and meditate and work on my mindset and was receptive and open to those approaches.
Finding FDN helped me to find that community of like-minded people that had a similar mindset and very likely, in most cases, similar experiences and backgrounds. Where typically, you know, you find someone who's been through the ringer, so to speak, with these challenges with their health and not really getting the help they need. And sometimes that's what you need to kind of, again, wake up from the matrix and think outside of that consensus reality, I call it, to looking at a different way of thinking.
That's kind of more of a general answer. But then the short answer would be, you know, D.R.E.S.S. Right?
A Perfect FDN Story: Real Healing Takes Time
It was changing my diet. This is probably like a whole nother rabbit hole, but up until my Hashimoto's diagnosis, I was usually going to bed at 12 o'clock or 1:00 in the morning. So, I really had to make some adjustments slowly over time to my sleep schedule. The movement and exercise and yoga and the stress reduction and mindset component, I mean, there were so many layers to it that I could talk about it for hours. But ultimately it was about making slow and gradual changes.
And this is something I actually picked up from Sean Croxton, who I know is kind of heading up the keynote presentation for the open house. You know, he has this thing he says, little by little, a little becomes a lot. And I just love that so much. I think about it almost every day. I teach that to clients who get overwhelmed with all the things they think they have to change overnight.
And I'll say, look, it took me years to make all these changes. You're looking at my chapter 10 and you're on your chapter 1 right now. So, don't compare yourself to where I'm at cause we all have to start somewhere. You know, it's not like overnight I detoxed and cleansed my body of these gut bugs and bought an expensive water filter and air filter and did all this biohacking stuff. It just takes time.
[00:27:02] Detective Ev: Yeah. That's a really good way of putting it. I think that's why the stories on the podcast and other places that we post them are powerful because, I mean, we're summarizing it in into a freaking hour. There's only so much that you can do in an hour.
A Perfect FDN Story: How Much Did FDN Help?
But you really get to realize this is a long time. I mean, it's years for many people, even on the healing side.
Now the good news is, and I think most FDNs would generally agree with this, it's kind of fascinating to me. You can take a super sick person, and if they're willing to do most of the stuff that you recommend, they'll be feeling like 70%, 80% better in three months. And then that last 20% to 30% sometimes, that's the part that could take a few years to really get that under control. Not always, but that's kind of how it goes. It's fascinating.
We do have some questions from the audience here. Someone said, "did you heal yourself just going through the course and being your first client or continuing on from that foundation?" I can even say this too, what percentage of your healing would you contribute to FDN? Because you're a very well-versed guy. I mean, you've studied a lot of different things, so maybe that's a different even way to word it.
[00:28:01] Ryan Monahan: Yeah. That's an interesting question. I've never thought about it in terms of a percentage.
I was kind of just at the beginning of this path as I had discovered FDN and started the course. And I had been doing an AIP diet already, doing that kind of nutrient dense paleo diet to help manage the autoimmunity. I had been doing yoga probably at that point for maybe a couple of years actually; I had even done a yoga teacher certification.
A Perfect FDN Story: FDN D.R.E.S.S. Protocol
So, point being that, you know, I had some of these concepts in place, but I didn't yet have a foundation or a framework like the way that FDN frames things for you in terms of that D.R.E.S.S. protocol. It's so powerful and elegant and simple. But there were things I was missing from that.
If you think of D.R.E.S.S. as like being the four legs of a table, diet, rest, exercise, stress reduction, supplements is maybe the bowl of fruit on top of the table. Well, you know, I'll tell people, you can't be missing even one of those things or else you're going to have a lopsided table. Okay?
And so, I maybe had some of those foundations in place, but probably the biggest thing I was missing was the stress reduction. When I say stress reduction, I mean both mentally and emotionally. Also, in terms of those physiological stressors, cause let's not forget the word stress, we're also talking about hidden stressors in the body. And that was a huge, huge, just gaping hole in my knowledge that FDN really helped to fill in.
So, I would say, going through the FDN program probably helped me uncover maybe 80% that I was missing from the equation. Cause when I talk hidden stressors, I was dealing with some really deep, hidden stressors like mold and heavy metals and things that not necessarily every client is dealing with, things that are that deep seated. They might be, you know, things that are a little bit simpler. So, going through the FDN program helped me create that foundation.
A Perfect FDN Story: The Epitome of FDN
Then on top of that, I continued on to take every single one of those advanced courses and learn as much as I could. The advanced courses on oxalate, organic acids, blood chemistry, SIBO, thyroid, I mean, I just devoured it, is a good word. You know, I wanted to essentially have no gaps in my knowledge when it came to my own health journey and being able to help other people. So, yeah, I hope that answer makes sense.
[00:30:34] Detective Ev: It does. And it's cool because it kind of transitions us perfectly into the next part. There was a follow up question of, "do you just focus on helping clients with Hashimoto's?"
So, another thing that we wanted to bring Ryan on for today, because we've talked about his health stuff and is very well versed in these things like I said a few different times between Instagram and the podcast or whatever. But what we kind of neglect to mention sometimes is you're one of our more successful FDNs.
I mean, you're kind of the epitome of what we hope for with every practitioner that goes through. You have someone still on a health journey, has done some stuff, but could use some adjustment. Goes through the course, is their best testimonial because they help themselves, and then is actually able to turn this into a career.
I've been trying to get this point across to people throughout the entire month of June, and I'll continue to do so. It's like, well, are you guys a health place or a business place? In my opinion, we're both. I think we kick butt at both.
A Perfect FDN Story: A Referral-Based Business
We're really good at getting people well and keeping them well, and then actually giving them the tools to navigate when something does come up. Because you're right, it is a never-ending thing.
I had wisdom tooth surgery, right, which forced me onto antibiotics. That led to a stomach ulcer, because I guess it just messed some stuff up. Now that doesn't mean I'm less of an FDN. It doesn't mean that I don't know the things that I knew the day before I had the ulcer or had to take the antibiotics, but now I know how to navigate that differently. It's really kind of an amazing thing. So, health symptoms still happen to all of us, but we're at a much safer place. And thankfully we're not struggling every single day, most of us. It's like little waves come and we know what to do when they're there.
So, to get back to the question of do you just focus on helping clients with Hashimoto's now? We should talk about the fact that you do have a great business. You have a referral-based business, which does not mean that you never get a client from the outside world, but you're making a good amount of income from just what you've done and helping other people and them recommending others to you.
So, Ryan was also a clinical advisor for quite a few years at FDN. He was like a fan favorite clinical advisor. But this is a good problem to have. His business got so successful that he couldn't really justify doing the clinical advising stuff anymore.
A Perfect FDN Story: Some Key Broad Marketing Ideas
In one sense, that's probably the best-case scenario that we could ever have at the company, when the people that are teaching our practitioners are having so much success that it's like, no, we gotta go do this. So, how the heck did you go into businessperson when you didn't really have that background all the way to now doing this full-time, didn't study this in college, and having a referral-based business?
[00:33:00] Ryan Monahan: One small correction. Evan, you would be totally excused from this cause I don't think we've ever talked about this.
Detective Ev: Oh, please. I hope so.
Ryan Monahan: I have a double major in music and in marketing.
Detective Ev: I did not know the marketing.
Ryan Monahan: Two very different things. But I technically have a bachelor's in marketing.
Detective Ev: Fair enough.
Ryan Monahan: To be fair, it was mostly pretty useless. There were maybe three things I retained. I say that because I don't want that to intimidate anyone. I don't really attribute my success doing FDN with a bachelor's degree that I got when I finished when I was 22 because I don't really see them as related. There were some kind of key broad ideas that I took from that.
You know, 80% of your business comes from 20% of your customers, like 80/20 rule, I remember that. I remember the AIDA acronym: attention, interest, desire, action. So, what do I take from that broadly? Well, here's the one thing I remember from marketing school is that it doesn't matter how smart you are, doesn't matter how much you know, if people aren't aware of your product, they're not going to buy it. If people aren't aware of your service, they're not going to buy it. So, if there's anything I remember just very broadly from marketing school, it's that.
A Perfect FDN Story: Never Really Specifically Niching
Fast forward to today. Let me answer the question first with the, do I only focus on helping clients with Hashimoto's and then I think that'll help to tie in some other ideas that I'm getting at here. So, the answer is no. Okay? And there are some ways in which I differ from the normal narrative within our world.
For example, I think many of you have probably heard this throughout the course of the Open House, that, you know, you want to find your niche and you want to hyper niche, that really hyper specific in order to be successful. I have good news for some of you who maybe that doesn't resonate with or may be intimidated by that idea. I've never really done that.
Yes, I have a story and some of you have heard that story today about my journey with Hashimoto's and autoimmunity. And that story will always be a part of me. That story helps me to connect with other people who might resonate with my story to want to work with me. I've been able to share that story on dozens of podcasts. So, in a sense, yes, I'm going to kind of appeal to a certain type of audience with autoimmune disease as their kind of primary health challenge that they're working through.
But at the same time, over the years, I've never turned down people coming to me with other health issues, depression, anxiety, weight gain, migraines, mold illness issues. But why is that? Well, I've always taken what Reed Davis has taught in the FDN course, very literally, which is that we can help anybody. Because it's not about treating specific conditions, it's about addressing everything in the body, non-specifically.
A Perfect FDN Story: FDN Works on Anyone
So, the fact that someone has condition A, B, or C, it doesn't intimidate me because I'm not interested in how we're labeling the symptom or condition or disease or diagnosis. I'm much more interested in what's going on underneath the surface and those hidden stressors, infections, toxins, hormone imbalances, immune system dysfunction, nutrient deficiencies. These are the things that are bringing the system out of balance and leading to some kind of symptom or condition on the surface that we're labeling as Hashimoto's.
Hashimoto's even, I believe, is a symptom of deeper dysfunction in the body. Like I said earlier, the thyroid doesn't just become dysfunctional in a vacuum randomly. Okay? So, for me, and I want to say this at a full respect to people that teach the methodology of niching out and hyper nicheing, cause I get it.
But that doesn't resonate with me; it doesn't work for me. Because I want to be able to help anyone that needs my help. I almost have an interest in like testing the limits of this, like, how well can it work for any condition or label or diagnosis. And I've been in practice as an FDN for close to eight years and I can tell you it works on anyone.
So, I hope that all makes sense, and that the audience finds that information useful or a little bit different. Again, it's almost like heresy to say that I feel like that idea is so ingrained and popular to kind of niche and hyper niche. But I haven't found a need to do that in order to be successful.
A Perfect FDN Story: Pros and Cons of Niching
[00:37:45] Detective Ev: This is the reason that we're having this month with the Summer Open House. I told you even before we got on, it's nice to have another guy that's on here talking. We've had a lot of women on, which is fantastic, but FDN is for everyone.
We've had 60-year-olds that are on this, doing full-time practices. Then we're going to have people that are in their early thirties. There may have, even outside of me, been some late twenties on this month. I'll have to go back and check. But this is the point, it doesn't discriminate; it is for everyone.
We could spend all day going back and forth with marketing stuff. And I'm an amateur marketer myself. But I think one of the reasons that this gets promoted is simply because, in the right circumstances, it might, especially if it resonates with you, accelerate one's growth a little bit quicker.
Only because if there's two signs on the sidewalk when I walk down the street and I'm back in the midst of my health journey and I have severe cystic acne, and one of the signs is like, we help everyone naturally and the other sign is like tired of dealing with cystic acne, we have you covered. Right? Of course, naturally my eyes will wander to the one that talks to me.
The difference is when you cast a big net you might miss some fish. But now, a lot more people are paying attention here. I might at least glance at that other side. Because the problem with the other side of the cystic acne, if I don't have that condition, which is the majority of people don't have that condition, I am definitely not looking at that sign.
A Perfect FDN Story: So Many Ways to Do FDN Successfully
So, I actually think it's a really interesting point and it's good for people to hear this. We're not trying to bring on contradictory messages or confusing messages. Find the one that resonates with you.
[00:39:12] Ryan Monahan: That works for you, right?
Detective Ev: Yes.
Ryan Monahan: For some people, the hyper niching thing, it works obviously. Many people have done that successfully. That's just not the route that I took. Simple as that.
[00:39:23] Detective Ev: You wouldn't know this obviously, Ryan, but we had a panel discussion actually that you were invited to. Unfortunately, you had your business stuff going on. We would've had Ryan on that panel, and you would've seen a huge diversity, we already had some, but a huge diversity in how people got clients.
We had Kim Boehm on, exclusively gets clients through referrals and speaking gigs that she does for free. She might, outside of Reed, be one of the people that has done the most free speaking gigs to go get clients using the lecture packages. Then you have Martha Lewis, who lives in a more remote area of might be Mississippi or Alabama, and she's like, I just didn't have too many places to talk. So, I had to expand onto the social media side.
The point is, Ryan – successful practitioner, Kim – successful practitioner, Martha – all successful practitioners. So, there's many ways to do this. And I think it's, honestly, quite frankly, a huge testament to the system that we can do this in so many different ways and eventually it still works out.
How though did you get to the point of referral base business over all these years? Because that's delivering an exceptional service for a long period of time to be able to do something like that.
A Perfect FDN Story: Under-Promising and Over-Delivering
[00:40:28] Ryan Monahan: Under-promising and over-delivering.
[00:40:34] Detective Ev: Okay. I thought it was a dramatic pause. And you're like, you all think on that for a second. And I'm going to come back.
[00:40:40] Ryan Monahan: You know, I mean, in a sense that statement is kind of self-contained, cause that really is a big part of the truth. But I'm happy to elaborate on that.
Detective Ev: Please.
Ryan Monahan: And not leave you guys in suspense.
So, yeah. Really truly, like just building rapport with clients I think is really important. You know, that gets to the human side of what we do beyond like the clinical, right? Just like having a good bedside manner, really listening.
You know, like when the client wants to speak, giving them that space to speak so that they feel heard. Repeating back to the client what they're sharing with you, so that they know that you hear them is a really powerful coaching tool. That may be one of the most powerful things you can ever do, because I can almost guarantee you most people have never had that experience.
Like, whoa, this guy actually is listening to everything I'm saying. Just sitting there going like this doesn't prove that you're listening. But repeat it back and summarize, and add some empathy to it, too. Just kind of acknowledge how difficult that it is just from what you're hearing of what they've gone through. For most of you, that's going to be easy to do because you've been through something similar. So, I get it. Right? It's like that feeling. I can't imagine how difficult that must be.
A Perfect FDN Story: Do a Good Job and Give Results
Again, I would say on the over-delivering side of things, just really being there as much as you can be for the client in terms of your presence, your communication, over communicating, providing more than they ask for. Just give them an experience that they've never had before.
I'll say this, when I do a sales call with a potential client, I don't necessarily go super scripted. I'm a pretty organic guy with everything I do, and I shoot from the hip with a lot of things that I do. But there's one thing I make sure to say every time during that call, which is that, if we decide to work together, this is going to be the most comprehensive investigation into your health you've ever done. That's the value that I'm bringing to the table.
And 90% of the time or more that's really going to resonate with people. Because I'm telling them we're not going to leave any stone unturned. It's likely in the past you haven't succeeded because you're missing key information. So, let's just put an end to it. Let this be the last stop. Let's look at everything we need to look at to complete the picture.
Well, that's the kind of thing I'm talking about with over-delivering. I like to believe my business is primarily referral-based because I get those referrals from people who get results and I do a good job. I don't think I would be getting those referrals if that wasn't true.
[00:43:40] Detective Ev: How much easier, straightforward, or smooth are the calls with a referral-based prospect versus someone that randomly found you on a website that has no connection to you other than whatever you list on social media or your website?
A Perfect FDN Story: Warm Referral Calls
[00:43:57] Ryan Monahan: So, how is it different to have clients coming to me through referrals versus finding me like on a Google search or something?
[00:44:03] Detective Ev: Yeah. And the hint here is I want to show people what's possible with this. Because I think a lot of people get intimidated by sales calls, even though I've been hammering that for the last 10 events basically.
But I want to show them too, this can really get fun when people are calling you and they're warm and they're happy and their friend or family member went through. It's a lot different sometimes than the calls with others that might not know you at all. Those calls can be great. But I'm just wondering how you find those are different.
[00:44:27] Ryan Monahan: Most of the time with these referral calls, and you said it, the key operative word there was warm. It's like easy. What I mean by that is that person is already fairly convinced in their mind, if not already convinced, that they want to work with you.
Really, they're just doing the call as kind of an introduction to learn about the cost, the logistics of getting started. And so, there's, to me, much less of an intimidation factor when I get a referral, because I already know they've most likely been referred to me by someone who has given me a really solid review and recommendation. Like, you gotta work with this guy. At least that's what I'm hoping was the conversation that was going on in the background. And I'm not saying I go into it being overconfident or cocky. I'm still going to kind of work for it and convince them of the value of what I do.
A Perfect FDN Story: A Fun and Amazing Journey
But I would say with referrals, it tends to be almost a little more in the bag than maybe someone who found me on like a directory or something like that. Those calls can be slightly more intimidating because they don't know you from the next average Joe or other practitioner. So, there's a little maybe more work of kind of building rapport and some connection and convincing them of the value of what you do.
[00:45:49] Detective Ev: Yeah. I really want to paint the picture for people. This is the dream FDN. And this has happened to a lot of people. Again, you come in sick, well, we'll help you take care of that, right? Give you the resources you need to have to get well and stay well. Help you create the business. And then you're doing such a good job.
And obviously you add a lot of things, Ryan, that can't be taught. Those are things that you're choosing to do. So, fair enough. But get to a point where you have now made a legitimate, solid, predictable income with this that continues to grow. And you're getting referrals from nice people that are excited to work with you. So, people don't have to be afraid of the business side. This is a really fun experience and kind of an amazing journey to go through.
We do have a question on YouTube here. It's Chris K and I saw them on the other day, so we're glad you're with us again.
"Hi Ryan. I'm curious about the limits of FDN. I know someone who is no longer able to digest food and gets all nutrition from a PICC line to the heart. Could she be beyond FDN? Sounds like it started from a virus."
A Perfect FDN Story: Working Around the Edges
[00:46:53] Ryan Monahan: That's one of those more complex scenarios where that person's definitely going to need medical attention, but that doesn't mean in my mind that you couldn't also be on their healthcare team.
This is where I think of the kind of, you know, it takes a village approach with something more complex. I've never worked with someone in that situation, but I have worked with plenty of clients that necessitated medical attention. And the way I'll explain things in that context is that, you know, we're going to be able to work on the diet and lifestyle aspects of things, kind of working around the edges, right? Because there are likely fundamental needs that aren't being met.
You know, maybe we will uncover some kind of hidden issue in terms of underlying stress that might be contributing to those digestive issues, who knows? I wouldn't claim to be an expert in that specific topic at all. But again, I wouldn't see why you wouldn't be able to help someone on the diet and lifestyle side of things.
[00:47:57] Detective Ev: Yeah. Well, I love how you talked about working around the edges because just by sheer coincidence, recently, we onboarded the client at my business, Maddy's going to be working with them, who, their kidney function is at about 30%.
You would think the initial thought would be, oh, highest package. But I'm like, well, wait a second. If they've gotten to this point, through no intention of their own, they're doing a lot of things wrong. I'm like, alright, great. Less is more. Let's start with just the diet stuff. And also, I don't want to move the needle too quick.
A Perfect FDN Story: A Collaborative Relationship
It's kind of funny, but the irony in all of this is, it works so well that if you move the needle too quick for someone that is on said medications, he's on like 26 pills a day, you don't want to shift those dosages too much. I'm like, cool, you're definitely messing up the diet unintentionally. Let's start there.
I love that working around the edges thing. Then you support. And then maybe, I'm not saying this can happen guaranteed, but who knows, maybe the kidney function goes up to 40%, 50%. Keep moving that little by little. Right? And then now we can do some deeper investigation if we need to. So, sometimes those are the best clients cause less is more in those cases.
[00:48:54] Ryan Monahan: Yeah. There can be cases where your work could be a very collaborative relationship with traditional medical doctors in that sense. Because, you know, the average doctor visit is something like seven minutes in the United States.
So, as well meaning as many doctors are getting into this field, they just don't have the time to walk them through the diet that's most optimal for them and the lifestyle strategies that are going to benefit them even if they did want to talk about those things. That's where I feel like it can be really helpful to have a coach on your team.
[00:49:27] Detective Ev: Yeah. Got another question for you, if you don't mind. This is great. And I didn't invite people to do this; I should have because it's a little different since we're doing a podcast. But now's the time, definitely use the last 12 minutes here or so to ask Ryan questions cause normally we don't do podcasts like this. This is fun.
A Perfect FDN Story: Labels of Dysfunction
We have Sharon also on YouTube. "Have you worked with complex cases where dysautonomia and MCAS are involved stemming from surgical trauma?
[00:49:50] Ryan Monahan: Yes. I've worked with dysautonomia and MCAS. The more complex underlying factors that are driving that may be different from one person to the next.
If you're dealing with something like a surgical trauma, you might want to incorporate certain like energy work or healing modalities, something like dynamic neural retraining from Annie Hopper, which involves kind of retraining the brain and the nervous system or something like Primal Trust.
These are programs that are designed to reprogram the nervous system response so that we're not always stuck in this kind of fight or flight. Because for some people being stuck in that sympathetic dominant fight or flight state, it might cause your immune system to be overly active or hyperactive and constantly be activating those mast cells to release histamine. I'm getting a little more on the technical side here.
Detective Ev: Just a bit.
Ryan Monahan: This is a good opportunity to talk about this. I've even spoken about this in the AFDNP group when MCAS has come up. Something like mast cell activation syndrome I view as just something, as a label. I don't think MCAS exists. I think it's just a label for deeper dysfunction. It's a symptom of imbalance and dysregulation in the body.
Now there might be a dozen different root causes behind that. And what causes MCAS for person A may be different for person B, right? So, it's ultimately about doing that deeper investigation, uncovering what someone's hidden stressors or imbalances are using the functional lab work and getting to kind of the root of what's driving that.
A Perfect FDN Story: Overcomplicating It
And Evan, note this down. I'd love to do like an hour podcast on just the whole topic of histamine intolerance because it's something I've done a very, very deep dive on. There are so many moving pieces to it, and so many simple, simple actionable things you can do to help resolve it. I think sometimes people overcomplicate it a little bit.
But yeah, just wanted to use that MCAS example. Even something like dysautonomia can be as simple as a vitamin B1 deficiency. There's a ton of research on this, the relationship between B1, which is thiamine, and dysautonomia.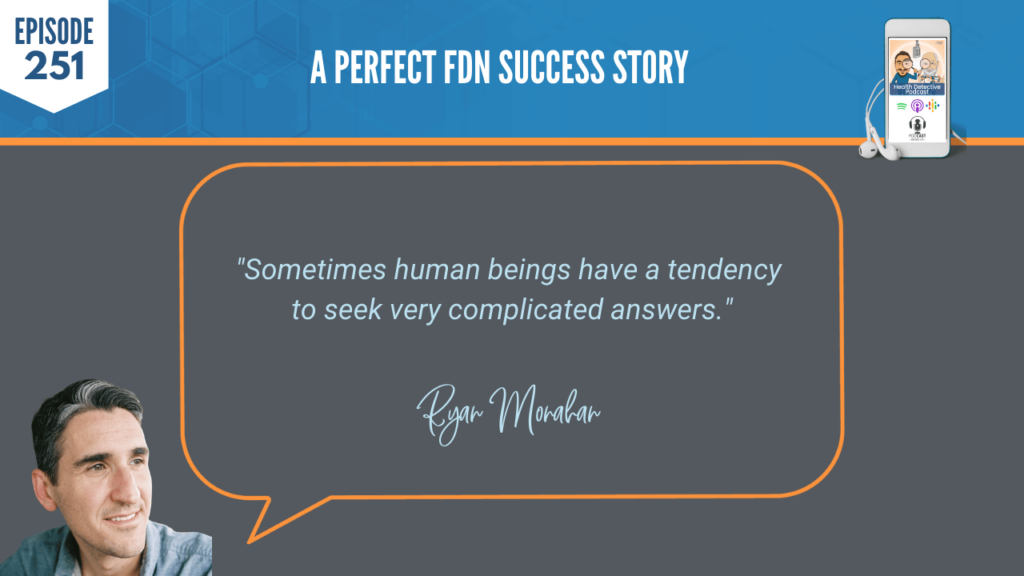 Sometimes human beings have a tendency to seek very complicated answers. But it's just like, you know, what do you do when your computer is malfunctioning? The first thing you do is just restart it before you try going into the operating system and like reprogramming things at the base layer. You just restart the computer 90% of the time that fixes the issue.
It's fun to go down these clinical rabbit holes, it really is. And I'm more than guilty of this. But often the solutions are very simple.
[00:52:33] Detective Ev: It's kind of the funniest part about it, because it could be a simple solution. But if you want to get nerdy with anyone, Ryan's one of the best to do it with.
Chris K said "Evan, the PICC thing is peripherally inserted central catheter." Okay. Thank you.
[00:52:48] Ryan Monahan: It's a catheter and so that's how the nutrients are being delivered.
[00:52:53] Detective Ev: Yeah. Wow. That does not sound like something I would like, so I'm going to keep doing my FDN stuff.
A Perfect FDN Story: Investigating Health Issues Nonspecifically
But you brought up, indirectly, a great point here. You were kind of getting at, these are symptoms. By the way, if someone that's just watching this for the first time, that's new to FDN, or maybe you've only been watching this month, I mean, these are new concepts to try to ingrain and digest. But these are specific conditions that these people are asking about. I appreciate that and respect that. That's what we've done since day one.
Even as kids, if you weren't in the medical space, we're just taught to ask about specific conditions and you get diagnosed with stuff. This almost doesn't matter to us. It really doesn't. I mean, it matters in so much as, okay, when someone's operating on 20%, 30% kidney function, yes, I'm going to take a slower approach just because we could get their body working so well that we want to make sure it's in alignment with the medications.
And that we're having, as Ryan mentioned, that collaboration with Western Medicine, we don't want it to be a battle. It should be a really good collaboration so that the patient and client can get the best clinical outcomes. But we're not dealing with any of this stuff specifically. You could put any condition in this chat right now, there's a lot out there. Put any cancer, put any autoimmune disease, there's really nothing that FDN couldn't support.
Now on the show, on the Health Detective Podcast, you get people that have complete remission of symptoms. I'm not making a claim, that's actually what they've said. Others, maybe they get 80% better and they're using a little Western medicine. So that's fine.
A Perfect FDN Story: A Positive Rate of Change
What you'll never find, which is amazing, somehow in all these interviews, I've never had this, I've never had someone that didn't get 60%, 70% better by doing FDN, and that's like the low end. Most people are 80% plus probably.
[00:54:24] Ryan Monahan: If I can interrupt really quick.
Detective Ev: Please.
Ryan Monahan: First of all, 60% is a massive difference. Especially if someone's been just crawling at a snail's pace for years without any progress, that's a massive difference.
And also, something I'll always point out to a client, let's say they've only had 50% progress in a six-month period. I'll remind them, you know, the journey's not necessarily done when we're done working together. I have provided you with, I have taught you a set of tools to carry this forward into the future and remain healthy for a lifetime. So, imagine if you kept following the rules of D.R.E.S.S. and the recommendations I've given you, where you'll be in another six months from now.
If you've already gotten 50% better, why not assume you're going to feel a hundred percent, you know, by the end of a 12-month period. You have to look at it as like a rate of change and then projecting that rate of change into the future. I think I'll leave it at that.
[00:55:22] Detective Ev: It makes sense because, it's not exactly what you said, but it's a complimentary point. When people get into natural medicine, it's not going to be overnight, everything's better.
A Perfect FDN Story: Less Stress and More Time
This is the only woo-woo part about it, and it's not woo-woo because you can prove it. Why are we doing all this stuff, eating better, doing the tests, whatever? It's to get the body at a point where there's so little excess stress that it can do what it does naturally, which is heal. And again, that's not woo-woo. Cause if I get a paper cut, that heals itself. We all know that. Paper cut is fairly straightforward though. Okay. Don't mess with it, don't overuse it, don't pick the scab, fine.
When we're talking about complex systemic issues, there's a lot more than just paper that's leading to those issues. So, you gotta kind of erase all of that and give your body, like a scale. You gotta give it more ability to heal than it is getting broken down. But that's going to take time. The idea that you're just going to cure this stuff overnight is crazy. So, that's why it can take time to do these things.
You can have the best natural program in the world, but it is going to take some level of time for the body to get back to where it was. And that's why kids, generally speaking, not always, but generally speaking, bounce back quicker than the 80-year-old client because they've got a little more of that vital reserve that we always talk about. There's a little more bounce and energy that can allow them to, I guess, activate that healing process quicker, if you will.
Chris K said, "it's a huge difference from just managing or slowing down symptoms." Yeah. Well, and we're really managing the stress, that's kind of what we're doing. Yeah, that's a huge difference though.
A Perfect FDN Story: Biology Resists Change
Ryan, I'll have one last question for you in a second that's more like kind of a fun business/investment course thing. But I want to know, do you have any last points today? Where can people find you? Because obviously you have a practice and people might be interested in working with you.
[00:57:02] Ryan Monahan: I just want to add a point to what you were just speaking to. I heard this great expression from Dr. Sam Yannick. He's a really brilliant functional immunologist. So, he's in the realm of immunology, but from a functional perspective. I took one of his courses years ago, and he teaches this concept that biology resists change.
What he's getting at is, I'm looking out my window, for example, there's this huge tree across the street. The roots that go into the ground are as deep as the height of the tree. Okay? If you were to try to uproot that tree and plant it somewhere else, that would take a massive amount of effort. You'd have to dig dozens of feet underground to dig up those roots.
And if any anyone's ever done any gardening and they've moved a vegetable or a set of flowers to another pot or into the ground, it's often going to experience something called transplant shock. Where initially, because of the change, the plant's going to go into shock for a few days and it's going to kind of wither, it's going to seem like it's not going to make it. Okay. So, what am I getting at here?
A Perfect FDN Story: Patience for the Overhaul
Well, this is an analogy that I use with clients quite a bit in terms of, if biology resists change and the body is rooted in dysfunction, well, that's kind of a biological state that it's become used to. So, we're kind of transplanting our dysfunctional biology out of that dysfunctional environment in soil. We're uprooting ourselves entirely and we're trying to establish a totally new and healthy and fertile environment for the body to thrive in.
That's going to take time for your body to get used to that kind of shock. Cause we're just kind of like overhauling the whole system. So, biology resists change. Something to think about in terms of why this approach can be a more patient one and why it can take more time.
I know I want to be mindful of time. My name is Ryan Monahan. I go by The Mindful Nutrivore. You can find me at themindfulnutrivore.com. You can find me on Instagram at themindfulnutrivore.
Ethan. Sorry, I called you Ethan, Evan.
Detective Ev: Oh, whoa.
Ryan Monahan: Sorry. One of my best friends is named Ethan, and both begins with an E.
[00:59:14] Detective Ev: Oh. So, it's a compliment. You're associating me with your best friend. Thank you.
Ryan Monahan: Yes.
Detective Ev: All right. Well now, all right. That's cool. I'm fine now. I'm fine.
[00:59:20] Ryan Monahan: My apologies. Evan, you can have that all in the show notes, I assume.
[00:59:24] Detective Ev: Yeah. Well actually, we already have it in the comments on YouTube, Facebook, and Zoom. We got your stuff right there. I'm going to rapid fire this question and ask you one more thing.
Ryan Monahan: Okay, cool.
Detective Ev: "Can you talk about the pace of improvement with FDN versus shooting in the dark with no guidance and no knowledge from labs?"
A Perfect FDN Story: Pros to the FDN Course
I will, if you don't mind, cause I had one thing for you all. I'll cover this one. It was rapid. It took me years to probably get 30% better just shooting in the dark, trying organic, trying this supplement, trying this next thing versus months with FDN and getting the labs under control. And I didn't have a lot of money at the time, so I barely did any of the labs. I had to do them kind of slowly and progressively, and I still found that it was much more rapid. So, we're talking about extreme noticeable differences between rates of improvement.
They said, "thanks for that."
And what I wanted to ask you, because you are again, the epitome of FDN. So, hopefully people are listening that are in a position that you were. They got some health stuff going on, they really want to make this a living, they want to be a part of the community.
So, for someone who got the full extent of what FDN can offer, the health stuff, the community, and the career, we have a thousand dollars off this entire month of June. It's $8,000. It's the biggest sale we've ever ran for an entire month. Would you have paid more than $8,000 for the FDN course?
[01:00:38] Ryan Monahan: I made the investment in the course back in something like six months with my first two clients. So yes, easily and then some. Yeah, totally. To be able to run my own business, be my own boss, to do something meaningful and to help people, make a good living work remotely, I can go on.
But I can't really think of many cons. Not to say it's not a lot of work, it is. But it's meaningful work.
Conclusion
Yeah, it's a no-brainer, especially with that thousand dollars off. So, I hope you all take advantage of it. Cause even if you never go into practice, it's a skill set you'll have for a lifetime. You'll be able to order lab tests for yourself, for your friends, for your family. So, yeah, I mean there's nothing to ever regret there.
You can always visit us at functionaldiagnosticnutrition.com. Our Instagram handle is @fdntraining.
For more informational and functional health-oriented podcasts like this one, go to functionaldiagnosticnutrition.com/health-detective-podcast/.
To learn more about us, go to functionaldiagnosticnutrition.com/about-fdn-functional-testing/.