Introduction
[00:00:00] Detective Ev: Well, hello, my friends. Welcome back to another episode of the Health Detective Podcast by Functional Diagnostic Nutrition. My name is Evan Transue, AKA Detective Ev. I will be your host for today's show with tips for your FDN Business.
I'm back yet again with another solo episode. I know I've been dumping a bunch of content at you guys, but hopefully you have been enjoying these. I will be back next time for sure with an interview, but I wanted to get these out.
It's something I've been thinking about for a while so it's kind of nice to just get them all out at once. Then I can refer people to these in the future or other people at FDN, staff members, trainees, graduates, whatever it might be, can also refer people to these podcasts.
What we're going to talk about today is definitely more for the person who is already an FDN trainee or about to sign up for FDN. If you're someone who's never really considering this, or just listens for the stories, I fully admit this might not be the podcast for you today. I'm not here to waste your time at all so this really is probably not one you want to listen to.
[00:01:00] Detective Ev: However, for those that are going through the course or those that are about to go through the course, this is definitely the podcast for you.
Number 1 – Get Your LLC Formed for Your FDN Business
We're going over nine different things today for helping you really have a successful career or business when it comes to FDN, mostly towards the business side. But these tips can kind of overlap into a few different ways. People say, how did you come up with nine tips? Why not 10? Well, because I'm not someone who's just going to round up the number just to be cheesy and try to force something in.
I wanted to know, how many genuine things do I have. I had nine so you're getting nine today. We're going to go right through them, there's quite a bit here. I want to keep it in a condensed timeframe. I don't want to be going on forever, so we're going to break it down. Let's do it.
Number one business tip. This is kind of 101, right? It's business 101. You want to get the LLC formed or maybe there's another thing that you might be doing, but chances are you're going to be doing an LLC. You want to do that now, because sometimes it can take a little bit. You might be shopping around; you might be trying to figure out what you need and don't need. Maybe you gotta make the appointment with your accountant if they also do those types of services.
You are going to want to probably get that now. In addition, depending on where you live, it could be something that, I mean, it's certainly not expensive, but it's not a $50 purchase either. It could be several hundred dollars or even a little bit more depending on where one lives and what you're getting.
Get Your FDN Business Bank Account Started
Maybe you have to prepare for that. Maybe you can't spend that money right now, and you're trying to save up for it accordingly. Maybe you have six months left in the course, so you could save a hundred dollars extra per month. Now you're still way on time with your LLC. You have it way before you would need it. You did it comfortably so that it just didn't hit you all of a sudden once you graduate.
I'm going to review all these at the end, so you don't have to take notes right now. You could take notes at the end if you'd like. Number one is to get that LLC formed. This allows you to do a couple of things.
One, you can use the identification number that could come with an LLC, you'll want to pay for that, to be able to start your own bank account for your business. It is a very good idea. This is something I did not do in the beginning of my life of entrepreneurship. Get the bank account.
The IRS just brought on or is bringing on actively another 87,000 agents if you live in the United States of America. This is not the time to be making mistakes, even genuine ones, right? I'm not talking about any of you guys going out and doing things maliciously. No one's suggesting that. But I'm saying there are genuine mistakes that happen all the time that can have consequences just for not knowing things. So, get the LLC formed and this will allow you to be safe in quite a few ways.
These Give Your FDN Business a Level of Safety
One. Just having that separate bank account is going to be great. That's awesome. Two, if God forbid, I've never heard of an FDN getting sued for any reason, but if you did, now your stuff is protected. Maybe you're taking a different route than most FDNs and you're doing something else in the health space that could, I guess, get you in trouble somehow, someday. You don't want your personal assets being at risk with that.
If you own a house and you're doing this as a sole proprietorship, someone could come after that. You could have your house taken from you if someone comes after you. Now, I'm talking about one out of a million cases here. But why would you even want that thought in your head?
Get the LLC formed, get the bank account, track the expenses properly. I'm kind of mixing all of those in together, even though they could be separate steps. But that's just good business ownership. You want this stuff separate from your normal life, especially if you're planning on doing this full time.
If you're planning on taking a few clients here and there, and maybe they're mostly friends or family friends, okay, I could see what you're doing there. That was the mindset I had in the beginning, and I've been totally fine. Everyone's satisfied. No one's suing me. I'm good to go.
But I wish I kind of just had that in the beginning, spent the money, and took the very short amount of time to set it up. It would've been nice to have that extra level of safety. Quite frankly, I don't think I understood the implications of not having it. So, number one, get that LLC.
Number 2 – Picturing the Ideal Client for Your FDN Business
Number two. Now we're talking about more, I don't want to say not business stuff cause obviously, it's all business. But that's like a technical thing, right? This isn't always as technical.
Number two is going to be picturing your ideal client. This is okay to adjust over time. In fact, it probably will. But you want to get something written down to get started. Here are some questions that could help you get the juices flowing in your brain.
What does the client look like? What are their worries and troubles? How old are they, roughly, like a range here? How many jobs do they have? Do they have a job at all? Are they a stay-at-home mom or do they own a business? Maybe she's some big-time entrepreneur or he's some big-time entrepreneur. These are different types of people. Different types of people need to be spoken to in different types of ways.
What I'm preparing you for with this number two is the following steps where we need to learn to talk to a specific type of person. If you're going to go online and you're going to start talking about FDN, your health journey, and you're going to try to get clients that way, that's amazing. But there's a little phrase that goes, if you speak to everyone, you speak to no one.
That is so true. It's never been more true with the world of the internet. On Instagram, there's like a billion accounts on there. I think on Facebook, there's multiple billion people have Facebook accounts now.
Learn to Talk to That Ideal Client for Your FDN Business
If I just go online and try to please everyone all the time, I'm going to end up maybe playing it very safe and that's great, but then I'm not going to actually attract someone. Because I played it so safe and so restricted that I didn't actually relate to anyone, I just didn't tick anyone off.
If you put yourself out there, online and do it long enough, you are going to tick someone off or get a comment that is maybe not so favorable. You gotta get some thicker skin. It's just part of the game. Now you know that so when you go and do that, do not be surprised when it happens. Just say, okay, cool. That happened, I'll move on from this.
You have to think, if someone's willing to say something negative to you when you had positive intention online, the only thing you should be feeling is not anger. You should be feeling sorry for that other person that they're in such a bad place that they feel the need to go do that.
That's a ridiculous thing to do, to be online commenting on someone that you know, or someone that you don't know, their post, and trying to make them feel bad. That's kind of ridiculous if you think about that. You feel pity for those people. You can feel sorry for them. You don't have to feel anger. You're the one doing the right thing. Don't worry about that kind of stuff.
So, picture the ideal client in anticipation for posting online, or sharing your story, or giving a talk somewhere, because then you learn to talk to that person.
Don't Try to Please Everyone when Posting Online for Your FDN Business
If you don't believe this works, let's assume that you live in the United States or any country that has a leader that you vote for, whether it's a president, prime minister, whoever. You only need 51% of the people to like you to win. Isn't that the truth? Think about that. You only need 51% of the people to like you to win. 49% could hate your guts and 51% like you, you're going to win.
I'm definitely not making a statement one way or another, I'm much smarter than that. But if you're in the United States of America or have heard about what's going on in this country for the last eight years (eight is pretty generous maybe it's more like six), we've had two very polarized elections.
We had a lot of people adamant that they were right with their side and two completely different sides won in the last two respective elections. I'm not saying that you want to generate that much hate, but at least 51% liked the two respective individuals, who, you know that I'm talking about. And they won because of it. That was it.
So yes, you might not want to generate as much hate as a campaign for presidency might generate you, I'm not suggesting that. We're FDNs, we're not in politics. However, you have to think about that when you're posting. Stop worrying so much about pleasing everyone all the time. You'll end up speaking to no one. You gotta relate to the individual you're talking to.
Niching Cystic Acne Clients as an Example
I'm a 26, almost 27-year-old male. I typically do not relate to the unique struggles that a 50-year-old woman might deal with. Let's take a 50-year-old divorced woman. Let's take a 50-year-old divorced entrepreneurial woman. Do you see how this can get more and more specific? And then it relates less and less to me. But as it's relating less and less, to me, it's relating more and more to someone else.
I'm someone, if you've listened before you know this, who has suffered with cystic acne, very bad cystic acne. There are unique struggles that come with that, especially if I dealt with it at a young age, like in my teenage years, that do not apply to other people. If I opened up a business today and I was specifically targeting late teens or early 20-somethings who dealt with cystic acne, I know things like this.
I know that they're checking the mirror incessantly. It's almost obsessively. They cannot stop, even though it's the same thing that they saw two hours ago, they keep checking the mirror constantly. They feel inadequate to date. They're shy, even though that they have these desires to go out and be with other people and date them. They can't do it because they think that they're not worthy of this. They stay at home when they don't want to stay home, they let their face and their skin control their entire lifestyle.
I know how desperate they feel because they've tried a bunch of different diets and all these weird little things that you hear online.
Number 3 – Document Your Story for Your FDN Business
There are literal forums that tell people with acne, this is serious, to use their own urine in a mixture for their skin, like make a cleanser out of this. I know all these little weird things that they've tried and all the unique things that they experience.
What I could do is back off and say, well, no one wants to hear about acne. Some people think it's gross, right? They don't want to hear about that. Well, that's great. Then I'll never relate to the people like me who have dealt with that. But if I start getting specific like that and I picture, okay, that late teen, early 20-something, they want to date so bad, they want to just be normal.
They want to go out to the parties, and they feel so ashamed every time they try to do those things because of the skin that they're in. The fact that maybe they're in pain, maybe they're trying all these weird little diets and they're starting to feel depressed and hopeless because they feel like nothing is working, even though they've seen it work for other people online.
That's unique, man. If I start making my content specific to that type of individual, their ears and eyes are going to perk up and open, respectively, when they see or hear that type of content. Get it? So, number two, again, was picturing that ideal client.
Number three is documenting your story. While you're documenting it, if you're a really smart person, what you're going to do is document it in such a way that it is talking to the person that you pictured in number two. If you're a real smart person you're going to do that.
Document Your Story to Speak to the Ideal Client for Your FDN Business
Let's say, I'm going through my FDN journey again and I'm getting my labs back. Now, just to be clear, your ideal client, a lot of the times is going to be someone very similar to you. That just makes intuitive sense. Right?
My ideal client, I ended up working with a lot of women that were my age or a little bit older, just because it's a bigger space than usually young men. But I could have gotten even more specific with that. For today's sake, let's say I was going to work with, specifically, young men who are dealing with cystic acne and stuff like that.
As I'm documenting my story, I might say something like this. I got my hormone test back from FDN. This is a true story. At FDN we use a salivary hormone test, primarily. There's other things that you can use, but this is what we teach in the main course. You get four samples throughout the day from the person or for yourself, testing for a variety of things. One of those things is cortisol.
My cortisol in the morning was super high. Sorry, it was in range. It was super high relative to the rest of the day, but it was within range. The rest of the day was tanked. That is a sign that my hormones are out of whack. We all know about hormonal acne and that's a trigger term. Because I know, even if I don't understand the complexities of acne, the person who is my ideal client, they think of things like hormonal acne. I know that because I've been there. You might not understand that if you've never dealt with this stuff.
Correlate Your Findings with the Ideal Client for Your FDN Business
Everything gets labeled like hormonal or fungi or all this kind of stuff. They have no idea what they're talking about.
Obviously, anyone who has acne is going to have hormonal trouble. But some people think that there is a certain type of acne that's only called hormonal acne and that hormones are not involved in the rest of the types of acne. That is ridiculous. We know that as health professionals, they do not know that. I would be wording this in such a way, not to lie or mislead, but to relate to them, that this is hormonal.
In addition, on that test, my DHEA was like four or five times higher than the upper end of the reference range. It was really high. That is an androgen hormone. Androgens are correlated with acne. It's also correlated with a deeper voice. Naturally, I have higher androgens, that's why I have this. I don't want the acne. Right? But I can keep the voice.
What's really funny is, believe it or not, as I got less sick, my voice was deeper before. It was even more so than right now. Now it kind of goes all over the place and I can get much higher and stuff, but it was actually deeper because my androgens were so high.
I also had this cystic acne on top of it. Because the cortisol was tanked and in addition to a few other markers that would indicate this, I was in the exhaustive phase of HPA Axis dysfunction. I was tanked. I was exhausted, literally and figuratively. These are all things that correlate with acne.
Start a Blog for Your FDN Business
I would be documenting my story and talking about, wow, it feels so amazing now to realize that my hormones are in fact tanked and that could be leading to my acne.
If you're a person suffering with acne and you don't have any answers, you see that come up on your social media, you are reading it every single time. I don't care how many cat videos there are. I don't care how much else you have going on. I don't care if you are about to go talk to someone else or get a phone call, you're going to click save. You are going to read that post because it's talking to you directly. Facts tell, stories sell. Great. Put the facts in for the labs, but it's the story, really, of how you dealt with acne and all those things that are going to get this person to pay attention.
Other things that you can do, or just like bonus tips within number three, start a blog. I believe it was Kristen Thomas, and there's someone else who came on this podcast and did a similar thing. They were starting a blog, documenting their journey and story when they started FDN, from the day they started. This was building credibility; it was building a community who they were able to then market their services to.
I know this is something people are uncomfortable with but sharing on social media will be one of the fastest ways that you can get clients as an FDN. Our work works anywhere in the world. Social media allows you to connect with people all over the world. It also allows you to talk about things that might not be appropriate at the family party.
Document Your Story, Post on Social Media for Your FDN Business
When I go to Christmas or I go to Thanksgiving or whatever it might be, sometimes people want to talk about health stuff, I do admit that. But generally speaking, you're catching up on other things. You're not ready to talk about your health journey or the things that you're studying. That's not always going to be the case at Thanksgiving. Even if it is, people are drinking or doing whatever.
If I just share it on social media, then I'm not bothering anyone. I'm not being inappropriate cause I'm not talking about something that I shouldn't be talking about at the party. I can talk about whatever I want on my social media and the people who like it are going to read it. The people who don't, can ignore it and keep scrolling.
I already kind of alluded to this when I was talking about the hormone tests, but I would've been posting my lab test results online on my social media. I wish I did that in the beginning. I did it later. I mean, thankfully the labs never go away. You're going to have the results somewhere, but I wish I did that from day one to guide people through that journey with me.
Even if you are not ready to post these things and not willing to do it, document everything now. You can use the content later, that's fine. But if you're not ready to post whatever, maybe you want to be healthier first. My point is if you don't feel comfortable posting, document it now. Just document it for yourself and then you can use it later.
Video Yourself Running Labs to Simplify it for Your Clients
Three A, cause this isn't quite four, but it's also not the normal part of three, in addition to documenting the journey itself, if you haven't already run labs for your certification, like FDN certification, record yourself doing so as if you're talking to a client.
You'll be able to use this later when you have a client or two or three or four or five, or you're full time. You'll be able to send them videos of you having used these tests on yourself and you can guide them through it so it's simpler for them. No one wants to read instructions. Everyone wants to watch videos and be told what to do in that way.
So, three A would be, make sure at the very least, if you do nothing else I said in three (I mean, you really should do other things in three), but document yourself running the labs. You can use it with clients in the future.
Number 4 – Practice Conversing with Your FDN Business Clients
Number four, practice having conversations with clients. We train you on this in FDN, multiple times. You're going to have to talk to your mentor and practice with them as if they were a client.
I said this in a previous episode recently, this is not measuring your ability to speak fluently. We're not judging you on how gifted you are with gab or not gifted you are with gab. We are grading you on your ability to know the information. You can do that, even if you're a very shy, lacking confidence, person. Okay, that's fine.
When I say practice having conversations with clients, it's a little different. You just want to go into your head and just start going through the conversation. Pretend I'm your client. Pretend you're talking to Ev and you just got some lab results back for me. Then you're walking me through it on a consult, or you're walking me through it on a zoom call.
You could practice with your husband, or your wife, or your kids, or your parents, or whoever, a best friend. You could practice with no one and just do this in your head. There is sign showing that when we practice certain things in our imagination, it actually does translate to real world results. Look that up. I'm not going to get into that today but look that up. It's very interesting.
Guys, I speak professionally, you know this. I also do this podcast professionally. I cannot tell you how many times I go over things. I actually stopped this podcast already, like three or four times, just because I didn't like the way that something came out and I have the ability to record over it right now. It's okay.
Practice to Build Better Speaking Skills
People think that things are just coming out naturally for me or other professional speakers or podcasters. But generally, that couldn't be further from the truth.
I'm constantly rehearsing conversations, presentations, and other things. It's okay to do that. It's actually a very good thing to practice. I was even doing it for this podcast without realizing it. As I was writing my notes, it comes so naturally to me now, I'm already going over how it would sound to speak these words, like the emphasis I would have, the excitement I would have.
I do that in my head or out loud with no one else in the room. It translates over to better conversational skills or better speaking skills. This is something we should do, forget FDN, you should be doing this in general. It just makes you a better communicator. It helps you say things that you actually mean, and not things that you don't.
Number four, practice having conversations with clients.
Number 5 – Set up Speaking Gigs for Your FDN Business
Five. Once you're getting towards maybe the halfway mark in FDN, you want to start setting up local speaking gigs. Great places to get started are libraries or health focused cafes. Maybe it's like an organic coffee store, health food stores, of course, that's a no brainer, especially small, locally owned – Mom & Pop's shops that maybe have like a little seating area inside of it. They can be great.
Rotary clubs are also fantastic. I would join one, by the way, if you're trying to be a business professional, they're really cheap and very useful. But you can also speak at these clubs. You could speak by being a member, which is going to be totally worth the price. You get an opportunity to share your story. Or sometimes you can go to different Rotary clubs without ever having joined and become a member. You could still speak at their club. Look up those types of things, libraries, health focused cafes, health food stores, and Rotary clubs.
Kim Boehm. She was on the podcast. Episode 157. You guys might remember her. She actually disclosed her income so I'm not sharing something that's private. She disclosed it. This woman graduated FDN. She started giving local speaking gigs. I think a lot of it was just at libraries. Within a couple of months of starting FDN, she was at 10K a month. There is no shortage of people who need this work.
They just don't even know that you exist. You've gotta get yourself out there and a great way to do that can be local speaking gigs.
Plan Ahead to Get Speaking Engagements on the Calendar
We actually have lecture series that are available post graduating, you can purchase them. I think it's like $100, $200 bucks. It's nothing. You can buy these lecture packages that already come with the slides.
They all come with a call. You get to call Reed himself, the founder of FDN and talk to him. He'll work you through some of these presentations and tips that he might have. It's only one call, but you're going to get to talk to the founder of FDN. I think that's worth a lot in and of itself.
Kim did that. She got the packages. She didn't reinvent the wheel. She customized things to her story, but she didn't reinvent the wheel. She got to talk to Reed, and she went out and sold, I think it was seven clients, on her first talk ever. Now your results may vary, but man, I think that's more possible than people realize if they just were willing to put themselves out there.
So, set up these local speaking gigs halfway through graduating.
I know this from actually doing this as a job, speaking gigs don't happen overnight. I work for an organization that does actually get some a little quicker than not because we're in schools, but I also have gigs on my calendar right now. It is September of 2022 while recording this, I have gigs on my calendar for May of 2023. That's how far out some of these places do this stuff.
Now, a library, Rotary club, probably not going to be that far out. Rotary club, more so than the library. Make sure though, that you're getting in now so that you have plenty of time and you could be doing these talks the day after you graduate.
Number 6 – Team Up Your FDN Business with Other Local Health Professionals
Number six. Team up with other health professionals in your area. Unless you live in the middle of absolute nowhere, you have other health professionals in your area. It could be a chiropractor or an acupuncturist or a massage therapist. Probably you want to go to things that are inherently more holistic.
I'm not saying massage therapy isn't holistic, but I know plenty of massage therapists that are not into what we're into at all. It'd be pretty hard to find an acupuncturist or a chiropractor that would not be fascinated by what you're doing here. How do you team up with them? Well, the best way is to give, before you take. Go buy their services.
Don't go in their office or call them up or email them asking for something, that's ridiculous. Go in and use their services. Make sure you actually like them too, if you're going to team up with them. When you're doing that, one, you get a service, that's kind of great. But this can result in referrals, you could create a good little business there.
You want to know how you get referrals from other people? It's kind of a secret tip to get referrals. You send them other people first. This is that whole give before you take thing. Everyone wants to know how they get referrals. They do not want to refer though, or they don't even think about referring.
If you want referrals from someone, send them five people. I guarantee you're going to get a call or something afterwards. Someone's going to acknowledge you if you send them five clients. So, give before you take, that's just a great principle in business in general, in my opinion. Again, that can result in the referrals.
Speak Together, Package Something Together, Get Referrals
You could do speaking gigs as well because chiropractors and acupuncturists are different than us. They have in-person businesses. Now, there are some FDNs within in-person businesses. Ironically, I kind of have one that's related to what we're doing here. But a lot of people don't. The vast majority of FDNs do not have in-person businesses. I would guess that it's less than 3% or 2% even.
But those people have to have an in-person business because they're doing physical work. That space that they have, that they rent out, lease, or own is a great place to host a speaking event. If you're buying their services, you're sending them a referral or two, and then you offer, hey, could maybe we like do a speaking gig together or something? I'm going to bring in some of my people, you bring in some of yours. We get to talk together and then we can team up and kind of package something together.
Yeah, I'm probably saying yes to that if I'm that type of professional and you've already showed me that you care enough to give me a referral and you are a paying client. I don't even care if you're doing it for these exact reasons. You still brought me value. That's great.
This Could Be a Great Job Opportunity
If you are trying to get into this work to just work a job as an FDN, instead of just having the business, then this would also be a great opportunity for that.
I find that chiropractors, acupuncturists, and the like, are fascinated by what we're doing, and typically are pretty busy with their practices. We've had plenty of these professionals go through the FDN course, so maybe they wanted to take a different route.
But like the acupuncturist I go to in Doylestown, I said Doylestown as if you guys know where I live. I live in Doylestown, Pennsylvania. If they even tried to add labs on, they'd be nuts. They are working all the time cause they're so busy with that. So, they want another person maybe to come in, help them with that, do that and bring more value to their clients. So, number six is team up with other health professionals.
Number 7 – Ask People You Are Closest to for Referrals for Your FDN Business
Seven is ask people you know, the people that are closest to you, if they know anyone who you may be able to help with your new certification. Maybe you start having these conversations two to four weeks before you graduate. You want to be pretty close to graduating, two to four weeks is good.
Now, why do you do this in this way? Well, let's say I go to my best friend, and I ask him if he knows anyone who I might be able to help. I'm doing this functional lab thing; I'm learning to identify hidden healing opportunities in people's bodies. It's really helping me. It helps a lot of people that I know. I'd love to be able to offer this to other people and I was wondering if you knew anyone.
This does one of two things. Either one, they're your best friend so they're going to know someone like this, cause we all know sick people. They're going to get you on the phone with someone. Or number two, maybe they are interested in what you are offering and now you didn't seem like that weird friend who's trying to sell another friend something, right? That's a beautiful thing.
You either got to help them in a very nonaggressive way, or they don't need your help and they send you to someone else. Done. Have the courage to believe in what you actually started here. All right. Ask people who you are closest to if they know anyone who you may be able to help. There's going to be a lot of people that you can help.
Number 8 – Work with That Person for a Discounted Price
Once you find that person, whether it is someone they know, or the friend themselves, work with that person for a discount if you're doing this in the beginning. Do not ever do it for free, that's a terrible idea.
It is subconscious, probably, but people do not value things that are free. I guarantee you'll have more compliance and better results as a result if you charge the person something, rather than give it to them for free.
The only time I would work with someone for free, maybe, to put a little disclaimer here, is if I was having a real hard time getting any clients at all. Maybe I can't do it as easily as I thought I'd be able to. I would work with the person for free.
They're going to have to pay for their labs, do not pay for their labs. That's not what I'm suggesting. They pay for their labs. You give them the free consults. Then part of the deal is, hey, I'll block out your name, but do you mind if I post you on social media to show what some of the results are?
Better yet, if they're more extroverted and willing to share themselves with the world, you could even say, hey, would you be willing to get on a quick video with me? Maybe we record for two minutes, talk about the results and how it's correlated with some of your health issues. That might be pushing it for some people and that's okay. I would at least get that out of the deal if you're working for free.
You gotta get permission to post their labs online. So, number eight is work with people that you find for a discount in the beginning.
Number 9 – Set Realistic Goals for Your FDN Business
Number nine, my final thing. I left this for last, because if you made it this far, you deserve to hear this one. Number nine is visualization and setting realistic goals. Now I know if you're listening to this you probably experienced enough in your life that you've heard the whole visualization thing. I don't mean in a woo-woo way. You could take it however you'd like to take it.
I will tell you the reasons that I'm mentioning this today. I also said realistic goals. So really, the first part of this is having the goal, cause there's nothing to visualize if you don't know what you're actually shooting for.
A goal is defined as the object of a person's ambition or effort and aim or desired result. So, a goal is not a to-do list. It is not a goal to say, oh, I'm going to clean my room today. Yes, obviously you could say that's a desired result, but it is not the object of the person's ambition or effort. That is not the thing.
I kind of like to think of goals as things that I can't just do simply from working harder. I know that's going to confuse some people. They say, well, if I want a certain amount of income, I could just work harder. I get that.
A Good Goal Should Require a Shift in Your Consciousness
But what I'm trying to say is, let's say I make $50 an hour at a job. And I work at a job that I can go pick up extra hours at all the time. They have a shortage of staff. What is that on a 40-hour week? That's like $2,000, right? 50 times 40.
Let's say I want to make $2,100 this week. That's my quote/unquote "goal". I just put in two more hours to make the $50 extra dollars each hour and then I'm at $2100 for the week. That's great. You did literally make more money. That's fantastic and all.
But to me, it's just not a good goal at the very least. Maybe it does meet the definition, but it's not a good goal if all I have to do is just, oh, well I can put it in a little more effort and automatically it's guaranteed to happen.
There should be something that requires a shift in your consciousness or a shift in your personality, something kind of intangible, when you're shooting for a goal. You don't want to go too high with this in the beginning. Some people get almost intimidated and then it becomes counterproductive.
I actually am a huge believer in setting like smaller seemingly meaningless goals in the beginning, because I think then when it works, it proves to you, oh, I can go higher and higher and higher next time.
Start Conservatively and Grow in Confidence
I remember being 18 or 19 and I'm setting these goals for like a million dollars a year. It's so unbelievable and incomprehensible for me at that time. Because I didn't have anyone in my life who did anything like that, it wasn't worth it. It actually took a while to make even a half decent amount of money doing what I loved because I'm setting the goal too high.
Then you could start with $5,000 a month. Let's even start more conservative than that. Let's say it's $2,000 a month, $1,000 dollars a month. I want to make a thousand dollars a month, part-time with FDN. What do I need to do to get that? That's the goal. Then once you get that, great. Now I want to do $2,500. Wow. You know, this is getting pretty close to actually, maybe being a full-time job.
I would need like, $5,000 a month for that, but I'm already doing $2,500 a month and I'm still working this full-time job. So, if I had an extra 40, 50 hours a week, couldn't I do that extra $2,500 a month probably? You start to see how this works, because then it becomes more realistic for you or believable for you that you can get up to that $5,000 mark.
Then you go to the five grand, then you go to 10, whatever it might be. Set a goal that doesn't just require you to put in a few more hours, don't be cheap with it. But also, something that doesn't intimidate you so bad that it becomes completely counterproductive.
Visualize Your Goal as Accomplished
A thousand dollars a month extra, $2,000 a month extra would be very good for most people to start out with if they've never owned their own business, they're working another job and they're starting out as an FDN professional. Start with that. Set the goal, and then the other part of this was the visualization.
You do not have to do this; it is up to you. I am not the one to come up with what I'm about to tell you. I have read it in other books. It has served me so well that if I told you how it served me, some of you probably would not believe me. That's okay, I'm not here to convince you. I'm here to say, you got nothing to lose with what I'm about to say, so maybe give it a try.
Once you have this goal set out, write it down somewhere. I don't care if it's in the notes on your phone, in a little journal, on a note card, a sticky note, write the goal down. When you are about to go to bed, review the goal.
And as you are drifting off to sleep, there is a little time period between when our head hits the pillow and when we fall asleep that our thoughts are still going. You're already doing that anyway. While those thoughts are still going, use that time to imagine the goal that you have as already being achieved.
Let's say my goal was trying to replace my full-time income with my FDN business. Let's say I make $5,000 a month. I'm doing 60K a year and I want to do that with FDN. That's the goal. What does the visualization look like then?
What Does the Visualization Look Like?
Well, it might be different for you than it is for me, that's for sure. Even if it's the same goal, it might look different.
But let's say you're able to replace that job. Well, maybe you're single and maybe this means that you can go live in an Airbnb every single month and travel around doing that.
Maybe it means you can finally move because you're not tied down to one place anymore. Maybe it means that you'll have more joy in your life, cause your boss is a total jerk and you hate your job right now. It would feel so freeing to be able to be out of that. Maybe this would mean that you could spend more time with your significant other or your kids or your parents.
Maybe this means that you can go to more conferences cause you can use them as tax tradeoffs. Whatever it might be, you want to start picturing the positive emotions that will be associated with you achieving your goal. This is why you gotta almost be, I don't want to say realistic, even though I probably already did. You want to be careful with how far away you go from the goals.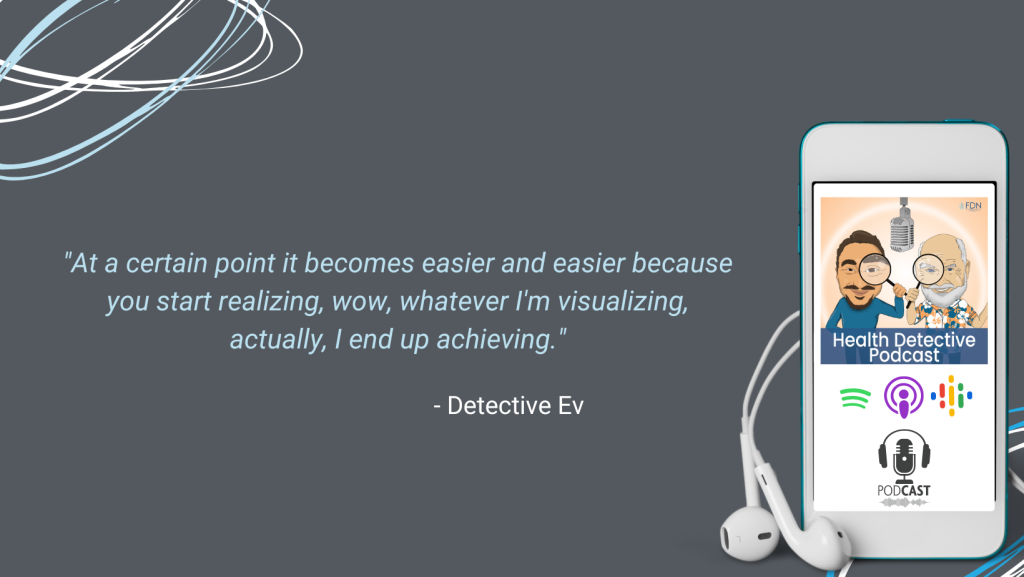 I couldn't even picture a million dollars a year. I couldn't picture it. My consciousness would not allow me to. I don't think it still allows me to, so I move up much slower than that. But if I do $5,000 in a month, I can probably picture $6,000. Then if I do that, it's like, well, what's 7,500? Well, crap. I just did that, maybe I can do $10,000. At a certain point it becomes easier and easier because you start realizing, wow, whatever I'm visualizing, actually, I end up achieving.
Think About it, Focus on It
But if you do not have the goal to begin with, you are like a ship that went out to sea without a destination. That is not a good idea.
If you aim at nothing, you're going to hit it a hundred percent of the time. Right? If you aim at nothing, you're going to hit it a hundred percent of the time.
Jim Rohn, a motivational speaker, he talked about goals. He said if someone was out and laying the materials and bricks for a house, and there was no blueprint, we'd lock them up. We'd say, that's crazy. You're building a house, but you don't know what you're building? You don't have a blueprint, you're just going? That's insane. We know that.
So why do we do this with our lives? Why do we do this with our careers? You have to have the goal, then visualize what would your life be like when that goal is complete?
You do that at the end of every night. If you're an overachiever, then you put it on some sticky notes and you put it in places that you're going to have to see it. You put it in the visor on the car. You put it on the mirror in your bathroom. You put it on the corner of your computer.
The more you think about it, from a totally practical sense. The more you think about it, the more focused you are going to be on the things and opportunities that could allow you to achieve said goal.
Is There a Limiting Belief for the Success of Your FDN Business?
Now, might there be a woo-woo aspect in this, because that's promoted all the time in the personal development space? If I'm being honest, I think so.
But I'm here to talk about FDN and your business. I'm not here to talk about my philosophies with that. There's a practical side to it and you might just find, once you achieve the goal, that there was a little more to it than you once originally thought. I will leave it at that.
Let's review the things that we talked about today, and then I want you to be thinking about what can you do to today to get ready? I admittedly don't even expect everyone listening to do everything on the list. I know that. But if you even did one or two of these things, you'd be putting yourself in a much better position, specifically number nine.
If you did number nine, you'd be putting yourself in a fantastic position. If you did all of them, you're on track to really having an amazing business launch and a successful career. Since all of these things are actually very simple and every single person listening could do them, if you don't do them, then you gotta ask why on earth would you not?
What kind of limiting belief or something is holding you back that would stop you from doing such practical things that were told to you by someone who's been doing this for five years and gets to interview other individuals who have very successful practices? Why wouldn't you do that stuff? Interesting to think about.
Isn't it funny how we don't do the things that we know would help us sometimes? I'm guilty. We gotta ask ourselves what's going on when that happens.
Let's Review the First 5 Tips for a Successful FDN Business
In review, number one, get an LLC formed now, or whatever type of business you and your professional, whoever you get recommendations from, deem to be the best option for you. Go to someone, not me. Go to someone and figure out what you need. It's probably going to be an LLC.
Number two, picture your ideal client. What are they like? How old are they? Do they have a job? Do they not work at all? Are they an entrepreneur? Think about those things, write it down.
Number three, document your story while you are going through FDN. If you're not going to share it right now, you're nervous to do that, still document it, and you can share it later. Start a blog, post your lab test results, correlate it with how they deal with your health issues and show people the connections that you're making. Three A, take videos of you running the labs so that you can use it with clients in the future.
Number four, practice having conversations with clients. Do this in your head, do this out loud. It works, I promise.
Number five, set up local speaking gigs maybe halfway through your time at FDN, in terms of the certification course. Get those ready because it could sometimes take a little bit before speaking gigs are available or before a space is available for you to actually go talk. It's not an overnight thing for speaking. You gotta set it up properly and get the invites out. There's a lot that goes into it.
Let's Review the Last 4 Tips for a Successful FDN Business
Number six, team up with other health professionals. What's the best way to do this? Go buy their services. Send them referrals. It can result in referrals for yourself, possible speaking gigs since they probably have an in-person business, and it could even result in a job if that's what you're desiring to do.
Number seven, ask the people who you are closest to if they know anyone who you may be able to help given your newfound functional knowledge.
Number eight, work with people for a discount, but not for free.
Number nine, set a realistic goal, visualize that goal constantly, as if it's already achieved. If you're really smart, you're going to set other little reminders, like a little note card that you can carry around and something on the mirror and something in the car and something on the door, so you have to think about it every time you see one of those reminders. It just might work for you. Give it a shot.
Those are my nine things. I'm sorry that it's not a nice rounded 10. You know, nine is a pretty good number too.
Conclusion
If you guys have any questions about any of the things that I talked about today, go to our Podbean and you can leave me a comment there. I answer all of them. I will also answer them on the show live so you kind of get the best of both worlds there. I'll comment to you directly, and then we'll talk on the show itself.
If it's a really fantastic question, I actually bring on a professional, someone other than myself, to help us go through that question and any other things that might go with it. So that could be really fun. It helps to contribute to content on the show. We appreciate those questions. So just for search for the Health Detective Podcast on Podbean to leave that comment.
And if you guys like the information that we're sharing, please consider leaving us a five-star review on Apple and or Spotify. If you'd be so kind as to do that, then guess what? We would love ya even more than we already do.
I will talk to you guys again soon with another interview. I promise, I'm done with my solo stuff if you hate hearing me do solo stuff. But until then, please take care.
You can always visit us at functionaldiagnosticnutrition.com.
To hire a coach, go to fdnthrive.com.
For a free Health Review, go to fdnthrive.com/match/.