Introduction
[00:00:00] Detective Ev: Hey, what is going on my friends? Welcome back to another episode of the Health Detective Podcast by Functional Diagnostic Nutrition. My name is Evan Transue, AKA Detective Ev. I will be your host for today's show on a unique topic – tic disorders.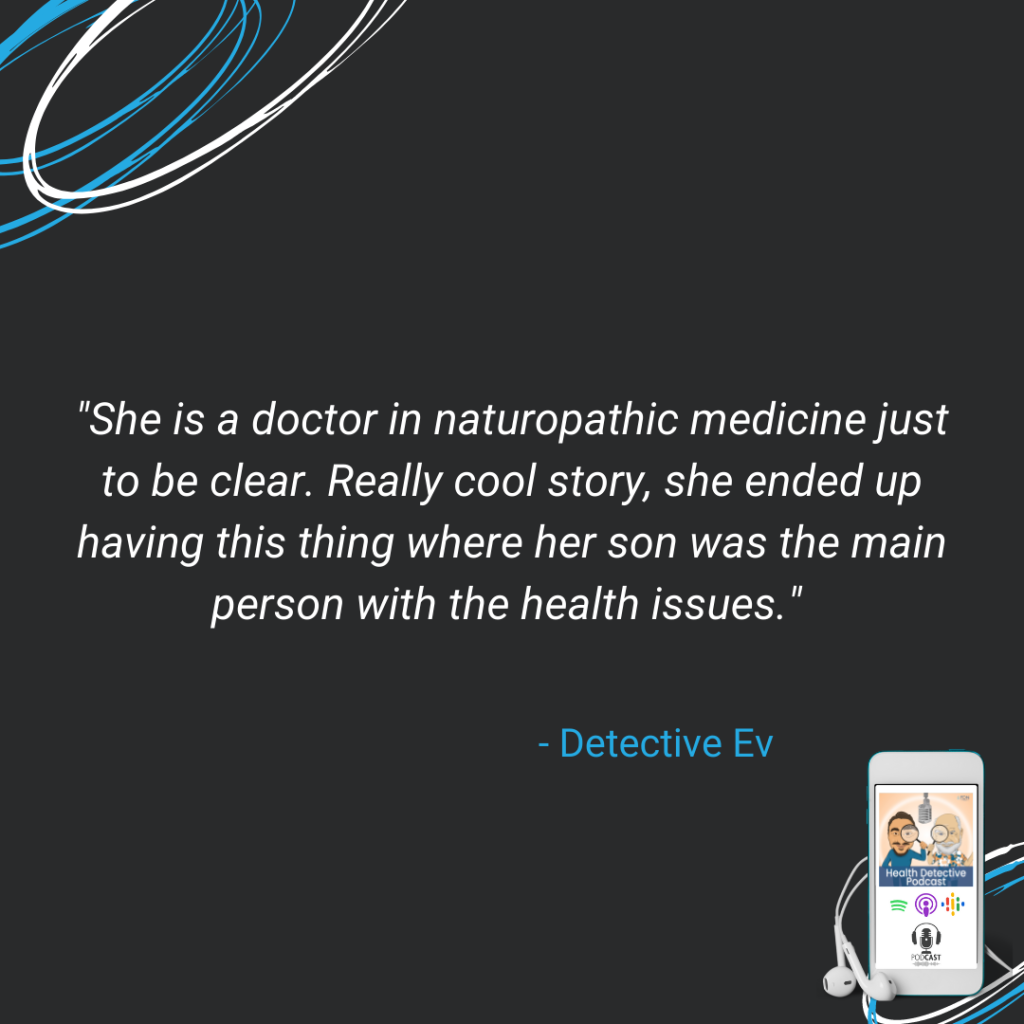 I had the privilege of getting to interview a longtime friend of mine. She is a fellow FDN practitioner herself, Dr. Piper Gibson. She is a doctor in naturopathic medicine just to be clear. Really cool story, she ended up having this thing where her son was the main person with the health issues.
You guys know how it is when a mom wants to figure this stuff out, there is no stopping them. They will go to the end of the world to figure out the health complications for their kids. That eventually led her into the world of FDN. So, what I'm going to do is give the bio on her and I'll let the episode speak for itself.
But I will say, as the title suggests, we are going to be talking a lot about tics today. I don't think that's come up even once in 140 something episodes on this podcast. It's always fun to bring in something new.
A Little About Dr. Piper Gibson
Piper Gibson is a Doctor of Advanced Holistic Nutrition, Traditional Naturopathic Doctor, Functional Diagnostic Nutrition Practitioner, and a Board-Certified Doctor of Natural Medicine. Piper helps scared, frustrated, and overwhelmed parents get access to the tools and education they need so that they can start reducing their child's tic disorder symptoms naturally. She is an international best-selling author and the Founder of The Tic Disorder Institute, Regenerating Health.
Her foundational program teaches parents holistic methods that will restore their child's health in the face of a potentially confusing and worrying diagnosis. After going from a stay-at-home mom to children's holistic health expert, Piper has been able to help many families just like hers gain control of their child's tic disorder using food, functional lab testing, and natural approaches. She is the corporate educator for GX Sciences and was recently featured in Authority Magazine. She can also be heard on the Autism Wellbeing Podcast and 15-Minute Matrix.
Really special episode. I love anyone that's out there doing the work for kids. It is not easy to work with an entire family from a functional perspective. I would assume it's not easy to get families to do anything altogether. This is no exception. When you are working with a kid, you're also working with the mom. You're probably working with the dad. Everyone needs to be involved with this, invested in this, to actually make this work.
You don't have to go that route with this. You could work with plenty of sick adults that are doing this by themselves. You can make good money. There's no shortage of clients for that. I think it takes a really cool and special person to say, hey, I'm going to help kids and go through all the complications that usually forces them to deal with.
Transient Neurological Tic Disorders Diagnosis
I think that's special. So, without further ado, let's get to the episode.
All right, Dr. Piper Gibson. How are you, my friend? Good to see ya.
[00:02:45] Piper Gibson: I'm good. Hi, Evan. I'm really stoked to be joining you today.
[00:02:48] Detective Ev: Dr. Gibson and I, Piper, I call her Piper. We've obviously been friends for a while through FDN and we've done a lot of different things together, interviews.
I'm excited to come on here today and not only share how FDN has helped you, but then the other things that you ended up doing, because we have access to that as FDN practitioners. I think that's amazing, but I don't want to get too ahead of myself. We will start with the same question that we always start with on this podcast.
That is what did, in this case, Piper's health symptoms look like, and when did they start? Because I know you and your family had quite a few things going on.
[00:03:17] Piper Gibson: For me, it wasn't about my health symptoms, but my oldest son was diagnosed with a transient neurological tic. For anybody that's familiar, it's like Tourette's without the Tourette's diagnosis. It's like pre-Tourette's.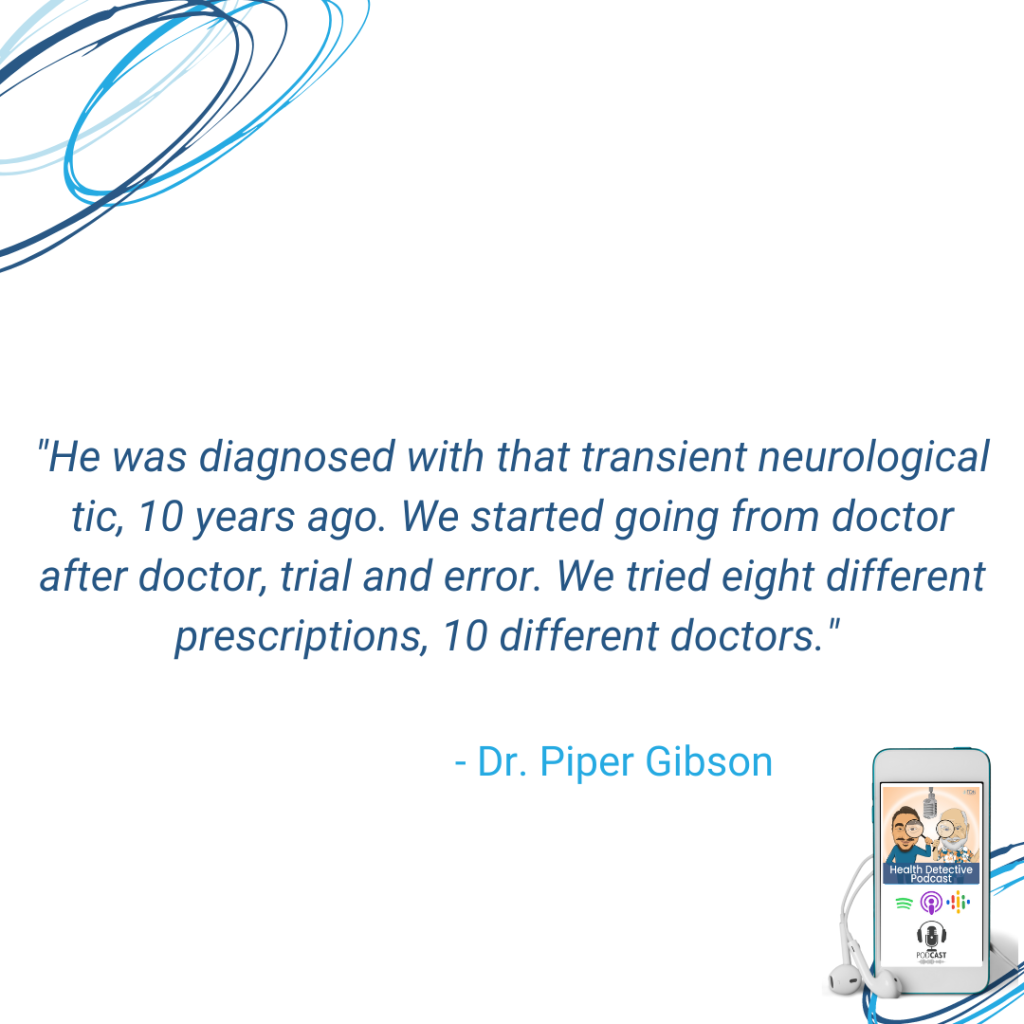 He was diagnosed with that transient neurological tic, 10 years ago. We started going from doctor after doctor, trial and error. We tried eight different prescriptions, 10 different doctors. We even had a neurologist go as far to tell us that my son just needed a good spanking. And he could not control his body.
Nobody Could Give Us Answers for Tic Disorders
He had really a laundry list of symptoms. I mean, sensory processing, lack of focus, dysgraphia, cyclical vomiting. Just besides the tic, this goes on and on. I got to this point where I felt like his symptoms were like a light switch being turned on. They were not there one day. They were there the next day.
Nobody could give us answers. Nobody could give us help. I felt like we were just trying, trying, throwing spaghetti at the wall to see what would stick. I started looking for programs to, what can I do? I've got to help this child. I cannot continue to watch him struggle. I had a friend who had worked with some FDNs, and she was like, you have to check out this program.
I'm not kidding, I looked at it. Within 24 hours I was like, sign me up. I was ready because I said, this is what I need. I need to be able to look at this data, to look at this testing, to figure out what the heck is going on in this child's body. So, for me, you know, sign me up. I needed to know everything that FDN was teaching.
[00:04:46] Detective Ev: One thing I want to make clear because you're a doctor of natural medicine, did that happen before FDN, during, or after?
From Jeans to Genes
[00:04:52] Piper Gibson: Kind of during or after. I was in love with the data piece, the FDN piece, everything that it taught. But I was in this space where I was like, I have to know everything.
So, I started diving into holistic nutrition. And the program I went through, I was doing it along the lines with FDN like at the same time, but it really taught like every single modality. Then I just went down the rabbit hole of education and I love it. I would say that it's probably my hobby, but yes, like during and after.
So FDN was that rabbit hole for me. And then I just kept going.
[00:05:28] Detective Ev: I just had to ask because I knew that about you, and I was kind of actually wondering where this came into your story. What did you do before all this? Did you have a career that was even related to this?
[00:05:37] Piper Gibson: No, I didn't.
I actually just did; I was part of a multi-author book called Corporate Dropouts. So, I'm now an international bestselling author. I'll actually share my story. It's from jeans to genes. When I was a kid, I wanted to be a fashion designer. I actually worked for a denim manufacturer as a designer, as a merchandiser, as a buyer.
It was the worst job I ever had. I hated every second of it, every minute of it, it was the worst. Then I worked in nonprofits for a few years. When my son got sick, I was like, this just completely changed it. So, I went from working in denim jeans to now, I love genetics and we'll talk about that later.
Come From Anywhere to Become an FDN
[00:06:14] Detective Ev: That's pretty funny because I already knew the genetic part about you, obviously. That's cute. I never really dived into the career path before this. So, that's interesting. I think that's very encouraging for people that are out there. Because what people need to realize is you do not have to be in this space beforehand to go do something like this.
It's wonderful if you want to go become an ND as well, no one's going to argue that that's a great thing to do. But we allow you to start this business just with being an FDN yourself. You can really come from any industry and doing anything, then figure this out.
I'm not saying it won't be a little more challenging and a learning curve for someone that maybe has never been in business before. Obviously, you're going to have to learn new things. But it's figureoutable and I know that's not a word, but that's what I always say. As long as it's figureoutable, I think that's a pretty good thing.
When this is going on (only because I really like to get in the heads of the families that are dealing with this stuff cause I think that relates to the audience more), when you are dealing with this stuff, your family is going through this, you don't have any background in this at this time, you're again, coming from the other type of jeans, what is going through your head?
Instinct was Leading the Way
How did you keep going to these doctors? How did you know that there was a solution? Why did you not just believe the people that say, oh, well he needs a good spanking? I mean, I guess that one's insulting. But like seriously, at some point, many people, and I'm not condemning them, but they kind of just give up or throw in the towel.
What made it so that you kept doing different things? Why did you believe this was fixable?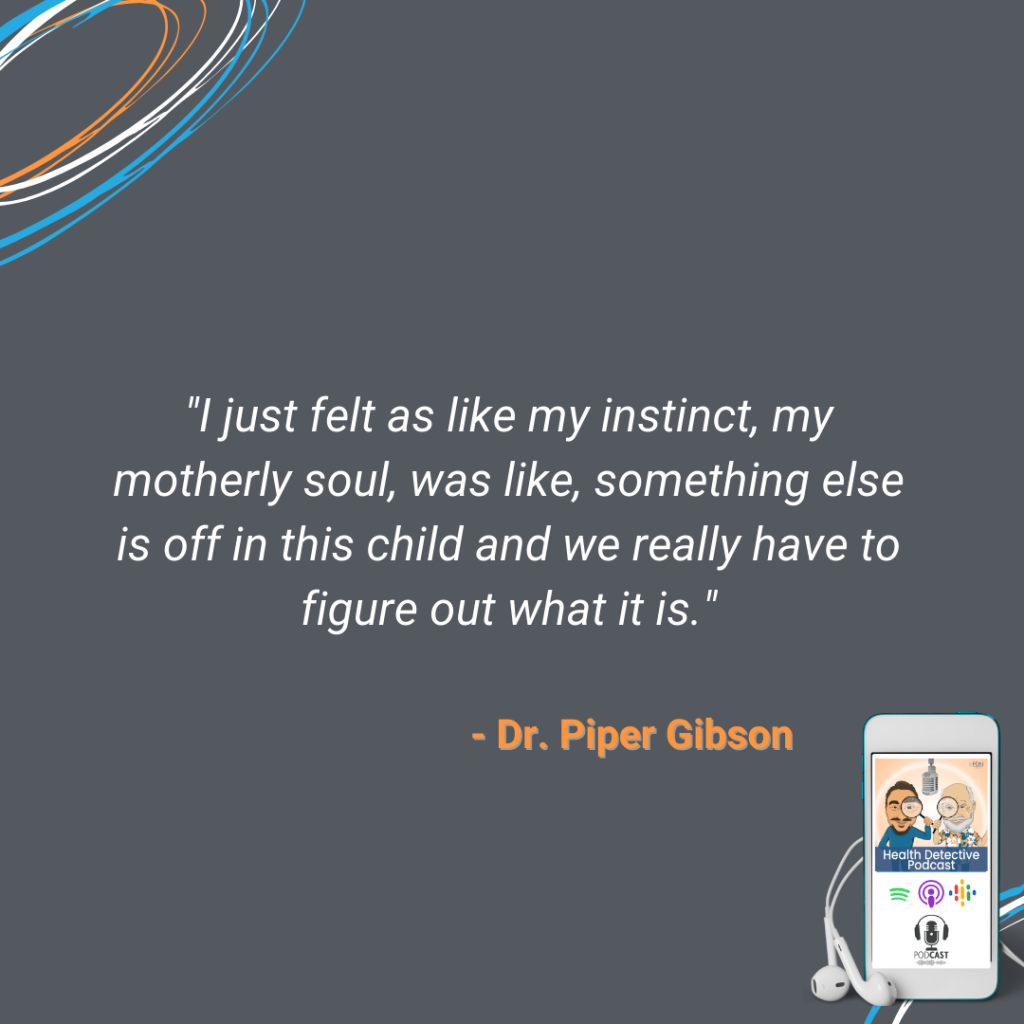 [00:07:30] Piper Gibson: I think part of it's my personality. I'm very go big or go home. I really just felt like, why was he fine one day and the next day he was a hot mess? Like what was going on, what was happening? I just felt as like my instinct, my motherly soul, was like, something else is off in this child and we really have to figure out what it is.
I think a lot of it is just kind of my personality. I've always been of the mindset that if you can teach it to me, I can learn it. I was like, maybe I'm missing something in this conventional approach over here. And maybe there's something over here. It really just drove me to find answers to help him.
Something Was Not Making Sense
[00:08:08] Detective Ev: People must hate me, especially if they listen regularly, because I always ask this question. But it's to prove the same point over and over again. Cause I think it's that important, especially if someone's listening for the first time. You literally just used the exact words.
You said, I just felt, it was like a mother's kind of knowing. Piper, all these people come on and they say, I just knew, it was a feeling. My gut just told me. I'm not saying that we should make major medical decisions off that necessarily, guys. However, we're having someone that is going to people over and over and over again and they know it doesn't make sense.
You do not need to be a PhD or a genius or a doctor to figure out that something doesn't make sense or that something is objectively not working. At some point, I'm not sure when that subjective line gets drawn for the individual. But at some point, we need to be able to say, okay, you know what, maybe I need to go do something a little different and try something different.
I commend you for doing all these things and keeping on trying. I encourage others to do the same thing. Was it just kind of luck then when you found this friend that recommended the FDN stuff?
Knowing Something Is Not Right
[00:09:05] Piper Gibson: It kind of was. I mean, I was doing a ton of research. Hours, weeks, months, years of pouring through the internet doing the Dr. Google business. Looking at PubMed, doing all of these studies. Honestly, I see from so many people who I work with now that they have the feeling too. We're going to call it the feeling. But I think a lot of people have it honestly.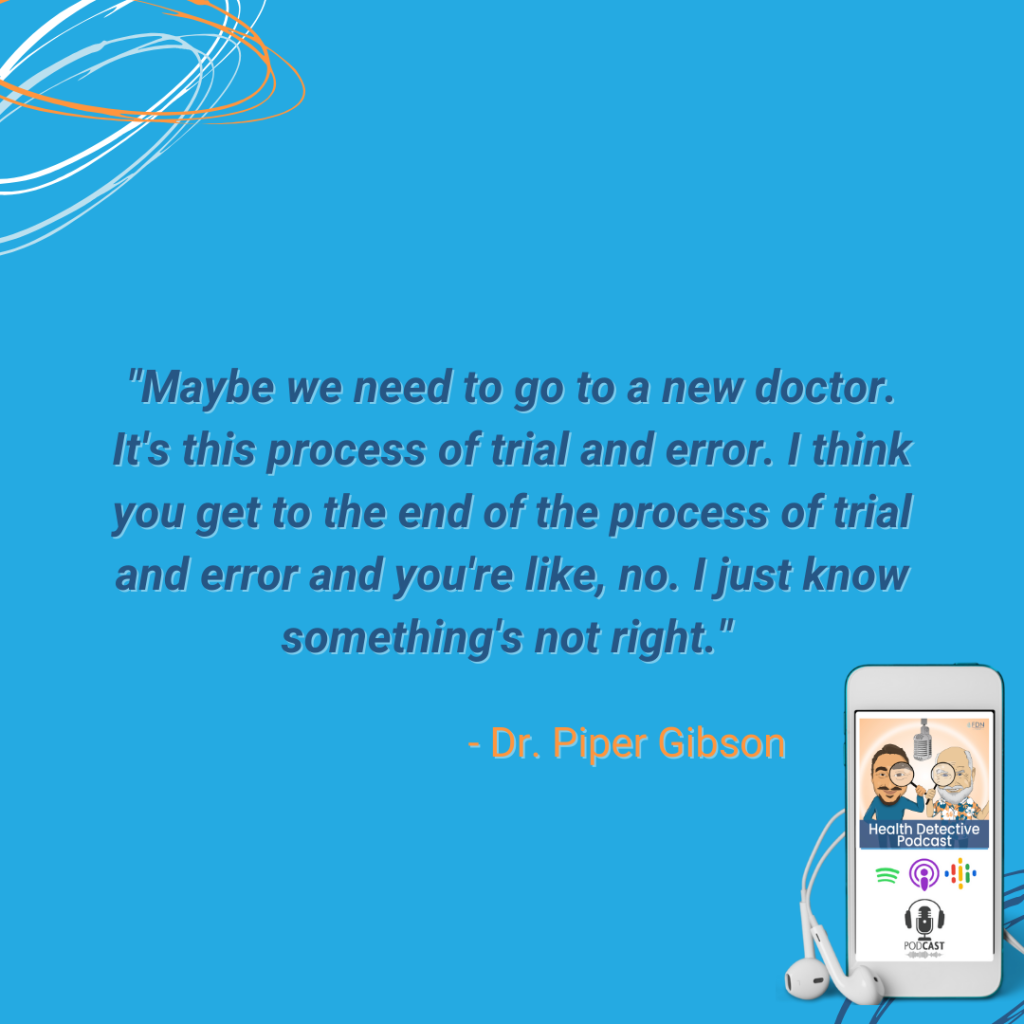 I think they're afraid to listen to it because they're like, well, we just feel like our doctor who we've grown up with is supposed to have those answers. And when they don't have the answers, we start to think, well, maybe it's just that particular doctor. Maybe we need to go to a new doctor. It's this process of trial and error. I think you get to the end of the process of trial and error and you're like, no. I just know something's not right.
So I think a lot of people have that feeling, they're just afraid to listen to it.
Intuition Leading to Great Opportunities
[00:09:53] Detective Ev: I think that's exactly what it is. I know for myself; I wasn't even really in tune with my intuition for the first 18 years of my life. I finally started figuring it out and it's led to some of the best opportunities ever.
It's literally what got me into FDN. It's what got me into speaking outside of this. My whole life is kind of dictated by that now. I think the opposite problem is, and it's not necessarily a bad thing because we should praise doctors for what they've been able to do. I mean, they are the pinnacles of financial success. They actually have one of the highest debt ratios out of any career, but that's beside the point.
Income wise, they're doing great. Education-wise they're doing great. Intelligence wise, the average IQ of these people is pretty up there. I understand why we put so much praise into them, but we need to also remember as the consumer, as the patient, they're still imperfect people. I am imperfect. You are imperfect. We have not recommended perfect things every single time that we've had a client. It's okay then to use our own gut and figure out, well, maybe I need to go do something else. That's fine.
Now, when you were doing your research, did you remember a time or place that made you switch from conventional to natural? What I mean by that is, I know that you've had these feelings and that you knew it didn't make sense. But clearly, it started with the conventional route, let's go to the doctor.
Do you remember that time when you transitioned to more of the natural stuff? You might not remember it, but I'm just always curious about those moments.
Game Changer – Getting to the Education & Functional Lab Data
[00:11:08] Piper Gibson: I do. I read a book. There's not a lot of data and information on tic disorders. And the studies that are out there are really kind of old.
I found this book called Natural Cures for Tics and Tourette's. I'm not kidding, I sat down Saturday morning, I got it on my Kindle, and read the entire thing. I spent the entire day reading this book. I thought, oh my gosh, we have to try this because I felt like we tried everything else.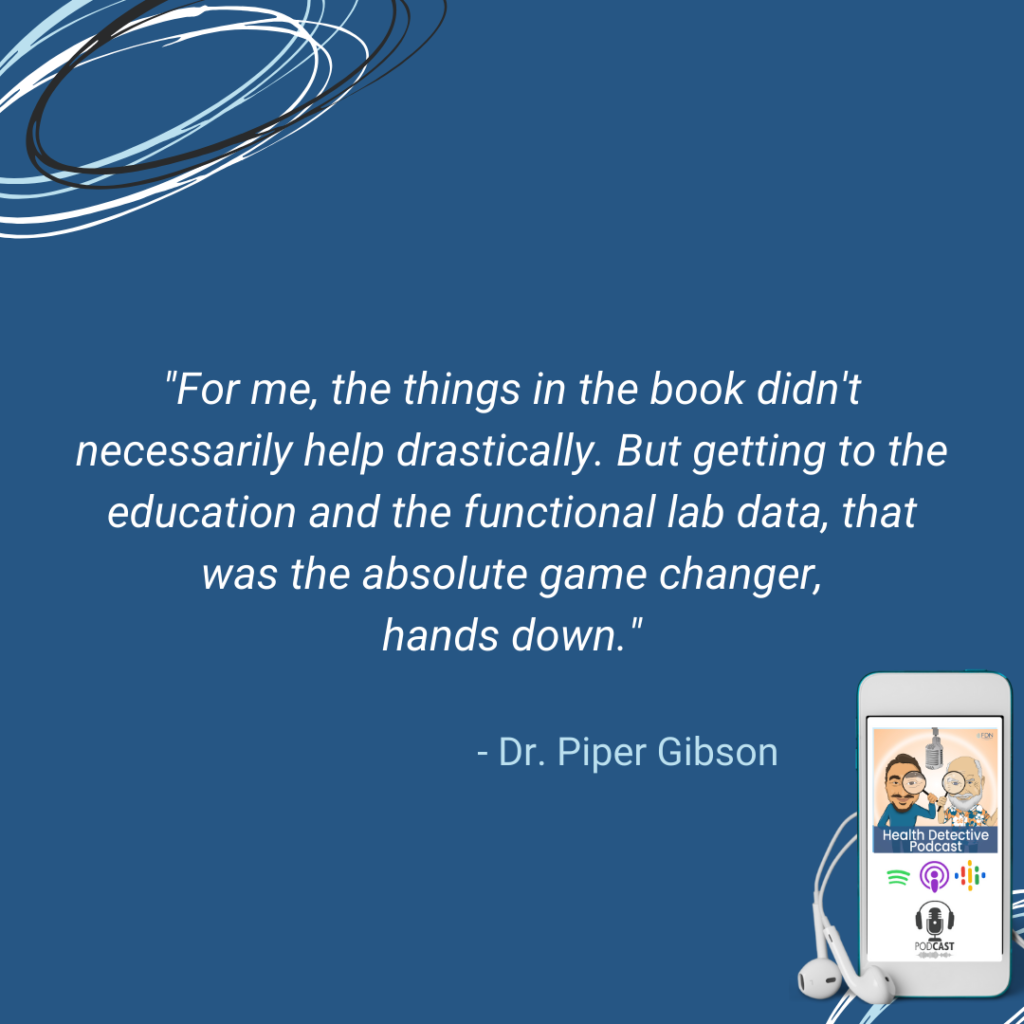 That is really where that switch got flipped. I was like, okay, we have to make these changes. For me, the things in the book didn't necessarily help drastically. But getting to the education and the functional lab data, that was the absolute game changer, hands down.
[00:11:48] Detective Ev: I always say it doesn't actually need to be like a magic bullet type of thing. The book doesn't have to be perfect. The system doesn't have to be perfect. What we need is something to change the paradigm enough to actually encourage us to go into that direction.
When I saw that organic food healed up my skin a lot and made my mood better, I still had plenty of problems. I had like significant portions of my problems. But I got something to move that needle, which then led me to believe, well, wait a second. There is no way I could possibly know everything about all this stuff, like diet or whatever right now. Maybe I can keep diving in more.
So, eventually you get to FDN. That's great. What were you learning in the course? Like what were some of the first things there that really helped move the needle for you?
Mindset Switch About Food & Gut Health While Working on Tic Disorders
[00:12:25] Piper Gibson: Really looking at the nutrition and the gut health piece. Because he was, I don't know, 8, 7, 8 at the time. Looking at the hormones for him, wasn't a big thing. But being able to look at food sensitivities, being able to look at what was going on in the gut, being able to look at how food really influences every cell, organ, tissue, system, everything in the body, was really eye-opening for me.
Because we were, my husband and I both, very athletic. We weren't overweight, but we didn't know any better. So, you know, my kids, by the time they were one probably, could order chicken nuggets from the backseat of the car. They were ordering their own stuff at the drive thru.
For me, it was really this mindset switch about how food and gut health drastically impact everything else that's going on in your body.
[00:13:14] Detective Ev: I think what you just said is something that I've dealt with, and many people deal with. You're not stupid. You're obviously a very intelligent person. I like to think I'm reasonably intelligent. But we as a society, still only really associate weight with food. That's kind of one of the things. We think if we're a normal weight (and I've always been a lean guy), oh, well that means that the food that I'm eating has no effect on my skin, the mental health, the gut pain that I have, all these different things.
The truth is it's probably more related to that some of the times than it even is the weight stuff, depending on the person.
Working on the Gut for Tic Disorders
It's really a shock when we understand one little meal choice that day could be the difference for some people if they're super sick, between the tic, between the headache, between whatever symptom they might have. That needs to be noted and we gotta do something about that.
So, you're doing the gut stuff with him. I'm sure some testing was done. What were some of the things that maybe were found if you recall? I feel like someone like you is going to.
[00:14:04] Piper Gibson: Oh yeah.
Definitely, a lot of microbiome imbalance, a lot of yeast overgrowth. I can look back now, connect the dots. This is where health histories come in dramatically, is looking back the fact that he had chronic ear infections. For me then, it was like, okay, take an antibiotic. Not why is he getting these ear infections?
Being able to connect those dots with he'd taken all these antibiotics, his gut was a wreck. So, balancing the gut, but figuring out that he had severe dairy sensitivity, severe gluten sensitivity, and even now, 10 years later, he can tell you what gluten and dairy do. They're just kind of, I would say like poison to him. They're not beneficial at all. All of these years where we've heard, like drink your milk, drink your milk. Good Lord, this child should not have been drinking the milk.
Yeah, really looking at the gut, looking at that piece. And you know that we, at some point, had done some genetic testing, which really kind of helped us to refine everything to a 'T".
Rip-the-Band-Aid-Off Mom for Tic Disorders
[00:14:58] Detective Ev: We will absolutely touch on that cause I think it's fascinating. I think it's cool that we have access to that as FDNs. I don't want to get confusing for people. It's not taught in the main course, but we have access to 60 labs outside of graduating, and this is one of them. It's kind of cool.
Now you said 10 years later. So how old is your son now?
Piper Gibson: He's 16.
Detective Ev: I think one of the obvious questions that I need to ask you, especially as someone who had the success with their own child. Six years old is still old enough that they are very reluctant to a lot of things. I'm sure he had those quote/unquote "fun foods" at one point in his life and then might've needed to switch that up. What the heck was the process like helping him understand that he needs to eat a certain way? Like how did this actually get applied?
[00:15:36] Piper Gibson: I'm what I call a Rip-the-Band-Aid-Off Mom. There's moms that are like really slow. They're going to do it really slow. And I'm like, nope. We're going to do this.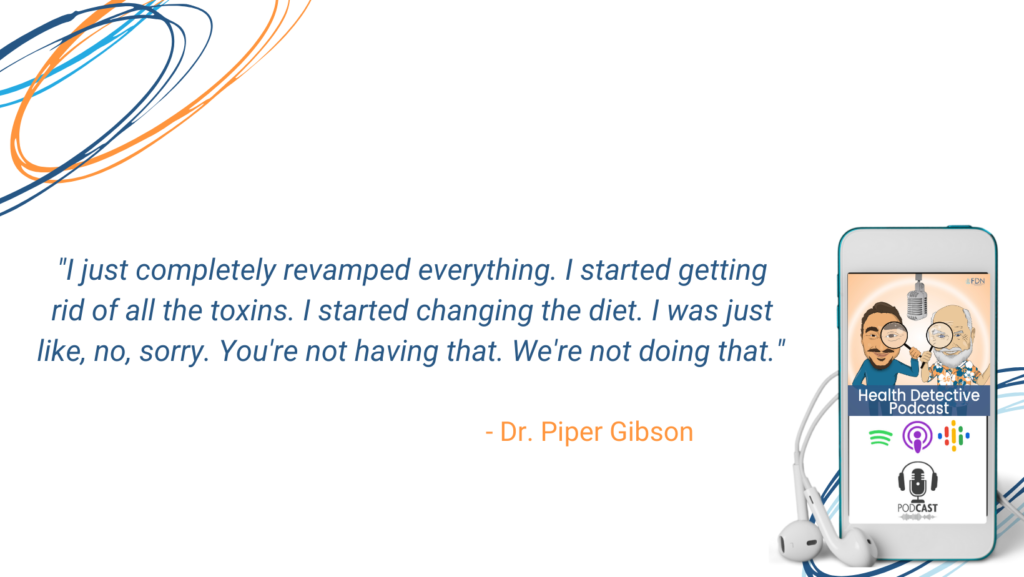 I just completely revamped everything. I started getting rid of all the toxins. I started changing the diet. I was just like, no, sorry. You're not having that. We're not doing that. We followed a really strict paleo diet for probably three years. I was cooking everything at home. And if we were on vacation, I was going to find someplace that we could really kind of feed that and make sure that he was getting those right foods.
Lead By Example When Working with Tic Disorders
This is my opinion now, and I know this from working with tons of clients, is do it when they're little. Because if you wait till they're 12, 13, 14, they're so much more stubborn. Once they're 16, they have a car, they're driving around, forget it. You're going to have a hard time getting them to stick to it.
But I feel like we just rip the Band-Aid off. We were just going to make these changes because I had to see if it was going to work.
[00:16:26] Detective Ev: Well, listen, 12 might be more stubborn, I get that, and they're more independent. But six is still plenty of time to have these behaviors instilled into their mind.
So, I think some credit needs to be given to the fact that you did this too. There's so many people out there that I've actually referenced this on the podcast before. You've probably seen this meme. It's on Facebook. It's like a little black and white thing. It's cut into two pictures. Each side is a mom sitting with her child on the bench.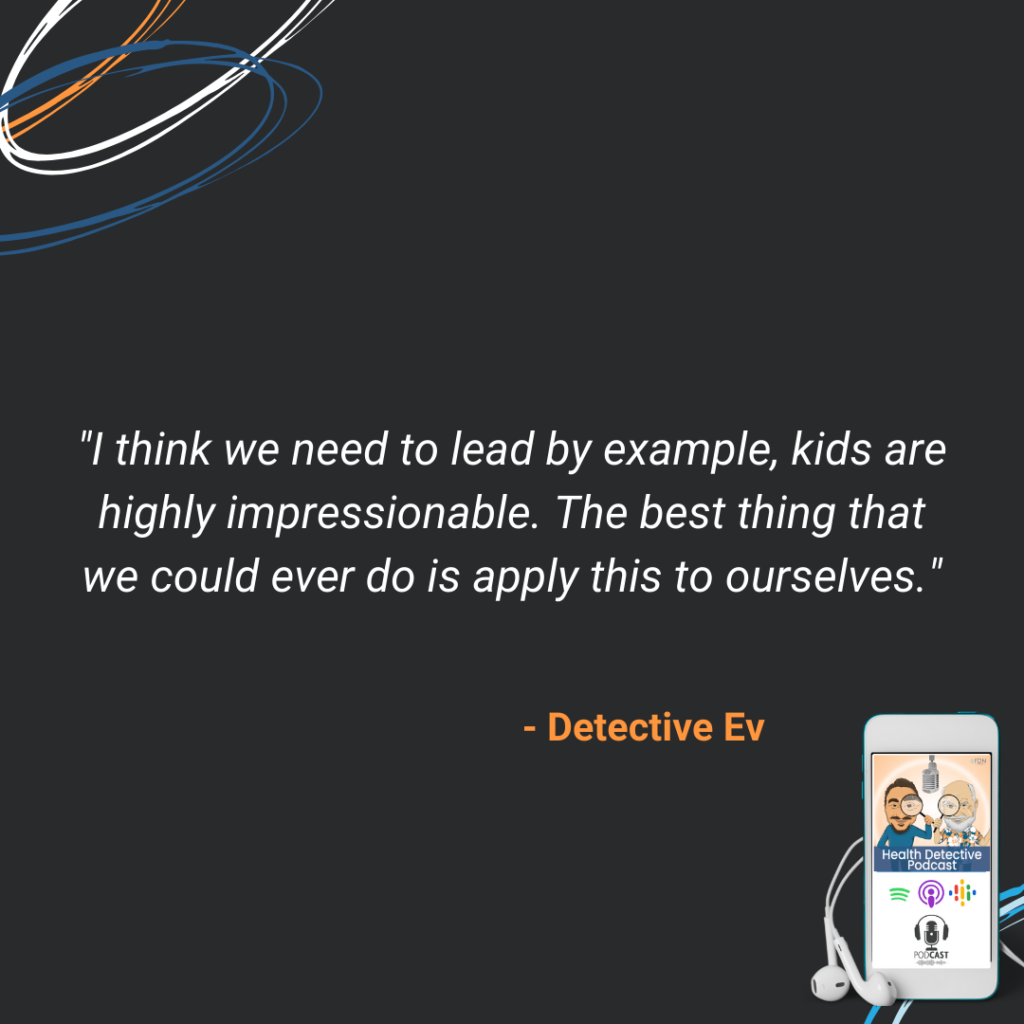 The one side basically is the mom saying, like, how do you get your kid to read? And that side is the mom reading a book and the kids reading a book. While the mom asking that is on her iPhone, so the kids on the iPhone. I think we need to lead by example, kids are highly impressionable. The best thing that we could ever do is apply this to ourselves.
And you were doing this yourself the whole time. Right?
Working On Tic Disorders Changed Everybody
[00:17:07] Piper Gibson: I was. And when I talk about, I started out and it wasn't about my health? I saw major changes in my own health. I didn't know any better once I started this process was that I had lifelong anxiety.
I was extremely paranoid as a child. I was afraid I was going to be kidnapped. I didn't want people looking at me. I heard a helicopter in the middle of the night, the bad guys were coming to break in. I had horrible anxiety. Then when I was in college, I had gone to the health center and they're like, you need some, I don't even remember what anti-anxiety medication it was. You have anxiety. I was like, I do?
It really did not help. It did not make things any better. So, I just thought like, that's who I am. I'm this paranoid person. I'm shy. I would have these panic attacks. I've had some severe panic attacks. As I went through the process of working on myself through FDN, completely changed my lifelong anxiety.
I mean, I woke up probably 30, 40 days into making changes on myself, because I wasn't just going to make him make the changes. I was doing it for everybody. It was like the heavens opened up and I was like, this is a brand-new feeling. My anxiety was gone, and I keep it gone. I do not struggle with it anymore.
So, it started out, you know, his health, but it ended up changing everybody's life.
Clinical Anxiety Disorder vs. A Worry Wart
[00:18:24] Detective Ev: I think sometimes, especially as people in Western society, we don't realize how bad we feel because of everything that's going on. It's almost as if we can't even comprehend how much better we could feel.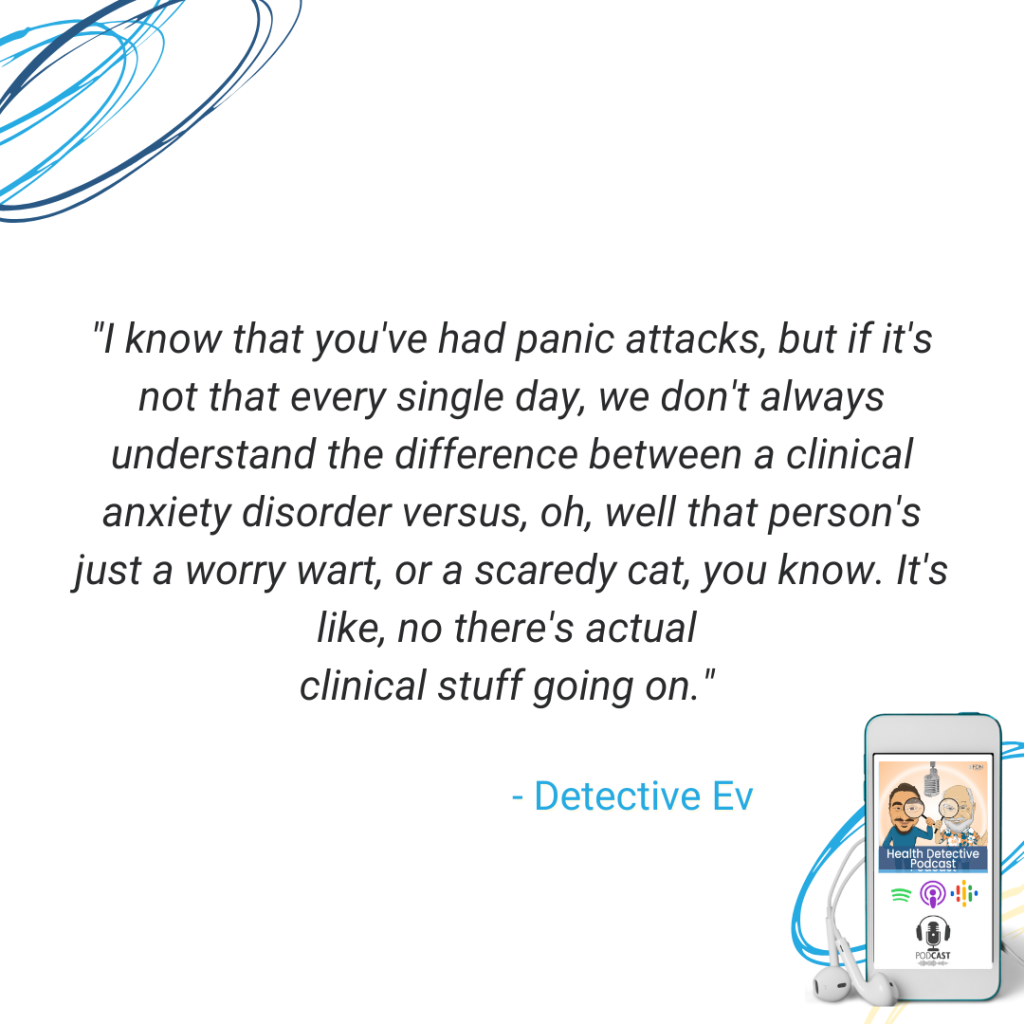 And as someone who's dealt with anxiety, I think that's amazing. I love any testimony that can provide someone relief of that. Cause I think anxiety and even depression, definitely anxiety, when it's not full out maybe like panic. I know that you've had panic attacks, but if it's not that every single day, we don't always understand the difference between a clinical anxiety disorder versus, oh, well that person's just a worry wart, or a scaredy cat, you know. It's like, no there's actual clinical stuff going on.
When you said that, I was like, wow, because you gave me memories of that exact kind of stuff. Just super paranoid, thinking the worst case of everything. I always thought like if I left my water bottle somewhere, someone was putting like poison in it or whatever, and I'd throw away the water bottle. Then you kind of realize as you get older, some people have those thoughts and most people do not. They're not necessarily thinking like that.
With that all said, the one other thing I wanted to bring back with, like the kid things, I know there's so many moms that listen to this podcast. How did you get your son, six years old, probably just starting like kindergarten or something, how did you get him to do this at school? Did you get him to do it at school? Like what happens there?
Be Your Child's Best Advocate When Working with Tic Disorders
[00:19:33] Piper Gibson: Yes and no. We had a lot of struggles in school just because of the symptoms he was experiencing. So, I did pull him out.
I homeschooled my kids for three years because I needed to help get him back on track. That was a big piece of it. Then we did some private school, and now he's in a public high school. But that was a piece of it. I had a lot of control. I had like ultimate cosmic power. But what I tell parents is, be your kid's best advocate.
If you know they have food sensitivities and there's things they should not be eating. Get up, make them a lunch every day. Go to the school and say, listen, do not feed my kid anything that is on this list or whatever. I mean, you need to be your child's best advocate. I really am of the opinion, like do not be afraid to go to the school and tell the school what to do.
I just really advocate for that. You have the power, please take it back, please. You know what's best for your child. Don't let them tell you.
Whatever It Takes When Working with Tic Disorders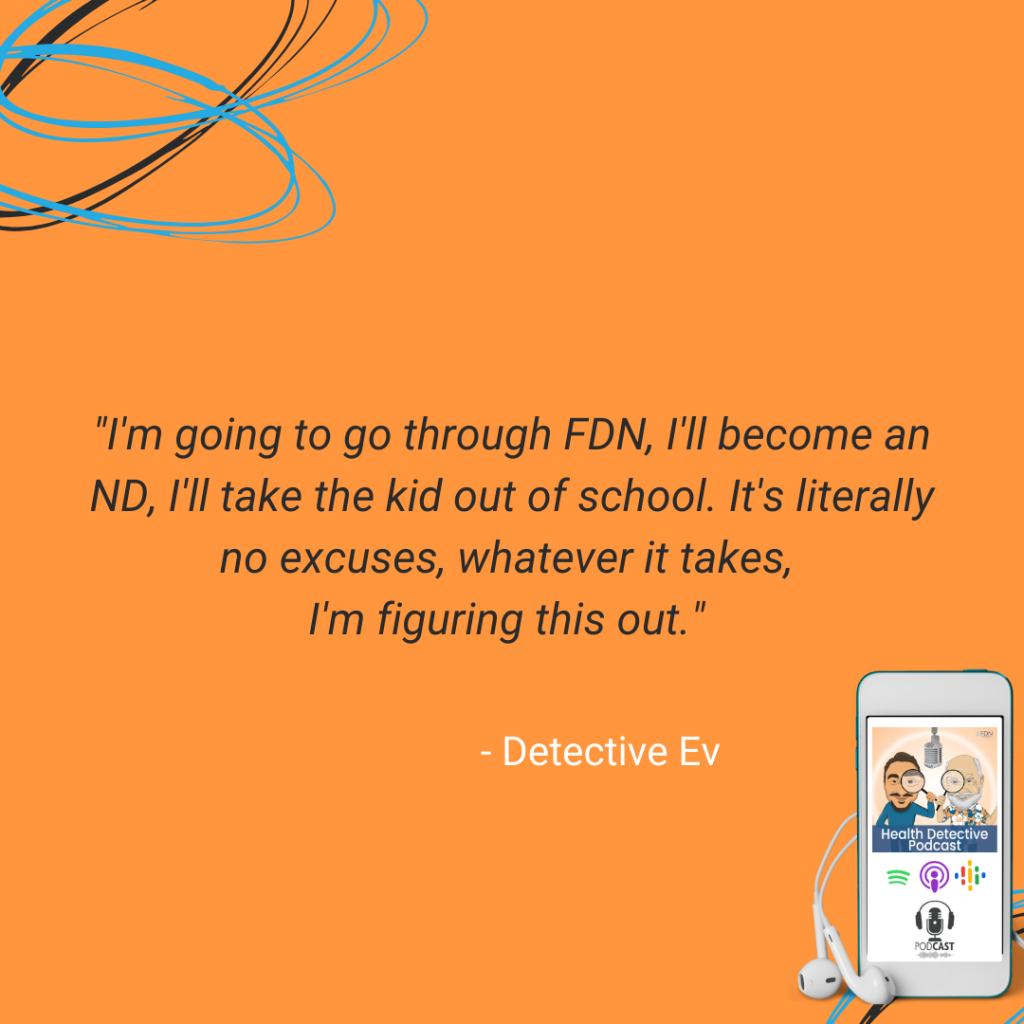 [00:20:27] Detective Ev: Mama Gibson ain't messing around. I love this. I'm going to go through FDN, I'll become an ND, I'll take the kid out of school. It's literally no excuses, whatever it takes, I'm figuring this out.
I think that's why this space, we have a variety of individuals. I mean, I'm a 26-year-old male myself, but it's overrepresented with moms. That's because I just think they're not messing around. Of course, women tend to have more autoimmune disease and these mystery symptoms anyway, but I think they've seen it happen more in their kids.
My God, if mom sees a sick kid and can connect what's happening there and knows they have some control, forget about it. Those are the best clients ever. They're the best FDNs. They're not messing around.
Before we jump into the genetic stuff, I've just a couple more things, especially for people that are listening to this podcast right now. Many are now coming to this wondering what it's like to be an FDN, going through the course, those types of things. What would you say was the biggest benefit to you becoming an FDN? Cause I know this kind of changed your whole life even career wise.
I don't know if you consider it the career stuff or the health stuff. I'm sure it's kind of tough to go between the both, but what were some of the best benefits that you got from going through the course?
FDN was a Game Changer for Tic Disorders
[00:21:27] Piper Gibson: I definitely will say it was both.
I didn't start out going to FDN because I wanted this to be my career. I just simply wanted to help this child. It wasn't about a career. When people started seeing changes, when I was getting phone calls from people saying, what did you do to this child? He's like a new child. I was like, hmm, maybe I'm onto something here. That was that kind of slow career transition.
But definitely the health stuff. It's been incredible to watch the changes in other people. My sister will say, had she not done all of these things for herself too, this approach, that she probably would have committed suicide. Now, years later, she's going through the FDN program, she's almost finished.
For me, it's really about both of those things. Like the career change has been incredible. This was not on my radar 20 years ago when I was in college. But the health stuff too has been just incredible.
It just brings me so much incredible joy and passion when my clients call or email or text and tell me, I feel like I've got my child back. I feel like my child has their light back. You know, thank you so much for listening to me and believing in me and just knowing that my child had these things too.
It is just a super big, powerful combination of everything. What FDN teaches is just a game changer. It helps to connect all of those dots that I felt like I was missing.
Commercial Break – Try the FDN Course for Free
[00:22:47] Detective Ev: Well, hey, I don't know about you, but that sounds like a pretty good career path to me. Now, if you're listening to this episode, considering going through the Functional Diagnostic Nutrition certification program, you can actually try the beginning of the course now completely for free no credit card required, nothing like that.
What you want to do is go to fdntraining.com/tryfdn that's fdntraining.com/tryfdn. There is no shortage of people who need the work that we are doing and the services that we're offering right now as FDNs. Unfortunately, not everyone in this world is supposed to be an FDN. We do need other jobs out there. But maybe you're one of those people like myself or Dr. Gibson, who was kind of meant to do this work in one way or another.
So, if you feel like that's you and you want to try the course first, all you got to do is go to fdntraining.com/tryfdn.
Okay. Back to the episode.
It's a Special Thing to Give Someone Relief in Life
It's so hard not to just become super passionate about this if you've dealt with this stuff. We just understand firsthand how badly this affects your life.
I've always realized like our time here is pretty darn short. I mean, relatively speaking, when I talk about my mom having health issues for like 20 years, man, that's a fraction of the life. That's a literal fraction of most people's lives is spent wasting time with this kind of stuff.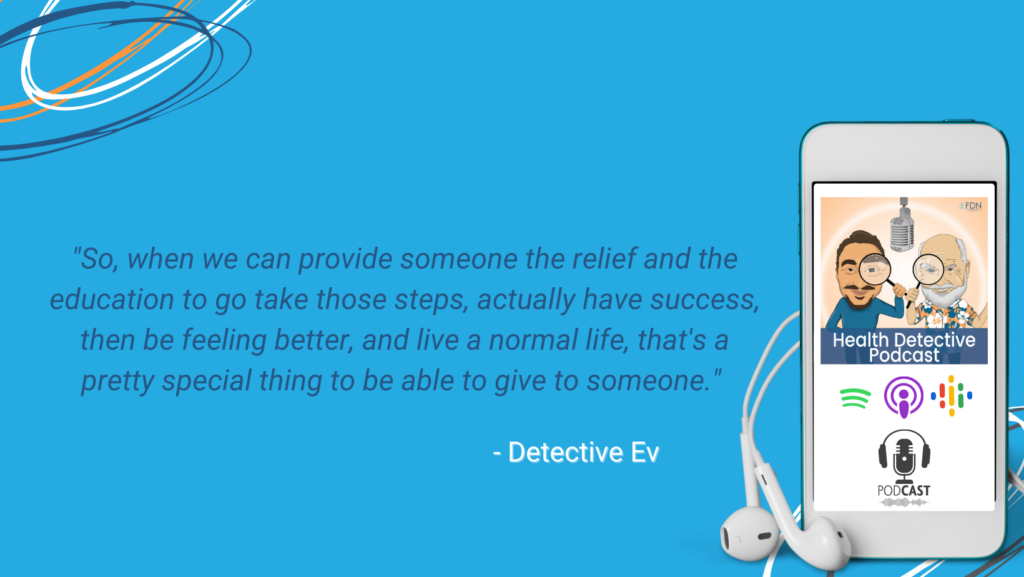 So, when we can provide someone the relief and the education to go take those steps, actually have success, then be feeling better, and live a normal life, that's a pretty special thing to be able to give to someone.
FDN Director of Course Enrollment
I haven't had as much experience like with the kids, but I would imagine that's one of the coolest things ever, because the kid doesn't even know what's happening. They don't know what's going on. This might be affecting school for them. It might be affecting their social life, as it was in this case, I suppose. That's pretty powerful stuff. I think that's a wonderful testimony to FDN. I didn't know that your sister was going through the course either, that's amazing.
Alright with that all said, you eventually were working for FDN yourself. I know that you were like the main person doing the course enrollment, right?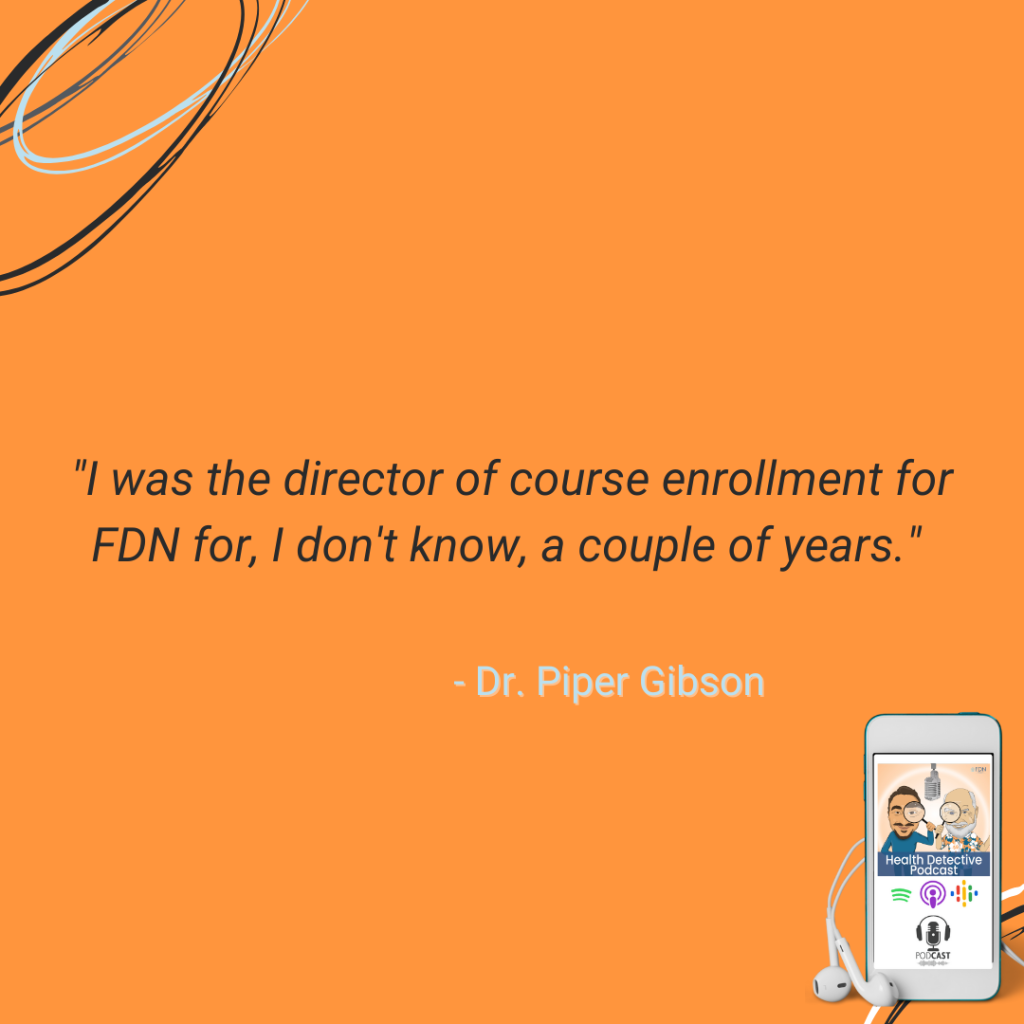 [00:24:39] Piper Gibson: I was. I was the director of course enrollment for FDN for, I don't know, a couple of years.
[00:24:43] Detective Ev: Very cool. I love that.
It's just so passionate about it, that you end up like literally getting people into the course. Now, not only are you doing FDN, but you've added some additional things to it as well. I know that you're doing the genetic testing.
I just want to preface this so this is not confusing to anyone looking into the FDN course. At FDN, I just did an episode on this recently and we've been breaking down the main labs that we do in these episodes that are surrounding this one. So just check out our other episodes. We teach about five to six main core labs that are in the FDN system, right?
FDN's Medical Director Program & Additional Trainings
They do not include genetic testing. They don't include organic acids testing or hair, tissue, mineral analysis. However, FDN, thankfully, our founder Reed, is not a dogmatic guy. He believes in his system. You're going to have to give him a good reason that you want something else, but you could see throughout the years, he's allowed other things in that have really worked for people.
So, once you graduate, you get access to our medical director program and additional trainings, where you can, if you choose, although it's not required, to use other labs. You can add those things on. I actually occasionally use the genetic testing that Piper's talking about today or is going to talk about.
With that all said, just so that's clear for people because I don't want them to think. Well, some people, you know how it is, they think they're going through the course and learning about blood chemistry or genes or organic acids. We have access to all that. It's not in the main course though.
So, all that said, how did you get into the genetic stuff? Why did you end up finding that?
Utilizing Genetic Testing with Tic Disorders
[00:26:02] Piper Gibson: FDN really changed so much of what was going on. But we actually had a doctor that was amazing and had suggested like, hey, why don't we do some genetic testing on your son?
If you start Googling, MTHFR, it is a gene. It is the hot, sexy gene, I call it, because everybody knows about it. But I started doing my own research. And we found this doctor who was like, let's do some genetic testing, just see what's going on. For me it was like the cherry on top of the cupcake.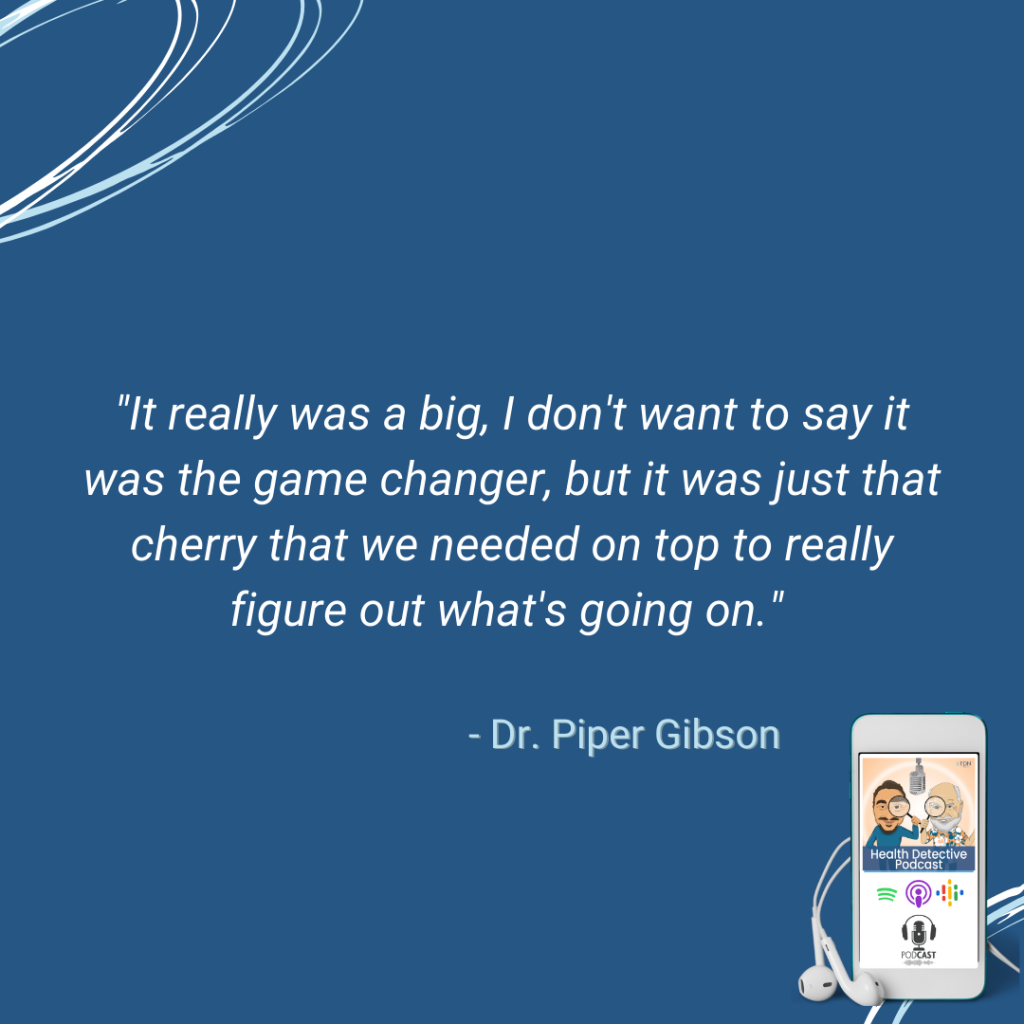 It really was a big, I don't want to say it was the game changer, but it was just that cherry that we needed on top to really figure out what's going on. I fell in love with it, and I use it as part of my protocol with my clients. I use the FDN approach. I use D.R.E.S.S. I use stool pathogen testing. I use food sensitivity testing. I do use the organic acids testing because you have a fantastic, advanced course on it. But I'm using all of these things in combination.
I just simply use genetics with my clients as that cherry on top, as that, we're going to look at it as a roadmap of, okay, here's your genes. We hear genes load the gun, environment pulls the trigger, but it's so much more than that. It's our diet, our toxins, our lifestyle, everything else that's kind of going on. Our nutrients that's going on in our body. So, I really use it as this roadmap. We know all of these other dysfunctions are going on in the body, like your guts a mess. But how does that relate to your genetics?
FDN Provides the Tools to Get Better
[00:27:27] Detective Ev: One of the really important things that you just said is how we can describe to people that are listening to this and may be a little confused. Why do you have the main course and the main labs and then this other stuff? It's what you just said, it's the cherry on top a lot of the times.
The FDN system is something that will work probably to a hundred percent for the vast majority of people. But there are plenty of people that come through and they get like 80%, 90% better with FDN. Then it's like, all right, well, what are we maybe missing here? That's why FDN provides us all these advanced tools. So we can figure out that last 10%, 20% for people. No one is going to go through an FDN program though and get 0% better. I have never seen that and I've been here for five years. I've never seen someone go through and only get 50% better. I mean, it's always really positive results depending on the compliance.
Then we have those tools available to get to that extra stuff. What I've definitely never seen (and this just feels so cool to say considering how complicated people's health issues can be), in five years of being here, I have never once seen someone that had worn out all the options at FDN and was like still sick, right? They get better. They can always find something that might work for them. Maybe they had to tweak around a few things to find that last 10%, but the tools were still here. The education was still here. They were able to do that.
So why do you think the genetic stuff might be important in a general sense?
Looking at SNPs for Tic Disorders
Because now you're using this religiously from my understanding. You use this with every client. Why is that important? Because I know some people are like, well, is this actually good science yet? I think we need to kind of settle that debate because there is good science, it's just on certain SNPs.
Maybe we could describe for people why this would be necessary in your opinion to use in practice.
[00:28:59] Piper Gibson: Yes.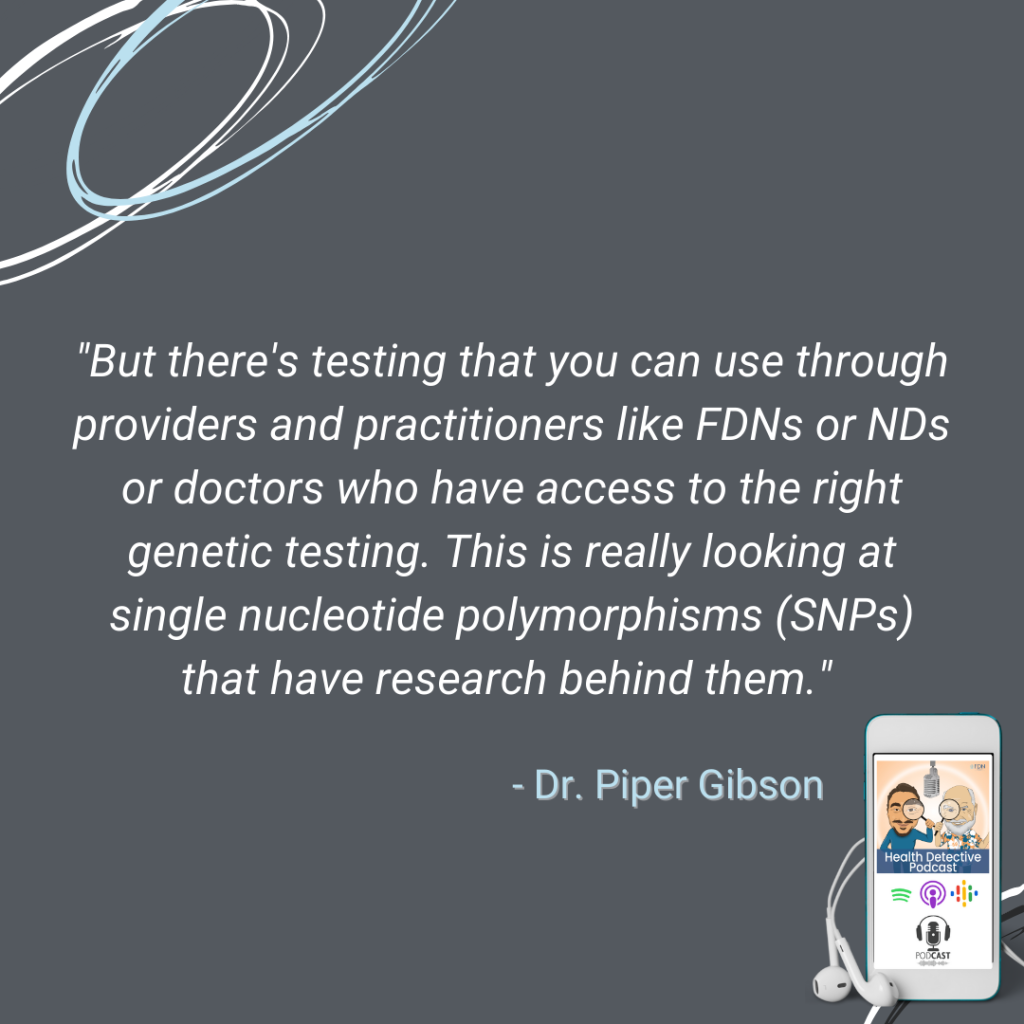 So, you have novelty, genetic tests that you can go down to Target or Walgreens and grab that novelty test off the shelf. You're going to get 12,000 pages of raw data with genes that have no research, no studies, no nothing on them. But there's testing that you can use through providers and practitioners like FDNs or NDs or doctors who have access to the right genetic testing.
This is really looking at single nucleotide polymorphisms (SNPs) that have research behind them. We know that this data supports this gene. For example, one of those genes is something called GAD1. That has to do with the conversion of glutamate to GABA. And there's a lot of studies, there's a lot of research behind it.
When I'm looking at genes, I'm looking at 35 to 55 genes. I'm not looking at 12,000 pages of raw data. Please don't bring it to me. I will not look at it. I love you, but no. So, when I'm looking at that, I'm like, okay, these are these little tweaks that we know genetically we can make changes to support your health for a lifetime. This is your roadmap.
Genetic Testing Provides a Roadmap for Tic Disorders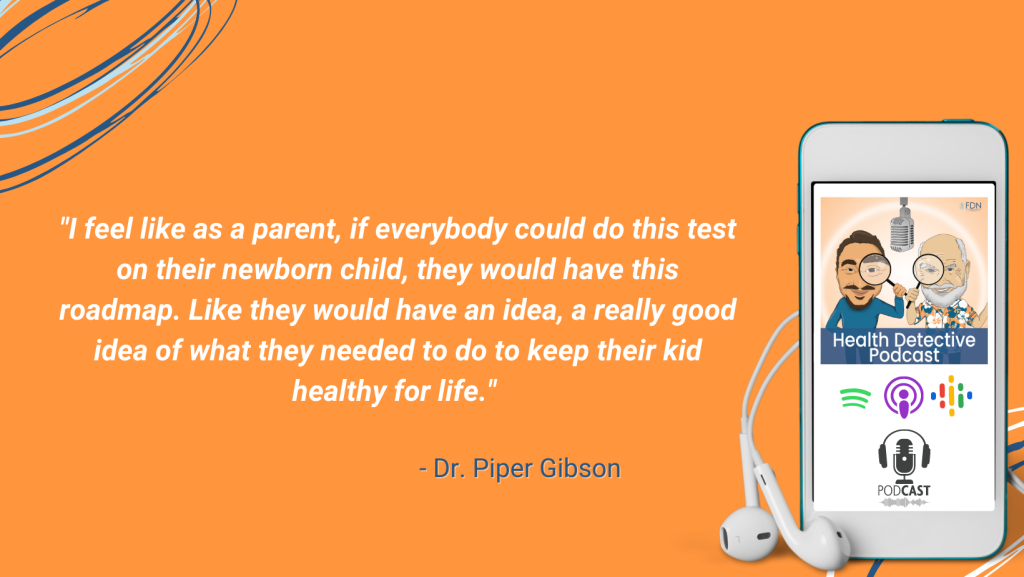 I feel like as a parent, if everybody could do this test on their newborn child, they would have this roadmap. Like they would have an idea, a really good idea of what they needed to do to keep their kid healthy for life. They'd get this kind of healthy start.
For me, the genetic testing is a lot about compliance because they can see the data from like food sensitivity and gut health. But when we can link it to what's going on genetically, then the clients are like, those are my genes, and I cannot change them. And these are the things that I need to do to support them.
[00:30:33] Detective Ev: Especially when we're talking about genetic SNPs, which are not necessarily these ultimatums or terrible things. Can we kind of explain what "genes load the gun, environment pulls the trigger" means? Because that's something that's thrown around in the functional space.
I'm sure we have plenty of people listening today, that again, if they haven't even gone through something like FDN, but they're considering it, I'm sure they are more of an advanced person than the average person in terms of knowledge about health. But maybe they're kind of confused, like, all right, well, do genes actually matter? Like what does this mean? So, what does that phrase actually mean, "genes load the gun, environment pulls the trigger"?
Finding Genetic Code Changes with Tic Disorders
[00:31:05] Piper Gibson: I'm going to explain it in layman's terms. You get one gene from mom, one gene from dad. Sometimes they're gonna make the rungs in our double helix in our ladder. Sometimes we get a change in that code. People will call it a variant, a mutation. It's a single nucleotide polymorphism, basically, you know, our codes getting changed. That gene doesn't quite function the same. Does it predispose you to things like, I call them, oh my God, I'm going to die genes?
I'm not looking at things like cancer or breast cancer or colon cancer or anything like that. These are just these little modifications. Think about your computer code gets changed. Maybe something happens, you get a virus, your computer code gets changed. Your computer doesn't work as well. It's the same thing with your genes, your genes don't work as well. They don't maybe express as well. They're not sending out that right signal to do what it's supposed to do. It's not that it's shutting down the system completely. It's just that maybe it's not working quite as well. It's not working quite as fast or maybe it's working too fast.
We know that there's certain things that are going to influence the way that that gene works. A lot of that comes from environment.
Focusing on Tic Disorders – Genes Not Working Properly
So, the GAD1 gene that I mentioned, it's influenced by glutamates. Well, we can get glutamine, which is an amino acid from foods, or we can eat a bunch of processed crap that is full of glutamic acid, which excites the brain. We know that when we have that particular gene variant (maybe you have one, or maybe you have two) that we cannot take that glutamine, which we need in our brain and convert it into GABA, which is very calming.
So, you've got excitatory that needs to be converted to calming. We're looking at, okay, we know here's another reason you should not need a bunch of boxed processed crap because you have these genetics. But we know that that signal is just kind of getting changed. So, when we're looking at, genetics loads the gun, yeah.
You might have this little predisposition and 200 years ago it may not have mattered because we weren't eating a bunch of garbage. But now that our kids are going to school and eating the standard American diet, we know that we're not doing those conversions very well. That's really how I'm looking at it and putting those pieces of the puzzle together for parents. Does that help?
[00:33:10] Detective Ev: Absolutely.
And you already beat me to my next thing. I was about to say, in theory then, do you believe the genetic SNPs, not all genetic things, but genetic SNPs wouldn't even have really mattered 10,000 years ago in most cases?
Toxic Environment Impacting Our Genes and Tic Disorders
[00:33:22] Piper Gibson: For the most part, no. Because we weren't living in a toxic soup with 60,000 untested chemicals on the market.
We weren't eating this highly processed garbage. We weren't eating 30 pounds of sugar in a year. We've gone from the society that eats, 200 years ago, we might've had five pounds of sugar in a year. You had a cake on a birthday. Maybe you went to the county fair, and you got a lemonade. You were not eating 30 pounds of sugar.
So, when we look at all of these outside influences, toxins, foods, all those that are impacting our genes, that I think 200 years ago, 300 years ago, we didn't have these kinds of situations cause we weren't doing the crap that we're doing now.
[00:34:02] Detective Ev: I think that just shows how potentially insignificant these were.
Now they've become really significant because of our environment. Even 200 to 300 years ago, I mean, we're still talking an era of agriculture, right. We know now that, what's the guy called, the ice man or whatever. I don't mean Wim Hoff. I mean that dude that was found from 3,000 or 4,000 maybe even 5,000 years ago, don't quote me on it. I do remember that he was found with Lyme. He was found with wheat belly, and he died from like an arrow to his back.
But the point was, he had this kind of wheat stuff going on. Humans were already being affected thousands of years ago by this. And maybe this wasn't even that big of a deal a couple of hundred years ago.
Genetic Defect vs. Genetic SNP
So, the genetic SNPs are more relevant. I think that's what people need to recognize. This is newer science, but it is really useful in today's world where our environment is just (I never mean to sound pessimistic or anything), but it's not in our favor. You could be doing near everything, right. If you live in a city, guys, I'm sorry. You're still getting tremendously affected by unnatural things every single day. Just the toxic load from breathing in that air is pretty crazy. It's unprecedented, what it could do to a human being.
Now I know that this might not be your thing, but I'm assuming that you'd be able to explain this because I don't even really fully get this. What would be the difference in between like a genetic SNP and someone who has a true genetic birth defect or disease, they come out of the womb and Western medicine knows immediately that something's wrong. Like, what is the difference there genetically?
[00:35:18] Piper Gibson: You're looking at a chromosomal defect versus a single nucleotide polymorphism.
You've got your chromosome and you've got all of your genes on your chromosomes. When that happens, maybe you're missing a chromosome, there's an addition or deletion within that amount of chromosomes that we have. We're looking at two different things like the genes, they're wrapped around those chromosomes.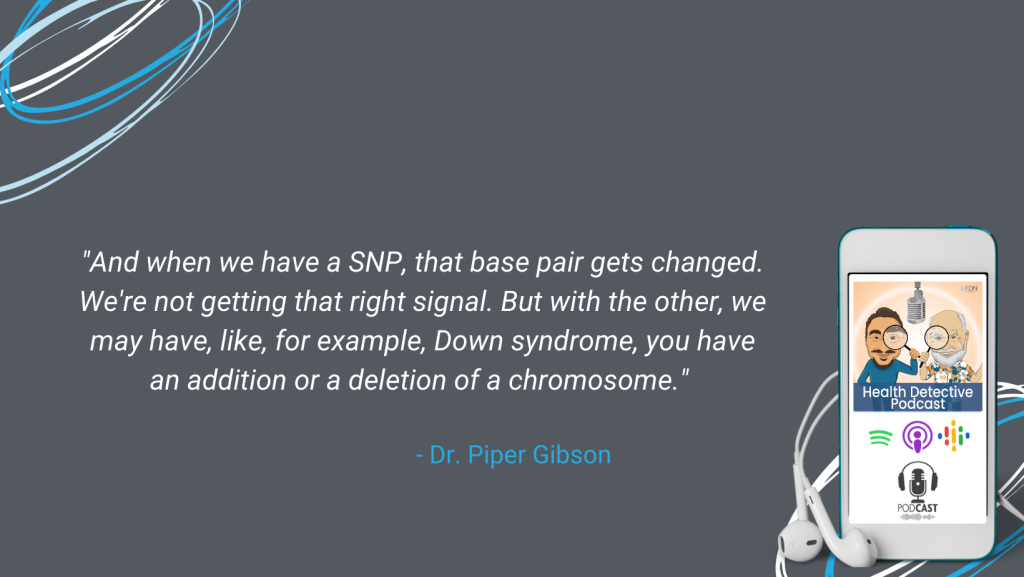 So, we're looking at those very minor changes in those base pairs. You have four base pairs; they pair up to make the rungs of that ladder. And when we have a SNP, that base pair gets changed. We're not getting that right signal.
But with the other, we may have, like, for example, Down syndrome, you have an addition or a deletion of a chromosome.
Defects Are Evident, SNPs Are Hidden
That's really the difference. And you hear the word mutation versus variant. Mutations are actually rare. It's less than 1% of the population. And SNPs or variants are more than 1% of the population. It means that more of the population has that single nucleotide polymorphism.
[00:36:18] Detective Ev: Okay.
Wow, I never actually heard it broken down like that. That was very helpful for me. And once you said the chromosomal thing instantly I thought, I feel like maybe that's what the average person knows of, like myself. Oh, Down syndrome we hear about, I want to even say like 21st chromosome or something. Is that correct? Or 23rd?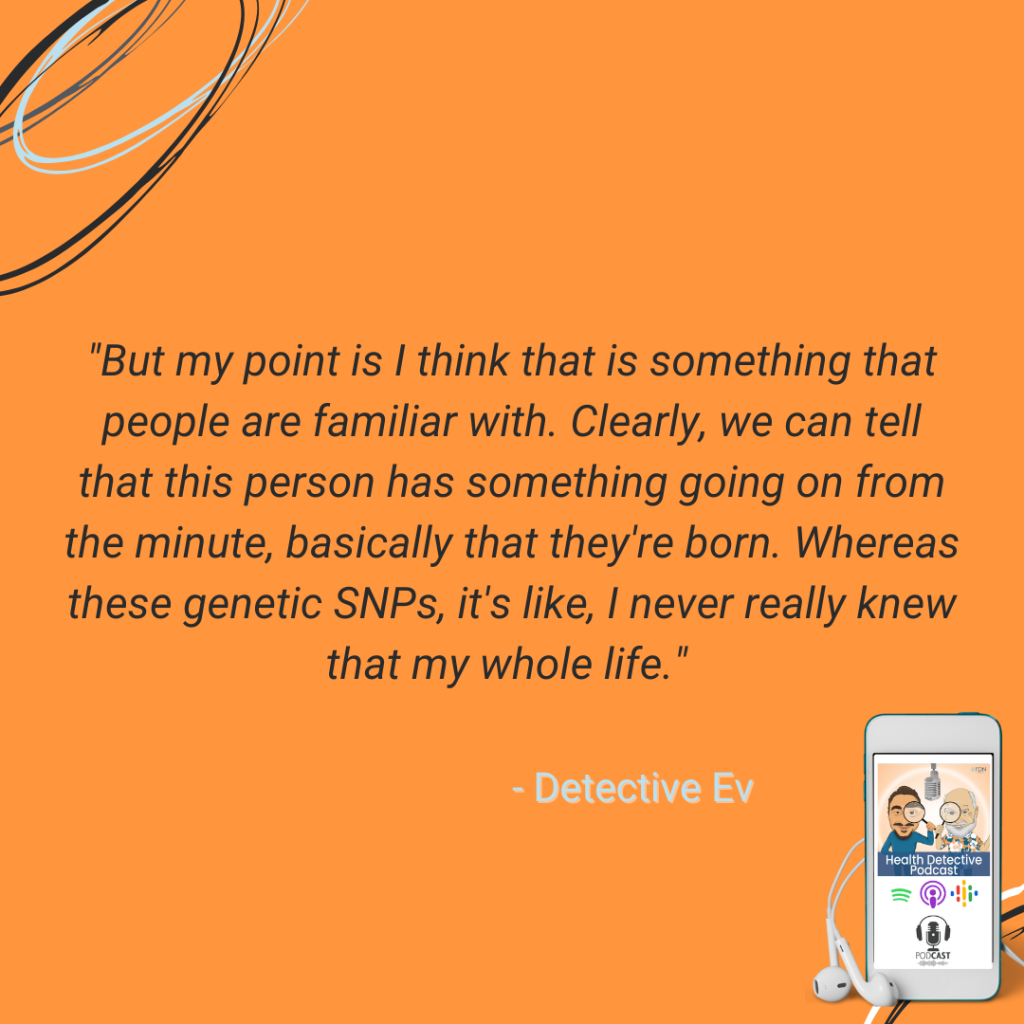 I feel like we learned about this in school though. It's not important. But my point is I think that is something that people are familiar with. Clearly, we can tell that this person has something going on from the minute, basically that they're born. Whereas these genetic SNPs, it's like, I never really knew that my whole life.
Once I finally ran this stuff, and I think what I'm about to say is actually probably the biggest proof that this stuff's pretty cool and has a lot of applicability at the right times. I went through a health journey for almost seven and a half, almost eight years before finally running a genetic test.
Focusing on Tic Disorders – Genetic Testing Is Very Relevant
Now, when I did this through Piper, I saw that I had terrible methylation, remember. You were looking at this, you're like, yeah, this is pretty banged up. However, I didn't necessarily have the symptoms associated with those types of SNPs anymore. What was interesting though, is my homocysteine, when I ran blood work, even though I feel really good, was still relatively high. I'm so thankful, thank God I found that because that could be associated with heart disease later in life.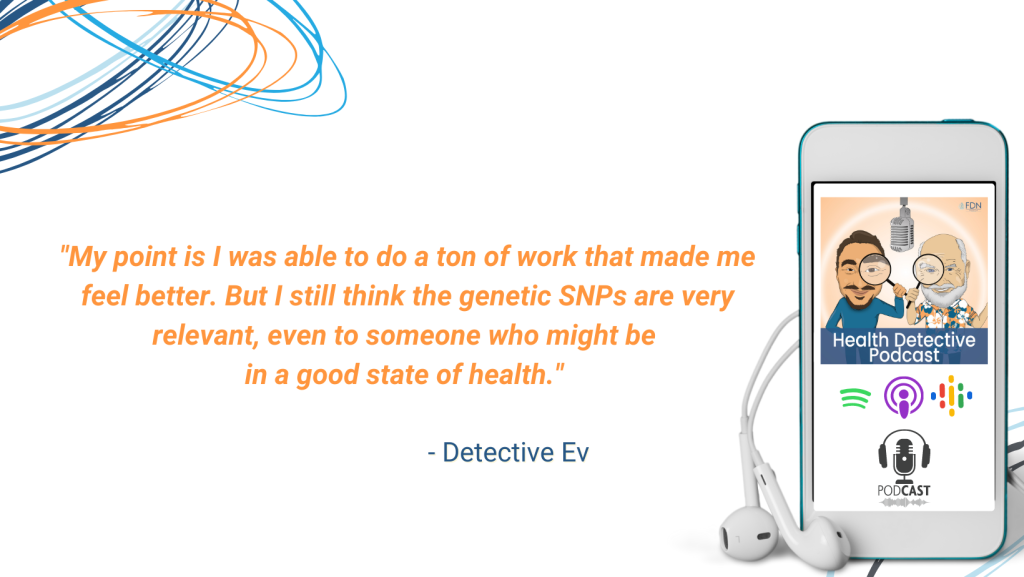 And my grandfather had stuff with that. We have other male family members with those things. It was a blessing to be able to kind of use that and then say, well, wait, maybe I should test for this blood wise. Bam, look at what I was able to find here. My point is I was able to do a ton of work that made me feel better. But I still think the genetic SNPs are very relevant, even to someone who might be in a good state of health.
I have found that some of the supplements are very supportive to me, especially when I'm under high stress. Like this time of year, actually really last month, busiest time of the year for me. I'm doing stuff at FDN, I got other things going on, just family obligations, and then the school stuff on top of it. It's just every day, right.
Those supplements I find are very supportive to me when I'm under more stress. It just kind of goes to show how that environment really does affect the expression of these things. For me, it could almost be a month-by-month thing, depending on what's going on that month.
Focusing on Tic Disorders – Biological Functions Affect Nutrient Utilization
[00:38:07] Piper Gibson: I tell people all the time. I was just telling my husband this the other day, because he's really stressed out at work. I said, are you taking your B vitamins? And he goes, really? I said, yes, because when you're stressed out, you use B vitamins at a faster rate. Although the man will not let me do his genetic test, I know my kids' genes, both my kids.
I can say, look, I know that you get some of this poor methylation from, they get it from you, not just me. Then I can say like, look, you're using these B vitamins at a faster rate, but you're already kind of in a hole because you don't have great methylation in the first place. Then he's like, alright, I'll take it.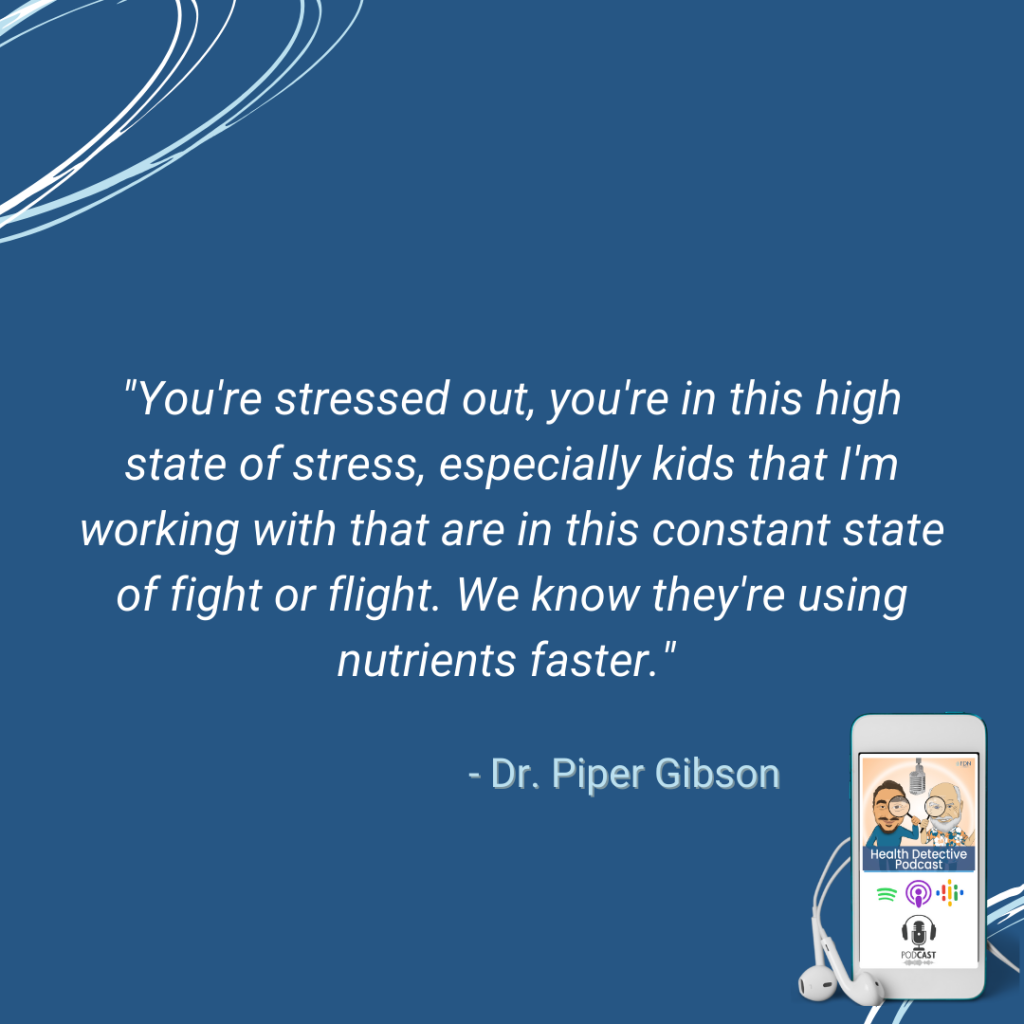 But really what people don't understand is those biological functions of your body. You're stressed out, you're in this high state of stress, especially kids that I'm working with that are in this constant state of fight or flight. We know they're using nutrients faster.
If we know that they're already in this hole, genetically, we can look at the genetic piece. They're already in this hole, they're already in this state of fight or flight. What do we need nutritionally to pull them out of this hole? Which is, you know, when we looked at your genes, very similar thing. What do we need to do, Evan, to pull you out of this hole?
From Tic Disorders & Laundry List of Symptoms to Cool, Calm, Collected Chill Child
[00:39:12] Detective Ev: Yeah.
It all does come together as one big picture. That's why at FDN we're looking at everything. Cause I'm thinking even in my own case, I'm like, wow. I had panic attacks all when I was younger, in addition to just crazy anxiety every day, but legitimate panic attacks. So that's constant stress.
Then I had H pylori on top of it, which can be associated with worse digestion and lowering of B vitamins themselves. We have the poor methylation. I mean, it's not really that hard to see why someone could feel like crap or be super sick. And this is just one thing for me, let alone all the other stuff or all the other stuff for your son.
I'm curious as we kind of wrap up our time here, how is he doing today? We're never expecting like perfection on the show, but I'm curious, like how do those tics do nowadays?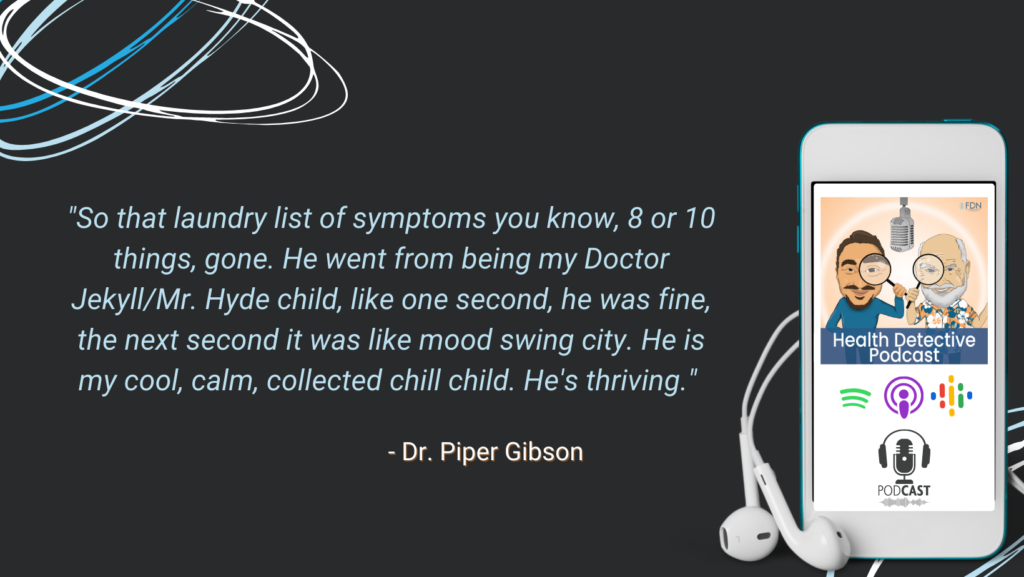 [00:39:52] Piper Gibson: He's fantastic. So that laundry list of symptoms you know, 8 or 10 things, gone. He went from being my Doctor Jekyll/Mr. Hyde child, like one second, he was fine, the next second it was like mood swing city. I was abandoning my card at Target because I was like, I don't know how to handle this child.
He is my cool, calm, collected chill child. He's thriving. He's 16. He has a driver's license. He's doing all the things I thought 10 years ago, it was like, how is this child ever going to get through life?
Addressing Everything Non-Specifically When Working on Tic Disorders
He couldn't control his movements. He couldn't focus or concentrate or all of the things that he had going on. So yeah, it's been a huge change in him. And one of the biggest things was for him to listen to his own body. He learned all these skills and now he knows how things make him feel. And he's so much better.
[00:40:34] Detective Ev: Well, and your children are funny too. I obviously have you on Facebook and I see the random stuff that they do every now and then. I always get a good laugh out of that. And that's amazing.
Remember guys, we're not treating anything specifically at FDN, it's the exact opposite of what we do. When you address everything that matters in a non-specific way, the body should not be having these symptoms.
And I love what you just said about him being calm and chill. I'm not asking parents ever to justify behaviors that their kids take, especially if they're bad ones or disruptive ones. But at the same time, we need to ask is that really just bad parenting. Is that really just this? Or is this kid inflamed? Adults act terribly when their brains are inflamed.
Focusing On Tic Disorders – Inflamed Children
Kids? I mean, what are we expecting them to do?
It really bothers me a lot of the times where I hear people, especially my age, because we're at that age where some people have had kids for a few years or they're just starting to. They always got something to say. They'll be like, oh my God, like, what are they doing over there? That kid's so misbehaved, or they're not talking at the normal rate.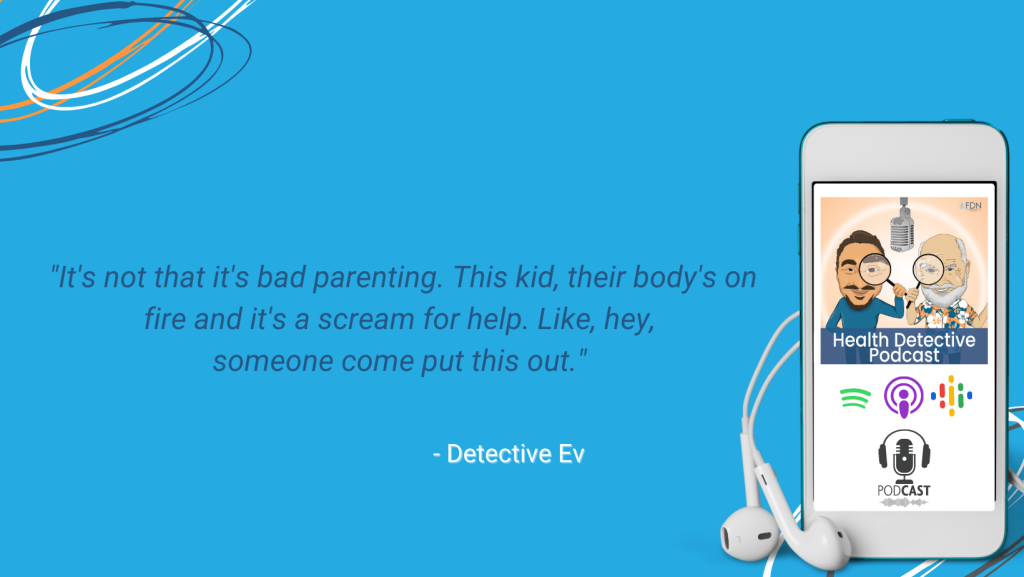 I'm biased, I admit that towards the health stuff. But I immediately start asking like, well, what if they're great parents and they just got a lot of health stuff going on that they don't even realize is happening yet and that's why this kid's developmentally delayed. Or maybe that's why they act crazy every single time they don't get what they want. It's not that it's bad parenting. This kid, their body's on fire and it's a scream for help. Like, hey, someone come put this out.
[00:41:48] Piper Gibson: Ding, ding, ding, Evan. I mean, you're not even a parent and you get it, you see it.
But so many of us, we're worried about it. Then we're told it's normal. They're just boys. It's totally normal. Now I can look back and be like, nuh uh. It was not totally normal. There was something seriously going on, but we weren't looking deeper. We weren't looking under the hood to figure out what was happening.
So yeah, I see it all the time. At this point I can watch TV and see people's faces, and you can see how inflamed they are. I do, I see it where people are like, that's just them. That's their behavior. But no.
Yes, inflamed children, children on fire.
Impulsivity & Unexplained Poor Decisions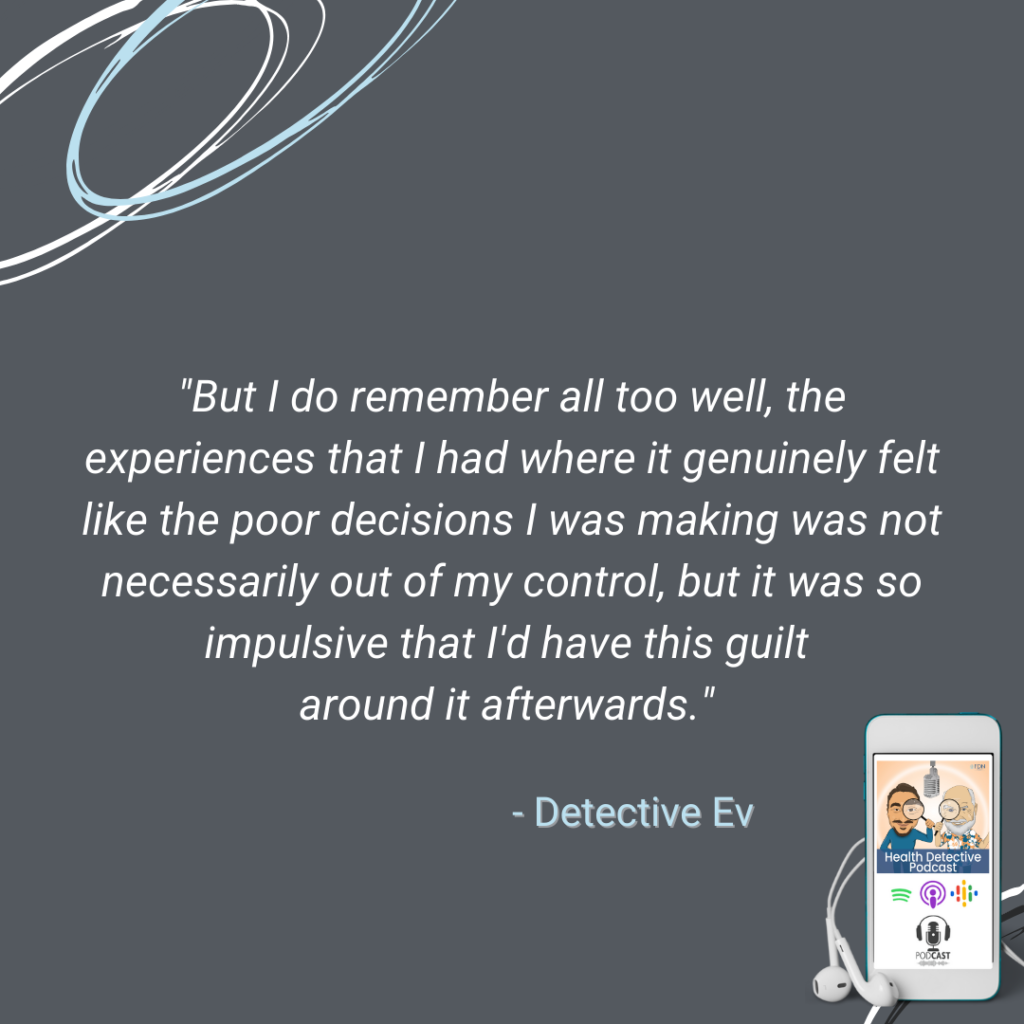 [00:42:25] Detective Ev: I think the reason I know about it without being a parent, it's just from being a kid myself. I'm always someone I never justified stupid things that I've done, especially the older I get. You got to take personal responsibility. But I do remember all too well, the experiences that I had where it genuinely felt like the poor decisions I was making was not necessarily out of my control, but it was so impulsive that I'd have this guilt around it afterwards.
Now your whole life is just justifying why you were doing this or making up some BS excuse, when you knew that wasn't the reason. But someone asks you or your parent or a teacher, Evan, why did you do that? I don't know. I'm like, sorry. I actually don't know. I think it was stupid too. But now of course, I'm not going to admit that. It's a whole thing – whole separate podcast.
With that all said, I'd love to hear really quick maybe like a cool testimonial. I know that you've worked with a ton of people. So, to the degree that you're able outside of your son, are there any like amazing stories that come to your head about really just big successes you've had with clients?
[00:43:18] Piper Gibson: Yeah.
I have a client, she's 14. She was diagnosed with Tourette's, ADHD, and anxiety. She was on all sorts of medications. Eight months ago, she came to me, and I mean, girl could not hold a pencil in school to write. She was always missing school. One of her main tics was she was doing burpees 9,000 times a day. She would have bruises on her knees because she could not control herself from doing burpees.
Client Success Stories for Tic Disorders
[00:43:46] Detective Ev: That was the tic?
[00:43:47] Piper Gibson: It was the tic. Like she had to do burpees. It was bad.
And mom, she was like, I did not know what to do. I've tried everything. We're taking all these meds, nothing's working. Can you help us? And I said, let's do it. So, within four months she was tic free. She would FaceTime me and call me and of course I cried because I was like, this is amazing. She was like, today was the first day I've ever been able to sit in class and hold my pencil and write.
Now eight months later, she's symptom free. She calls me all the time and was like, you changed my life. Her mom went back to school to become a health coach and now works for me because they had seen such incredible results.
I have tons of stories like this for clients. I got an email from a mom last week and she said it's been two months. And I feel like I'm getting my child back. His light is back. He's how he was before. His teacher even called and said, he's more calm at school, he can focus. She goes, I don't even notice him tic anymore. She said he's had one tic in the last, like maybe during the weekend. She said the changes have just been incredible.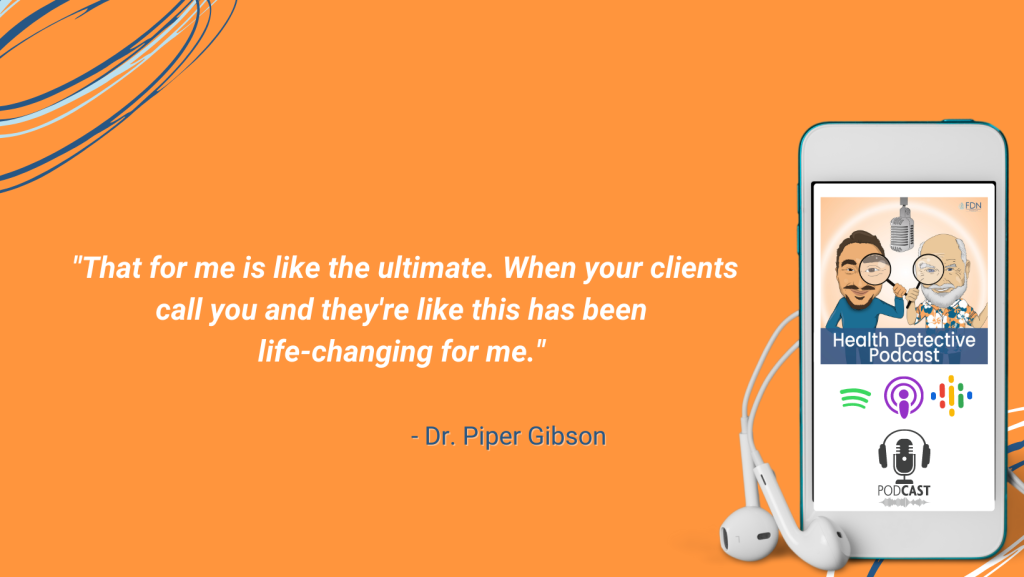 That for me is like the ultimate. When your clients call you and they're like this has been life-changing for me.
Tic Disorders – Your Check Engine Light is On
[00:44:52] Detective Ev: You got me a little bit with that one. The kids to me are just so innocent. I work with them all the time with the mental health stuff. My God, they come up with these very legitimate problems, especially when we do the work that we do.
You know that if mom and dad don't get involved, there's really no solution here. I mean, there's only so much a 13-year-old can do for God's sake. If the parents are unwilling to buy the stuff, it is not happening. There's only so much a 13-year-old can do. So, to hear stories like that, that's, I don't know. I love that stuff. That was a great testimonial. 9,000 burpees a day, that's pretty, that's not.
[00:45:22] Piper Gibson: Like the changes in her have been amazing.
She had to try out to go to her dream high school, it's like an acting high school. She got in; she joined the rock-climbing team. Her mom was like, there was no way she was doing any of that six months ago, eight months ago, it wasn't happening. She was diagnosed with Tourette's, and they just wrote her off.
You're going to have Tourette's. You need to take this pill for the rest of your life. When you take a medication for tics and Tourette's, we rarely see reduction of symptoms more than 50%. They weren't working for her, and it was just being written off, this is what's happening. So, when she came to me, I was like, nuh uh. That's your check engine light, your check engine light is on, let's figure it out.
Where to Find Dr. Piper Gibson
So, just for me, having my clients be able to call me, FaceTime me, come visit me and tell me these things are happening in their lives just is the biggest thing for me.
[00:46:05] Detective Ev: Yeah. It's not even work, right? I know that you do a few different things, but speaking of quote/unquote "work", and I'll say it in quotes because I don't think most of us classify it like that. Where can people find you if they wanted to work with you? By the way, I think it's kind of obvious, but typically focus on. I don't want to say specialize in, although you are a doctor. Obviously, you could have a specialty. But who is the ideal client for you? I guess is the better way to word it.
[00:46:26] Piper Gibson: My ideal client is I work with scared, frustrated, overwhelmed parents, just like me, who feel like they've tried everything, the chiropractor, the acupuncturist. They've tried all of the supplements. They've been to all the doctors. They've tried all the things. I help them to get the education and resources they need to start reducing their child's tic disorder symptoms naturally.
You can find me on Instagram and Facebook. It's just Regenerating Health.
You can find me at www.regenerating.health as well, if you want to work with me. But definitely specializing in the tics and the Tourette's and the laundry list of symptoms that come along with it. Once I work with kids, mom and dad come along for the ride too. They're ready to change their own health.
Magic Wand Signature Question
[00:47:02] Detective Ev: Excellent.
Now I want to finish up really quick with the signature question that we have on the Health Detective Podcast. I know, especially with someone with the amount of education that you have, and you know that it's not one size fits all, sometimes such a simple question can actually be kind of tough, but I'm always curious. There's no wrong answer.
The question today is in this case, if we could give Piper a magic wand and you could get every single person in this world to do one thing for their health, what is that one thing that you'd get them to do?
[00:47:30] Piper Gibson: Ooh, that's tough. What is the one thing I would get them to do?
[00:47:35] Detective Ev: It could be either.
Piper Gibson: What'd you say?
Detective Ev: Or not do. It could be either.
[00:47:38] Piper Gibson: I'm going to say this specifically to moms, not ignore your gut when it comes to your child's health. Do not ignore your gut. If you feel like in your gut, if you feel like your mother's soul, your mother's intuition, something is wrong., explore that. Like, honestly, so many people just ignore that gut feeling.
I know it sounds woo, woo. But it's not. Like that is your soul, your gut, whatever you believe, telling you, hey, something is not right. So yes, absolutely. If I had a magic wand, I'd be like, do not write it off. Do not ignore it. If you know it's there, dig into it.
Gut Instinct is Essential
[00:48:16] Detective Ev: I love that that was her recommended last thing.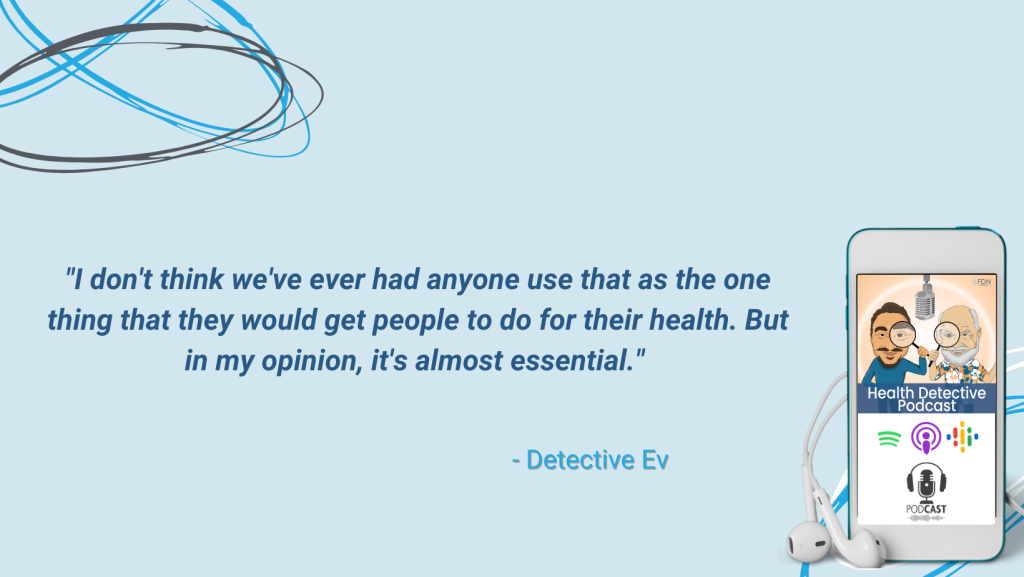 I don't think we've ever had anyone use that as the one thing that they would get people to do for their health. But in my opinion, it's almost essential. Because when we think about it, you guys know if you're regular listeners, I constantly drive home this idea that most of the people who had these crazy successful health stories got to where they're at because they followed their own intuition.
They followed their gut. They said, this doesn't make sense. I'm going to go do something else. I don't care what I'm being told. This isn't working for me. I don't feel that this is right. I love that she finished up with that. So, maybe it is a shout-out for you to do that.
Because even if you're not a mom, that's totally fine. You can trust your own gut instinct and say, hey, I've been trying what these people are telling me for a long time. Maybe it is time to go try something else. That just might be the best thing you ever do, who knows.
Conclusion
Now with that said, I want to thank you guys so much for listening to another episode of the Health Detective Podcast by Functional Diagnostic Nutrition.
You can check us out on Podbean and you can leave comments there, if you didn't already know. You can actually request episodes, guests. All you got to do is search for the Health Detective Podcast on Podbean. Leave us a comment there and I will make sure to get back to you. And if you like the content that we're sharing, please leave us a five-star review on Apple and/or Spotify. If you would be so kind as to do that, we would love you even more than we already do.
I'm looking forward to talking to you guys again soon. But until then take care.